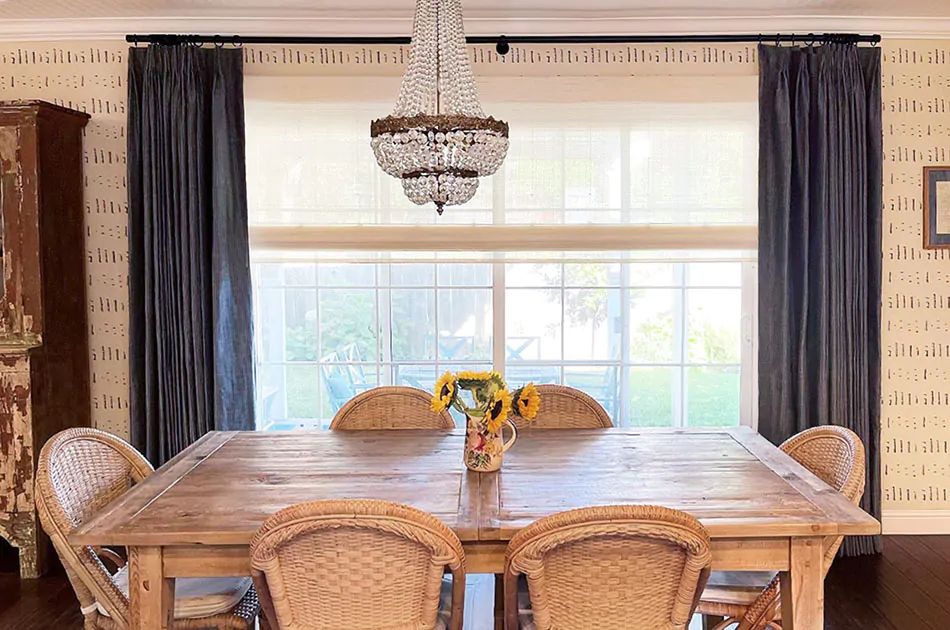 Window Treatment Tips with Designer Nathan Turner
If you're looking for window treatment tips to start your interior design project, look no further than designer-worthy insights from designer Nathan Turner. As a regular design expert on The Today Show, Nathan has featured custom window treatments from The Shade Store in a segment on The Today Show focused on how to bring color into your space. But color isn't the only thing window treatments can provide, and Nathan has a lot more designer tips for window treatments you can use to make your project a success.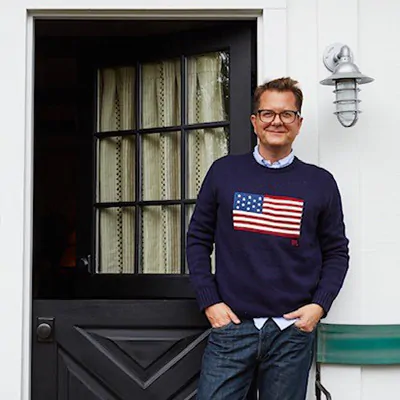 Meet Nathan Turner
Designer, author and TV personality, Nathan Turner is an expert in interior design. The California native is most passionate about design, travel and food and his eponymous store in Los Angeles is a clear expression of these passions.
As a regular on The Today Show, Nathan brings his talents and passions to the fore with segments on easy-to-implement design tips and entertaining ideas to help viewers create warm, welcoming gathering spaces.
Watch the today show segment
See Nathan talk to Hoda and Jenna about easy ways to bring color and pattern into your space with a gallery wall, custom window treatments and furniture.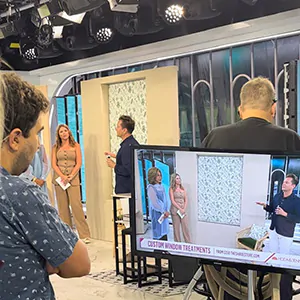 Expert Designer Tips for Window Treatments
Get designer tips for window treatments from Nathan to help guide you through your project from inspiration to installation.
Tip 1: Start with Material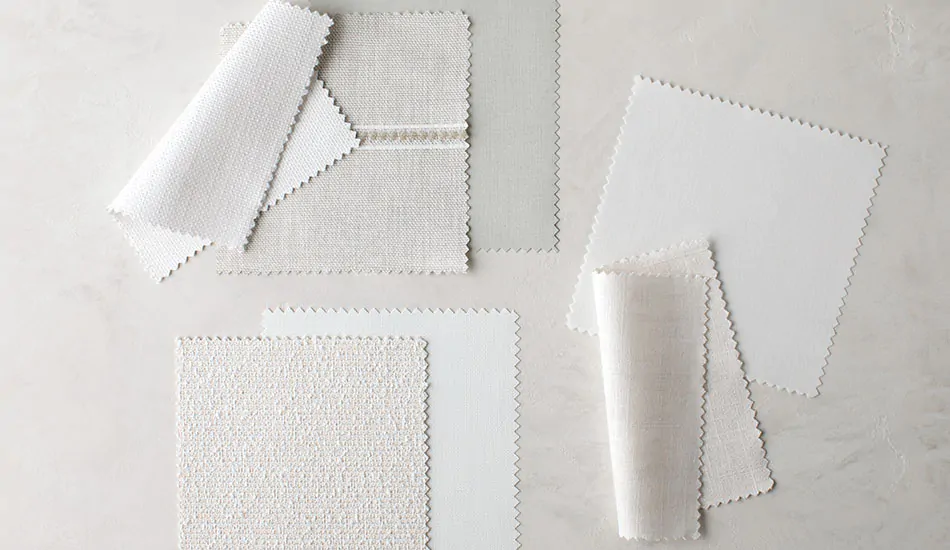 Wondering where to begin your window treatment project? Nathan suggests starting with the material and finding the right color, texture and pattern. To do this, Nathan recommends ordering lots of swatches including anything that catches your eye, even remotely, because it could look great in your space.
Once you get the materials, be sure to take note of the feel of them and hold them up to the light to get a sense of light filtration and privacy. To choose the right material, you need to also consider your existing décor:
If you have neutral tones in your space, Nathan's window treatment tips include choosing materials with lots of texture, like woven shades made from natural fibers. Adding textures to a neutral space adds visual interest and dimension while still sticking to your color scheme.
If your space is full of bold colors, Nathan loves to layer patterns for lots of dynamic movement and visual interest. To pick a patterned material for your window treatments that complements an existing pattern in your room, make sure they both have at least one or two colors in common and share a similar style of pattern, such as two floral patterns or two geometric patterns.
Tip 2: Add Window Treatments Even If You Don't Need Them
Window treatments are typically installed for functional reasons: privacy, a room darkening effect, insulation, and the list goes on. But Nathan's window treatment tips suggest even if you don't need window treatments for functionality, add them anyway because they help finish the look of a room and add warmth that makes it feel more like home.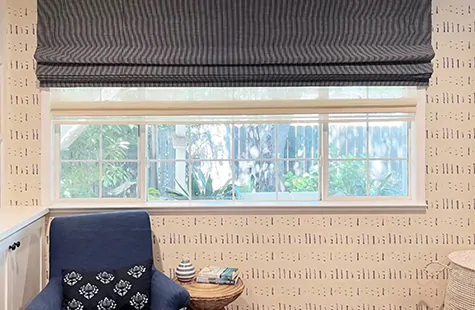 Bring in Color & Texture
Window treatments offer a great opportunity to bring in more colors, textures and patterns and add another dimensional layer to a room that makes it all the more inviting. Especially for rooms like dining rooms and kitchens with minimal or no upholstery, Nathan believes the best way to bring in warmth is with window treatments.
Pictured: Inner Layer: Waterfall Woven Wood Shade, Artisan Weaves Laguna in Shell and Outer Layer: Flat Roman Shade, Victoria Hagan Casa Stripe in Midnight – Design by Nathan Turner
Tip 3: Add Layers for Texture & Visual Interest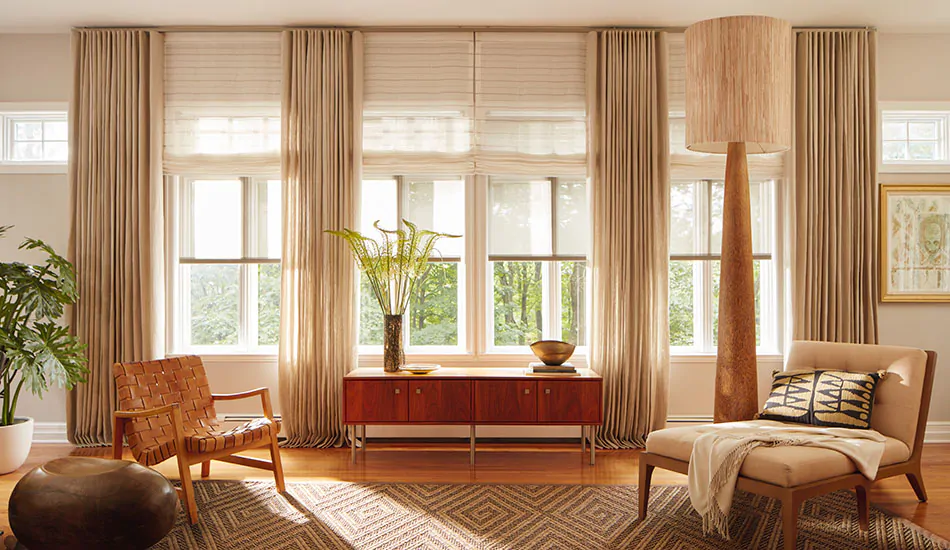 One of Nathan's top window treatment tips is to go for layers. Natural woven shades under a beautiful drapery fabric is one of his favorite combinations. It offers a beautiful multitextured aesthetic as well as great functionality since both layers provide different levels of privacy and light control. Another winning combination is to double up your curtain layers with a sheer and a heavier material, like wool, with blackout lining for a stunning mix of color, texture and visual weight, plus, excellent functionality.
Tip 4: Choose an Inside Mount, Unless It's Drapery
Wondering where and how to hang your window treatments? Nathan's window treatment tips on mounting applications vary based on whether you're choosing shades, blinds or drapery.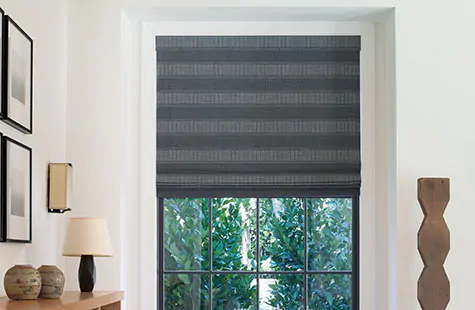 Pictured: Flat Roman Shade, Victoria Hagan Jasmine in Midnight – Design by Victoria Hagan
Inside Mount for Shades & Blinds
For shades and blinds, Nathan prefers an inside mount because he loves how clean and tidy it looks. Going with custom shades and blinds is essential for this type of application, as the window treatments will be tailored specifically to your window's size for the perfect fit.
However, be aware that to inside mount shades or blinds, your window will need to be deep enough to accommodate the headrail.
Outside Mount for Drapery
When it comes to drapery, outside mount is preferred. Nathan loves to hang the drapes as high above the window frame as he can, with long panels that drape to the floor. The effect adds a sense of height to the room for a more expansive feel.
Nathan also recommends extending your curtain rod about 8 to 12 inches beyond your window frame on either side to make the window feel larger and allow you to pull the curtains fully off the window.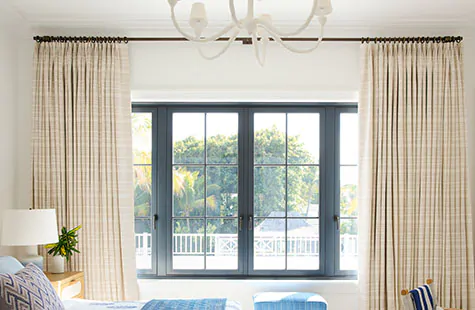 Pictured: Tailored Pleat Drapery, Victoria Hagan Tidal Line in Sand – Design by Victoria Hagan
GET MORE TIPS & SEE THE LATEST TRENDS
Discover current window treatments trends to get more inspiration and insight for your project.
Before & After Inspiration
Now that you know some top designer tips for window treatments, explore two of Nathan's projects featured on The Today Show, using his own window treatment tips to transform the rooms.
Bedroom Glow-Up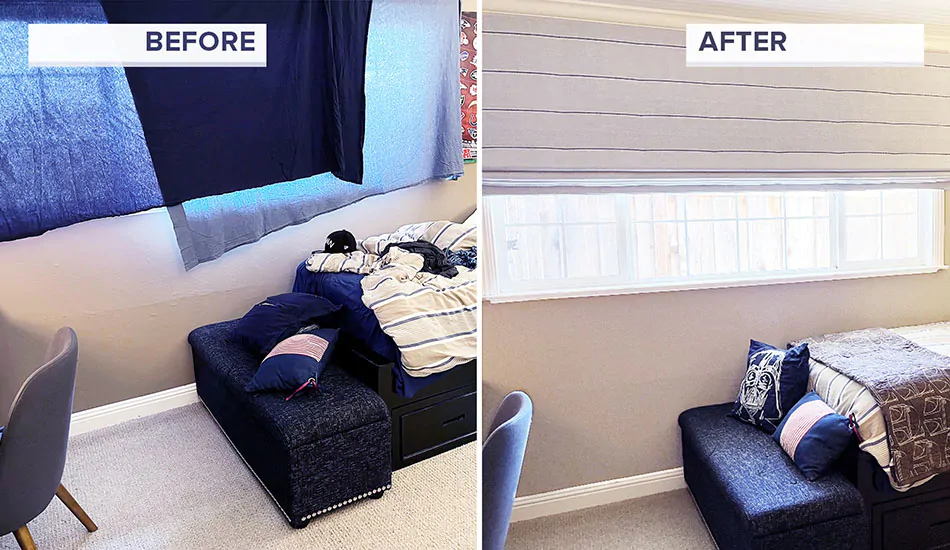 Sheets used as mishappen shades? Nathan Turner rescued this boy's bedroom with chic motorized Flat Roman Shades made of Victoria Hagan's Sankaty Stripe in Sand. The neutral color complements the warm-toned walls while the subtle east-west stripes add a touch of sophistication and visual interest. Plus, with blackout lining, the shade provides a calming, tranquil room darkening effect ideal for a better night's sleep.
Dining Room Revamp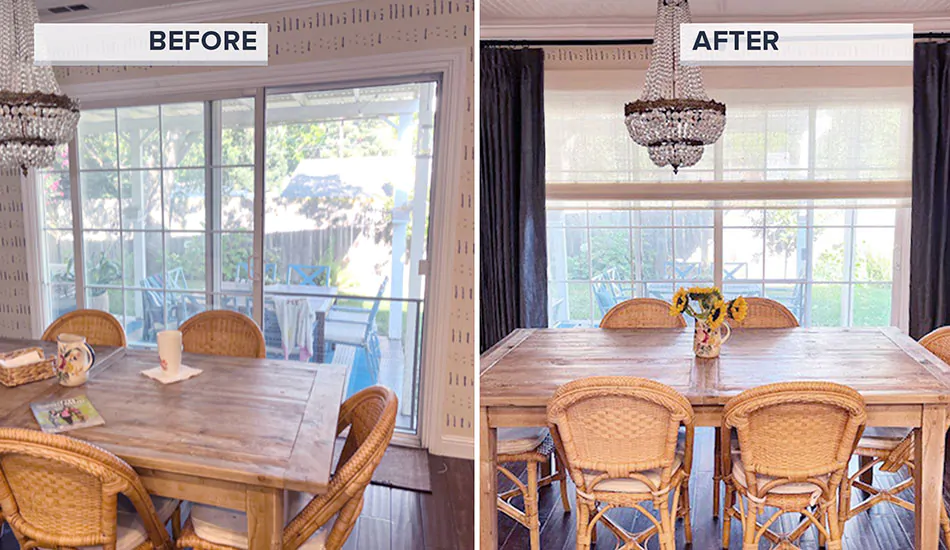 Sliding glass doors leading to your backyard may not necessarily need window treatments for privacy, but in Nathan's window treatment tips, he highly recommends adding them anyway. Window treatments help finish a room and give it a sense of warmth. Especially in a dining room where there are minimal to no upholstered pieces, lush fabric like drapery adds needed warmth and transforms the room into an inviting destination. For tall, wide sliding glass doors or windows, drapery helps to accentuate the height of the room for a more dramatic effect.
Nathan also highly recommends layering window treatments wherever appropriate. In addition to the lush, privacy-lined Tailored Pleat Drapery made with Victoria Hagan's texture-rich Casa Stripe in deep Midnight, Nathan also added a Woven Wood Shade made with Laguna in Shell. The bright, light wood tone of the woven shade keeps the space bright while complementing the wood of the dining table and creating a nice contrast with the dark drapery. Plus, the mix of textures between the drapery and woven shade adds visual dimension and depth to the space, for a truly complete, finished aesthetic.
Take the Next Step Toward Custom Window Treatments
Feeling inspired by Nathan Turner's window treatment tips and curated spaces? Time to tackle your own interior design project and upgrade your space with custom window treatments. Take Nathan's advice and start with materials. Order free swatches of all your favorite colors and patterns — including anything you're drawn to, even remotely, as once you get it in your hands, you may find it's the perfect match for your room. Not sure where to begin with your material search? Start with our most popular swatches to get your creativity flowing.
EXPLORE OUR MOST POPULAR SWATCHES
Not sure where to start your material search? Order our most popular swatches for free to see what's in style — and maybe find your new favorite.