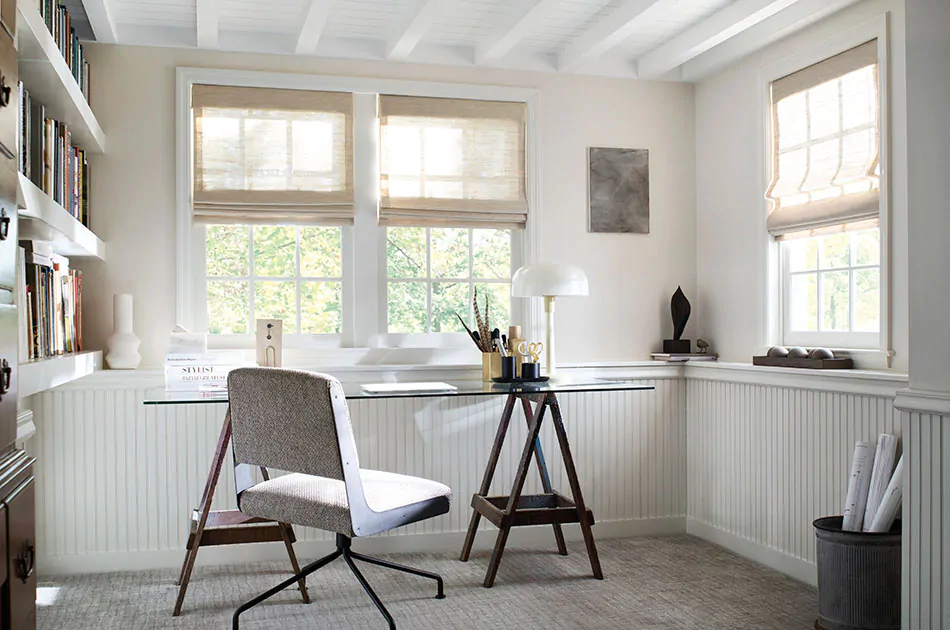 Explore Window Treatment Trends 2023
Looking for window treatment trends 2023? Today's in-style window treatments are both attractive and highly useful, providing you with the light and privacy control you need and the elevated looks you want to get the best out of every room in your home.
When choosing from window treatment trends 2023, be sure to consider your functionality needs first and then think about aesthetics. This is because the functionality you require will help guide you in narrowing down your choices. For instance, if privacy and room darkening are essential in your bedroom, you'll need to look specifically at blackout window treatments. If you have very wide or very tall windows and you'll need to regularly open and close your window treatments, motorized window treatments will make the job considerably easier.
Once you identify your functionality needs, you can then focus on aesthetics and use window treatments trends 2023 for inspiration. Explore the latest trends to get the best ideas for your window treatment project.
Go Natural with Sustainable Materials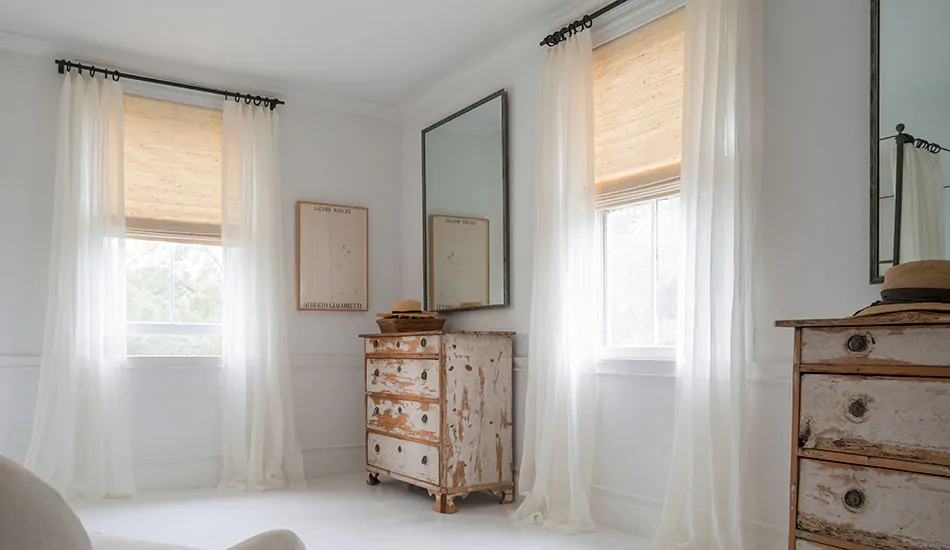 Sustainability is becoming more and more of a key deciding factor for how consumers choose products from clothing to food to window treatments. That's why sustainable and natural materials are a big part of window treatment trends 2023. As an eco-conscious consumer, you have several options for sustainable window treatments including: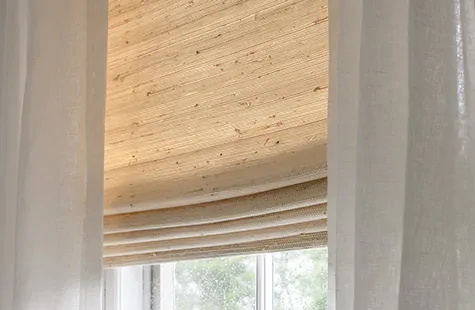 Woven Fibers & Wood
Woven Wood Shades are made from eco-friendly fibers like bamboo, reeds and grasses that add natural texture and color to your space. Plus, these types of shades are highly functional and easy to use.
Wood Blinds are another all-natural option, made sustainably from bamboo or American Basswood, and deliver a sophisticated aesthetic.
Materials with Green Certifications
Beyond woven fibers and wood, you can also choose from other natural and synthetic materials, like our Sunbrella® collection, with green certifications like GREENGUARD® and Oeko-Tex®.
GREENGUARD ensures the material has low chemical emissions for cleaner air in your home, while Oeko-Tex indicates the material is free from harmful substances for safer everyday use.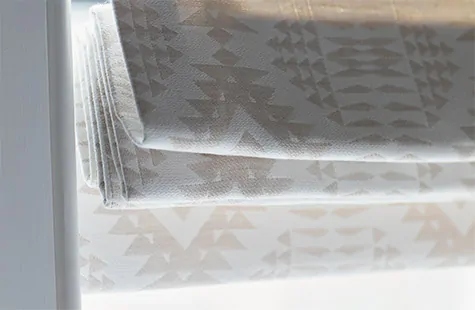 Keep an Eye on Automation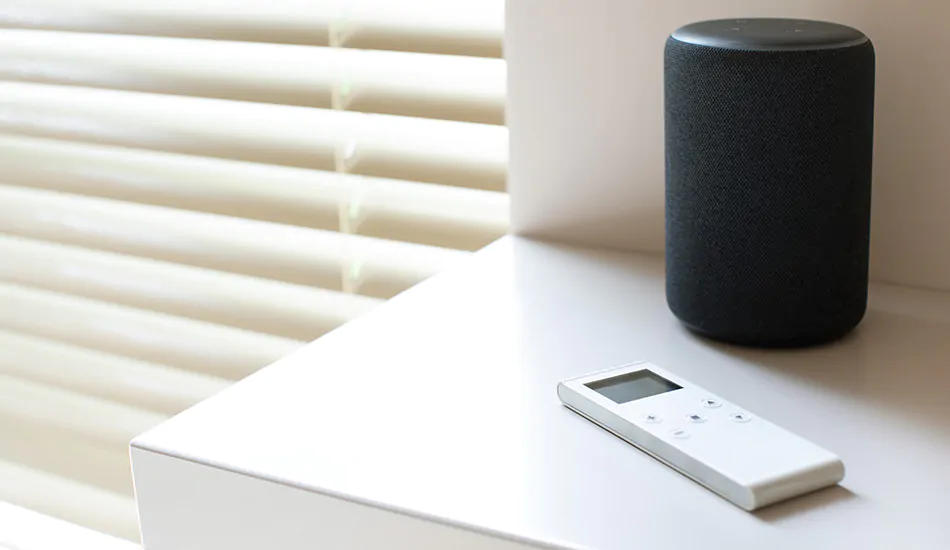 Seamless functionality is a core part of window treatment trends 2023 and nothing is quite as easy and seamless as motorized window treatments. Motorization allows you to open and close your shades, blinds and drapery with a remote, your smartphone or tablet, or even with the sound of your voice when paired with a home automation system. With many motorization systems, you can also automate your window treatments to open and close at certain times, such as at dawn and dusk, so you don't have to lift a finger.
Romanticize the Details of Drapery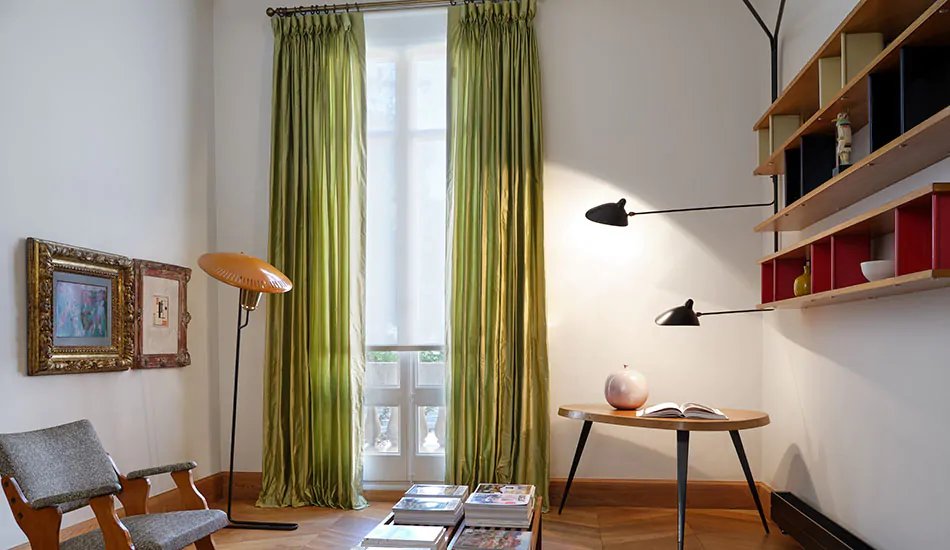 The details of your window treatments can truly transform them and the room they're in. And no window treatment has details quite like drapery. While the lack of details in a set of curtains can make your design sleeker and more minimalist, the addition of details makes your design more elaborate and luxurious.
Fancier, handcrafted curtain details like pinched pleat styles and longer lengths are making a comeback. These two defining details can truly transform your window into an ornate statement piece.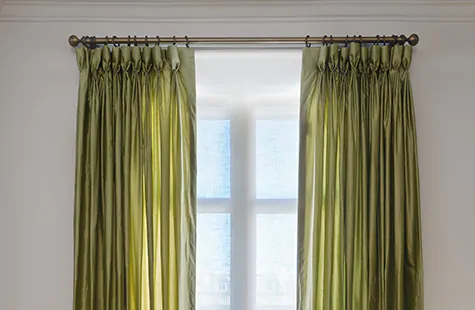 Choose Elegant Goblet Drapery
Goblet Drapery features a handcrafted goblet shape at the top of the curtain that, while a seemingly small detail, elevates the entire look of the drapery by affecting how the fabric falls from top to bottom. Goblet Drapery delivers a romantic, luxurious look and is best used in decorative applications.
Opt for a Luxurious Puddle
The length of your drapery may be just one element of your design, but it has a huge visual impact. To emphasize the ornate design of your decorative drapery, opt for puddle length. With 3 to 6 inches of extra fabric in your curtain's length, the puddle creates a lavish look — and is ideal for disguising uneven floors.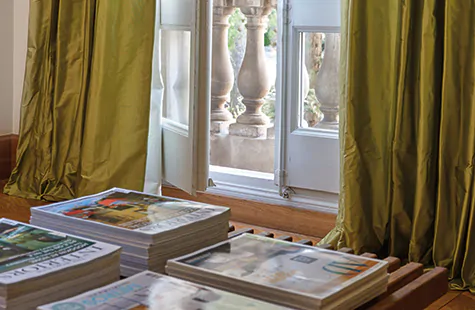 Embrace Vintage-Inspired Fabrics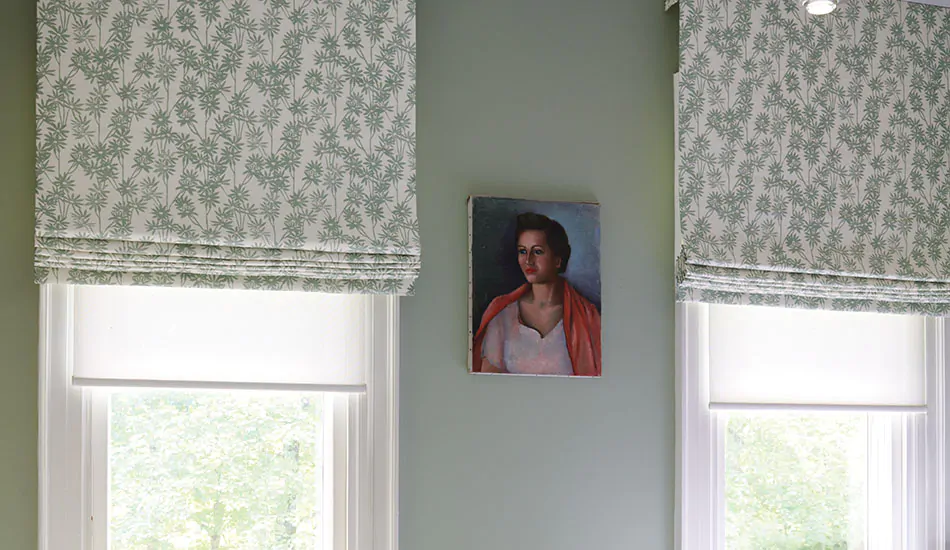 For window treatment trends 2023, patterns are back in style, especially beautiful vintage-inspired designs. Vintage patterns tend to bring a sense of comfort and nostalgia to a space and are more versatile than you might think. A vintage-looking pattern will look right at home with traditional-styled or farmhouse-inspired rooms, while also helping to soften the sometimes-stark look of modern and contemporary spaces. Patterns vary from soft and subtle to sharp and bold, so you can find just the right look to suit your style.
Let in the Natural Light with Solars & Sheers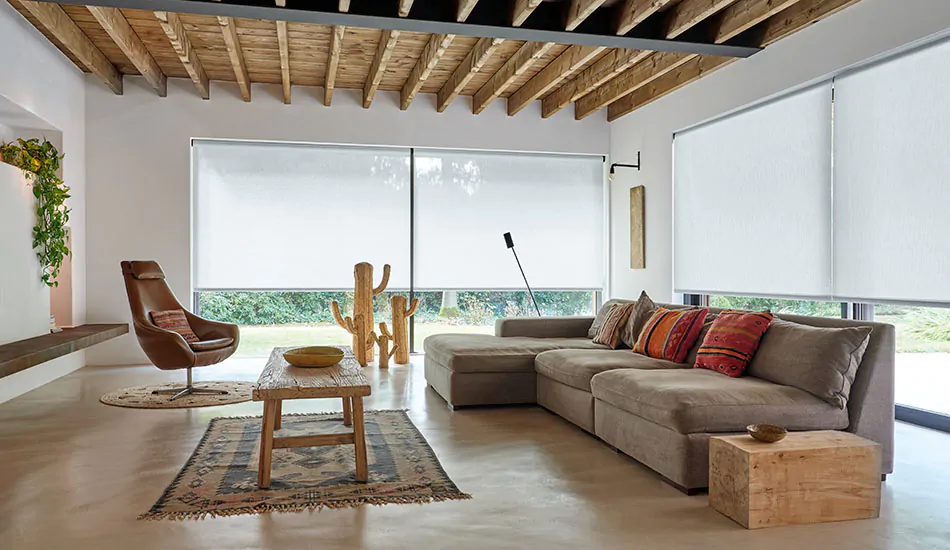 Natural light is a key component of window treatment trends 2023, but instead of letting in the light without window treatments, it's more about filtering the light through window treatments. Solar Shades, sheer shades and sheer drapery soften the natural light, leaving your space bright without the glare. Plus, Solar Shades have additional benefits including blocking harmful UV rays responsible for fading your furniture and flooring, and they feature different transparency levels so you can enjoy the view. Sheer shades and drapery as well as Solar Shades come in variety of colors and patterns, but all of them share a delicate look and feel that complements the softness of light they create in a room.
Stay Down to Earth with Greens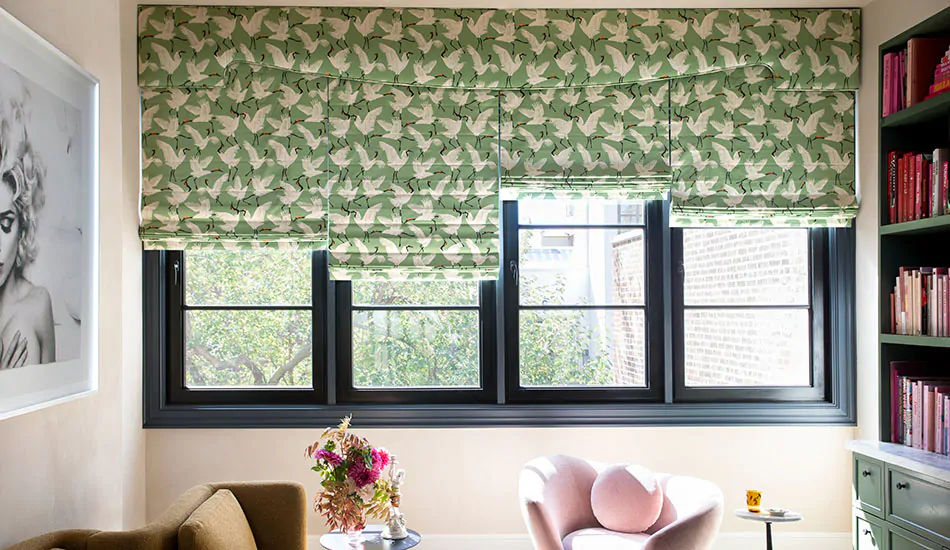 Green is touted as a trending color for window treatment trends 2023 by top interior designer, Martyn Lawrence Bullard. Green is an undeniably evergreen (pun intended), versatile color that brings both a sense of vibrancy and calm to any space. As a primary color for your window treatments, greens from bright lime to leaf green to rich emerald bring a lush, inviting look and feel to your windows. Choose shades or drapery of a solid green for a bold, simple pop of color or opt for a pattern with a mix of green for more visual complexity.
Create Hygge-Inspired Coziness with Warm Neutrals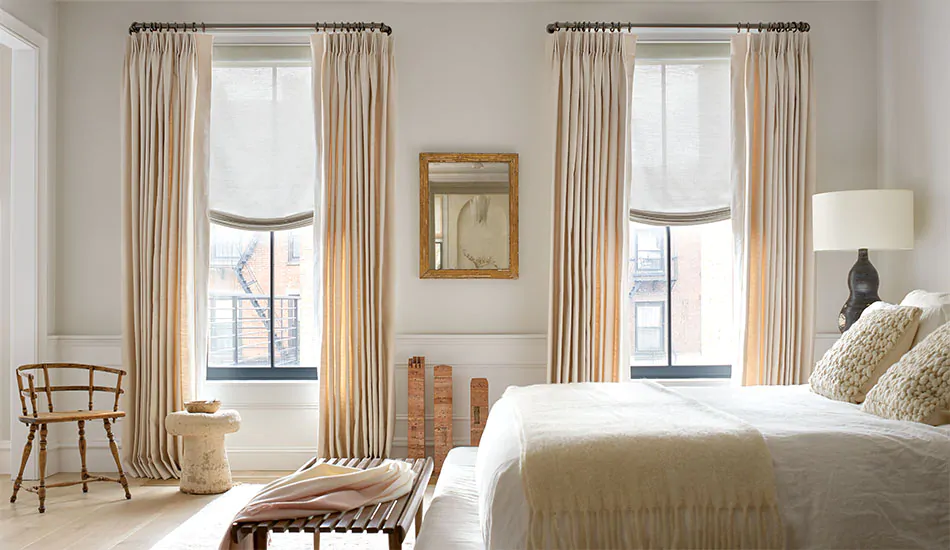 Warm neutrals like tan, beige and cream are used frequently in hygge-inspired or Scandinavian design. These soft tones give off a comforting, inviting aesthetic that's especially valued in colder, darker climates. No matter where you live, warm neutrals give you a highly versatile palette that will transform any space into a relaxing retreat.
Choose Drapery in a creamy color and heavier fabric like a wool blend for a lush, cozy look and layer it with an off-white linen Roman Shade to lighten the look and feel of the heavier drapery. For a true Scandinavian feel, complement the warm neutral tones of your window treatments with wood-toned accents in the room and layer lots of textiles like blankets and throw pillows on furniture for an irresistibly inviting look.
Gather More Inspiration: Showrooms & Designer Collections
Explore Decorator Showhouses featuring some of the above window treatment trends 2023 as well as the latest and greatest from top designers Sheila Bridges and Victoria Hagan for more inspiration.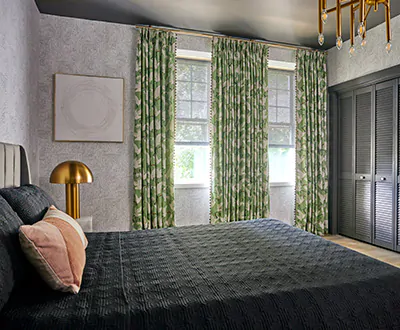 Vintage Pattern + Green
Green Pinch Pleat Drapery with a vintage-inspired pattern featuring cranes helps to being color and softness to this modern light and dark gray bedroom. The gold drapery rod helps tie the window treatments to the rest of the room by complements other gold accents in the room.
Pictured: Pinch Pleat Drapery, Family of Cranes in Waverly Green, Kaleidoscope Decorator Showhouse 2022, Rasheeda Gray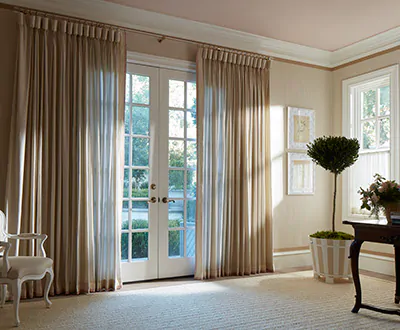 Natural Light + Warm Neutrals
Goblet Pleat Drapery in a tan sheer material lets natural light filter through, giving it a golden color to complement the warm neutral colors in the room. The result is an elegant, yet irresistibly inviting space.
Pictured: Goblet Pleat Drapery, Ticking Stripe in Brown, with Lucite Hardware in Polished Brass, Kips Bay Decorator Showhouse 2022, Dallas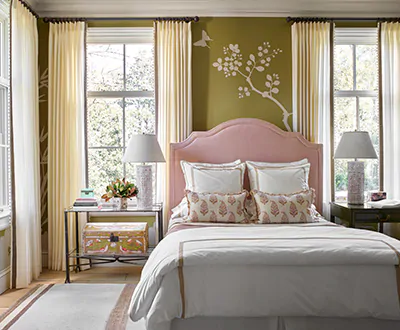 New Designer Collections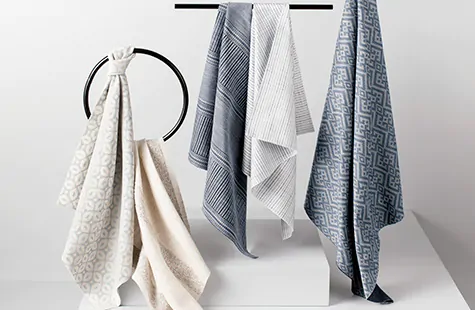 Victoria Hagan: Elegant Sophistication
Create a sense of balance and add soft texture to every space with Victoria Hagan's new collection. With nature-inspired, subtle coloring and unique, understated patterns, these versatile designs deliver elegant sophistication, adding texture and definition to every window.
Sheila Bridges: Pattern Play
Add visual interest and character without overpowering other elements in your décor with Sheila Bridges' new collection. These designs are very tonal, and not bold, allowing you to introduce pattern and texture in a subtle way that's great for layering.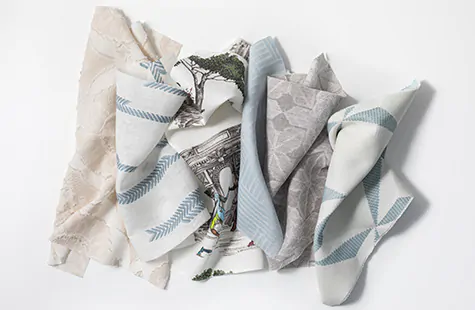 Explore Your Favorite On-Trend Colors & Patterns
With a list of window treatment trends 2023 and lots of ideas for how to implement them, you're ready to start creating your own unique window treatment design. Start by ordering our most popular swatches to see which on-trend colors and patterns suit your style best. You can also order swatches a la carte to compare your favorites in the comfort of your home.
EXPLORE OUR MOST POPULAR SWATCHES
Not sure where to start your material search? Order our most popular swatches for free to see what's in style — and maybe find your new favorite.