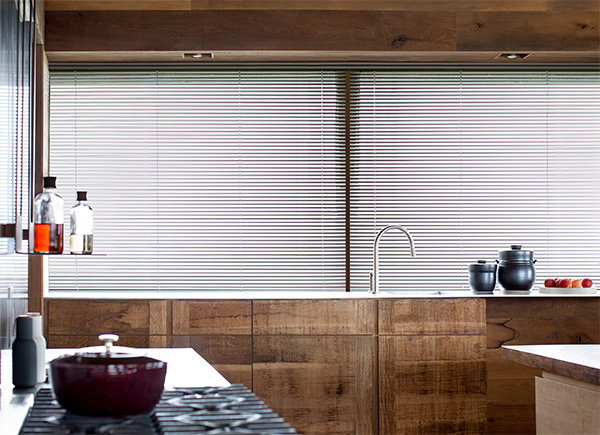 Classic & Contemporary
Provides privacy and light control, our 1" Metal Blinds are designed with 1" aluminum slats.
Key Features...
5 finishes to choose from
Sleek aluminum design
Reliable components
Ships free in 5 days or less
START CUSTOMIZING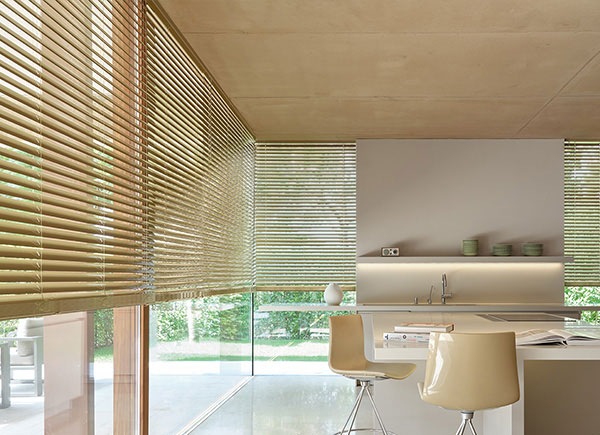 Sleek & Stylish
Great for privacy and light control, our 2" Metal Blinds are designed with oversized 2" aluminum slats.
Key Features...
4 finishes to choose from
Sturdy aluminum construction
Premium components
ships free in 7 days or less
Start Customizing
EXPLORE OUR METAL BLINDS
Designed with sleek aluminum slats, our metal blinds are a durable, long-lasting way to cover any space's windows. Available in 1" or 2" metal slats. Our 2" collection offers 4 sleek and stylish finishes to complement your decor scheme. Enjoy effortless control over light and privacy with traditional cords, or a more modern cordless functionality. Our 1" collection offers 5 basic and functional finishes. At The Shade Store, we measure and construct your metal shades to fit your window perfectly, whether they're mounted inside or outside the frame. Plus, our metal blinds look great on their own—or layered with other custom window treatments.

WHAT ARE METAL BLINDS?
Our metal window blinds are constructed in the USA from heavy-duty aluminum to custom-fit your windows. Inside-mounted metal blinds are perfect for windows with a clean, minimal look—or for layering with custom drapery or shades. Outside-mounted metal blinds help your windows appear larger for a more dramatic appearance. Plus, metal blinds offer complete light control over any room. Naturally light flows in effortlessly when they are open, but stays out almost completely when they are closed. Because of their versatility and understated appeal, aluminum window blinds work well in almost any room of the home.
BENEFITS OF ALUMINUM BLINDS
Because of their durability, versatility, and effortless functionality, the benefits of metal blinds for windows are endless. 
Low Maintenance
Made from sturdy, long-lasting materials, aluminum blinds are easy to clean, easy to control, and never go out of style.
Highly Functional
Choose from a traditional corded or cordless design that allows you to have complete control over the light and privacy of any space.
Moisture & Fade Resistance
Aluminum — in combination with the other premium components of window blinds — is made to last, giving it an edge over other window treatment materials that may fade over time.
Versatile Finishes
Choose from
4 unique finishes
for 2" metal blinds and a variety of mount and tilt types, positions, and more to ensure each window is perfectly outfitted.
For our 1" metal blinds choose from
5 classic finishes
with a variety of mount types.
Easy to Layer
While 1-inch and 2-inch aluminum blinds are perfectly functional and stylish on their own, they make a versatile foundation layer for custom
drapery
,
valences
, and more.
CUSTOM ALUMINUM BLINDS
At The Shade Store, our metal blinds can be customized in a variety of ways.
Order free swatches
of our four timeless aluminum finishes for 2-inch metal blinds, including White Pearl, Silver, Champagne, and Night. Whether they're mounted inside or outside of the window frame, you'll also have the option to choose
cordless or corded
control and placement, allowing you to both raise and lower your aluminum blinds and open and close the slats to your liking. 
For our 1" metal blinds collection
order free swatches
of our 5 classic aluminum finishes, including: White, Cream, Silver, Grey, and Black. Customize your 1" metal blinds with an inside mount or outside mount. Cordless is not available for this collection.
ORDER CUSTOM METAL BLINDS 
At The Shade Store, we pride ourselves in providing the best customer service and seamless measure and install process available. To get custom metal blinds for your home, choose one of the options below:
Schedule a Free Measurement
We offer full-service measurement and installation services in your home or by video conference or phone.
Schedule a free measurement
online to get started at your convenience.
Visit Your Local Showroom
Explore our full range of metal blinds and other custom window treatments, sample materials and receive complimentary design assistance.
Find a showroom
.
Order Free Swatches
Our Metal Blinds collections include four timeless finishes for 2-inch metal binds and five classic finishes for 1-inch metal blinds. All long-lasting, endlessly durable aluminum.
Order free 2-inch metal swatches
and
1-inch metal swatches
to discover the best match.
Customize Your Blinds Online
From finish selection to choosing your ideal control type, you can
choose what works
for you on our website.
Request a Free Quote
Our expert Design Consultants are available to guide you through the entire metal blinds customization process.
Get started today with a free quote
.
VISIT US AT OUR SHOWROOMS NATIONWIDE
We have over 135 showrooms open nationwide with local Design Consultants available to assist you in any way they can. Explore our aluminum swatches and interactive product displays, test control options, and see all the ways metal blinds can help give your window treatments depth and character.
Find a local showroom
or
schedule an appointment
to get started.