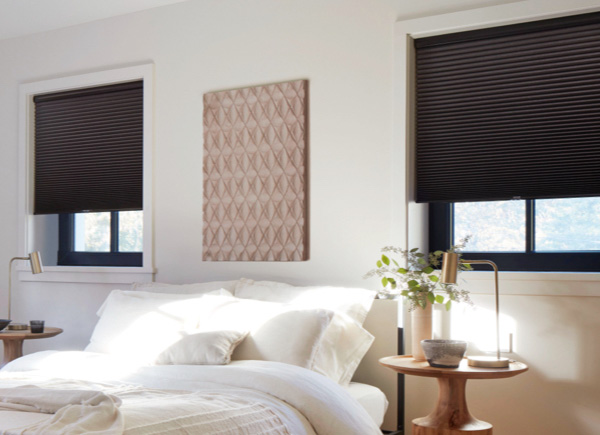 Energy-Efficient Design
Our unique honeycomb Cellular Shades are great for improving insulation and regulating interior temperatures.
What You'll Love
50+ exclusive materials
Keep your energy bills in check
Regulate interior temperatures
Shades ship free in 7 days or less
Select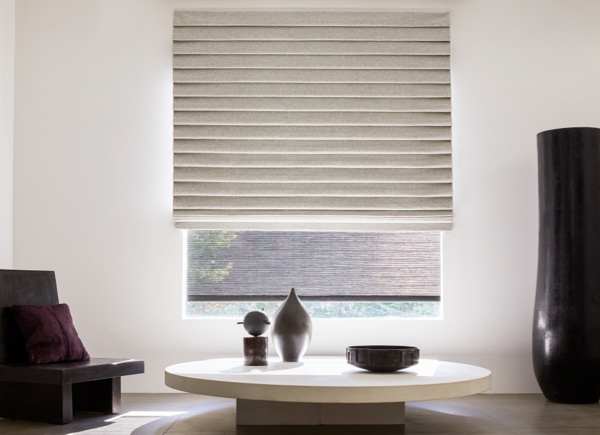 Luxurious & Bold
Our Pleated Roman Shades feature uniform folds, creating the luxurious cascading effect that defines this style.
Key Features...
Uniform hobbled folds spaced 4-5" apart
Meticulously handcrafted appearance
Excellent functionality - for everyday use
Select
EXPLORE OUR PLEATED SHADES
Pleated shades offer a classic, refined look to any window, with light-filtering and blackout options that suit the needs of every space. There are two main types of Pleated Shades: energy-efficient Pleated Cellular Shades and luxurious Pleated Roman Shades . Pleated Cellular Shades help regulate interior temperatures with over 50 materials options, while Pleated Roman Shades offer a bold and lavish cascading look with unmatched functionality. Both options offer well-defined style for the bedroom, living room, office and beyond. Start exploring custom Pleated Shades by ordering free swatches of your favorite materials. When you're ready to take your project to the next level, request a free measurement to take the guesswork out of installation.

WHY CHOOSE PLEATED SHADES?
From energy efficiency to light and privacy control to stylish design options, there are endless reasons to outfit your windows with custom Pleated Shades.
Total Light & Privacy Control
Both Pleated Roman Shades and Pleated Cellular Shades offer light-filtering and blackout options so you can get the right amount of privacy and light in your home. Plus, both styles are exceptionally easy to operate, for effortless adjustment day in and day out.
Energy Efficiency
Whichever type of Pleated Shades you choose, you can enjoy some level of insulation. Pleated Roman Shades help insulate drafty windows with their thick, multi-layered design, and can keep heat at bay to a degree. However, if you're looking for the best in energy-efficient window treatments, opt for Pleated Cellular Shades. With their unique honeycomb design, Cellular Shades trap both hot and cold air alike, helping to regulate your indoor temperature — and maybe even help you save on your energy bills.
Material Choice
With either Pleated Shades option, you can choose from over 50 materials to suit your style and your needs. In our
fabric pleated window shades
collection, you can choose from soft linens to elegant silks, high-performance
Sunbrella®
material and more. Many of these materials come in either
light-filtering
or
blackout
options so you can achieve the right amount of light control. For Cellular Shades, you also have light-filtering and blackout material options in either single or double cell designs. Or, you can get the best of both worlds with
Day / Night Cellular Shades
that feature a light-filtering option on the top and blackout option on the bottom that you can easily adjust to get just the right amount of light filtration.
HOW TO CUSTOMIZE YOUR PLEATED SHADES
To ensure your custom Pleated Shades serve your aesthetic wants and your functional needs, you can choose from multiple customization options:
Select your level of light filtration. From gossamer sheers that soften the light to blackout materials that darken your space, you can choose pleated window blinds with just the right amount of light filtration. For both options, consider Day / Night Cellular Shades that feature both a sheer and blackout material in an easy-to-adjust design.
For Cellular Shades, choose your cell size. Choose from ¾" single cell or ⅜" double cell to get the right look for your space. Both offer similar insulation, but larger, single pleats tend to look more modern while smaller double pleats are more traditional.
Select your mount type. Pleated Shades can be mounted inside the window frame for a sleek, tailored look or outside the window frame to accentuate your window's height and width.
Choose your control type. From continuous loop and cord lock to sleek cordless designs and effortless motorization, you can choose to open and close your pleated window shades just the way you want to. Pleated Shades are also compatible with top-down, bottom-up functionality that allows you to adjust your shade by pulling it from the top down or from the bottom up for even greater light and privacy control.
PLEATED ROMAN VS. CELLULAR SHADES
When choosing Pleated Shades, you know that you have two main options: Cellular Shades and Pleated Roman Shades. Both feature pleats, but are made from different materials and boast different designs. Both types of accordion shades for windows offer good insulation for your home, but through different mechanisms. Cellular Shades have a unique honeycomb construction that traps hot and cold air, while Pleated Roman Shades feature luxurious, thick folds that create an extra barrier between the elements and your space. In terms of design, Cellular Shades offer a more modern, minimalist look, while Pleated Roman Shades are traditional and elegant, with a lavish look thanks to their many folds.
MEASURE & INSTALL FOR PLEATED SHADES
To optimize the energy efficiency and light filtration of your Pleated Shades, getting the perfect fit to your windows is essential. Whether you select an inside or outside mount, specific measurements allow our team to create custom Pleated Shades, designed specially to fit your windows. At The Shade Store, we offer full in-house measurement and installation services to take the work out of your hands. You can measure your windows yourself, or rely on our professional team to do it for you.
Schedule a free measurement
to get started. And when you've made all your window treatment selections, our expert team will be happy to come back for installation to ensure your window treatments look beautiful and work effortlessly.
VISIT US AT OUR SHOWROOMS NATIONWIDE
To experience both options of Pleated Shades for yourself, and explore your material options, visit one of our showrooms. With 135+ locations nationwide, each staffed with our expert Design Consultants, we're here to help you through every step of the process.
Find a showroom
and visit us today.