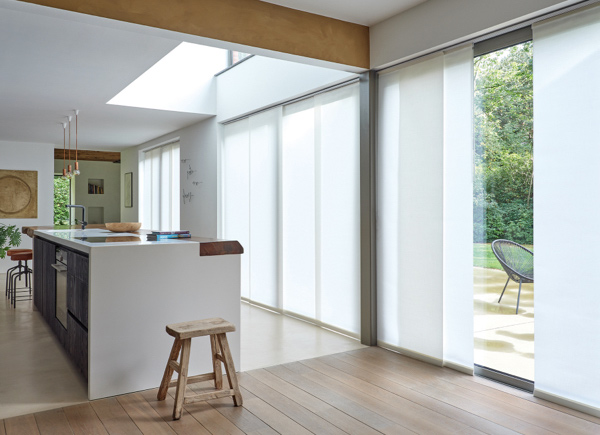 Create a soft, inviting oasis of light and comfort. Reduce glare and maintain privacy.
Key Features...
200+ materials to choose from
natural light and privacy
two control options: cord & baton
Start Customizing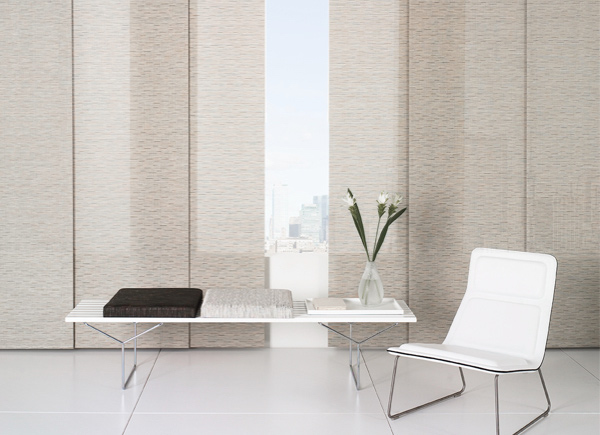 Exclusive designer collections, showcasing light-filtering solids, patterns and naturals, plus stylish solars.
Key Features...
7 materials, 43 colors
UV and fade protection
ships free in 10 days or less
Start Customizing
EXPLORE OUR VERTICAL WINDOW BLINDS
With over 300 materials to choose from and a sleek minimalist design, our vertical panel blinds match any room's decor and bring easy privacy and light control to your space. Choose from Light Filtering Panel Track Blinds or Designer Panel Track Blinds with multiple control options, including stainless steel chains, cordless or motorized operations. All of our vertical blinds are handcrafted in the USA by skilled artisans and ship free in 10 days or less. To get started, request a free measurement today or order swatches of your favorite materials online.

VISIT US AT OUR SHOWROOMS NATIONWIDE
Our nationwide showrooms are the perfect place to start searching for the right custom vertical blinds for your space. With over 135+ locations throughout the country, you can easily explore our materials and control options to create unique and modern vertical blinds that work for you.
Find a showroom
near you to get started today.
WHY CHOOSE VERTICAL WINDOW BLINDS
From energy efficiency to versatility, vertical blinds for windows and doors offer a variety of benefits for every room of the home.
Maintain Privacy & Light
Create an inviting — yet private — oasis with Light Filtering Panel Track Blinds that help maintain privacy while softening the natural light in the room for reduced glare.
Unique Material Selection
With 300+ material options, including Designer Panel Track Blinds with exclusive materials from our designer partners, you'll find the perfect look for your home with vertical blinds. Plus, certain materials for our modern vertical blinds, like our
Chilewich solar collection
, offer not only attractive designs, but also UV protection, ideal for your most sun-soaked spaces.
Ideal for Well-Used Windows & Doors
Vertical blinds offer a stylish, easy-to-use solution ideal for windows and doors you frequently need to use. With their simple panel track system, vertical window blinds easily slide back and forth so accessing your sliding door or window is a breeze.
HOW TO CUSTOMIZE YOUR VERTICAL BLINDS
As with all window treatments from The Shade Store, vertical blinds offer plenty of customizations so you can design them to be just right for your space. Explore your options for custom vertical blinds to help you decide on the perfect window treatments for your home. If you need further assistance, our expert
Design Consultants
are always available for assistance.
Choose Your Materials
Your first choice for custom vertical blinds is deciding on a material between two main collections: Light Filtering materials and Designer materials. Keep in mind that many Designer materials are also light filtering, so you aren't necessarily sacrificing the soft natural light you love if you opt for a Designer material. Material options across the two categories range from simple polyester blends to natural woven grasses and reeds to innovative Solar Shade material and more. And the color and pattern selection for vertical window blinds is also varied.
Select Your Mount Type
The track system for vertical panel blinds can be installed in three main ways: as a ceiling mount, an inside mount (inside the window or door frame) or outside mount (on the wall outside of the window or door frame). The choice will depend on your specific application and preferences. If used as a room divider, ceiling-mounted vertical panel blinds are best. For windows, an inside mount will likely give you a more streamlined, minimalist look. For sliding doors, an outside mount will ensure the vertical blinds stay clear of door handles and latches for smooth operation.
Decide on Your Control Mechanism
Choose from a pull cord, baton, or motorized system for complete control over your custom vertical blinds. A baton is certified as a "Best for Kids" option by an independent third party in conjunction with the Window Covering Manufacturers Association. Motorization is also safer for kids and an effortless way to control your vertical window blinds to suit your light and privacy needs.
Select Control Positioning & Your Track System Design
Control positioning refers to which side of the vertical blinds your control mechanism will live: left or right. This is usually a matter of preference, but sometimes it can affect functionality. For your vertical window blinds track design, you have the choice between simple white that can blend in with your ceiling or door frame or sleek silver, which can bring a metallic element to your design.
VERTICAL BLINDS BY ROOM
Thanks to their versatility, vertical window blinds are a smart solution for almost
any room of the home
. For the
living room
and
kitchen
, they allow beautiful natural daylight to filter through while still offering comfortable privacy. For spaces with exterior doors or floor-to-ceiling windows, vertical panel blinds offer easy access for otherwise hard-to-outfit areas, while still allowing for enhanced privacy and adding a touch of style. Vertical blinds are also a smart solution for splitting up spaces, as they can be used to create a custom room divider in bedrooms, living rooms, or other areas within the home.
VERTICAL BLINDS FOR SLIDING DOORS
Not only are vertical blinds a versatile solution for any windows, they also offer light and privacy control to sliding glass doors—while also allowing easy access. When selecting custom vertical blinds to outfit your sliding doors, a baton is usually the easiest control mechanism to easily slide your vertical panel blinds back and forth as needed. You can even slide individual panels one way or another to create just the right amount of space to access your door, while still providing light and privacy coverage where you need it.
ORDER CUSTOM VERTICAL BLINDS ONLINE
Ordering custom vertical blinds from The Shade Store is simple. Get started on your own, at one of our
showrooms
nationwide, or with a
free measurement
, right in your own home.
Order Free Swatches
To begin your selection process, you can order as many
free swatches
as you'd like to ensure your modern vertical blinds perfectly suit your style and home color scheme.
Visit Your Local Showroom
We have over 140+ showrooms nationwide where you can experience our vertical blinds and all customization options in-person. You'll also be able to explore our 1300+ materials for your vertical window blinds and talk with our team of experts to get your questions answered.
Find a local showroom
.
Book a Complimentary Design Consultation
Need a bit more guidance? Our expert Design Consultants will walk you through the entire process of ordering vertical blinds and help you make your final selections, in-person or online.
Request an appointment
.