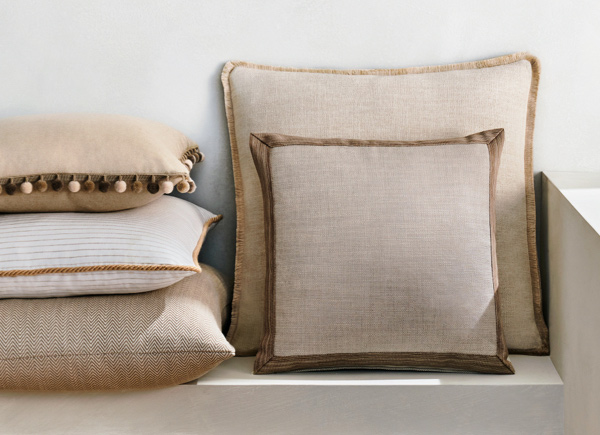 Classic Throw
Add comfort and dimension to every space with our custom Square Pillow, perfect for the couch, bed or anywhere you like to relax.
Details:
90+ Trims & 400+ Materials Available
Trim Styles: Knife Edge, Piping, Fringe, Tape
Start Customizing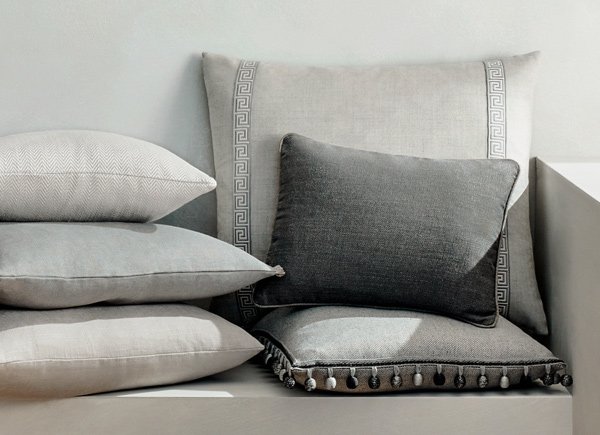 Comfortable Lumbar
Complement your home décor with our custom Rectangular Pillow, designed to elevate ensembles with a soft touch of texture.
Details:
90+ Trims & 400+ Materials Available
Trim Styles: Knife Edge, Piping, Fringe, Tape
Start Customizing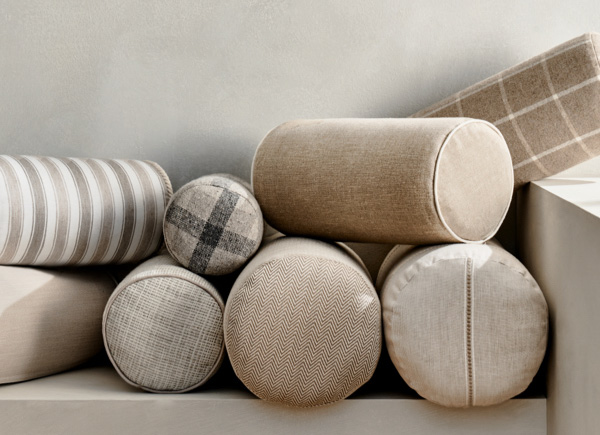 Elegant Accent
Bring refined character to ensembles of all types with our custom Bolster Pillow, crafted to be the perfect finishing touch.
Details:
10+ Trims & 400+ Materials Available
Trim Styles: Knife Edge, Piping
Start Customizing
EXPLORE STYLES OF CUSTOM PILLOWS
Choose from three unique styles — classic throw Square Pillows, lumbar-supporting Rectangular Pillows, and decorative Bolster Pillows for your custom pillows. Available in a variety of sizes, materials and trim, our decorative pillows can effortlessly tie together a room's décor while adding luxurious comfort. Choose from over 400 materials for your throw pillows to either coordinate with your space's color scheme or create attractive contrast. You can even choose the exact same material used in your custom window treatment from The Shade Store for a seamless, unified aesthetic. Visit a showroom today to explore our material selections and meet with a Design Consultant who can answer your questions and help you choose the perfect custom throw pillows for your space.

BENEFITS OF CUSTOM DECORATIVE PILLOWS
Custom throw pillows offer a multitude of benefits to your space. The right decorative pillows do more than look good; they bring design complexity to your space as well as provide targeted body support. Add throw pillows to your bed, couch, chair, or anywhere else you like to relax for dimensional decor that also brings comfort. While all our pillows are designed for a mix of functionality and style, different styles have different benefits. Bolsters are more decorative in nature, while classic Square and Rectangular pillows bring both style and comfort to your favorite spaces.
SHAPES & STYLES FOR CUSTOM PILLOWS
No matter your décor style, there are countless varieties of custom pillow designs options to complement your space. With
400+ materials
, 90+ trims, and various styles, shapes and sizes, you can outfit your space with the perfect decorative pillows by making a few simple selections. Start your customization journey by deciding on the shape of your throw pillows:
Square Pillow
Considered the most classic look for throw pillows,
square pillows
range in size from 12''x12'' to 30''x30'' and can be customized with piping, fringe, or tape. Square throw pillows provide classic elegance to your space while also delivering targeted body support when needed.
Rectangular Pillow
Designed for lumbar (lower back) support,
rectangular pillows
deliver on both function and style. Customize your rectangular throw pillows by choosing from a variety of sizes, materials, and trims. From neat and clean to intricate and elevated, you'll be able to find the right custom pillow design for your space.
Bolster Pillow
Crafted to add a sophisticated finish with their cylindrical shape,
bolster pillows
are primarily used as decorative pillows. Choose from hundreds of materials and finish your custom pillow design with a simple knife edge or tailored piping.
MORE CUSTOMIZATIONS FOR THROW PILLOWS
After selecting your preferred shape, there are even more ways to customize your decorative pillows. Your custom made pillows can be filled with poly or down inserts, and you can choose from hundreds of materials and trims across our exclusive collections.
Fill Options
For your square and rectangular throw pillows, you have two infill options: poly fill or down feather fill. Poly fill gives you a firmer feel and holds its shape better while down fill is softer to the touch, but will require occasional fluffing to maintain its shape. Bolster pillows only come with a poly insert to better hold their unique cylindrical shape.
Material Options
Choose from 400+ material options, including from our most-loved Designer Collections, like
Victoria Hagan
,
Sunbrella
,
Nate Berkus
, and more. Keep in mind that different materials have different properties. Some, like silks and linens, are more delicate in nature, so may not be ideal for high-traffic areas or homes with kids and pets. For more durable materials, consider choosing cotton or high-performance Sunbrella material.
Trim Options
The trim you choose for your decorative pillows will impact their final appearance. Your options include knife edge, piping, fringe, and tape for Square and Rectangular Pillows and knife edge and piping for Bolster Pillows. Knife edge provides a clean, crisp edge for a minimalist look, while piping adds subtle detailing that elevates your custom pillow design. Fringe and tape trim are a bit more elaborate and deliver an intricate, sophisticated look to your custom pillows.
Whether you already have a design scheme selected, or need help choosing, our Design Experts are available to help you find a material, trim and fill to bring the perfect look and best functionality to your space. To round out your design and add greater depth and dimension, you may want to select a variety of custom made pillows with different types and materials. Or, you can stick with a few of the same styles and materials for sophisticated simplicity.
ORDER YOUR CUSTOM PILLOWS
Ordering custom pillows from The Shade Store is simple. You can get started with one of the options below:
Visit Your Local Showroom
At any of our national showrooms, you can explore all of our custom pillow materials, including our exclusive
Designer Collections
. Plus, receive complimentary design assistance and guidance on material selection from our team of experts.
Find your local showroom
.
Book a Complimentary Design Consultation
Our expert Design Consultants will guide you through the entire process of customizing your decorative pillows, in-person or virtually.
Request an appointment
.
Order Online
Know exactly what you want for your custom made decorative pillows? Order your pillows online through our guided customization process. And if you have questions, call or visit your local showroom, where our Design Consultants will be happy to assist you.
VISIT US AT OUR SHOWROOMS NATIONWIDE
Our nationwide showrooms are home to local Design Experts and endless swatches to explore for your custom decorative pillows. With over 135 locations across the US, you can easily explore a wide selection of materials and trims to find the perfect match for your space.
Find a showroom
near you to get started today.