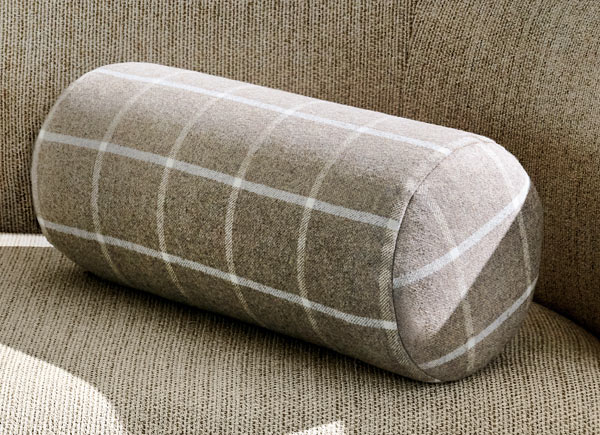 Neat & Clean
This decorative pillow is made with just a simple seam for a refined appearance.
Details:
400+ Materials Available
Crisp Sewn Seam
Start Customizing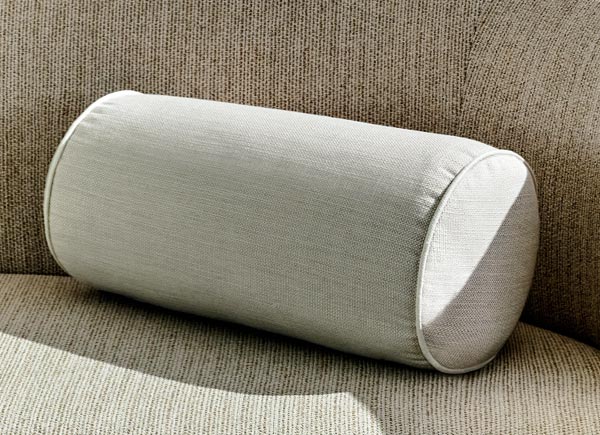 Timeless Character
This classic pillow features fine piping trim for a tailored look and feel.
Details:
400+ Materials Available
10+ Piping Options Available
Start Customizing
EXPLORE OUR BOLSTER PILLOW COLLECTION
Bolster pillows, with their elegant cylindrical shape, add elevated charm to any room. Whether used as bolster couch pillows or a bed bolster pillow, these unique pillows deliver a refined appearance. And their design versatility means they look great placed on their own or layered with Square and Rectangular Pillows for a multi-dimensional effect.

Get started designing the perfect decorative bolster pillow by ordering free swatches online to compare at home. Or, visit your local showroom to see all your material options together and get complimentary advice from our talented Design Consultants.
WHY CHOOSE BOLSTER THROW PILLOWS?
Bolster throw pillows are primarily decorative. Their cylindrical shape provides an unexpected, attractive finishing touch to your bedroom or living room ensemble. These rounded pillows are highly versatile, and will suit many different styles from traditional to contemporary.
Plus, when you choose Bolster Pillows from The Shade Store, you'll enjoy exclusive benefits, including customization options. Choose from multiple sizes, 400+ materials, and 10+ trims to create the right custom bolster pillow for your home. And if you need assistance, our Design Consultants are ready to help you make the right choices for your pillow design with
free consultations
.
CUSTOM BOLSTER PILLOW OPTIONS
Choosing bolster throw pillows from The Shade Store means you have lots of customization options, from sizing to trim and material choices.
Size Options
Choose from 84 sizing options from 5" diameter x 10" length to 10" diameter x 36" length. The right size will depend primarily on where you plan to place your pillow. For instance, if you plan to place a single bolster pillow on your king-sized bed, it'll be best to choose a long bolster pillow of a larger size so the pillow doesn't look too small on the bed. The same thinking applies when placing a custom bolster pillow on a smaller bed like a full-sized bed or a chair or couch. The size should always be proportional to the space.
If you're combining your decorative bolster pillow with other pillows, also be cognizant of the sizes of the other pillows. While some size variation is desirable for a multi-dimensional effect, none of them should be too much larger or smaller than any other.
Material Options
The Shade Store offers 400+ material options for your custom bolster pillow design, so you can find the right color and pattern to suit your space. If you also have
custom window treatments
from The Shade Store, you may be able to perfectly match your pillow to the fabric of your window treatments for a unified aesthetic. Or, you can opt for some unexpected yet pleasing contrast by choosing a complementary color or pattern.
When choosing your material, it's important to also think through how much handling your pillow will receive. For homes with kids and pets, a more durable fabric like
cotton
or
Sunbrella®
material will hold up better to frequent handling. If you live in a quiet home, you can more readily choose delicate natural materials like
linens
and
silks
for a more premium look and feel.
Trim Options
Our Bolster Pillows feature two trim options: knife edge and piping. Choosing the right one for your space is mostly a matter of preference. Knife edge provides a crisp, clean, simple look with unadorned edges. Piping elevates the look of your decorative bolster pillows with a defined edge that delivers timeless character.
BOLSTER PILLOW: KNIFE EDGE VS PIPING
Knife edge and piping refer to the trim of your bolster pillows. A knife edge trim is a simple, unadorned, crisp seam running the outer circular edge of your bolster pillow. This type of trim is usually a better choice for homes with kids and pets, as there's nothing to grab onto to pull. Piping trim is a cord, either plain or braided, that is sewn into the seam of the outer circular edge of your decorative bolster pillow. Piping adds an extra level of refinement to your pillow, and is best for homes or particular rooms where kids and pets have minimal access.
COUCH VS BED BOLSTER PILLOW
A couch or bed bolster pillow is really the same type of pillow. The differences often come down to the design and size of each. For design, you'll want to match each bolster pillow to the room it will live in. For instance, bolster couch pillows should complement the couch color and interior decor of your living room. A bed bolster pillow on the other hand, should fit in nicely with your bedspread and the color scheme of your bedroom.
Another consideration for bolster couch pillows is they will often be exposed to more activity than a bed bolster pillow, and so may require more durable fabric like
cotton
or
Sunbrella®
material. The size of the bolster couch pillows should also be proportional to the size of the couch. A love seat will likely look nicer with a smaller bolster pillow, while a full-sized couch can feature a long bolster pillow.
For a bed bolster pillow, you may be able to choose more premium fabrics like
silk
or
linen
, as long as there isn't too much interaction from kids and pets. Similar to bolster couch pillows, the size of your bed bolster pillow should be proportional to the size of your bed. A king-sized bed can have a larger bolster pillow than a full-sized bed. Keep in mind that bolster pillows are primarily decorative and are not ideal for sleeping.
VISIT US AT OUR SHOWROOMS NATIONWIDE
Explore bolster pillows and more pillow options — as well as custom window treatments — at your
local showroom
. Our showrooms feature interactive product examples so you can discover the perfect fit for your home. Plus, our Design Consultants are available to help you with any question you have, as well as walk you through your product options so you can design the right custom bolster pillow for your space. To get started on your own, you can
order free swatches
online of your favorite pillow materials to compare in the comfort of your home. If you have any questions,
request a complimentary design consultation
and we'll be happy to help.