Shea and Syd rely on custom window treatments, not only for their design projects, but also for the window treatments in their own dream home. They believe the right window treatments can make a huge impact in a room and to capture just the right look and functionality, custom is the way to go. Like Shea says, "When you have the right custom window treatments made to fit your windows just right, the results are so much better than what you might get with a premade product."
Explore benefits of going custom, tips for your own custom window treatment project, as well as inspiring ideas from Shea and Syd's own dream home.
Why Choose Custom Window Treatments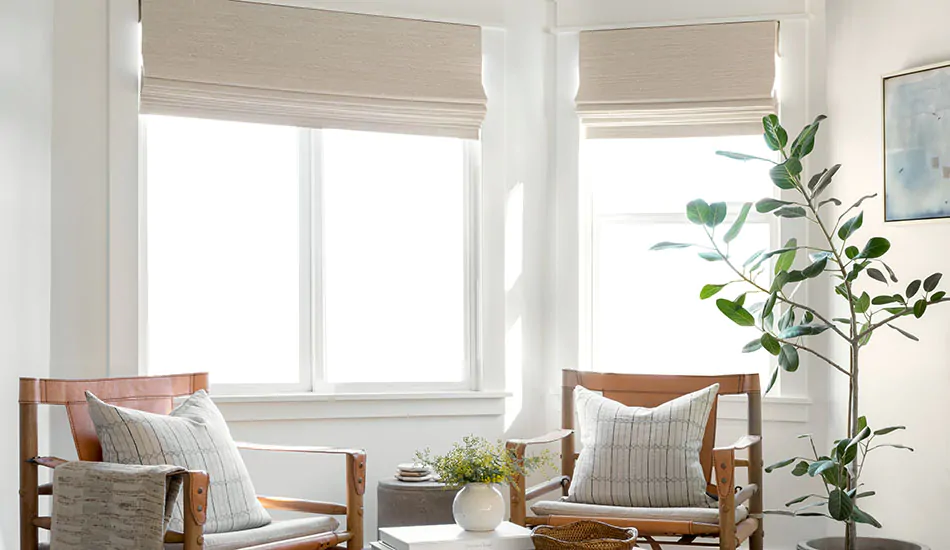 Wondering if custom window treatments are worth it? For Shea and Syd McGee, it's a "yes." Studio McGee window treatments used in Dream Home Makeover projects as well as for all the windows in their own home are custom made from The Shade Store. Why? Custom window treatments have serious benefits over their premade counterparts that elevate not only the look of your space, but your functionality too.
Some benefits of custom window treatments Shea and Syd often list, include:
Feel Confident in Your Project
Custom products like Studio McGee window treatments take the guesswork out of your project and gives you confidence that your window treatments will fit and function perfectly. Plus, at The Shade Store, we offer free measurements to take the hassle out of doing it yourself.
Enjoy Complete Flexibility in Function
Going custom with your window treatments gives you the freedom to completely customize the functionality of your shades, blinds or drapery. From different levels of privacy and blackout lining to motorization and more, you can create the perfect solution for every room in your home.
Create Designs Just Right for Your Space
With many more material and style options than premade products, you can create the perfect designs to blend in seamlessly with your existing interior design. The result is a cohesive aesthetic, just like Studio McGee window treatments have. Plus, you can use your window treatments to add dimension to your room with elevated details like pleats, patterns and unique textures. Details like these can help make your room feel polished and complete.
Add Value to Your Home
When custom-made for your home, your window treatments become a part of the deal when it's time to sell. Choosing high-quality, handcrafted window treatments that stand the test of time gives you the best chance of adding the most value to your home.
Tips for Your Own Custom Window Treatment Project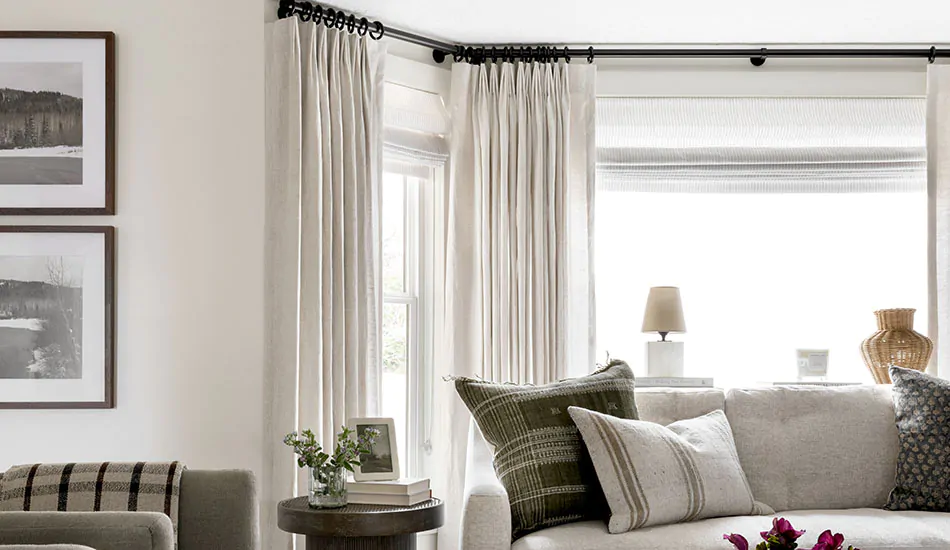 Considering custom shades, blinds or drapery like Studio McGee window treatments? The dynamic duo, Shea and Syd, have great advice to offer, not only through their projects on Dream Home Makeover, but also personal experience with their own home.
To ensure your custom window treatment project is a success, take this advice:
Start with Functionality
Consider how you need your window treatments to function before thinking about the aesthetics. Will you need blackout shades or drapery for your bedroom? Do you want to insulate a drafty window? Are you thinking about covering a tall window that's difficult to reach? All these factors will help narrow down the type of window treatments that will best suit your space.
Order Material Swatches Early
Shea suggests ordering your swatches and narrowing down your material options while you're still in the process of selecting furniture for a newly refurbished space. This will help you ensure all the textiles in the room flow together beautifully. Already have furniture and décor? It's still a good ideal to order swatches early in the process to start filtering through your options and find the best match for your space. And if you're not sure where to start, you can always go with our most popular options.
Repeat Textures & Tones from Room to Room
To ensure all the window treatments in the McGee's home were cohesive, they would repeat the same window treatment color, material or in some cases both. For instance, every time they used a Waterfall Woven Shade, they chose the material Seaview in the color Dune. While this material has since been discontinued, you can get the same look with Monterey, Seashell or Beacon, Salt. And every time they used Tailored Pleat Drapery, they chose Luxe Linen but in different, complementary colors for each room.
Consider What the Room Needs to Look Complete
Does your room need more texture and dimension? Choose a highly textured window treatment like Woven Wood Shades. Does your neutral room need a pop of color? Choose from a patterned design to add both color and visual complexity. Do your dark walls feel oppressive? Brighten the space and keep things light and airy with light-colored drapery in a sheer or linen material.
Don't Forget About Hardware
The hardware for your window treatments can be an important part of the design as well. When choosing hardware for her drapery or shades, Shea likes to keep it simple, with clean tones and minimalist styles for a seamless, classic look. And while you don't have to use the same hardware in every room, do make sure all the styles and finishes complement each other for a seamless look.
Inspiration from Studio McGee Window Treatments
With the insight you need to start your custom window treatment project off on the right foot, it's now time for some inspiration from the McGees to spark your creativity.
Explore these Studio McGee window treatments used in their own home for inspiration and learn the reasons behind each selection to help inform your own choices.
Warm, Inviting Bedroom Window Treatments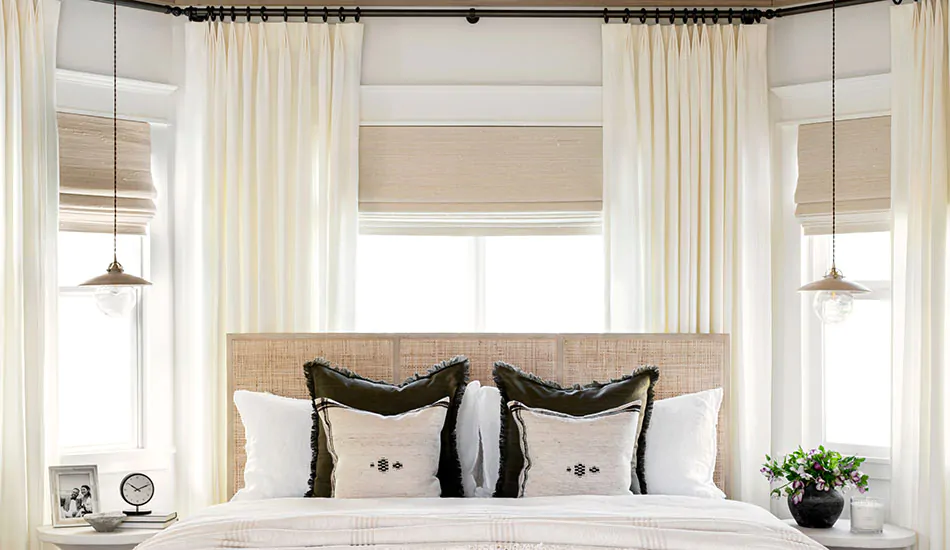 For the bedroom Studio McGee window treatments, Shea and Syd opted for a layered look with Tailored Pleat Drapery in Luxe Linen, Beige and Waterfall Woven Wood Shades in Seaview, Dune. Remember Seaview is discontinued, but you can still get the same look with Monterey, Seashell or Beacon, Salt.
The layered treatments and different textures of each add dimension to the room for greater visual interest. Plus, the way Shea placed the curtains and chose an inside-mount for her shades all work together to accentuate the shape of the bay window. And, because Shea and Syd needed privacy, but didn't need the maximum amount or the most room darkening effect for this room, they opted for privacy lining in the Woven Wood Shades.
Cozy, Dark Media Room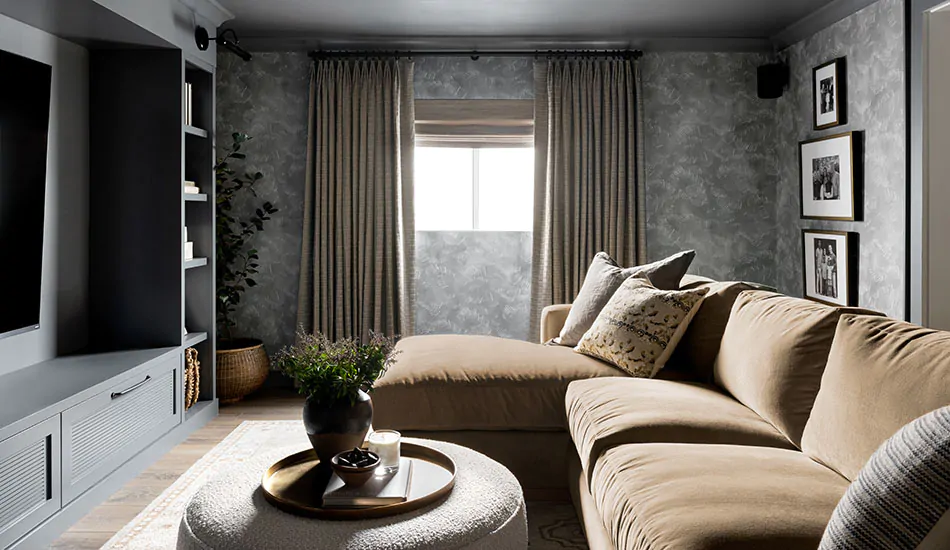 A media room is meant to be a place for coziness where the family gathers to watch movies and play games together. Creating a room darkening effect is crucial to enjoying the best media experience, so the McGees chose Tailored Pleat Drapery made from the dense, rustic linen weave of Upton in grey Pebble and lined it with blackout lining. To add texture and dimension to the window, they layered the drapery with Woven Wood Shades made of Del Rey in Grey. Both window treatments feature a cool grey color for a calming aesthetic, which diverges from other rooms they designed using window treatments of light, warm creamy colors. These darker-toned choices better blend with the existing color scheme and help create the right tranquil atmosphere perfect for family movie night.
Get the Look: Studio McGee Inspired Colors
Discover Shea and Syd's favorites from The Shade Store to inspire your own color palette.
Lead With Light in the Dining Room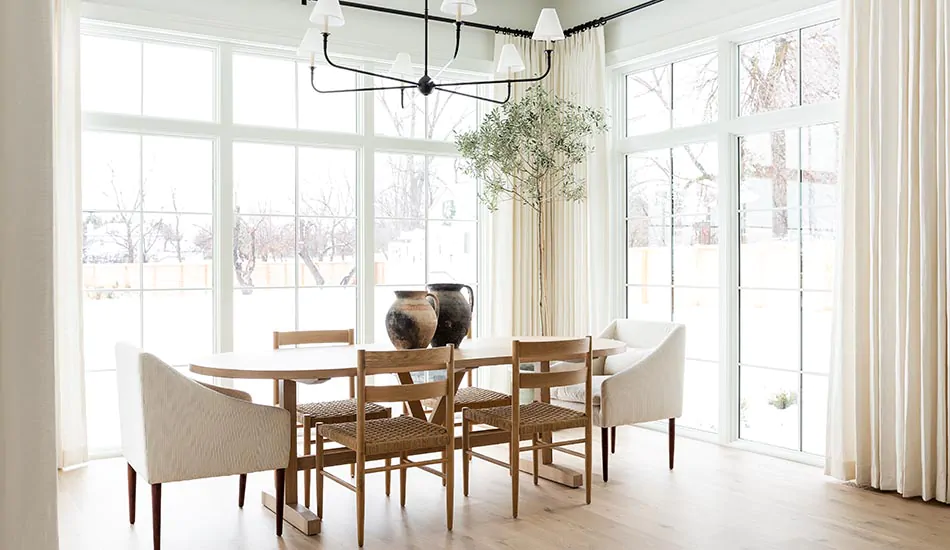 When designing the dining room, Shea's goal was to create a space that felt like a sunroom with lots of natural light, but functionally acted as both a formal dining room and kitchen nook. To achieve this, she opted for tall windows that extend all the way to the floor for maximum natural light. For the décor and window treatments, she chose pieces that bridge the gap between formal and casual. The floor-to-ceiling Tailored Pleat Drapery in Luxe Linen, Oyster, add just the right amount of texture and dimension to the space, while also helping to soften the corners of the room. And, to allow as much natural light in as possible, Shea decided to skip on shades altogether.
EXPLORE OUR MOST POPULAR SWATCHES
Not sure where to start your material search? Order our most popular swatches for free to see what's in style — and maybe find your new favorite.