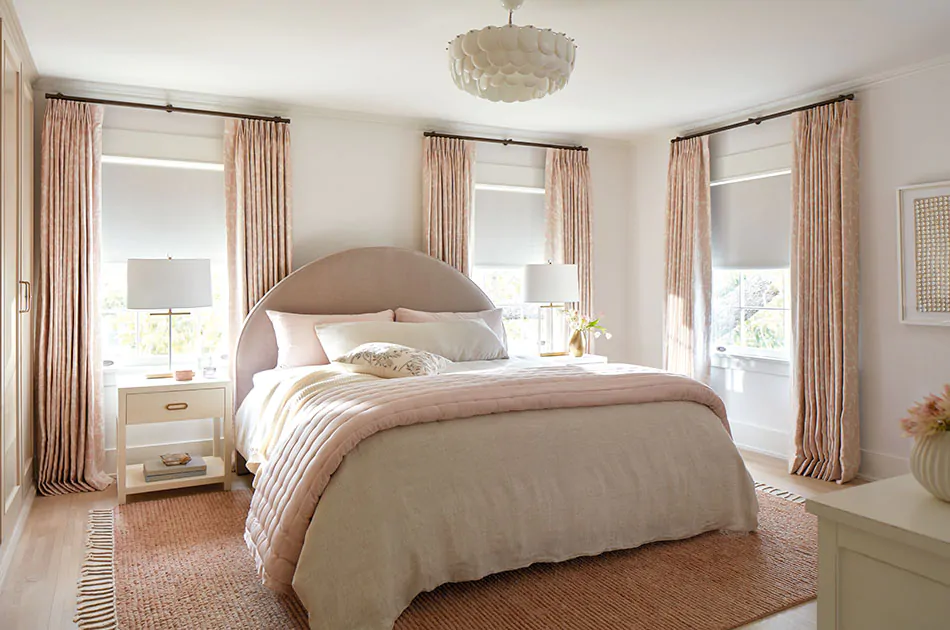 Drapery Lining 101: Types & How to Choose
If you're looking to learn about drapery lining, you're likely interested in learning what your options are as well as how each will improve the functionality and appearance of your drapery. The good news is there are several types of drapery lining, each with its own benefits, so you can find the right option for your specific needs.
Before exploring the different types of fabric curtain lining, first learn just what a curtain or drapery liner is, then dive into their shared benefits.
What Is a Drapery Liner?
A drapery liner is an extra layer of fabric sewn, buttoned or Velcroed into the back of a drapery panel to provide better privacy, light control, sun protection, fullness, and insulation. Different types of drapery lining provide different levels of these benefits.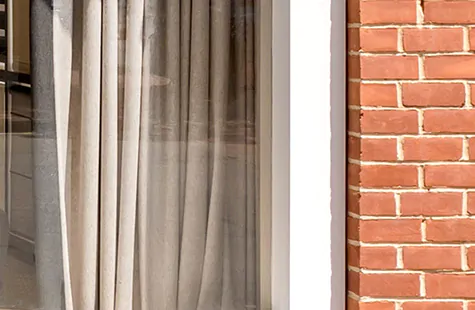 What Fabric Is Used for Drapery Lining?
Cotton, polyester, or sometimes a blend of the two are the main materials used for drapery lining and typically come in a neutral tone like white or cream. You can also line your drapery with the same material used on the front in either the same or a contrasting color, but this material alone may not provide the same protection that a lining-specific material will. At The Shade Store, our linings are either polyester, cotton, or a blend of the two and come in white and off-white tones.
Benefits of Drapery Lining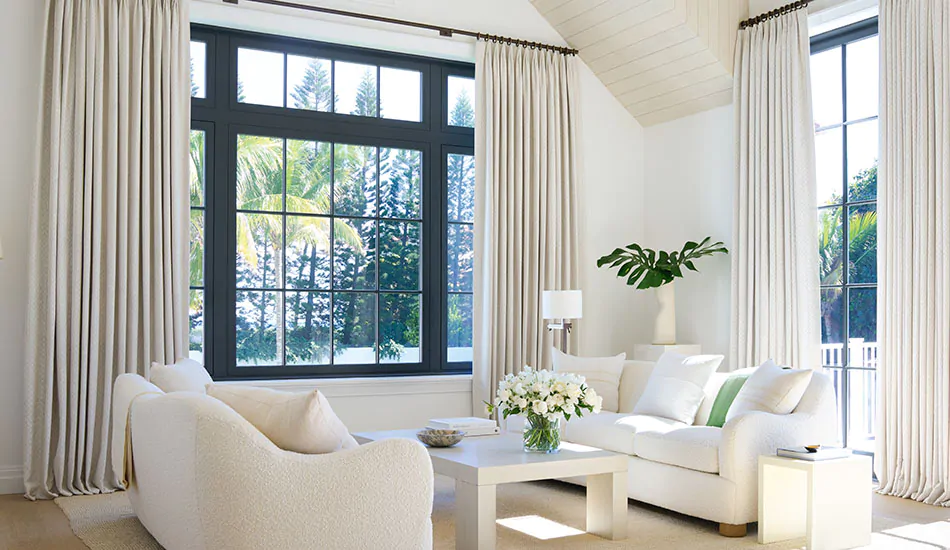 Regardless of the type of drapery lining you choose, all of them offer several universal benefits including:
Sun protection – Lining protects your front-facing drapery material from the sun's harmful rays which could otherwise cause fading and even deterioration.
Insulation – Any extra layer of fabric will add a bit more insulation to your window to keep out the draft or reduce heat buildup. The thicker the fabric curtain lining, the greater the insulation benefit.
Better light control – Lining helps to further soften natural light or block it entirely, based on the type of lining you choose.
Better privacy – Lining provides another layer to block the view from the outdoors into your home and vice versa, so you have greater peace of mind in your privacy.
Adds visual weight and fullness – The additional fabric gives your drapery panels a more defined silhouette for greater lushness and fullness.
Types of Drapery Lining
Now that you know what a drapery liner is, as well as the universal benefits of lining, you're ready to learn about the different types so you can decide which one best suits your needs.
These drapery lining options are those offered by The Shade Store, and all are sewn into the back of your drapery panels at the time of purchase. We do not sell drapery lining separately.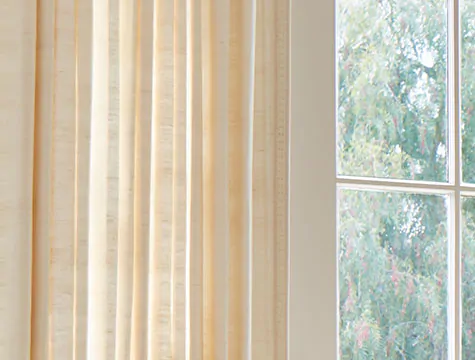 Privacy Lining
Privacy lining provides excellent privacy for peace of mind while still letting some natural light gently filter through.
We offer two options for privacy lining:
Privacy White, 100% Polyester – Used when your chosen fabric is any material except a sheer.
Soft Privacy White, 70% Polyester, 30% Cotton – Used when your chosen fabric is a sheer.
Choose this for: Excellent privacy, an inviting light-filtering glow and good insulation.
blackout lining
Made of tightly woven polyester, Blackout Lining blocks up to 99% of natural light, offering the best privacy and a room darkening effect ideal for bedrooms.
Blackout lining is available as Blackout White, a 100% Polyester material that is used standard with most fabrics.

Choose this for: The best privacy, a peaceful room darkening effect, and great insulation.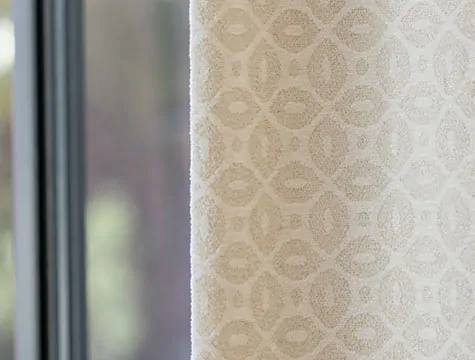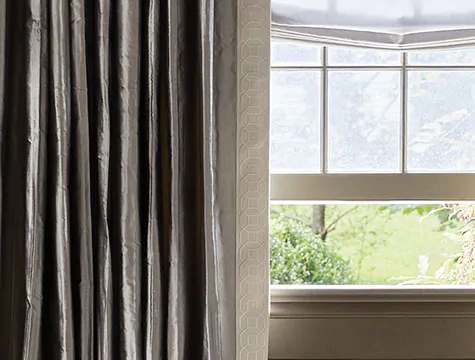 interlining
Interlining consists of an additional fabric added between your chosen lining (privacy or blackout) and the front-facing drapery fabric. The result is better insulation and an even fuller, more luscious body for your drape panels.
Interlining is available as Interlining White, a 100% cotton material used standard whenever interlining is specified.

Choose this for: Excellent privacy, a soft, muted glow, and the best level of insultation.
unlined
Unlined drapery refers to panels that have no lining at all. Not lining your drapery allows you to experience the fabric's natural light filtration, color and texture. Unlined drapery is most common for sheer materials, since these lightweight fabrics are made specifically for their ability to filter and soften natural light.

Choose this for: Some privacy and lots of softened natural light that highlights the materials' texture.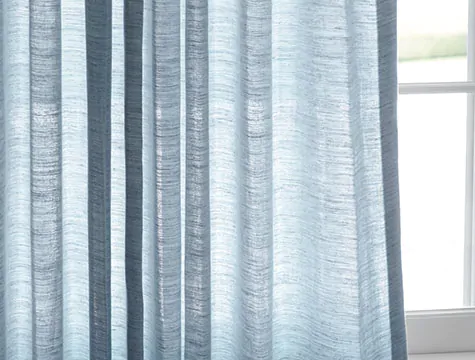 How Do You Attach Lining to Curtains?
Drapery lining can be sewn, buttoned, clipped or even Velcroed into the back of your drapery panel, depending on how it was made. At The Shade Store, we only offer lining sewn by professional artisans into the back of your newly ordered drapery panels for the very best effect and highest quality. We do not sell lining separately.
Fabric Curtain Lining Inspiration
Now that you know what the different types of linings are and their benefits, explore curated spaces featuring drapery with fabric curtain lining to get ideas and help solidify your decision.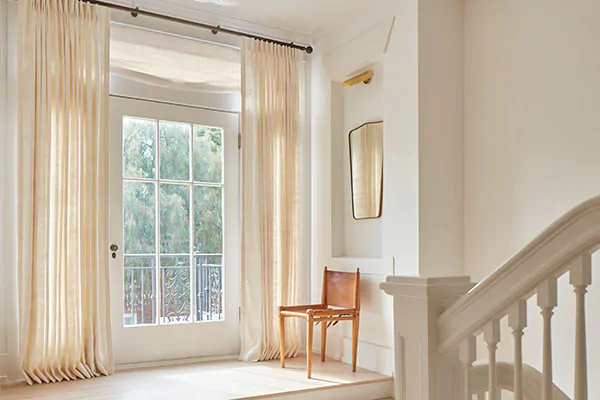 Soft Light & Privacy
In a transitory space like a stairwell landing, privacy-lined drapery can help ensure the perfect amount of softened light during the day for safe movement unhindered by glare or too much darkening. Plus, the lining will provide excellent privacy whenever needed. And when you choose a delicate, natural fabric like Raw Silk, privacy lining helps protect the material from the sun while still allowing light through and highlight the fabric's natural texture.
Pictured: Outer Layer: Tailored Pleat Drapery, Raw Silk in Glacier, Privacy Lining and Inner Layer: Relaxed Roman Shade, Luxe Sheer Linen in Off-White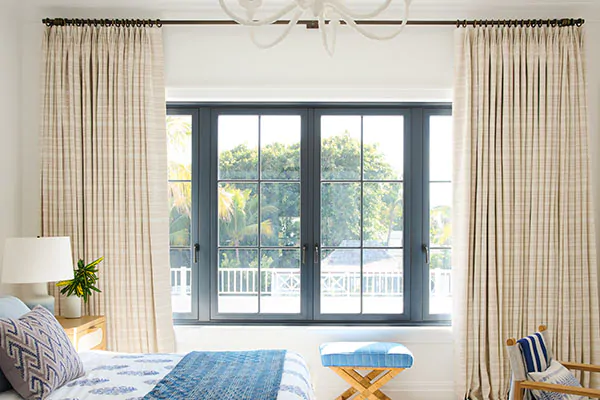 Tranquil Room Darkening & Added Visual Weight
In a bedroom, blackout lining can help improve sleep by providing a tranquil room darkening effect that blocks up to 99% of natural light. For the best room darkening, add blackout lining to thicker materials like wool, cotton or linen. With its thickness and stiffness, blackout lining also adds visual weight to your drapery for a fuller, more defined appearance.
Pictured: Tailored Pleat Drapery, Victoria Hagan, Tidal Line in Natural, Blackout Lining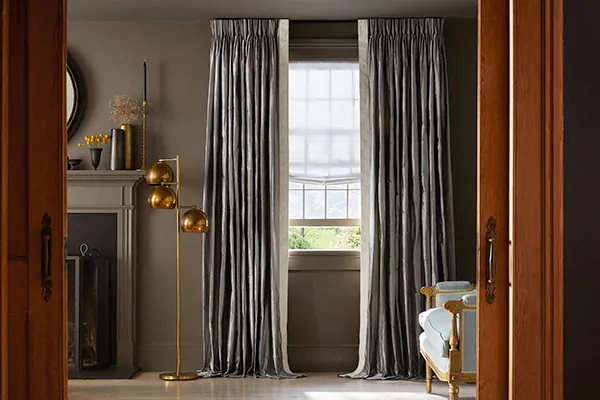 Finalize Your Drapery & Fabric Curtain Lining Selection
With inspirational ideas to spark your creativity in addition to learning about your fabric curtain lining options, you likely have a strong sense as to which lining will work best for you. Visit a local showroom today to explore your drapery lining options in more depth as well as pick up swatches of drapery material so you can create the perfect design for your aesthetic style and functional needs. Plus, you'll meet our expert Design Consultants who can help answer your questions and guide you in your decision-making process.