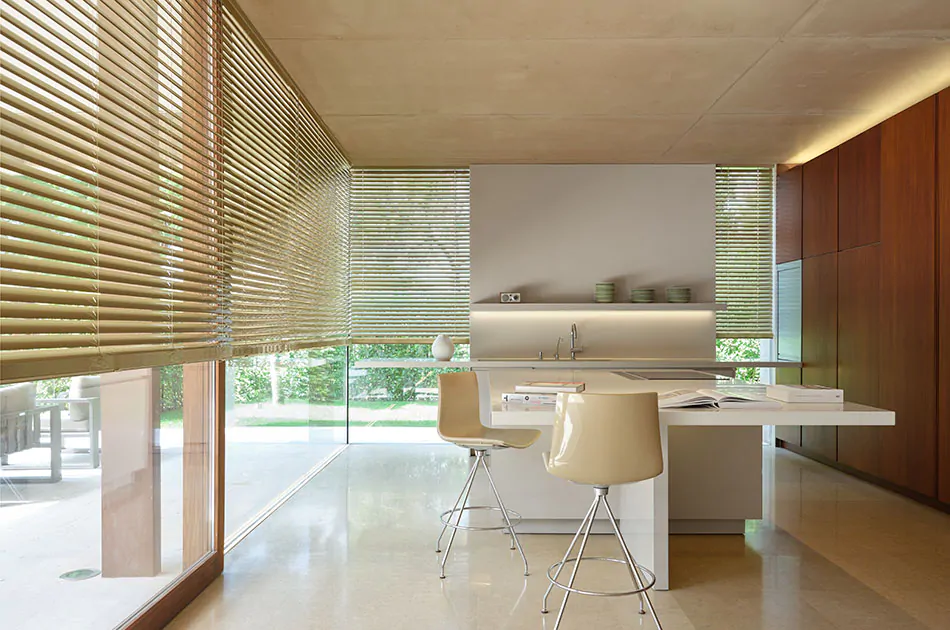 Blinds for Tall Windows & Other Solutions
Tall windows make a dramatic statement in any home with their size, their expansive view to the outside as well as the amount of natural light they let in. But just like any window, light and privacy control are essential for you to get the best out of the overall room. For windows that are tall and narrow or tall and wide, it can be difficult to know which window treatments will give you the best functionality with the right look. The same can be said of high windows that are out of reach like clerestory windows, common in mid-century modern homes. Luckily, there are a range of shades and blinds for tall windows, as well as drapery options, that give you the functionality you need while also providing a stylish upgrade to your tall or high window.
Before diving into window treatments for high and tall windows, first learn how to think through two key factors that will help you decide on the right option for you: functionality and aesthetics.
Considerations for covering Tall or High Windows
When considering window treatments for tall windows, functionality and aesthetics are key aspects to think through to ensure you get easy to use light and privacy control with the look you want.
Functionality: Since tall or high windows are likely out of your reach, you'll need to make sure the control type you choose allows you to open and close your window treatments easily. Motorization is often your best bet, but a cord lock system or continuous loop system can also work in many cases. However, keep in mind the cords or chains on these systems may have to be very long in order for you to reach them easily. A cordless control type is often unsuitable for tall or high windows, as you'll only ever be able to lift your shade or blinds as high as you can reach.
Aesthetics: Tall or high windows are often not standard window sizes, so finding pre-made options that fit well and look stylish may be difficult. Choosing custom window treatments for tall windows will give you shades, blinds and drapery made specifically to fit your window for a high-end, tailored look. Plus, you can customize nearly every aspect of your window treatment to ensure they suit your existing interior décor for a cohesive look in your room.
Window Treatments for Tall Windows
Now that you know what factors to think through regarding your window treatments for tall windows, you're ready to dive into all your options.
Discover blinds for tall windows as well as shades and drapery to find the right solution, or combination, for your windows.
Blinds for Tall Windows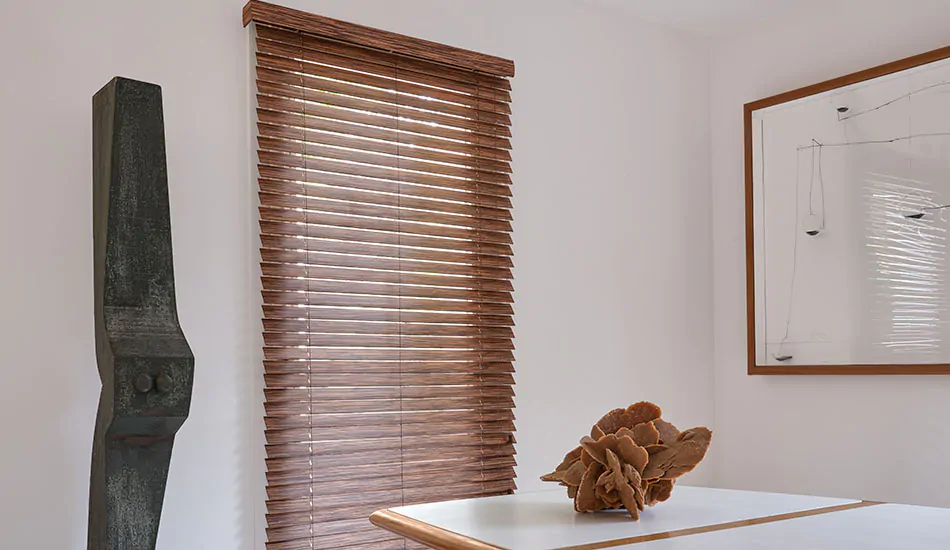 Blinds for tall windows come in two main product options:
Both main types of blinds are great options for providing light and privacy control, but they of course differ in style and functionality so choosing the right one will depend on your needs and style preferences.
Wood and Metal Blinds allow you to control your light and privacy in two ways: By lifting the blinds up or down, or by tilting the slats.
Vertical Blinds operate on a panel track system make them very easy to slide into the position that gives you coverage where you need it.
Learn more about your options to decide which blinds for tall windows are right for you.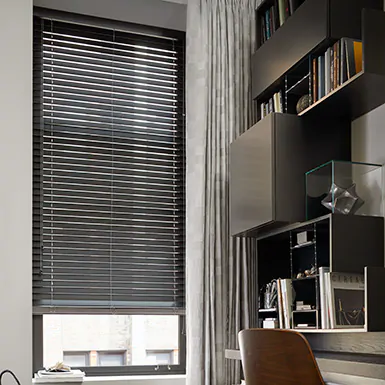 Wood Blinds for Tall Windows
Wood Blinds are made of either real wood or faux wood and deliver warm wood tones that add an inviting natural element to your space.
Good for: High windows and tall windows that are taller than they are wide, as Wood Blinds can get heavy when used on wide windows, making them harder to lift manually.
METAL BLINDS FOR TALL WINDOWS
Metal Blinds are made from light, durable aluminum and offer a sleek, modern look in several colors and finishes.
Good for: High windows and tall windows of nearly any size, as their light weight ensures they don't get too heavy to lift.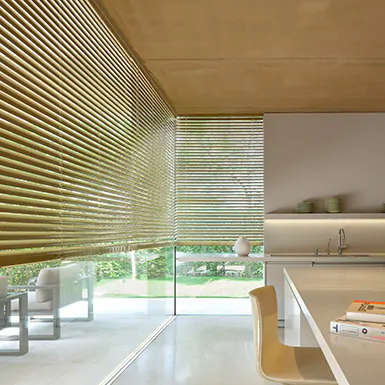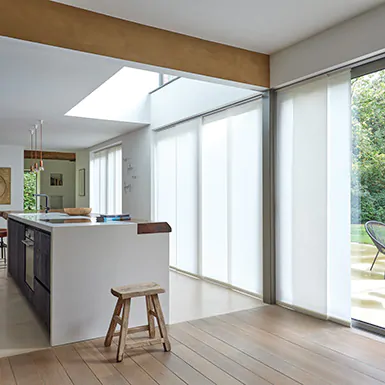 Vertical Blinds for Tall Windows
Vertical Blinds feature chic panels with a minimalist aesthetic that can suit nearly any style. Plus, functionality is easy, as these blinds run on a track system, so you can slide them just where you need them.
Good for: Large, floor-to-ceiling windows or sliding glass doors.
Shades for Tall Windows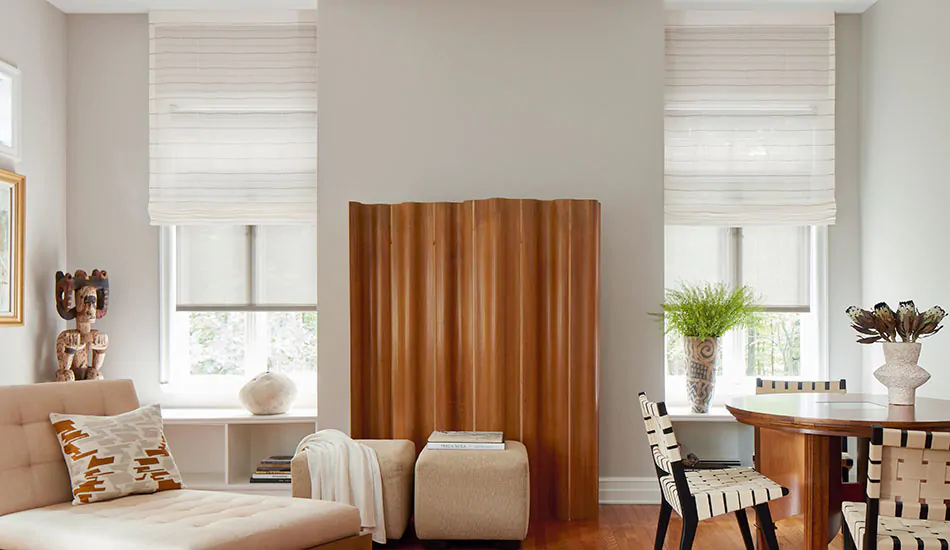 Shades come in many different styles from crisp, clean Roller Shades to soft, elegant Roman Shades and functional Cellular Shades. Many types of shades are highly functional, giving you easy control of your light and privacy. Some shades also feature additional benefits like energy efficiency, a room darkening effect and more, making them a versatile choice for use as window treatments for tall windows.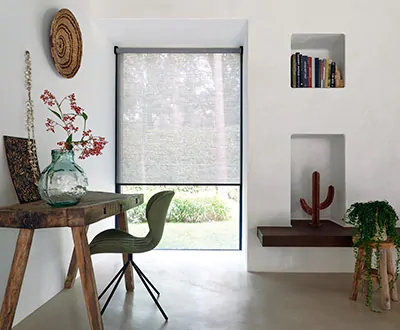 Roller Shades
Roller Shades lift and lower around a tube at the top of your window. These types of shades offer a sleek, minimalist design and are very easy to operate. Plus, they offer key light filtering and blackout options to suit your needs.
Good for: Blocking light or filtering light through nearly any tall or high window.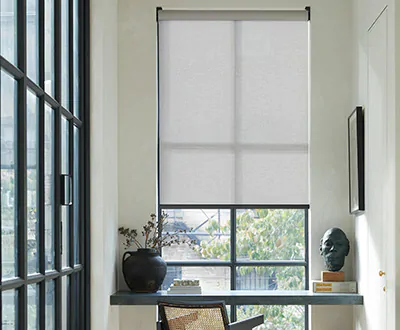 Solar Shades
Solar Shades also lift and lower around a tube and deliver a sleek, minimalist design. These shades block up to 99% of UV rays based on their transparency level. Blocked UV rays means reduced glare, less heat buildup and less fading of your flooring and décor.
Good for: Filtering UV rays in nearly any sunny tall or high window.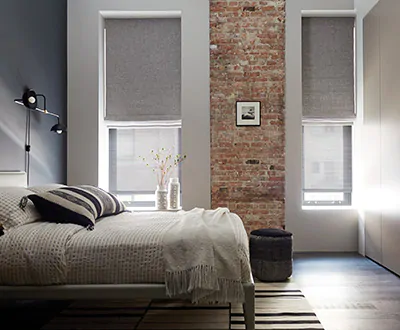 Roman Shades
Roman Shades offer several styles ranging from functional, modern styles to elegant, decorative designs. Roman Shades come in light filtering and blackout options and choosing heavier fabrics can help insulate a drafty window.
Good for: Providing an elegant, soft look with some insulation on nearly any tall or high window.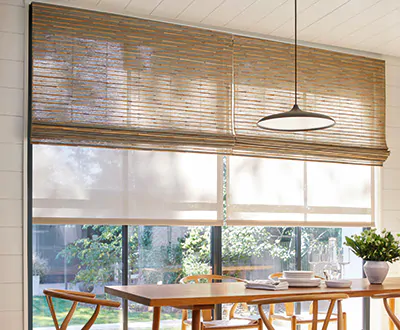 Woven Wood Shades
Woven Wood Shades are made with eco-friendly fibers like bamboo, reeds and grasses and come in several functional styles. Their natural woven material softly filters light and gives these shades an inviting, organic look.
Good for: Adding an organic element that softly filters light through nearly any tall or high window.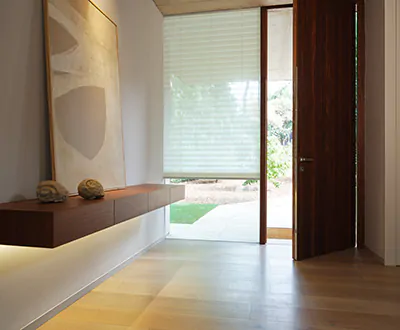 Cellular Shades
Cellular Shades are a functional, modern option for tall windows. Made with a unique honeycomb design, these shades offer great insulation as they capture warm and cold air in their cells, helping to regulate your interior temperatures.
Good for: Insulation in nearly any sunny and/or drafty tall or high windows.
Drapery for Tall Windows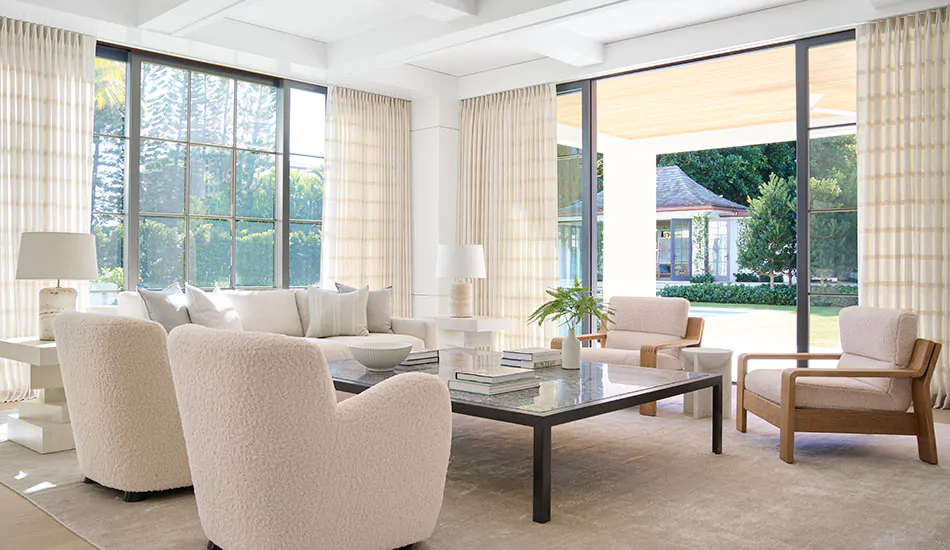 Drapery is a great choice for tall, large windows as floor-to-ceiling curtains help to further accentuate the window's height by drawing the eye upward. The fabric of drapery also makes a dramatic visual impact by adding textural dimension to the room. Some styles of Drapery are primarily decorative while others are functional, so be sure to keep your needs in mind when choosing Drapery.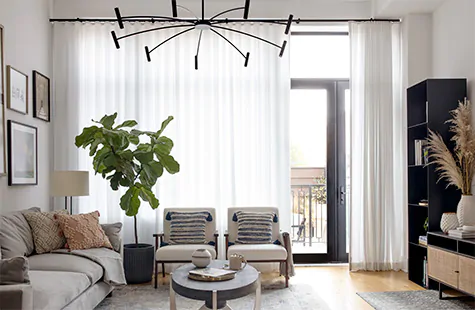 For the Best Functionality, Go with a Track System
A track system allows you to easily slide your drapery across your tall and wide windows manually or with motorization. However, not all drapery styles are compatible with a track system, so make sure you choose a style that can be installed on a track, like Ripple Fold Drapery (pictured).
Explore All Your Drapery Options
Learn about all the different pleat styles to find the right one that suits your style and your functional needs.
Motorized Window Treatments for Tall Windows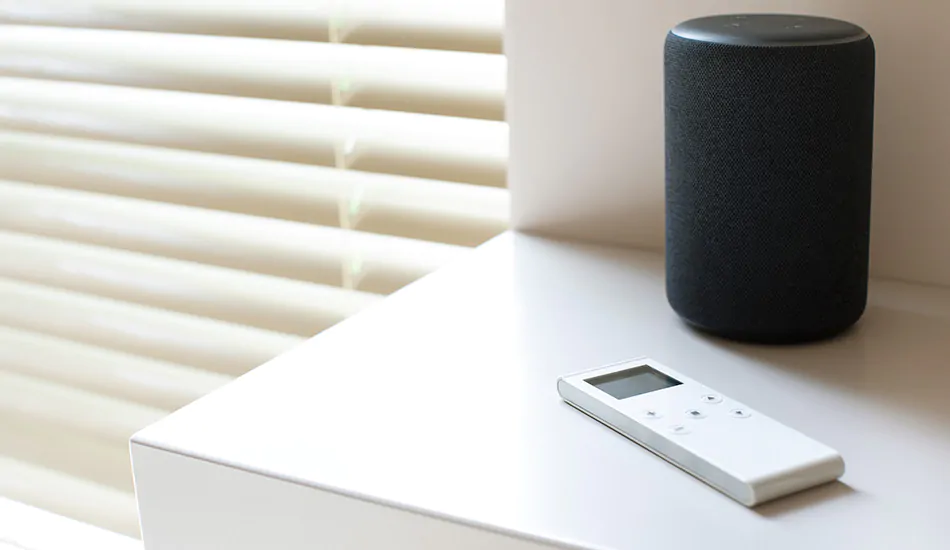 To ensure effortless light and privacy control on a daily basis for your shades, drapery or blinds for tall windows, upgrade your window treatments with motorization. Most window treatments for tall windows are compatible with motorization, except for those that are primarily decorative.
Motorization allows you to control your window treatments with a remote, an app on your smartphone or tablet or even with the sound of your voice, when paired with a smart home automation system. Often, you can even program your window treatments to open and close when you need them to, for truly effortless functionality. Plus, you won't have any long cords as you would with a cord lock or continuous loop control system, giving you a clean, uncluttered look for your windows.
Get Expert Help for Your Tall Window Project
Now that you know what all your options are for tall window treatments, you likely have an idea of which will work best for your home. To ensure the perfect fit for your chosen drapery, shades or blinds for tall windows, you can either measure the window yourself or rely on our team of professionals to do the job for you. Our team offers free measurements to save you the trouble and we'll also do your installation (charges apply) to take all the work off your shoulders.
SCHEDULE A FREE PROFESSIONAL MEASUREMENT
Ensure your window treatments fit perfectly when you schedule a free measurement with our expert professionals.