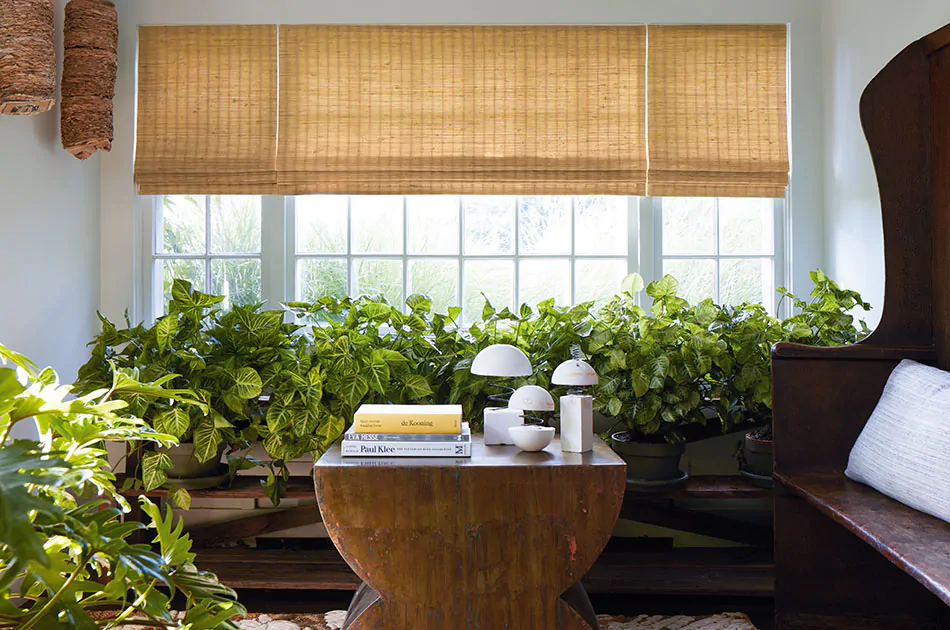 Your Guide to Woven Window Shades
Woven window shades have become a highly popular window treatment option thanks to their natural aesthetic that adds warmth and texture to any room. From contemporary homes to modern farmhouses to mid-century modern manses, woven shades for windows are a versatile design choice.
If you're considering woven window shades for your home, you'll want to explore the following topics:
With this knowledge, you'll be able to decide if woven shades are the right choice for your home.
What Are Woven Window Shades?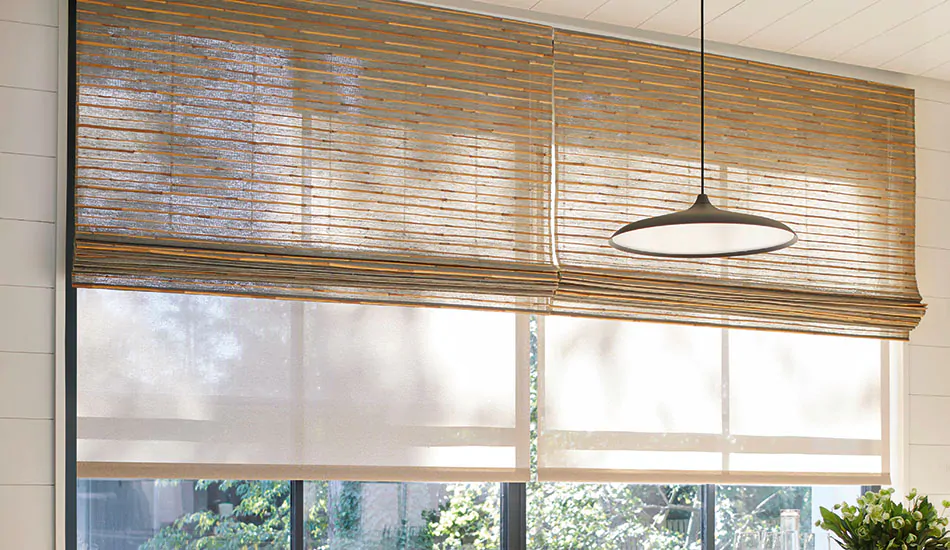 Woven window shades are a type of shade made from natural fibers such as bamboo, grasses, reeds or a mixture of fibers. The result is a shade with lots of visual and tactile texture as well as a rich organic aesthetic that brings the peaceful, relaxed ambiance of the outdoors, indoors.
Benefits of Woven Windows Shades
Eco-friendly: Many woven shades for windows are made from renewable, natural fibers like grasses, bamboo and reeds, making them environmentally safe and friendly.
Easy functionality: All the different types of woven shades for windows are easy to use, making them ideal for everyday use. Many styles are also compatible with motorization, for a truly effortless experience.
Natural aesthetic: Woven shades add an inviting natural aesthetic to your space thanks to the textured woven fibers used in their designs. This rich organic look has a lot of design versatility but is ideal for modern farmhouse, coastal, mid-century modern and Scandinavian designs.
Discover the Natural Beauty of Woven Shades
Explore a curated swatch collection featuring popular materials for woven window shades and order your favorites to compare at home.
Different Types of Woven Shades for Windows
Woven shades for windows come in several different styles resembling Roman Shades or Roller Shades. Each style comes with its own benefits, but choosing the right one will ultimately boil down to your personal needs and preferences.
Explore the different types of woven shades for windows to discover the right choice for your home.
Woven Roman Shades: Waterfall, Cascade & Standard
Roman Shades are typically made from soft fabric and are raised by folding into themselves and lowered by unfolding in a beautiful waterfall motion. Woven shades made in the Roman Shade style function in the same way, but instead of being made from soft fabric, they are of course made from natural fibers.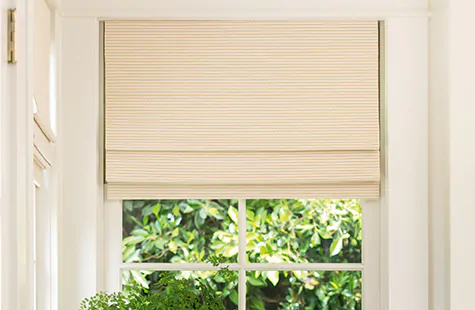 Waterfall Woven Wood Shades
Woven window shades in a waterfall style feature material that falls off the front of the headrail and creates a clean fold at the bottom. The clean, simple style gives these woven shades a more minimalist, modern-farmhouse-inspired look and feel.
Cascade Woven Wood Shades
Cascade woven window shades feature material hanging off the front of the headrail and aluminum dowels sewn into the back of the shade. The dowels create crisp folds and clean lines in the face of the shade. Thanks to its linear design, these woven shades deliver a more contemporary, mid-century modern aesthetic with an organic touch.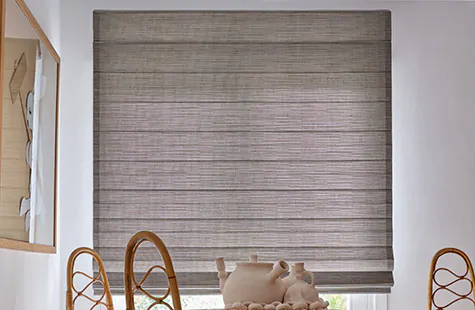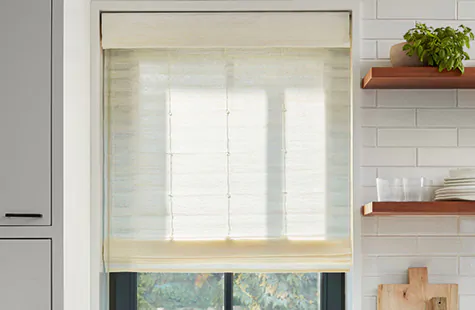 Standard Woven Wood Shades
Standard woven window shades feature material hanging off the back of the headrail, so the material hangs closer to the window. With an inside-mount application, Standard woven shades provide greater privacy and block more light than Cascade and Waterfall shades. The face of the shade and folds at the bottom resemble those of a Waterfall Woven Wood Shade for a more minimalist style.
Aesthetic Customizations: Linings & Decorative Borders
In addition to the above styles of woven window shades, these types of woven shades also come with unique customizations: linings and decorative borders. Keep in mind these customizations are only compatible with woven roman shades, and they are not compatible with woven roller shades.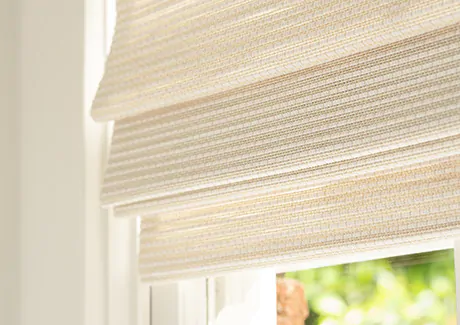 Lining
Lining for woven window shades includes two types: Privacy lining that allows some light to filter through but offers good privacy; and blackout lining which blocks light, creating a room darkening effect. Lining also helps protect the natural material of your shade from UV rays which can cause fading and deterioration over time. Although, keep in mind, lining is not required, and going with an unlined shade allows sunlight to filter through the natural material with a soft glow.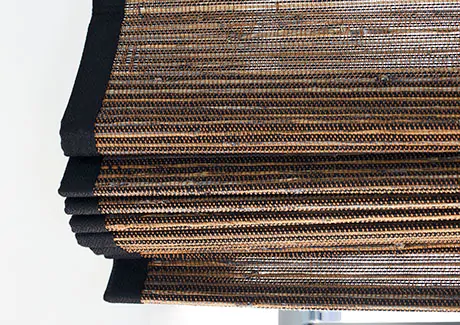 Decorative Border
Decorative borders are available in several different colors so you can choose the right one to complement your design. Plus, borders for woven window shades are also made from a woven material so you maintain the all-natural look and feel of your shade.
Woven Roller Shades
Roller Shades are sleek, functional window treatments that feature a tube mechanism at the top of your window from which the material unfurls. Woven Roller Shades operate the same way as traditional Roller Shades, so are a highly functional, easy-to-use option. However, keep in mind that not all Woven Wood Shade materials are compatible as a Roller Shade, due to some material being too delicate to be rolled up.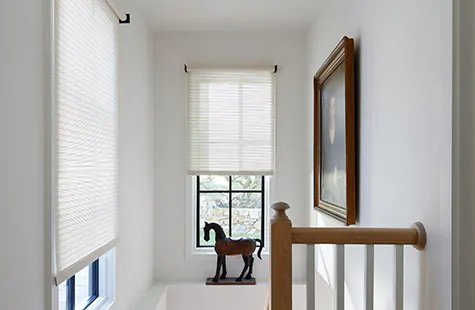 Roller Woven Wood Shades
Roller Woven Wood Shades give you the natural, organic look you love combined with the exceptional functionality of Roller Shades. These types of shades also deliver a simple, minimalist aesthetic, ideal for mid-century modern or contemporary homes.
Achieving Privacy with Woven Shades for Windows
Woven window shades, thanks to the way the natural fibers are weaved, feature a natural openness that allows sunlight to seep through — and some level of transparency. While this is very desirable in cases where soft, natural light is welcomed, in others, privacy is of paramount importance. So, how do you achieve privacy with a naturally transparent material? Luckily there are multiple solutions:
Linings for woven roman shades: As mentioned previously, woven window shades in the Roman Shade style have the option of adding privacy or blackout lining, both of which will block the view in from outdoors.
Layering for woven roller shades: For woven roller shades, lining isn't an option because it would make the shade too thick to roll easily around its tube — so layering is your best bet to get the natural look you love, with the privacy you need. Consider pairing your woven roller shades with privacy- or blackout-lined Drapery or Roman Shades for ultimate privacy and light control.
With all the product and customization options laid out for woven window shades, you're ready to see how all the pieces can come together in inspiring designs.
Inspiration for Woven Window Shades
These curated spaces feature woven window shades made with natural fibers to bring a rich, organic look to each room. Explore these interior designs featuring different aesthetic styles to draw inspiration for your own design.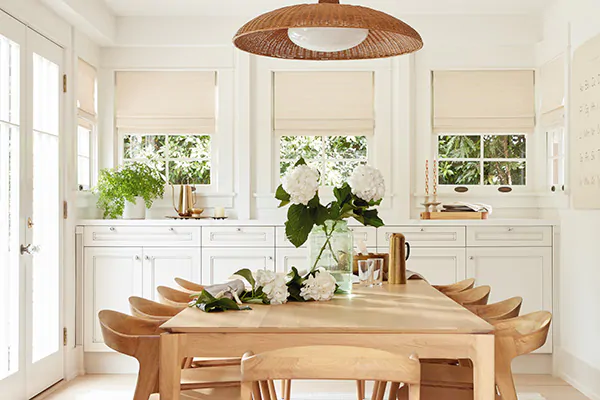 Scandinavian-Inspired Dining Room
Go for a Scandinavian-inspired design that champions lots of warm tones and natural textures by combining woven window shades and other wood toned elements, like a wood dining table and woven décor elements. Keep the rest of your space bright with an off-white or light neutral color scheme and add in soft pops of color with fresh greenery like potted plants or cut flowers.
Pictured: Waterfall Woven Wood Shades, Artisan Weaves Somerset in Cloud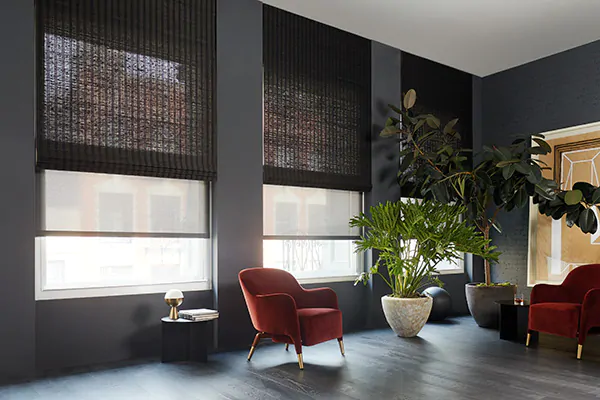 Mid-Century Modern Living Room
Embrace a moody mid-century modern feel with dark-toned woven window shades and a dark neutral color scheme for your room. To keep things bright while still maintaining some privacy, layer your woven shades with Solar Shades. Solar Shades block UV rays while still letting natural light through and offering transparency for a view to the outdoors, which can help your dark-toned space feel more open and airier. To bring in more lightness, add pops of color with modern furniture and greenery.
Pictured: Inner Layer: Roller Shades, Chelsea in Charcoal and Outer Layer: Waterfall Woven Wood Shades, Artisan Weaves Laguna in Coffee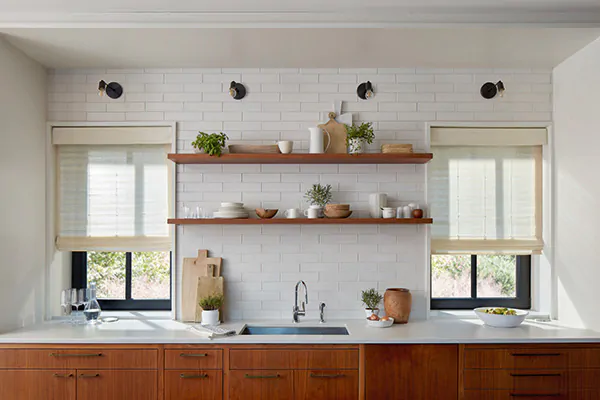 Modern Farmhouse Kitchen
Love the charm of the farmhouse style but want the clean simplicity of modernity? Go for a modern farmhouse feel with light woven window shades and richly hued wood kitchen cabinets and shelving for a mix of wood-toned colors and textures. A white countertop and white tile backsplash keep things bright and modern, while the backsplash adds just a touch of texture.  
Pictured: Standard Woven Wood Shades, Artisan Weaves Coastline in Muslin
Explore Woven Window Shades In More Depth
With a greater understanding of what woven window shades are, their benefits and the inspiration you need for your own project, it's time to dive deeper into your options. Start by ordering free swatches of your favorite woven shades material to compare the textures and colors at home and see how each complements your existing décor. Make sure to view your swatches in different lighting throughout the day and night to get a full sense of how the material will look in your space.
ORDER YOUR FAVORITE SWATCHES FOR FREE
Compare as many of your favorites from our collection of 1300+ materials at home when you order free swatches online.