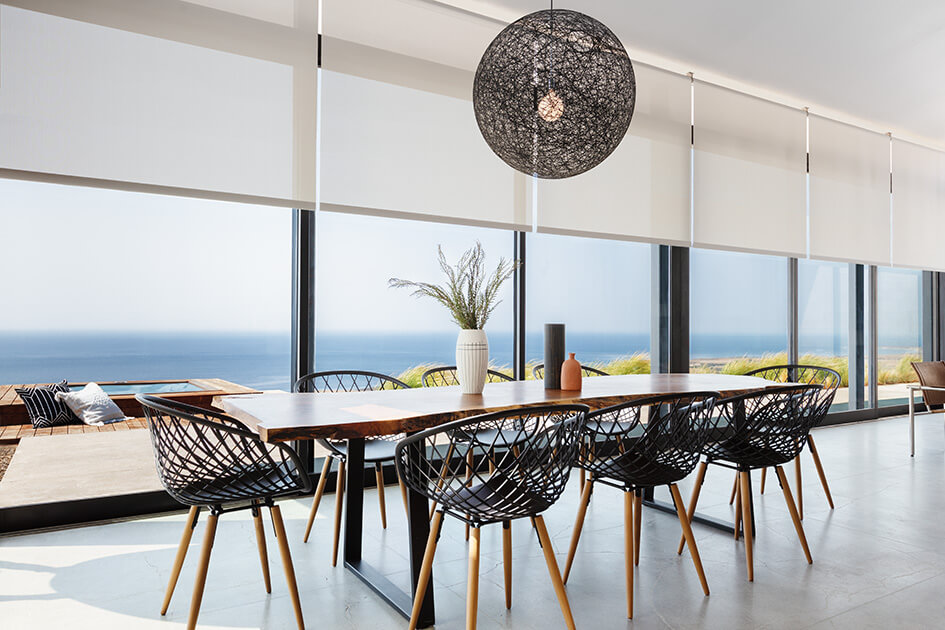 Sliding glass doors are highly desirable for many homes. From kitchens to bedrooms, they offer lots of natural light and an unhindered view to your home's surroundings. Yet, sometimes all the light and unobstructed views can be too much, affecting your privacy — and in the case of bedrooms, a good night's sleep. That's why shades for sliding glass doors are a common solution. With the right window treatments, you can easily control your light and privacy while still maintaining easy use of your doors on a daily basis.
Can You Put Shades on a Sliding Door?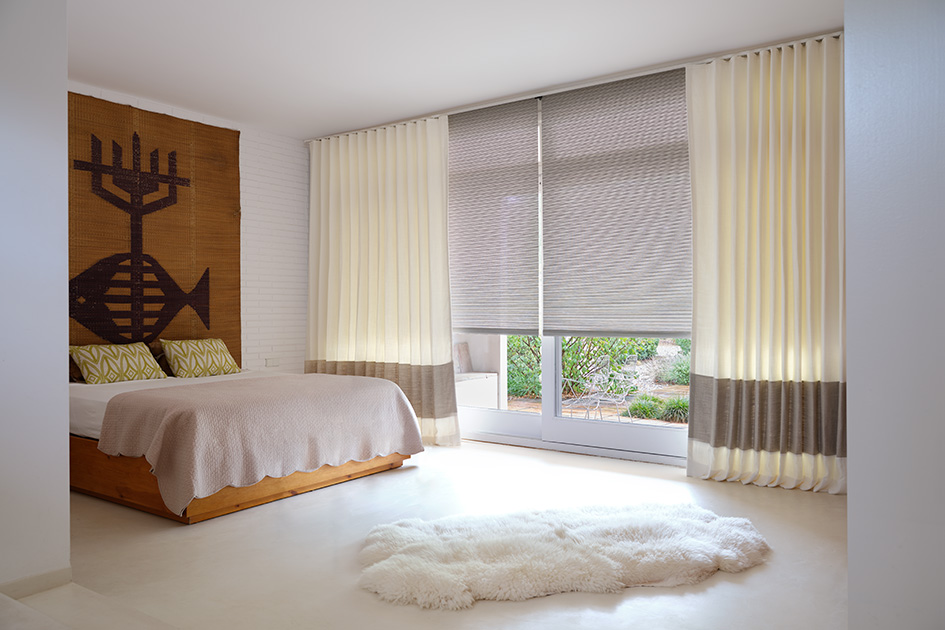 Yes. You can put shades on a sliding door, it's just a matter of choosing the right style for your space. Keep in mind that some shades are better suited to sliding glass doors than others, but you have lots of options to suit your needs and style. And if shades for sliding doors aren't quite the right match for you, you also have blinds and drapery options to choose from.
Tips for Selecting the Best Window Treatment for Sliding Glass Doors
To find the best shades for sliding glass doors, or another window treatment option, there are several considerations to think through. Keep in mind that the "best" window treatments for sliding glass doors will depend on your specific needs and wants.
Keep these considerations in mind to decide on the best option for you.
Ease of Use
Your sliding doors are likely in a high-traffic area, so being able to open and close them is a key feature for any drapery, blinds or shades for sliding glass doors. Most options come with a corded system, cordless control or motorization. However, cordless control for blinds and shades doesn't work well if you can't reach the top of your sliding glass doors, so a corded system or motorization is your best bet. Additionally, if your sliding doors are very wide and tall, raising and lowering blinds and shades manually can be difficult, so opt for motorization or choose Vertical Blinds or Drapery that you can easily slide along a track system.
Form & Function
What do you want your window treatment to do? Different types of window treatments offer different benefits such as providing privacy, blocking light, offering insulation, or reducing glare. Consider which features are most important to you when choosing your window treatment.
Appearance
How do you want your window treatments to look? Each type of window treatment offers a certain aesthetic, for instance, Vertical Blinds are typically modern and minimalist, while Drapery offers a more elegant, luxe look. For more depth and dimension, try layering window treatments, such as Drapery over a set of Roller Shades. You can also customize the look of each window treatment with your chosen material.
10 Window Treatment Options for Sliding Doors
Your choice in window treatments for sliding doors comes down to three main categories: shades for sliding doors, blinds for sliding glass doors, and drapery for sliding glass doors. And within those main categories are several options, each with their own aesthetic style and functionality.
Explore all your options for sliding glass doors and learn the benefits of each so you can choose the best one for your home.
Shades for Sliding Glass Doors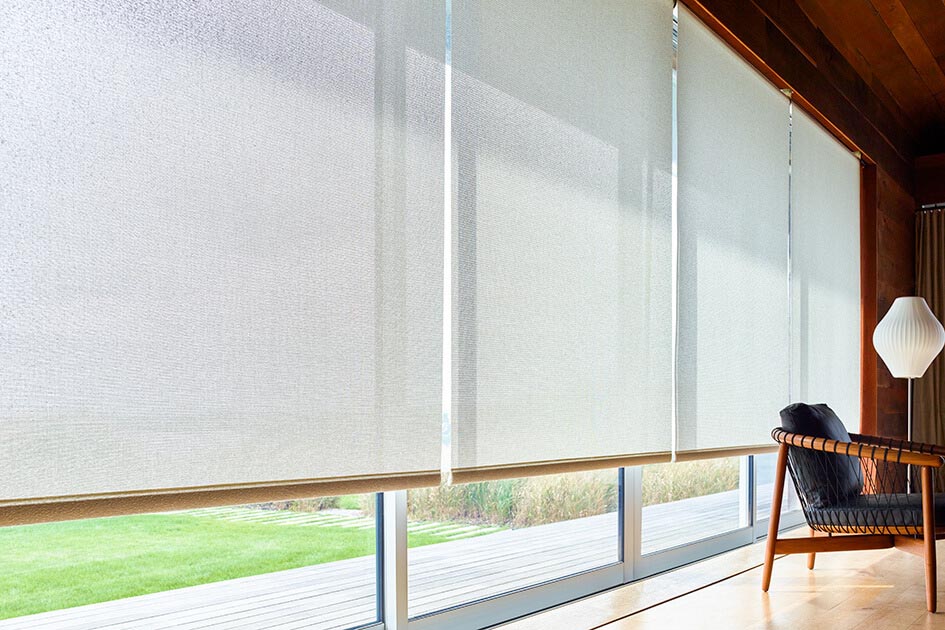 Shades for sliding glass doors provide the most options for you to choose from, giving you lots of design flexibility, all with easy functionality.
As you explore shades for sliding doors, a key element to keep in mind is the stack. 
Understanding the Stack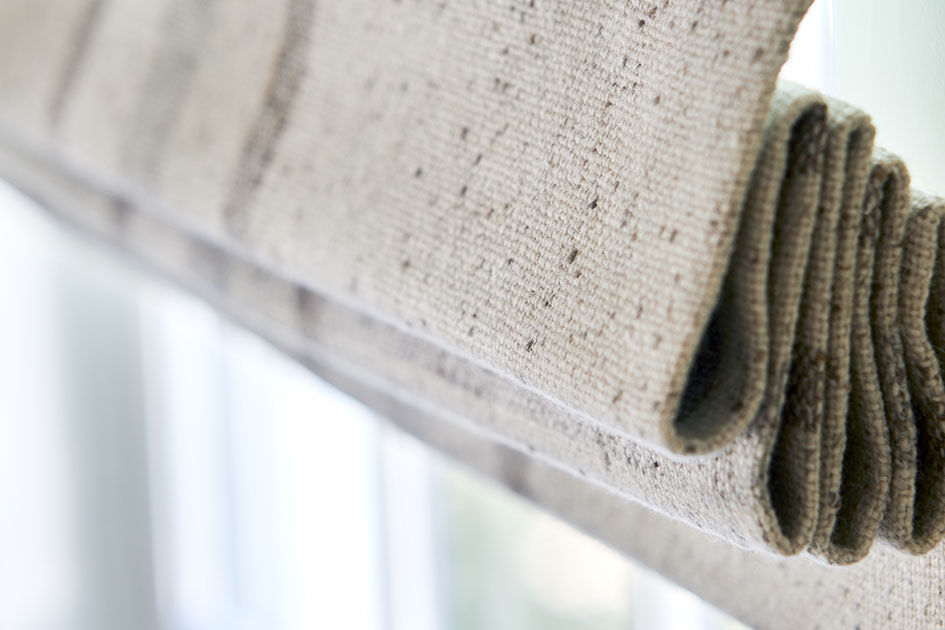 The stack refers to the size of the shade when it is retracted. A larger stack may hang over the door slightly, even when completely retracted. While this shouldn't affect the functionality of your sliding glass doors, if you're at all concerned, it's best to choose shades with a minimal stack, like Roller or Solar Shades. Or, you can mount your chosen shades high enough that they clear the doors even when stacked.
With stacking in mind, learn about each shade's features, benefits, and aesthetic style so you can determine if shades for sliding glass doors is the right choice for you.
1. Roller Shades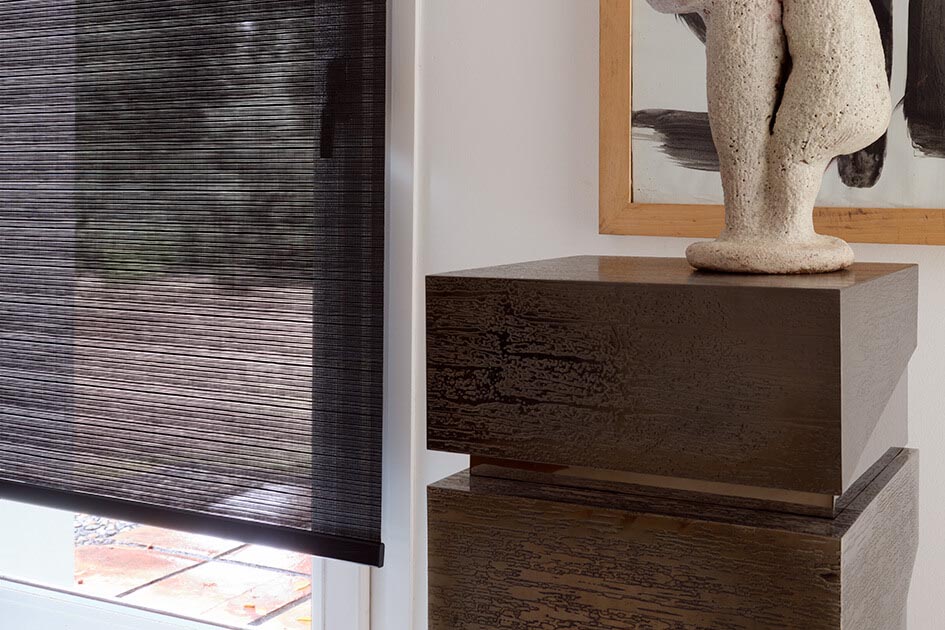 Roller Shades are a sleek, modern option for your sliding doors with a very minimal stack when completely rolled up. Roller Shade materials are either light filtering or blackout so you can get the right amount of privacy and light control for your space. Light filtering shades are great for rooms like living rooms and dining rooms where you want glare reduction and privacy while still allowing some natural light in. Blackout shades for sliding glass doors are ideal for bedrooms where a darkened room is essential for sleep. Regardless of which type of Roller Shades you choose, their functionality is very simple with corded control or motorization for a truly effortless experience.
2. Solar Shades
Solar Shades offer the same sleek, modern look, minimal stack and easy functionality of Roller Shades but with a few different benefits. Solar Shades are made from high-performance fabric with unique characteristics that help to block UV rays and reduce glare, while still letting natural light in and allowing you a view of the outdoors. Choose from transparency levels ranging from 1% which blocks the most UV rays and is hardest to see through to 10% which blocks 90% of UV rays while being very transparent so you can enjoy the view.
Solar Shades for sliding glass doors are a great choice for rooms where natural light is welcome and privacy isn't a big concern. Plus, because Solar Shades block UV rays, they also help to prevent fading of your floors, furniture and décor.
3. Roman Shades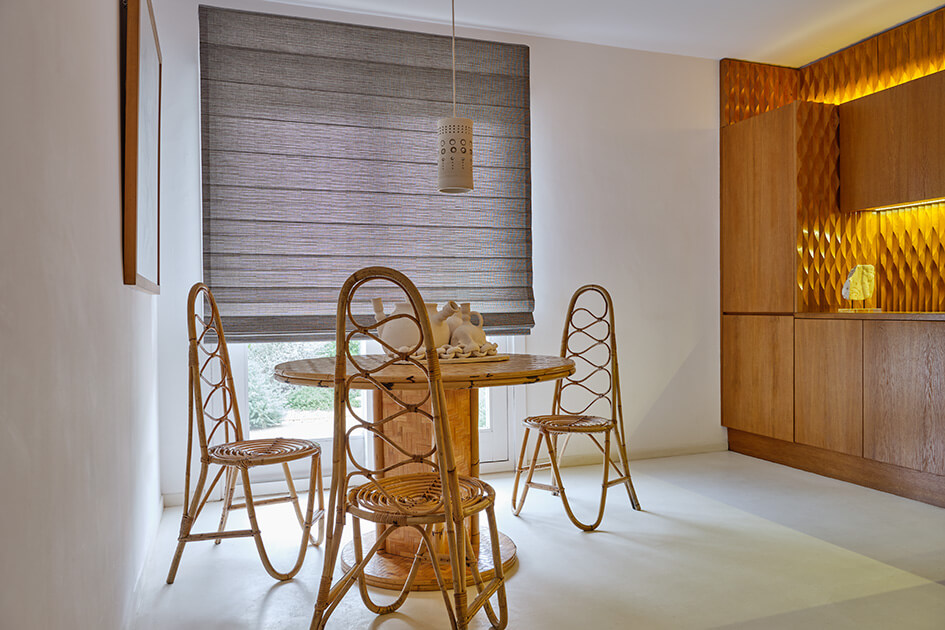 Roman Shades offer you the soft, luxurious look of drapery with the functionality of shades. When considering Roman Shades for sliding glass doors, it's important to know that some Roman Shades offer better functionality than others. Flat, Cascade, Aventura, and Pleated Roman Shades are all easy to raise and lower on a daily basis with a cord system or motorization. Each of these four options offers its own look, from modern Flat Roman Shades to luxurious and elegant Pleated Roman Shades, so you can choose the one that suits your style best. Tulip and Relaxed Roman Shades are more decorative in style and not meant to be raised and lowered daily.
When considering Roman Shades for sliding glass doors, be mindful of the stack. The amount of fabric used and the way Roman Shades fold in on themselves when raised and lowered means they tend to have a larger stack, so may need to be mounted higher if you want them to clear the door.  
4. Woven Wood Shades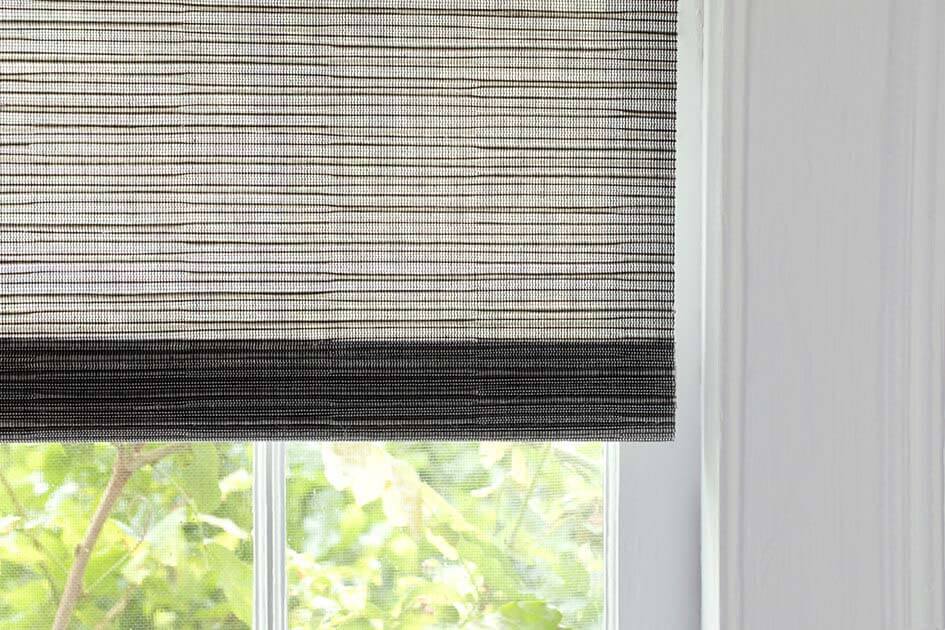 Woven Wood Shades are made with eco-friendly fibers like grasses, reeds, and bamboo, and deliver an inviting boho look to your space. All four different styles of Woven Wood Shades offer excellent functionality and are easy to raise and lower, whether using a corded system or motorization.
Similar to Roman Shades, some styles of Woven Wood Shades have a larger stack, so be mindful when choosing these shades for sliding doors.
5. Cellular Shades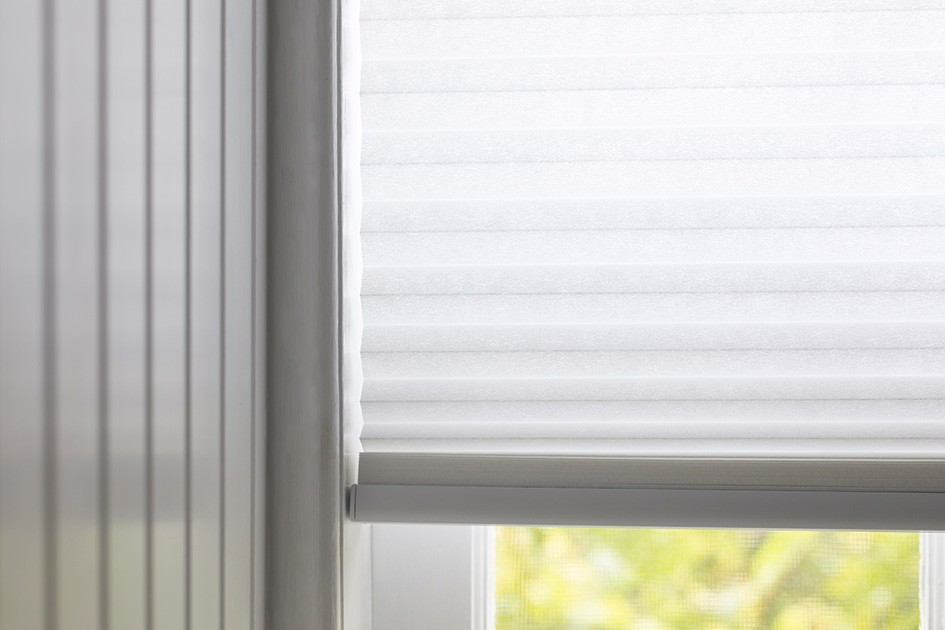 Cellular Shades offer excellent functionality in multiple ways, from being easy to raise and lower and offering a minimal stack, to helping with insulation. These shades feature a unique honeycomb design that traps heat and cold air, which in turn helps to regulate the temperature in your home. Over time, these functional shades can help cut down on your energy bills. Cellular Shades for sliding glass doors are a great choice, especially if your doors let in too much sunlight or are a bit on the drafty side. And with their versatile, minimalist aesthetic, Cellular Shades suit nearly any home interior. 
Blinds for Sliding Glass Doors
In addition to shades for sliding doors, blinds also provide the privacy and light control you need. Learn more about your options for blinds to determine which are best for sliding glass doors.  
6. Vertical or Panel Track Blinds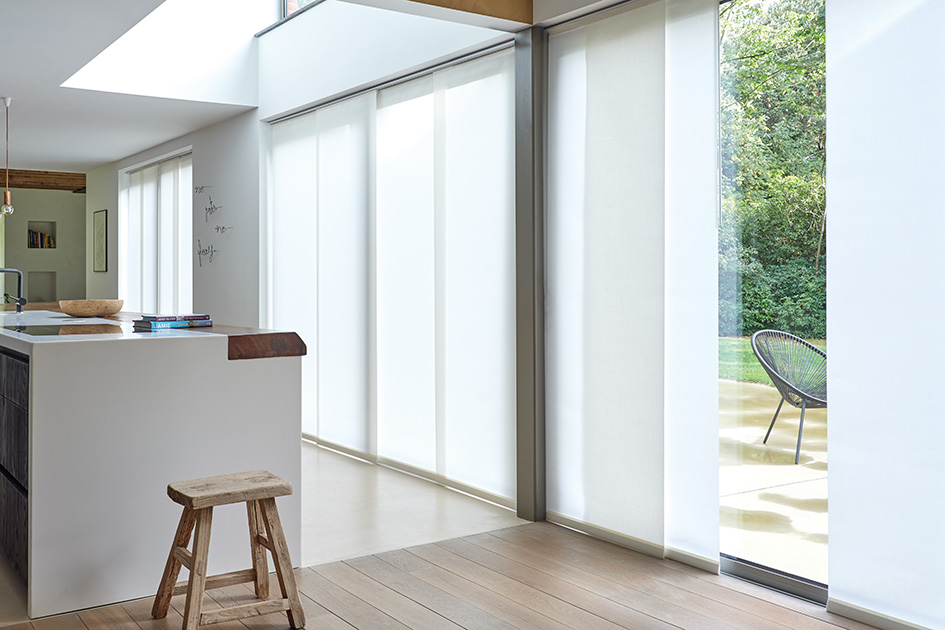 Vertical Blinds, sometimes called Panel Track Blinds, are an ideal choice for sliding glass doors, as they are highly functional and feature a versatile look to suit any style. These blinds feature tall panels that run along a track system, making them easy to slide right or left. Thanks to several panels being on one track system, it's easy to position them exactly where you need them, whether you leave your entire door exposed, enclosed, or wish to cover just a section of your doors. Since Vertical Blinds are only available with light filtering materials, they may not be the best option for bedrooms or media rooms that demand a room darkening effect.
7. Horizontal Wood or Metal Blinds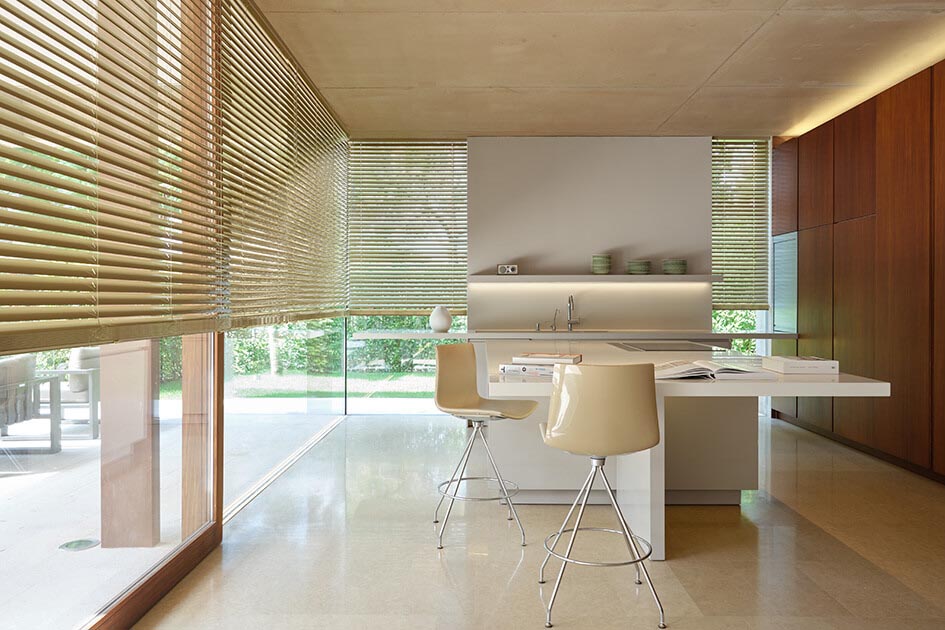 When you first think of blinds, you likely think of the horizontal kind, with tiltable slats. These types of blinds are available in wood or metal, and are an attractive, functional option for your sliding doors. Wood and Metal Blinds can be easily lowered and raised with a cord lock system. Tilting the slats can be done with a cord, wand, or motorization for truly effortless privacy and light control. As for aesthetics, Wood Blinds deliver an inviting natural look to your space, while Metal Blinds are more modern and industrial. No matter what your style, you'll be able to find the right horizontal blinds for your doors.
Curtains & Drapery for Sliding Glass Doors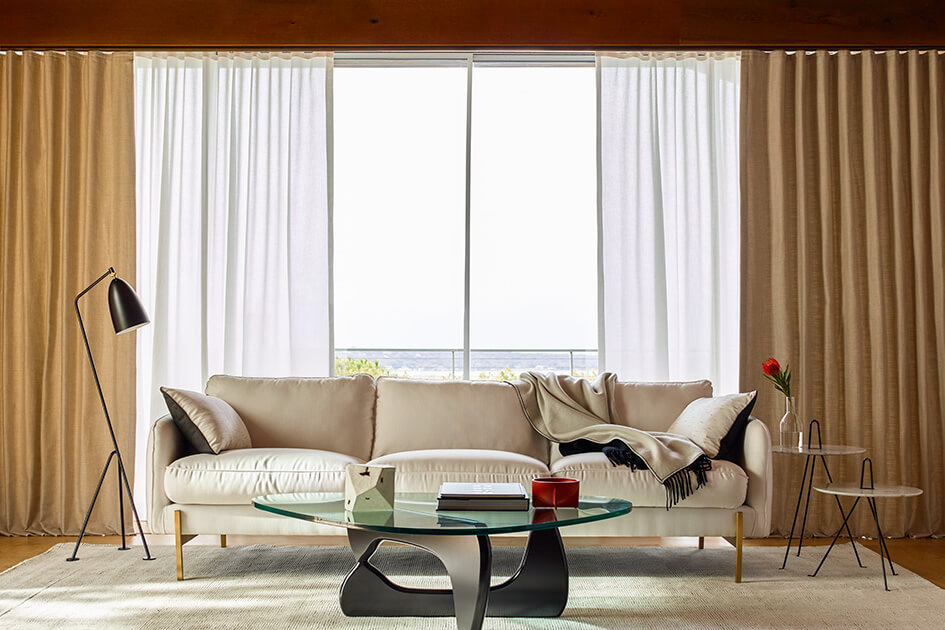 Curtains and drapery for sliding glass doors deliver a soft, luxurious look and feel for your space. Options for drapery are varied, but it's important to note that some types are more functional and better suited to sliding glass doors than others.
This is due to a couple reasons:
First, certain styles of drapery are more decorative and won't look as aesthetically pleasing when scrunched up at the sides of your doors. Plus, with some styles using more fabric than others, the stack, or amount of space your drapes take up when fully retracted, can be substantial. For example, Inverted Pleat and Goblet Drapery look best when drawn to their full length and can be unseemly with a large stack which might overhang your sliding door when retracted.
Second, some styles of drapery as well as certain drapery hardware options are harder to control than others. For instance, Grommet style drapery and any curtains with rod and rings are sometimes more difficult to draw open and closed than a track system.
For the most functional — and highly attractive — drapery options, choose from Ripple Fold, Tailored Pleat, Pinch Pleat, or Cubicle Drapery styles and opt for a manual or motorized track system versus rod and rings.
Find out more about each featured drapery style to decide which is right for your space.
8. Ripple Fold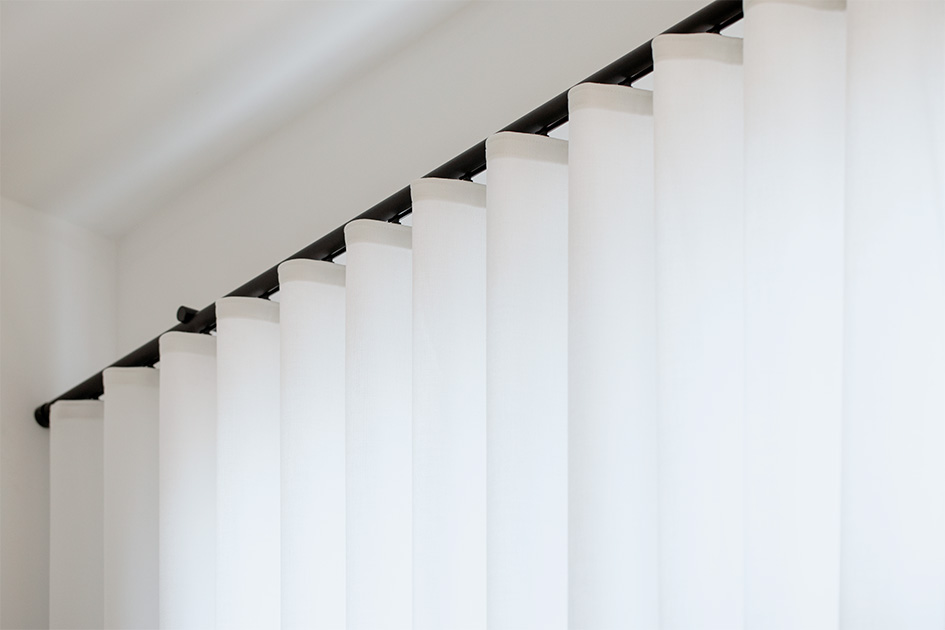 Ripple Fold Drapery operates solely on a track system, making it a highly functional, easy to use option for your sliding glass doors. Plus, the beautiful S-curve of every fold creates a modern, yet elegant aesthetic suitable for a wide range of styles. Ripple Fold Drapery looks beautiful fully drawn out or retracted — and features a neat, tight stack that takes up minimal space.  
9. Tailored Pleat or Pinch Pleat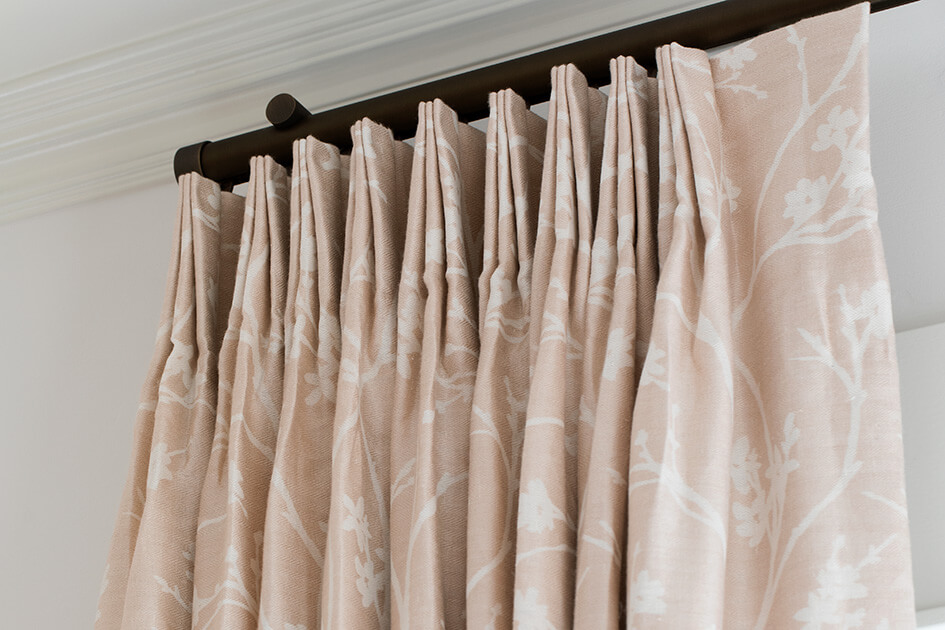 Both Tailored Pleat (pictured) and Pinch Pleat Drapery features an attractive pleat at the top, but to different effects. The Tailored Pleat is pinched at the very top of the curtain which draws the eye upward, helping to accentuate the height of your drapery while creating a more modern look. On the other hand, Pinch Pleat Drapery is pinched a few inches from the top of the curtain which creates a traditional look with a more obvious visual break between your curtains and ceiling. In terms of functionality, both Tailored Pleat and Pinch Pleat Drapery can be put on a track system for easy movement — and both have tight stacks that won't get in the way of your sliding glass doors.
10. Cubicle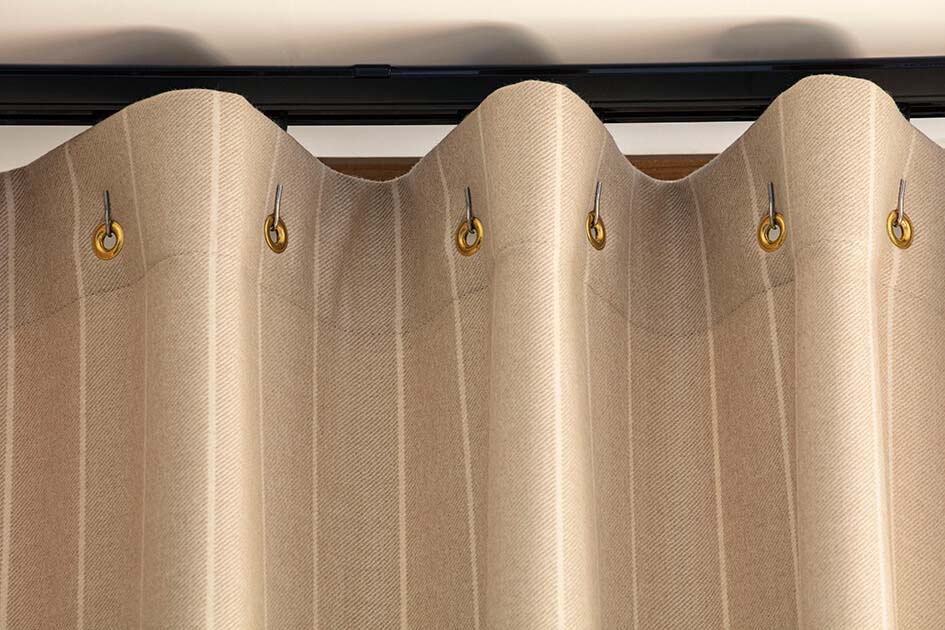 For a functional curtain with a more casual aesthetic, try Cubicle Drapery. With small grommets that attach to hook carriers, Cubicle Drapery is only available with a track system for the best functionality. Plus, with its minimal use of fabric, Cubicle Drapery has a soft wave when extended, but creates the tightest stack when drawn open, which is ideal for sliding glass doors with minimal space around them.
Discover the Best Shades for Sliding Doors & More
With an overview of all the blinds, drapery and shades for sliding glass doors, you're ready to dive deeper. Visit your local showroom to experience all the options listed above to determine which is truly the best for your space. And if you need any help, our Design Consultants will be happy to assist you in finding the perfect blinds, drapery or shades for sliding doors.