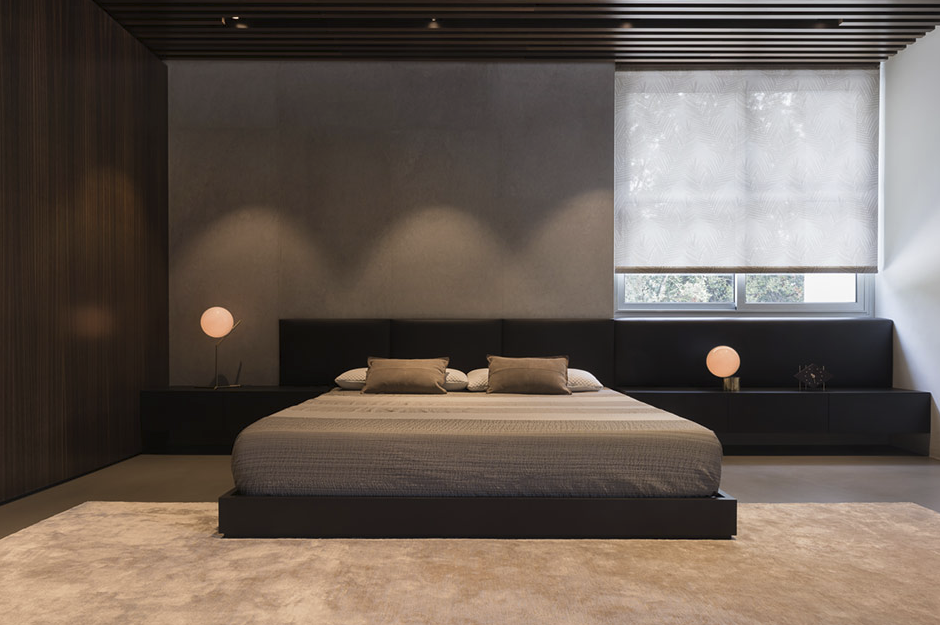 Solar Shades — 5% Riviera, Tan
From UV protection to glare reduction, the benefits of Solar Shades are seemingly endless. Custom Solar Shades from The Shade Store come in a variety of transparencies and material choices to suit any home's style — and offer big benefits. Solar Shades filter out harmful UV rays, preventing your home décor and furniture from fading and allowing natural light to shine through without causing damage or glare.
Our custom Solar Shades are easy to control — we offer stainless steel chain, cordless and motorized options — allowing you complete control over the natural light in your home on even the sunniest days. But do Solar Shades offer privacy at night, too?
One of the major benefits of Solar Shades is that they offer a sense of privacy and protection during the day, without sacrificing that coveted natural light. In this blog post, however, we're going to explore a few simple solutions for making your window treatments work exactly how you need them to — day and night.
Find the
Best Shades for Privacy at Night
If you're searching for the best shades for privacy at night, there are some great design solutions that also offer excellent light blockage.
Layer Your Window Treatments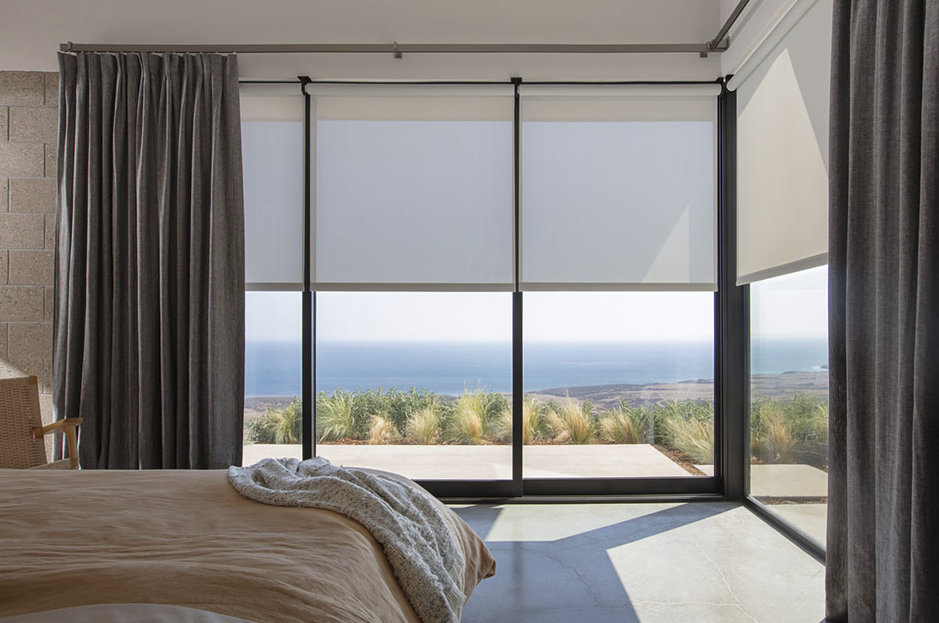 Inner Layer: Solar Shades — 5%, Grey
Outer Layer: Inverted Pleat Drapery — Herringbone, Onyx
Solar Shades make sense in many spaces that are highly utilized during the day, from living rooms to offices and beyond. But what about the spaces you enjoy at night, too? A simple solution is to layer your highly functional Solar Shades with Custom Drapery for a layered look that offers total privacy day and night.
Available in a variety of materials and styles, The Shade Store's Custom Drapery selection perfectly complements the minimal look of Solar Shades by not only adding an extra layer of privacy, but also creating depth and personalization to your home's interior design.
Choose Your Transparency Level Wisely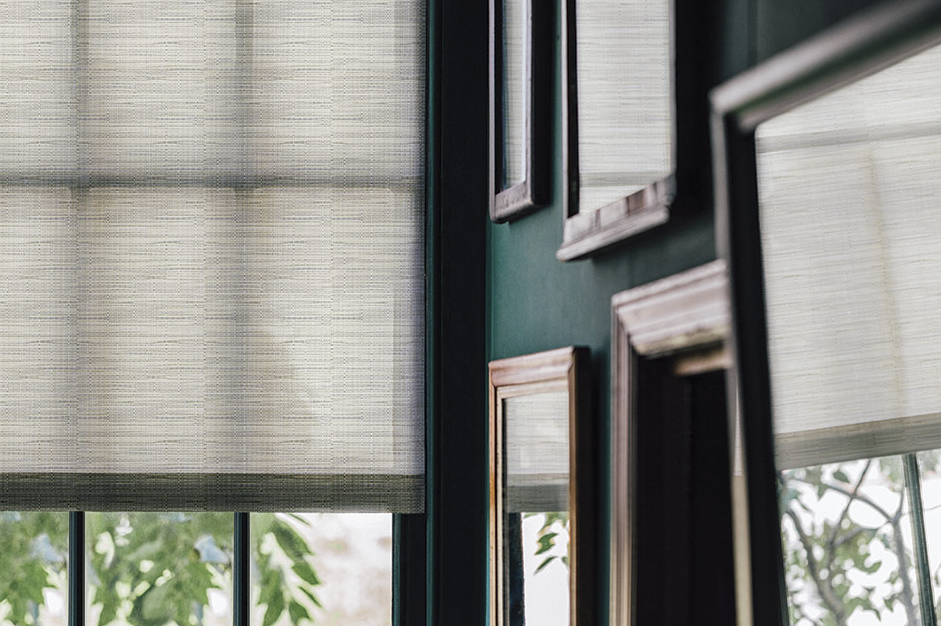 Solar Shades — Chilewich Bamboo, Oat
Solar Shades offer a simple, streamlined look with effortless control mechanisms — but the fabric you choose has more of an impact on your home than you might expect. Solar Shade materials come in a variety of transparency levels, from 10% to 1%, named for the amount of light they let through. So while you may think you should choose 10% for maximum privacy, it's actually the opposite, with 1% Solar Shades creating the most privacy of all the material options.
While even the most light-filtering Solar Shades offer a nice level of privacy during the day, they may not be ideal for spaces that require more privacy at night. In these cases, our Design Consultants recommend Solar Shades with lower transparences — like 3% to 1%.
Explore More of our Custom Window Treatment Options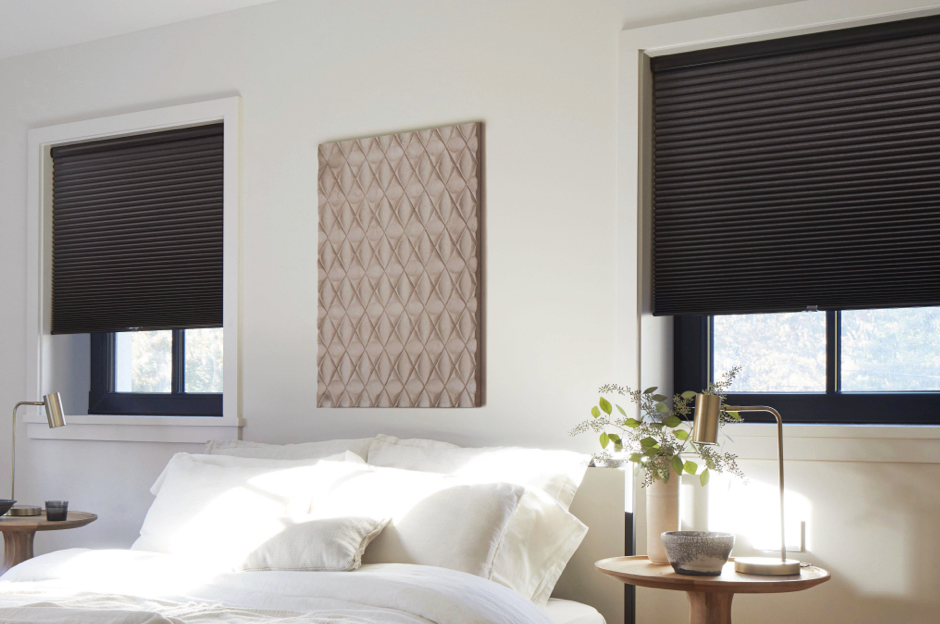 Cellular Shades — ¾'' Single Cell Bo, Midnight
From design aesthetic to light filtration to window size and functionality, there are many priorities to take into account with every unique window of your home. If maximum privacy and light filtration — day and night — are a top priority, there are window treatment options that may prove to be a better fit for your space.
As mentioned above, Blackout Roller Shades offer maximum light filtration and privacy, but a Blackout lining can also be added to a variety of different window treatments, like Drapery and Roman Shades for the same effect. If you prefer the look of shades, Cellular Shades and Pleated Shades offer similar benefits when it comes to light control and privacy, with the added bonus of enhancing your home's energy efficiency.
To order free swatches of our Solar Shade materials and explore transparencies, visit our Solar Shade collection.
Have questions about the best shades for privacy at night? We're here to help.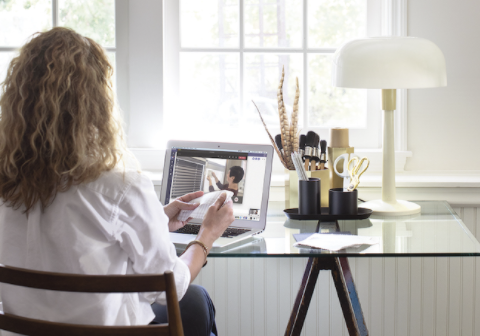 If you have questions about whether solar shades provide privacy at night or need assistance finding your dream window treatments, we're here to help. The Shade Store offers expert services every step of the way — from inspiration to installation. Our team of Design Consultants is available to assist you with material selection, color coordination, measurement & installation scheduling and more, however you choose to shop. To get started, stop by your local showroom, visit us online or give us a call at 800.754.1455.
About The Shade Store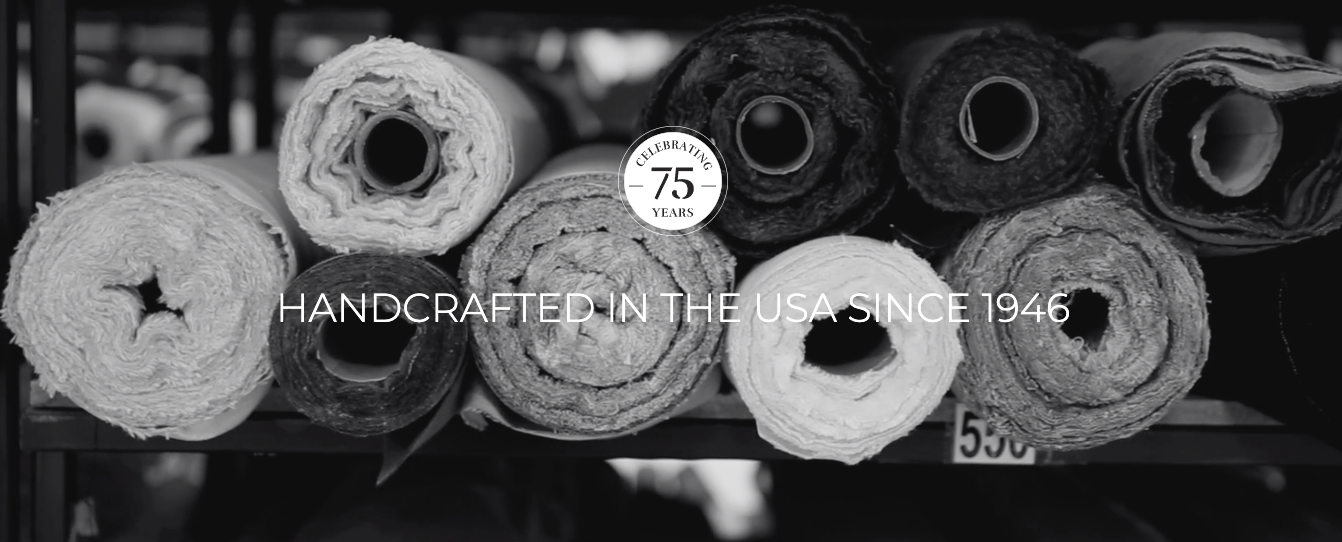 The Shade Store is a premium custom window treatment company with a rich heritage in luxury textiles and interior design. Its exclusive collection of more than 1,300 in-stock fabrics and materials provides customers with an unparalleled amount of style and customization options. Every window treatment is proudly handcrafted in the USA, hung and tested for quality assurance and ships free in 10 days or less. With showrooms nationwide, The Shade Store offers a complete range of in-person and virtual design services for consumers and design-trade clientele, including samples, complimentary professional window measurements and photo rendering. Additionally, the company is an advocate for environmental sustainability: For every purchase made, the company provides the 'Gift of Shade' by planting a tree in partnership with the Arbor Day Foundation. For more information about The Shade Store, please visit theshadestore.com.