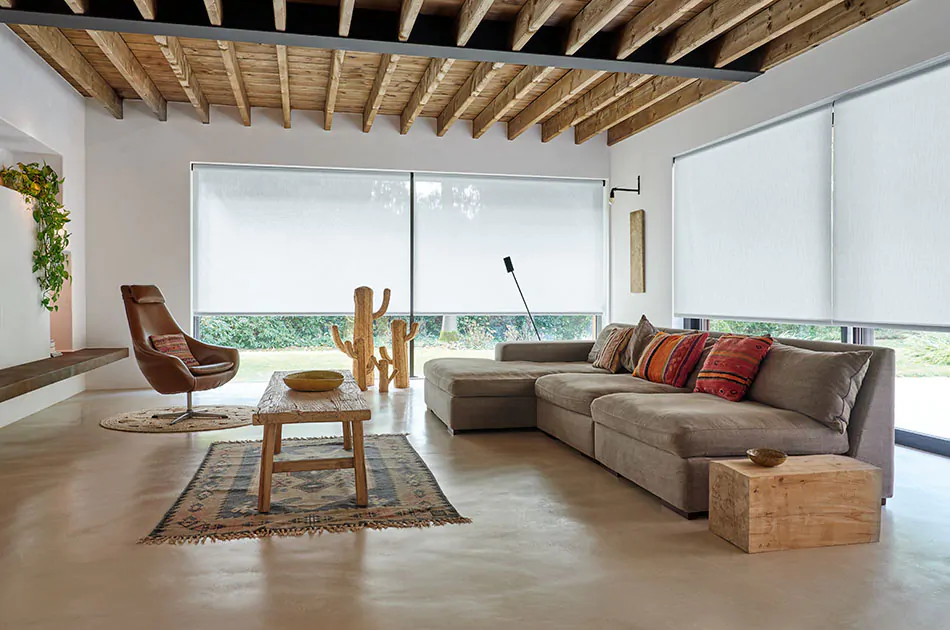 UV Shades: Benefits & What You Need to Know
If you're looking for UV shades, you're likely interested in shades that protect your interiors from harmful UV rays. UV window shades are window treatments that protect your interior from sun damage, while creating a more comfortable atmosphere in your room.
Understanding UV Rays & the Harm They Cause
UV rays, or ultraviolet radiation, are a potent force of nature found in sunlight and artificial sources like tanning beds. For you, UV rays can cause tanning at best and sunburn at worst. For your interiors, UV rays cause fading and deterioration in your furniture, flooring, artwork and more. Plus, they're responsible for harsh glare and heat buildup which can affect your room's comfort. Luckily, with UV blocking shades, you can prevent all these issues by blocking up to 99% of UV rays from the sun.
Benefits of UV Shades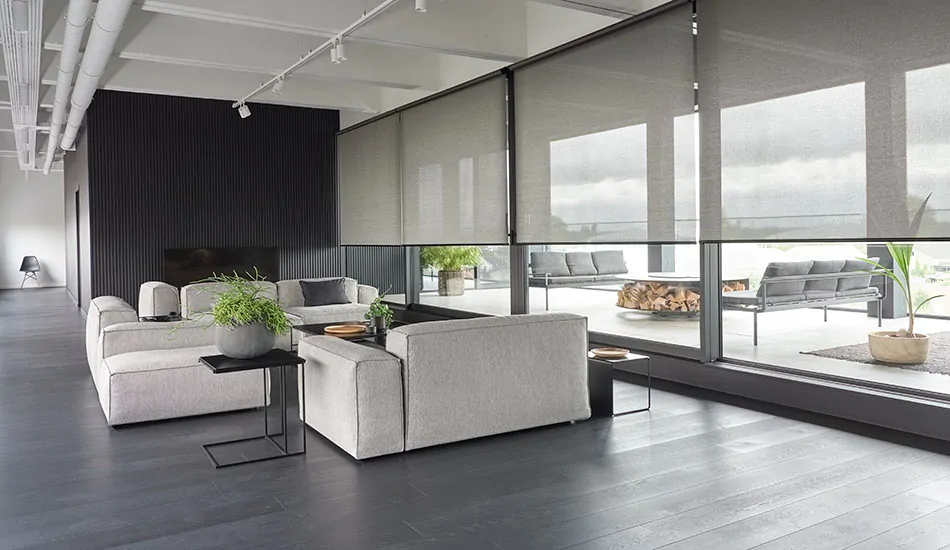 While different types of UV shades will have slightly different benefits, overall, all UV window shades offer these main benefits:
Blocks up to 99% of UV rays for excellent sun protection.
Reduces harsh glare for a more pleasant experience no matter the time of day.
Prevents fading of furniture, flooring, art and décor for your peace of mind in your interior design investments.
Minimizes solar heat buildup and may help you reduce your energy consumption and costs.
Different transparency levels of UV shades range from maintaining your view to the outdoors to giving you excellent privacy.
Light filtering, blackout and combination options allow you to achieve the right level of natural light and privacy control.
What Are the Best Shades for Sun Protection?
The best shades for sun protection are those that block up to 99% of light and UV rays. However, with different types of UV shades that block sunlight and UV rays, the best choice for you will depend on your individual preferences and needs regarding:
Whether you want to block or filter sunlight.
How much of your outdoor view you want to maintain with the shade pulled down.
How much privacy control you need.
UV Window Shades: Understanding Product Options
UV shades most commonly refer to Solar Shades, which are a type of Roller Shade that filters sunlight while blocking up to 99% of UV rays. However, UV shades can also refer to other types of Roller Shades such as Blackout and Light Filtering Roller Shades.
Learn more about your product options when it comes to UV window shades to determine which is the best for your home.
Solar Shades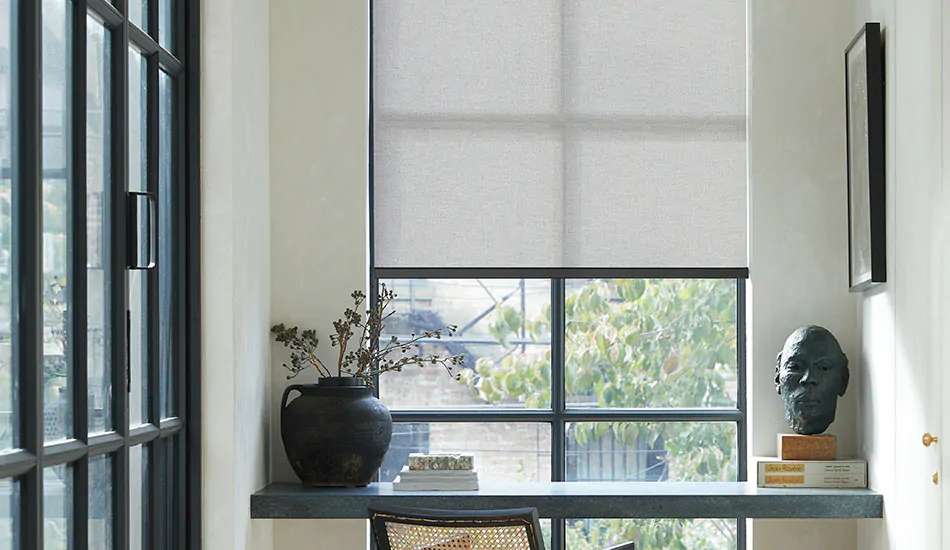 Solar Shades are a type of Roller Shade made from unique material that's woven to block UV rays while still letting natural light through. They come in a wide range of neutral colors and various textures so you can likely find just the right look, no matter your aesthetic style. Solar Shades also vary in their transparency level based on how tightly or loosely the material is woven.
Understanding Solar Shade Transparency Levels
Transparency levels refer to the percentage of UV rays blocked as well as how well you can see through the shade when it is pulled down.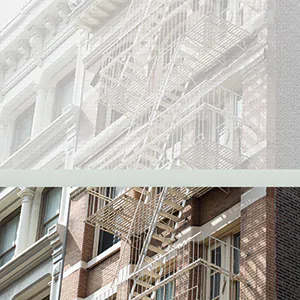 10% Transparency
10% means the shade blocks 90% of UV rays and is the most transparent, providing you with minimal privacy.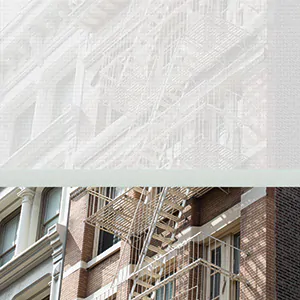 5% Transparency
5% means the shade blocks 95% of UV rays and is a bit more semi-transparent, providing you with less privacy.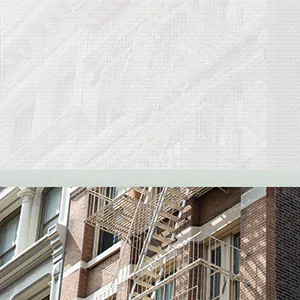 3% Transparency
3% means the shade blocks 97% of UV rays and is semi-transparent, providing you with a bit of privacy.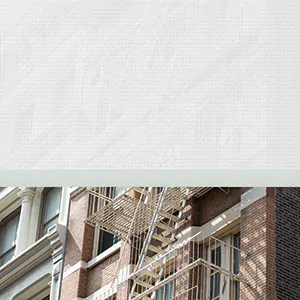 1% Transparency
1% means the shade blocks 99% of UV rays and is also the least transparent, providing you with some privacy.
When to Choose Solar Shades
Solar Shades are a great option as UV blocking shades for your home and are ideal for the following circumstances:
If you still want maximum natural light in your room, while minimizing UV damage.
You have a beautiful view from your room that you want to maintain, even with the shade drawn closed.
You only need minimal privacy, or plan to layer your Solar Shade with other window treatments that provide the privacy you need.
You prefer neutral colors for your window treatments, like white, black, grey and tan.
Roller Shades
Beyond Solar Shades, Roller Shades come in several other types and styles that make them suitable as your UV window shades. Discover your options to determine if one of these types of UV blocking shades might be the right choice for your home.
What's the Difference Between Roller Shades & Solar Shades?
The main difference between Roller Shades and Solar Shades comes down to the material. Solar Shades are typically made from fiberglass, vinyl and acrylic blends while Roller Shades are made from polyester, PVC and other similar synthetic materials derived from plastic. Roller Shades also do not have transparency levels although some sheer-like materials can be somewhat seen through.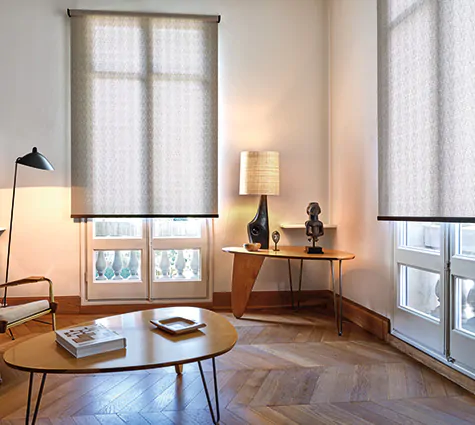 Light-Filtering Roller Shades
These light-filtering UV blocking shades vary based on how much light they filter through, ranging from sheer-like materials that let the most light through to opaquer materials that significantly soften natural light. Zen Roller Shades, with paper-like material and a shoji-screen-inspired appearance, also fall into this category.
Choose these UV shades for:
A soft glow of natural light while reducing glare.
A bit more privacy than transparent Solar Shades.
Plentiful options for patterns, textures and colors.
blackout roller shades
Made from tightly woven material that blocks up to 99% of natural light, these blackout UV shades provide excellent UV protection, privacy and a room darkening effect ideal for bedrooms.
Choose these UV shades for:
A room darkening effect for a tranquil, calming atmosphere ideal for bedrooms and media rooms.
The highest level of privacy.
Plentiful options for patterns, textures and colors.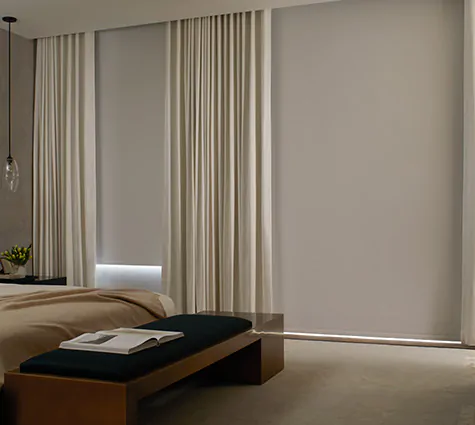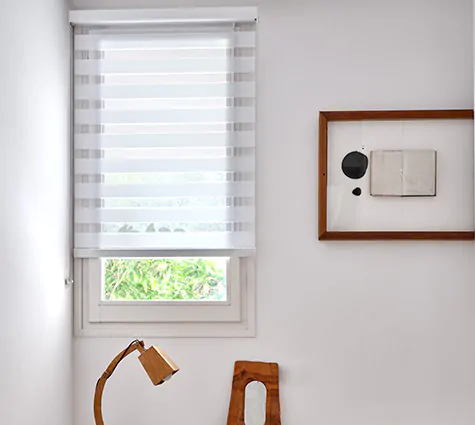 double roller shades
Double Roller Shades, also known as zebra blinds, feature two layers of alternating sheer and opaque bands you can easily adjust with a quick pull. Line up the opaque bands for privacy and room darkening or alternate them for light and visibility.
Choose these UV shades for:
Easy flexibility to control your privacy and natural light levels.
Soft, neutral colors like white, black, grey and tan.
A modern, linear aesthetic.
venetian Roller shades
Venetian Roller Shades have two sheer layers with S-shaped vanes running between them which can be tilted for light and privacy control as well as rolled up completely when raised.
Choose these UV shades for:
The combined functionality of blinds and shades.
Soft, neutral colors like white, black, grey and tan.
A soft, traditional aesthetic.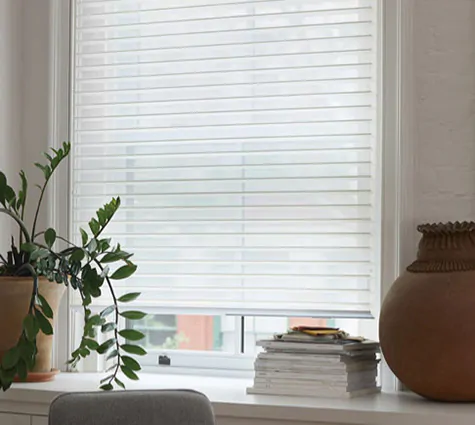 Alternatives to UV Shades
Beyond UV window shades, all window treatments provide some sun protection, including blinds and drapery. Explore more options and consider layering window treatments for better light and privacy control.
Compare UV Shades Materials to Find the Right Fit
With a better understanding of what UV shades are, their benefits and your product options, you're ready to narrow down your selection. Order free swatches of all your favorite UV window shades materials to compare each one more closely at home. Be sure to hold the material up to the light to get a sense of the transparency level, the privacy it provides and how much light it blocks. If you have questions or need assistance, don't hesitate to reach out to the Design Consultants at your local showroom to get the answers and help you need.
ORDER YOUR FAVORITE SWATCHES FOR FREE
Compare as many of your favorites from our collection of 1300+ materials at home when you order free swatches online.