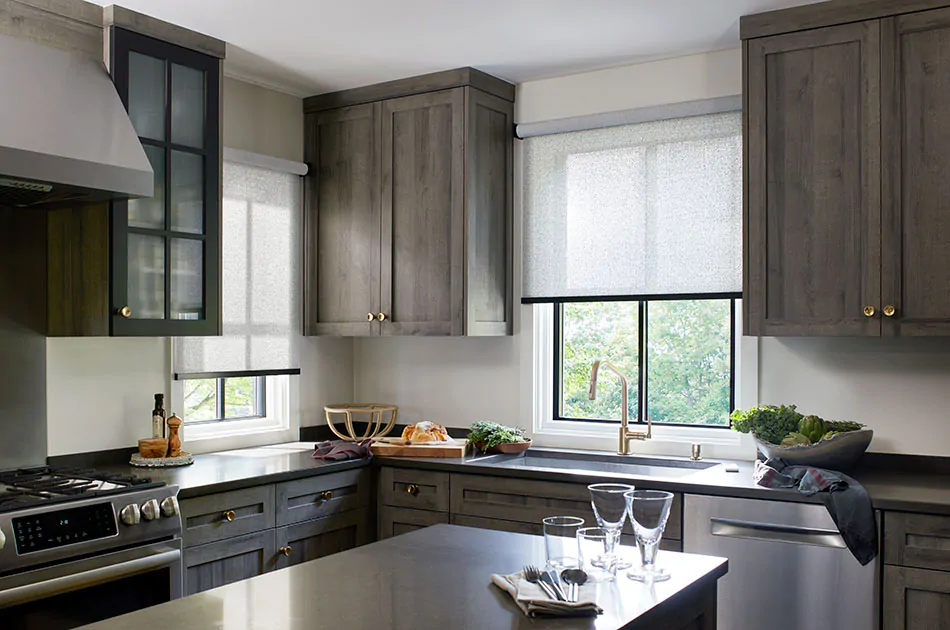 What Are Solar Shades?
Wondering what are solar shades? Solar Shades, also known as solar blinds, are a type of roller shade made with innovative material that blocks UV rays. Solar Shades are unique in that they deliver UV protection while still allowing natural light to filter through. Plus, they offer several other benefits including reducing glare, minimizing heat buildup, protecting against fading and more.
To help you decide whether Solar Shades are right for your space, learn more about what is a solar shade, including what they're made of, transparency levels, benefits and more.
What Are Solar Shades Made Of?
One of the first questions you have is likely what is a solar shade made of? Solar Shades are made from a variety of different materials, but most often a mix of synthetic fibers like PVC and polyester. The material is woven more loosely or tightly based on the solar shade's transparency level, which refers to how well you can see through the shade to enjoy your view outdoors.
Understanding Transparency Percentages
To fully learn what are Solar Shades, it's important to understand their transparency percentages. Solar Shades come with four main transparency or openness levels, each with more or less of a clear view outdoors. But what do these percentages mean?
The percentage refers to how much UV light is let through and how transparent the shade is, for instance: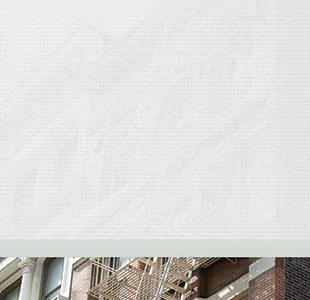 1% means the shade blocks 99% of UV rays and is also the least transparent.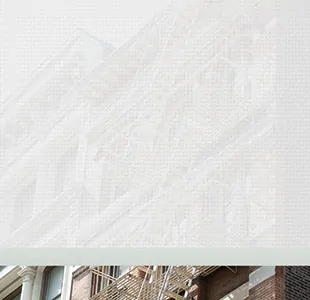 3% means the shade blocks 97% of UV rays and is semi-transparent.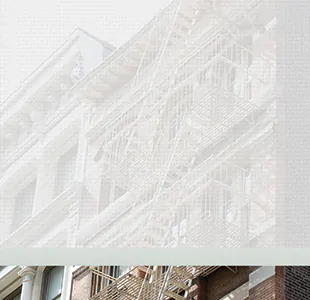 5% means the shade blocks 95% of UV rays and is a bit more semi-transparent.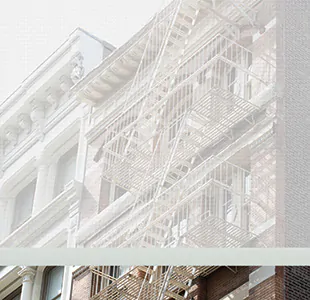 10% means the shade block 90% of UV rays and is the most transparent.
These percentage options are the most common, but others exist, including a 25% openness option from Chilewich. Choosing the right percentage for your room will mostly depend on your preferences for transparency, as even blocking just 75% of UV rays still provides significant UV protection.
Benefits of Solar Shades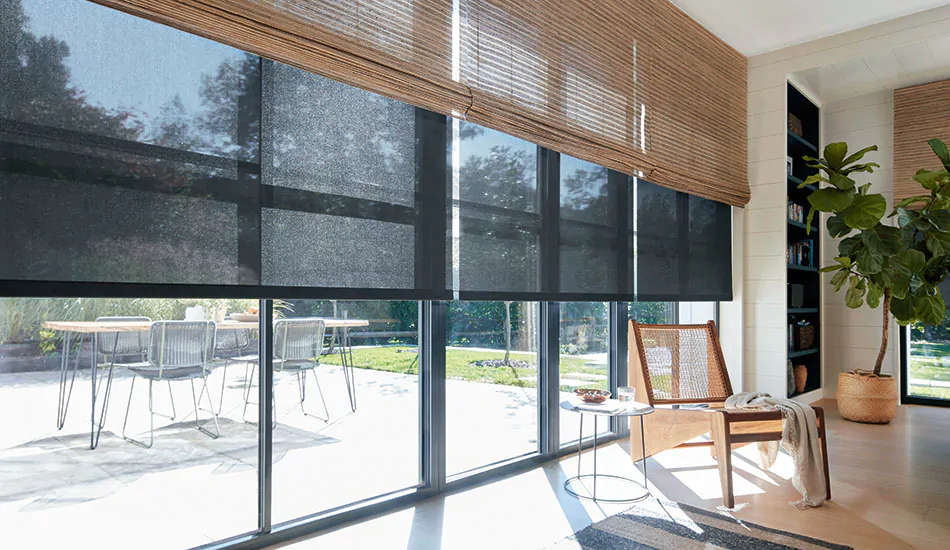 When answering the question, what are Solar Shades, knowing their benefits is a big part in deciding whether they're right for you. Thanks to their innovative material, Solar Shades deliver several unique benefits beyond other types of shades:
Filters harmful UV rays: As you've already learned, Solar Shades are able to filter out harsh UV rays that are responsible for fading your furnishings and causing glare and heat buildup.
Softens glare: Solar Shades soften the natural light entering your windows for significantly reduced glare.
Prevents fading: By blocking harsh UV rays responsible for washing out the colors of your favorite furniture, floors, artwork and more, Solar Shades prevent fading, keeping your décor looking richly hued and newer for longer.
Reduces heat buildup: Solar Shades help regulate interior temperatures by blocking heat-generating UV rays, keeping sunlight-filled spaces cooler. With cooler indoor temperatures, you may be able to save on your utility costs by using less energy for air conditioning during the warmer months.
Easy to clean: Solar Shades, thanks to their innovative material make-up, are easy to clean. Plus, certain solar shade materials also feature Microban® certification, which means they offer anti-microbial benefits.
Eco-friendly choices: Many solar shade materials, like the Sunbrella® Collection, feature green certifications like GreenGuard and Oeko-Tex. Others still, like our Eco Solar Shades, are made from recycled content and/or are recyclable at the end of their useful life.
Now that you understand what are solar shades made of, their transparency levels and other benefits, you may still wonder, how are they different from regular shades?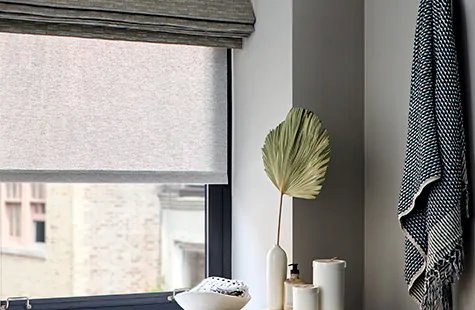 Pictured: Inner Layer: Solar Shade, Sunbrella 3% Sonoma in Light Grey and Outer Layer: Flat Roman Shade, Upton in Pebble
How Are Solar Shades Different from Regular Shades?
Solar Shades are most often compared to Roller Shades, thanks to their similar design and functionality. But the two differ substantially. Roller Shades are made from a variety of textiles, from blackout to light filtering materials. Solar Shades are made from synthetic material designed specifically to block UV rays without entirely blocking light or your view.
When to Use Solar Shades for Your Space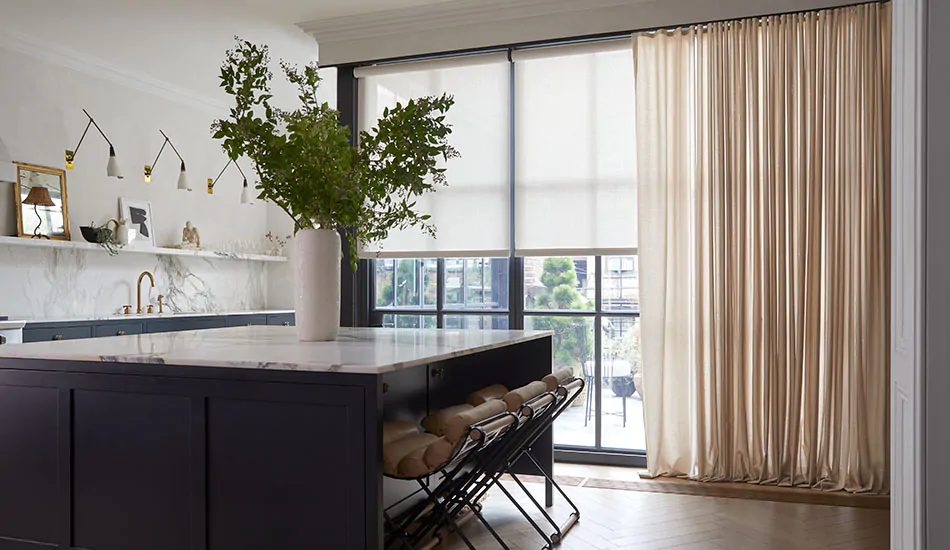 You now know what are solar shades, but how do you know they're right for you?
Some situations where Solar Shades are ideal include:
Sun-filled, well-loved rooms like living rooms and dining rooms,where you feature your favorite furniture, artwork and décor. Solar Shades will help you continue to enjoy the natural sunlight during the day without fear of fading your furnishings.
Any room with a screen, like living rooms, home offices or media rooms with TVs and monitors, as Solar Shades will help to cut the glare on your devices.
Do Solar Shades Provide Privacy?
When learning about what are solar shades, a key question you might have is about how much privacy they provide. Solar Shades provide moderate privacy during the day and can prevent someone from seeing into your home. However, be aware that once it's dark out, anyone outside will be able to see indoors through the Solar Shade. To get the privacy you need, consider layering Solar Shades with blackout Drapery or a Roman Shade to give you the best of both worlds.
Do Solar Shades Block Out Heat & Cold?
Solar Shades do a great job of preventing heat buildup in your home due to their ability to filter harmful, heat-producing UV rays. However, when it comes to the cold, Solar Shades will not provide you with much protection. To block out the cold from drafty windows, layer your Solar Shades with Drapery or Roman Shades that can help insulate your home. Another option is Cellular Shades, which feature a unique honeycomb design that traps hot and cold air alike, regulating your interior temperature all day long and through every season.
Find the Right Solar Shade Material for Your Home
With the question what is a solar shade answered, you likely know they're a great choice for many windows in your home. To discover the right material in terms of transparency, UV protection and, of course, color, pattern and texture, order complimentary swatches of as many Solar Shade materials as you like to compare in the comfort of your home. And if you have questions, don't hesitate to reach out to your nearest showroom, where you'll find helpful Design Consultants ready to assist.