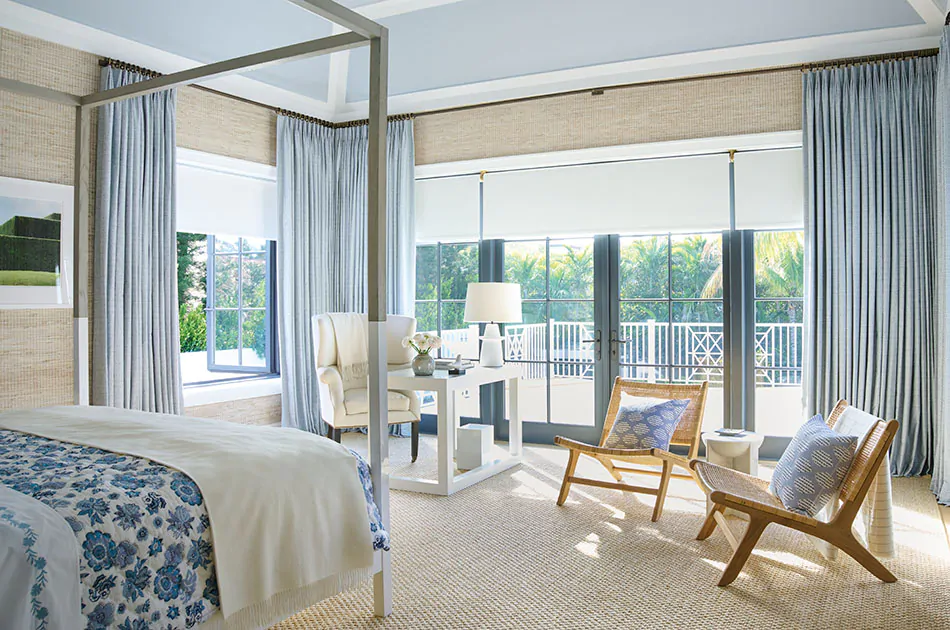 Layered Window Treatments: Tips & Ideas
If you're thinking about layered window treatments, you're likely after a beautiful multi-dimensional look that offers greater functionality for your space. Yet, learning how to layer window treatments to achieve a look you love with the functionality you need is not quite as easy as it may seem. That's why we've gathered expert tips and guidance for layering along with inspiring ideas to guide you toward the perfect combination.
For a firm understanding of layered window treatments, first learn what they are and why layering is a good strategy. Then, get a quick overview of your window treatment options for layering as well as some steps for how to layer window treatments. Finally, discover inspiring examples of layered designs and learn why each one works beautifully.
What Are Layered Window Treatments?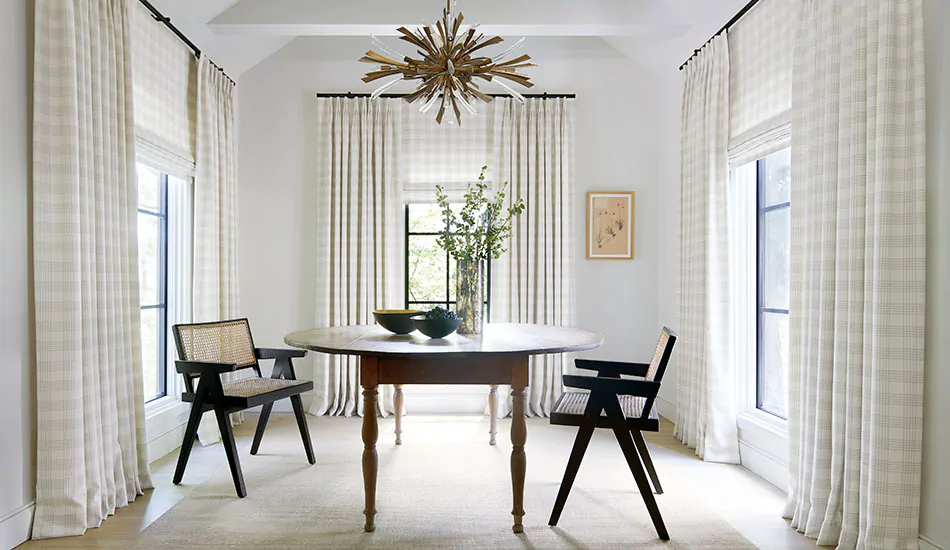 Layered window treatments refer to a combination of two or more different styles of window treatments on the same window. Common combinations include drapery over shades or blinds as well as different types of shades layered over each other.
Why Layer Window Treatments?
Layered window treatments offer several benefits that can be lumped into two main categories: functionality and aesthetics.
Functionality – Two different layers of window treatments give you greater light and privacy control than just one layer. For instance, a light-filtering Solar Shade under a blackout-lined Roman Shade gives you the option to filter natural light for a warm, soft glow and some privacy during the day with the Solar Shade, and then block out ambient light and enjoy complete privacy with the Roman Shade in the evening.
Aesthetics – Two or more layers create depth and design dimension in your room for a more eye-catching, polished look than a single layer. Layering allows you to mix and match complementary colors, patterns and textures, adding greater visual interest to your overall interior design.
A Quick Overview of Your Window Treatment Options
Before you can learn how to layer window treatments to achieve the right look and functionality, you need to first understand all your product options and how they work together.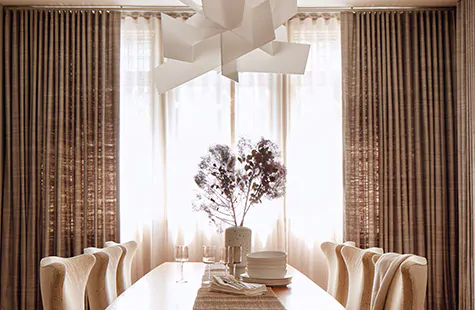 Drapery
Drapery is an elegant, beautiful option for your layered window treatments, and is very easily layered with most other window treatment options, including itself. Drapery comes in a variety of pleat styles and hardware choices, some of which are more functional, while others are more decorative.
Shades
Shades are typically a very functional choice for your windows, and they come in a wide range of styles from sleek Roller and Solar Shades to elegant Roman Shades and organic Woven Wood Shades to insulating Cellular Shades. Shades can often be layered with other Shades, as well as over Blinds and under Drapery. A common combination is to layer a Roman or Woven Wood Shade over a Roller or Solar Shade.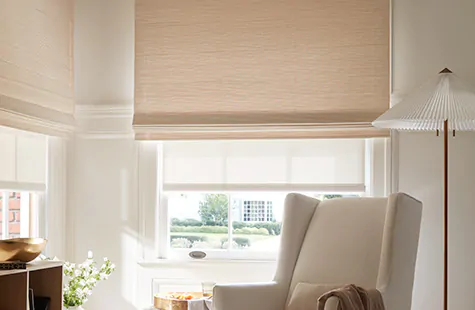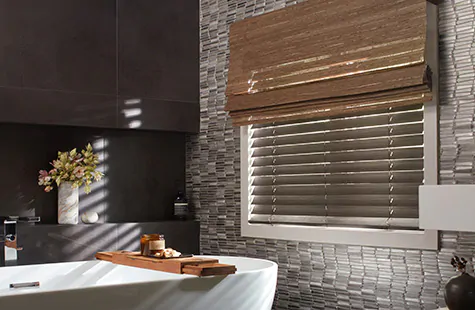 Blinds
Blinds typically refer to Wood or Metal Blinds that feature horizontal, tiltable slats. However, other types of blinds include Vertical Blinds, which are made of vertical panels of material that run on a track system. For layering, Wood and Metal Blinds are best, and can be layered under Shades and under Drapery.
Cornices & Valances
For an extra decorative element on your windows, consider adding a cornice or a valance. Cornices are typically larger and are made of a wood frame upholstered with the same fabric as one of your layered window treatments. Valances are usually a bit smaller and their construction varies between product options from delicate fabric to polished metal.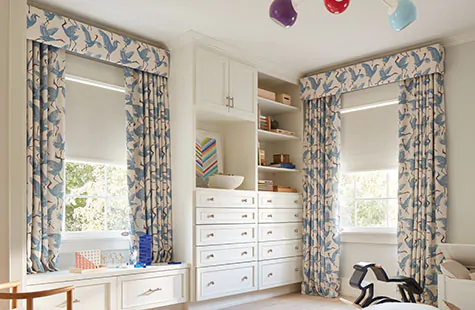 How to Layer Window Treatments
Now that you're more familiar with all your window treatment options, get a few tips on how to layer window treatments to achieve a look you love with the functionality you need.
Step 1: Consider functionality and what you want your window treatments to achieve. Do you plan to adjust both layers on a daily basis? You'll want to make sure both feature easy control systems. Or, do you plan to have one decorative layer, like stationary drapery panels? Then you'll need to make sure your single functional layer provides all your light and privacy control needs.
Step 2: Once you know your functionality needs, choose your primary functional layer—this will be the layer you adjust most often for light and privacy control. Typically, this layer is the inside layer, and is often the more neutral, subtle design since it will likely be drawn closed as much as it is open.
Step 3: Choose a secondary layer to complement your first layer. This layer will likely be the outside layer that is less often adjusted, and so benefits from a bolder color or pattern that can act as the focal point in your overall room's design. When choosing your secondary layer, be sure to think how not only the color and pattern complements the existing layer, but how it works with the rest of your interior décor as well.
Inspiration for Layered Window Treatments
With tips for how to layer window treatments, dive into some inspiring curated spaces that use best practices to create stunning designs with excellent functionality.
Drapery Over Blackout Roller Shades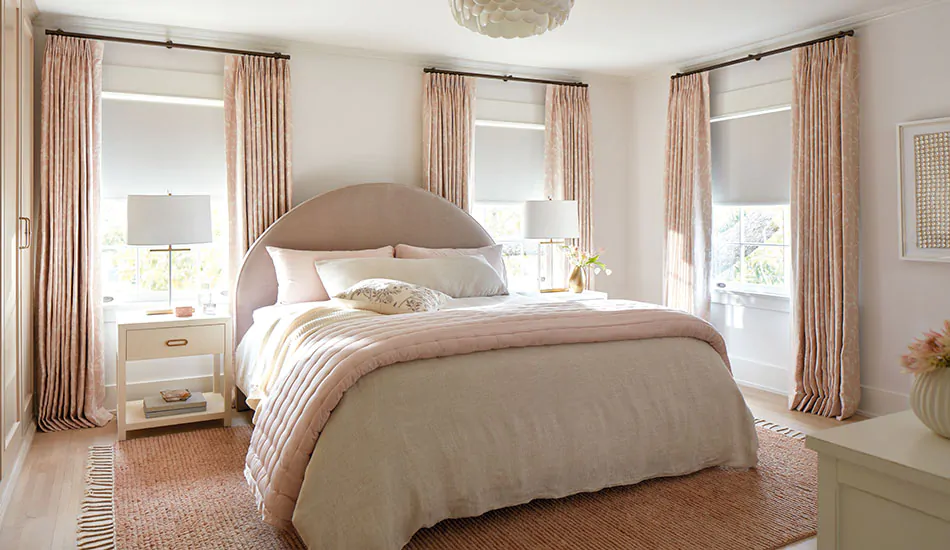 Your bedroom should be a sanctuary of rest and tranquility. For many, creating a darkened, cozy atmosphere is essential for that sense of peace as well as a good night's rest. To create that atmosphere, start with blackout window treatment that can do the heavy lifting of blocking out most of the light — like Blackout Roller Shades. However, Blackout Roller Shades won't totally block out all natural or ambient light from the outdoors because there will inevitably be a small gap between the shade and your window frame, where light can seep through.
Luckily, that's where layered window treatments come in to provide the extra level of light control. Drapery with a blackout lining is a great choice to pair with Blackout Roller Shades, as the thick fabric will cover all the gaps created by the shade, delivering excellent room darkening for a great night's sleep. Plus, the lush fabric of the drapery adds an inviting softness to the space that adds to the warm, cozy atmosphere.
What We Love About These Layers
The combination of two blackout window treatments is highly practical and a great solution for blocking out as much light as possible. Yet, what takes this design to the next level is curated design. Nearly everything in the space is soft and petal-like, from the curved, upholstered headboard to the plush comforter and the lush, flowing Drapery. Plus, the height of the Drapery makes the entire room feel taller and larger while helping to balance the straight lines of the Roller Shades.
Roman Shades Over Blinds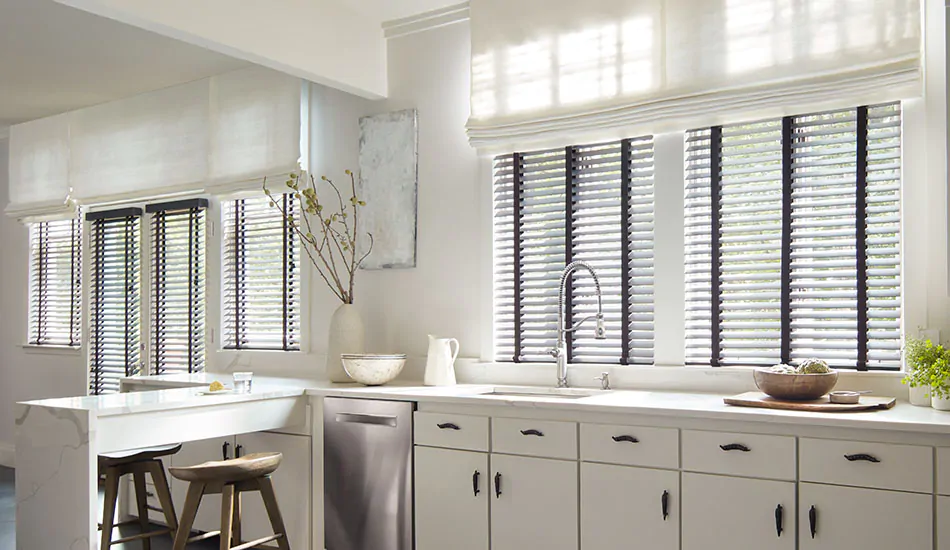 In a bright, sunny kitchen, light control is going to be a primary need from your layered window treatments. For excellent functionality and light control, opt for 2-inch Wood or Metal Blinds. The tiltable slats will allow you to easily block light and gain privacy where you need to, while allowing the rest of the space to stay light and bright. While Blinds can provide all the light and privacy control you need from a space, they can also look a little too modern and industrial if used across multiple windows in a large space. That's where layered window treatments can really make a difference aesthetically.
Layering a soft element like Roman Shades over your Blinds creates a sense of luxury in the space by adding a softness to balance the linear look of the Blinds. And while you likely won't need to lower them all the way down over your Blinds often for privacy and light control, lowering them partially will help control light at the very top of your window. Plus, the more fabric you expose with your Roman Shades, the more softness you'll add to the space.
What We Love About These Layers
Blinds are a highly functional "set it and forget it" window treatment that doesn't require lifting and lowering to control your light and privacy. Easy tilting of the slats, whether manually with a wand or automated with motorization, is all you need to achieve the right ambiance for your space. Adding Roman Shades over the Blinds in this kitchen may not be necessary from a functionality standpoint, but it adds a truly beautiful look that creates balance with the lower cabinets and helps raise the height of the entire room. Plus, they help unify the entire space, even beyond the separation in the ceiling, creating a sense of cohesion between the rooms.
Woven Wood Shades Over Solar Shades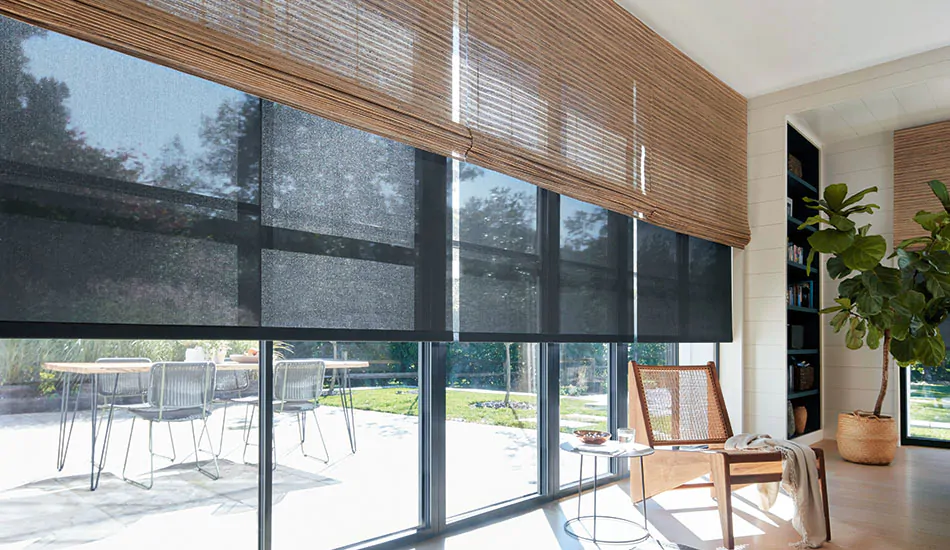 Floor-to-ceiling, wall-to-wall windows beautifully bridge the indoors and the outdoors by allowing maximum natural light in and offering a clear view outside. However, the sun's harsh rays can cause heat buildup in your home as well as fading of your floor, furnishings and décor. Luckily, knowing how to layer window treatments on these types of windows can help you decrease heat buildup and minimize interior fading while still allowing you a relatively clear view to the outdoors.
Enter Solar Shades under Woven Wood Shades. Solar Shades are made of unique material that blocks UV rays, the culprit for heat buildup and interior fading, while still letting natural light through to fill your home. Plus, Solar Shades have different transparency levels that allow you to maintain your view of the outdoors, even with the shade pulled down. For an added layer of sun protection, while still allowing some light through, Woven Wood Shades are the perfect additional layer. Without lining, the natural woven fibers of these shades let light through, while still cutting glare to soften the light. And what's more, they add a beautiful organic aesthetic to your space that helps to further emphasize the connection between the indoors and the outdoors.
What We Love About These Layers
Solar Shades are one of the best options for tall, wide windows like these, and going with black Solar Shades is a moody, modern look for this mid-century modern space. Black also absorbs light so as you look through the shade to the outdoors, colors look more saturated, and lines become cleaner and crisper. And despite the transparency to the outdoors, during the day, no one from the outdoors will be able to see in, so you maintain your sense of privacy. The addition of the Woven Wood Shade is more aesthetic than functional, as it helps soften the space with its warm color and organic texture.
Layered Drapery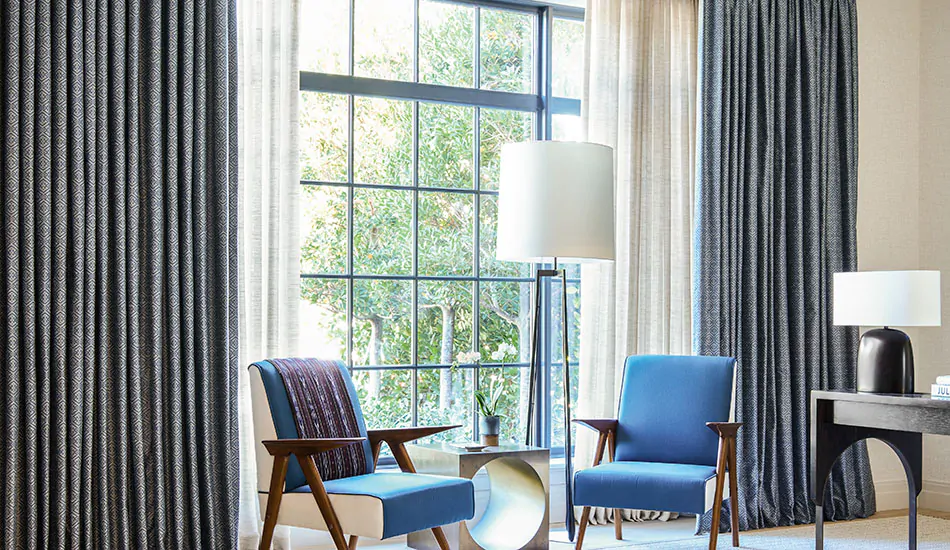 In a study or office with large windows and a more practical, industrial design, balance the space with Drapery for a softer, more inviting look. Larger windows are naturally becoming more industrial in design with their metal mullions and muntins added for both aesthetics and structural support for better weatherproofing. As such, you likely will want to soften the look of the window and drapery sheers are an excellent way to do that. With their airy, gossamer appearance, sheers add a delicate element to a window that's all lines and angles. Plus, on a practical note, sheers help to soften the light in the room without blocking it for a gentle glow.
For greater light and privacy control while still maintaining a softer, more elegant look for your window, add another layer of drapery to the design. Choosing a thicker, darker fabric will beautifully complement the light, airy sheer, while providing additional benefits including room darkening with blackout lining, sound absorption and protection from drafts.
What We Love About These Layers
Sheers under a thicker set of Drapery is a classic combination that provides excellent light and privacy control while also creating beautiful design dimension with soft, flowing layers of fabric. In this room, the design dimension is amplified with the sheer that's mounted on a recessed track system which allows it to beautifully blend into the background while creating a soft layer between the room and window. The darker, thick Drapery helps to further accentuate the height and size of the study with the way it's hung high and wide beyond the opening. Plus, the thicker material is more apt to block light and provide greater privacy — which can be especially useful if the office is ever converted temporarily to a guestroom while hosting visitors.
Three-Layer Design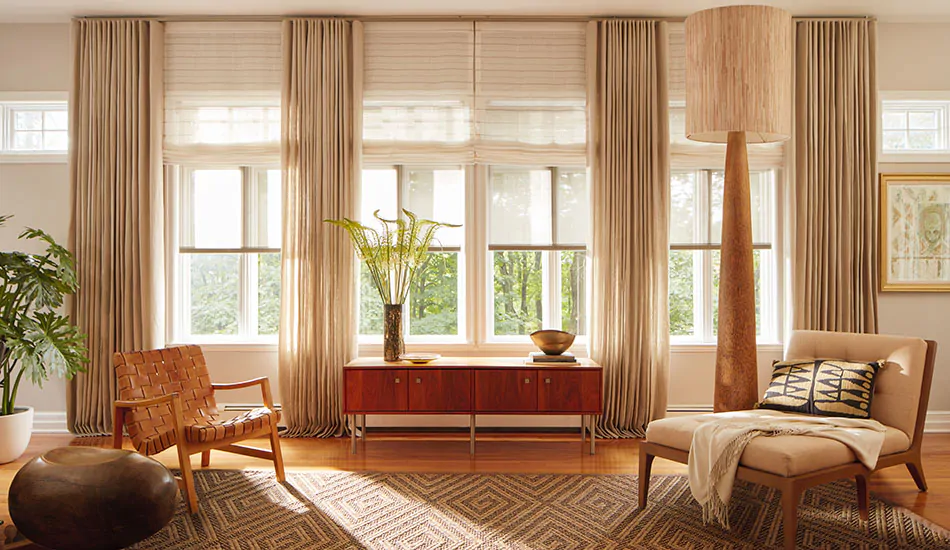 Why stick to two layered window treatments when you could have three? A three-layer design is typically the most layers you can have on a window without creating a look that's too busy or losing a significant amount of functionality with your window treatments. When designing for three layers, it's essential to make sure there's enough space for each window treatment to operate correctly as the space inside the window frame and outside can get crowded quickly.
With three layered window treatments, a Solar or Roller Shade is a great base layer to start with as it can very likely be inside-mounted into your window frame as the depth requirement is minimal. An inside-mounted window treatment will give you more space on the wall and ceiling outside the window to mount two more window treatments. Another shade layer, like Roman Shades, is a great, functional addition that adds texture and visual interest while also providing varying levels of light and privacy control with its choice of linings. For the final layer, Drapery is a safe bet, as most hardware can be ceiling mounting, which will give you enough space for smooth operation of both the Drapery and the Roman Shades.
In terms of aesthetics, for three layered window treatments, it's a good idea to stick to a similar color scheme with each layer with only changes in tone and texture. This will allow the textures and dimension created by the layers to be the stars of the show, rather than lots of colors and patterns which can quickly feel too busy and overwhelming.
What We Love About These Layers
The multitude of layers and textures not only in the layered window treatments, but throughout the space, create an inviting ambiance that's hard to resist. The use of warm neutral in the light-filtering window treatment materials amplifies the golden glow of the space while adding texture and dimension. Plus, the way the Roman Shades and Drapery are mounted right at or from the ceiling emphasizes the height of the room for a more open, welcoming look and feel.
Get More Expert Guidance on Layering
Knowing how to layer window treatments is no easy feat, but with the guidance and inspiration here, you have a good foundation for diving into your own design. If you still feel like you need some help in executing the perfect layered window treatments design, schedule a free design consultation with one of our expert Design Consultants at your local showroom. With their design savviness and deep product knowledge, they'll be able to help you achieve a look you love with the functionality you need.