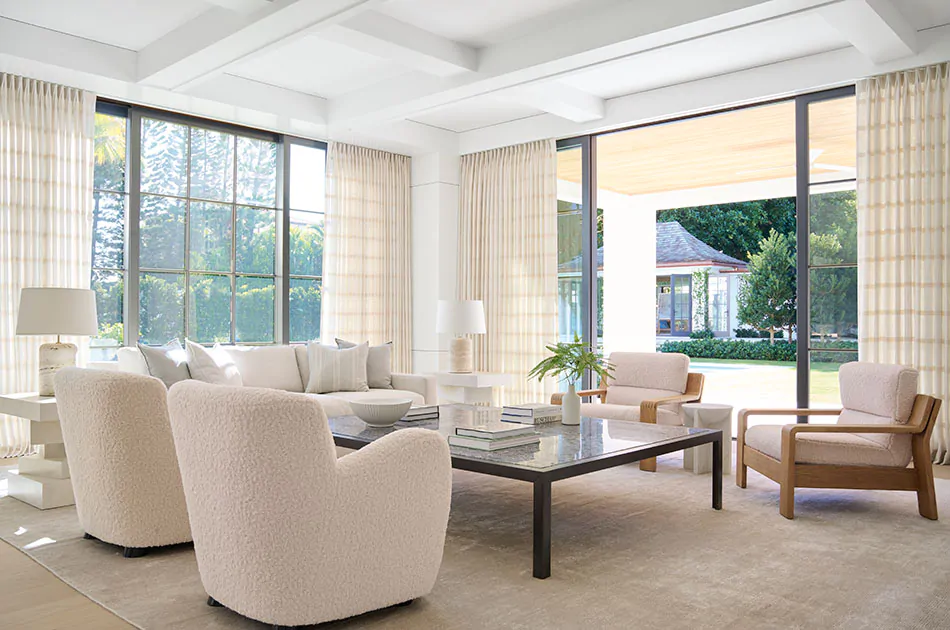 Drapery Panels: Styles & How to Order
Drapery panels come in a wide variety of styles, fabrics, colors, patterns and uses. Choosing the right panels for your space can elevate your aesthetic and improve the overall functionality of your room.
To find the perfect drapery panels for your space, it's important to understand what they are, your customization options and, of course, how to order your panels.
What Are Drapery Panels?
Drapery panels refer to the sections of fabric that frame a door or window. They can be used on their own for light and privacy control or layered with other window treatments like shades or blinds for greater functionality and design dimension.
What Is the Difference Between Curtain Panels & Drapes?
In general, the terms "curtains" and "drapery" can be used interchangeably. In some instances, drapes, or drapery, can refer to more formal panels made of heavier fabric that extend to the floor and curtains can refer to more casual panels tailored to the window size, such as café curtains. However, mostly, the two terms mean the same thing.
how to choose the Right Drapery Panels for Your Space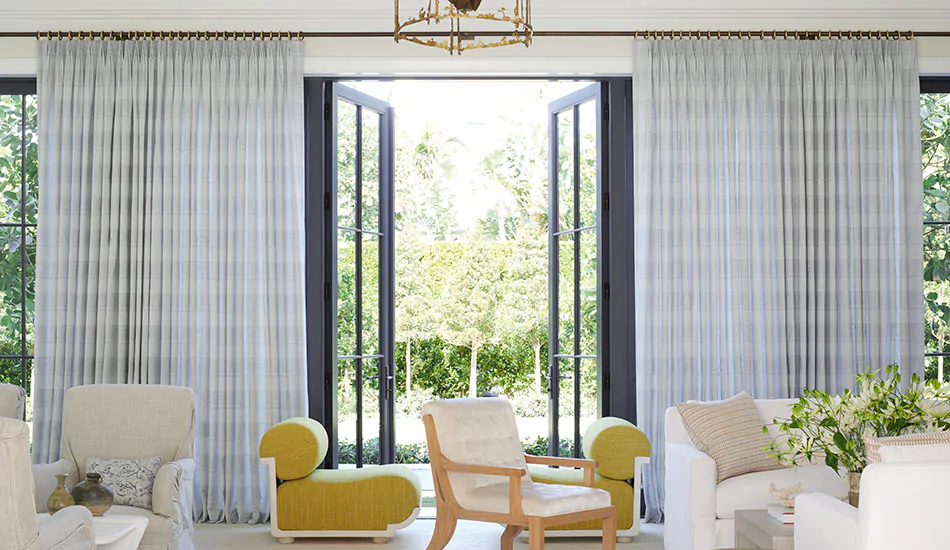 Now that you know what drapery panels are, learn some top tips for choosing the right drape panels for your space.
Capture the Right Aesthetics – Pleat style and material texture, pattern and color all contribute to a certain aesthetic, so be sure to choose the right combination to complement your room's existing style, whether its traditional, modern, coastal, boho or another style.
Assess Your Functionality Needs –Different pleat styles have different levels of functionality, with some being very functional and easy to use while others are better suited as stationary, decorative drape panels.
Choose the Right Length & Width – Drape panels are available as premade options with predetermined lengths, as well as custom panels, like those from The Shade Store, that can be tailored to your specific window size and aesthetic preferences. With custom drapery panels, you have the option to choose the perfect width to get an ideal stack and fullness as well as your preferred length, whether you want the panels to float just above the floor, kiss the floor, or puddle luxuriously on the floor.
Get the Right Light & Privacy Control – Drapery linings like privacy and blackout lining can give you better privacy and a room darkening effect, based on your needs. Plus, lining also means better insulation against drafty windows.
Ready to Shop for Drapery Panels?
Dive right into your custom drapery selection from The Shade Store, including several pleat styles and 650+ exclusive fabrics.
Customizing Drape Panels: Pleat Styles, Fabrics & Hardware
To find the right drape panels for your room, you can choose from several different customizations in terms of:
Drapery pleat styles
Fabric and lining
Hardware
Discover your customization options to learn which might be the right choice for your space.
DRAPERY PLEAT STYLES
Drapery pleats refer to how the drapery is fashioned at the very top of the panel, and subsequently, how the fabric falls toward the floor.
Pleats play a large role in both the aesthetics and functionality of your drapery panels.
In terms of aesthetics, pleat styles range from simple and modern to ornate and traditional.
In terms of functionality, some pleat styles are meant to be more decorative as stationary panels, while others are made to be easily opened and closed.
Learn about all your drapery pleat options to decide which might be right for your home.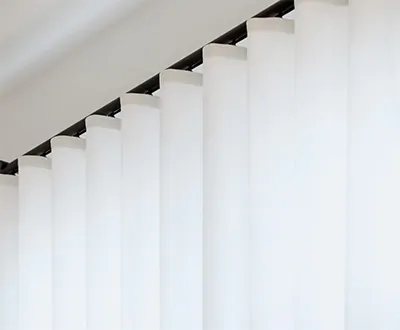 Ripple Fold Drapery
Soft S-curves creating sleek waves of fabric.
Modern or contemporary aesthetic with a streamlined design that helps add a sense of height to a room.
Easy functionality as it operates only on a track system.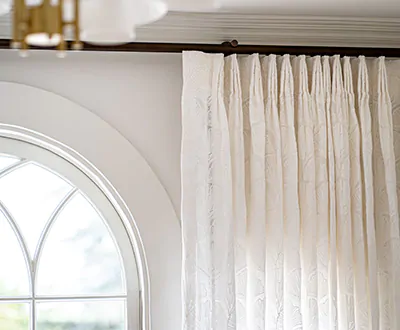 Tailored Pleat Drapery
Three-finger pleats pinched at the very top of the drapery panels.
Modern, sleek aesthetic that helps create a sense of height in a room.
Easy functionality as it's compatible with both a track system and rod and rings hardware.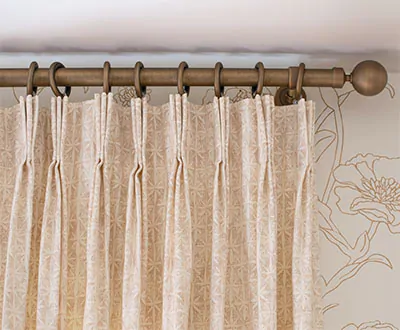 Pinch Pleat Drapery
Three-finger pleats pinched four inches from the top of the drape panels.
Elegant, traditional aesthetic with a natural visual break at the top.
Easy functionality as it is compatible with both a track system and rod and rings hardware.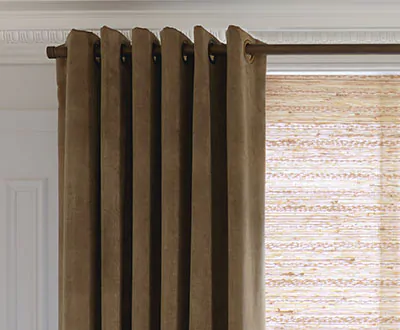 Grommet Drapery
Rings pressed into the drapery material about one inch from the top.
Creates deep, dramatic pleats for a modern, linear look.
Best for decorative applications as the rings make it somewhat difficult to move across the rod.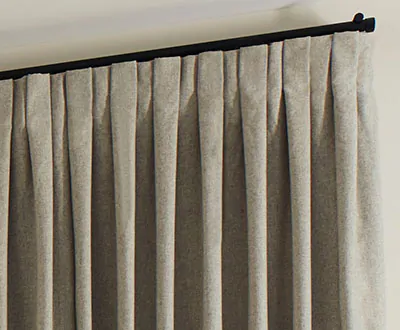 Inverted Pleat Drapery
Flat, crisp pleats across the top
Formal, stately look with clean, crisp angles and lines.
Best for decorative applications as the pleats don't stack as nicely as other styles.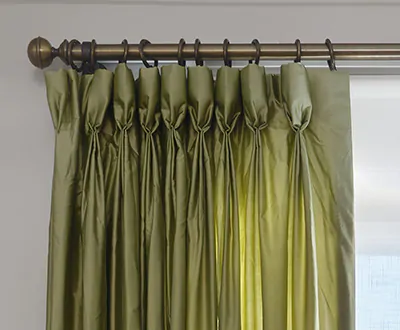 goblet drapery
Goblet-shaped pleats delicately pinched at the top of the curtain panel.
Luxurious, elegant look that brings a feminine element to your interior.
Best for decorative applications as the goblet-shaped pleats don't stack nicely over themselves.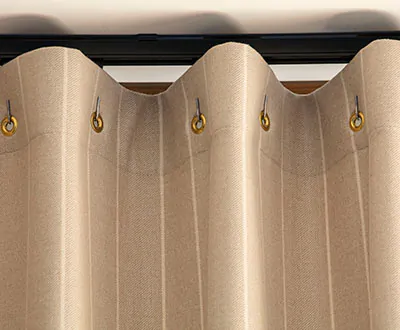 cubicle drapery
Small grommets a few inches from the top attach to hook carries in a track system.
Wide, gentle waves for a more casual aesthetic.
Very functional as it is only used with a track system and features a tight stack ideal for smaller spaces.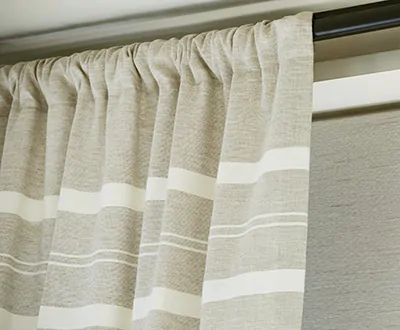 Rod Pocket Drapery
Sewn pocket of fabric at the top accommodates a curtain rod to be thread through.
Sections of gathered fabric create folds at the desired places, while delivering a very casual aesthetic
Best for decorative applications as it is difficult to move the drapery back and forth along the rod.
Fabric & Lining for Drapery Panels
The right fabric and lining for your drapery panels will transform your room aesthetically and functionality. Explore fabric and lining and learn tips for choosing the right options for your space.
Drapery Fabrics
When considering the fabric choice for your drapery, it's important to think about the material in two ways:
Aesthetics: What color, pattern and texture achieve the look you want?
Functionality: Which fabrics have the performance you need?
Fabrics for drapery panels fall into two main categories: natural and synthetic fabrics. Both natural and synthetic fabrics offer a wide range of colors, patterns and textures, so it's best to consider the level of performance you need from the material first, and then dive into your aesthetic choices.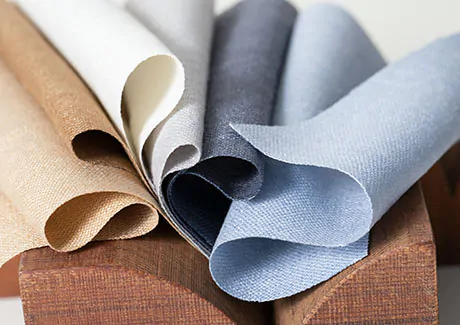 Natural Fabrics: Imperfect Beauty
Natural fabrics include materials like delicate silk and hardy linen and wool, all of which deliver their own unique character-rich looks. However, these materials are prone to stretching and wrinkling, but these imperfections are to be expected and are often desirable. These characteristics add to the charm of your drapery panels and showcase the natural material.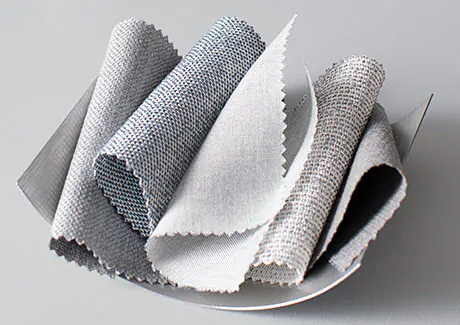 Synthetic Materials: Pristine Performance
Synthetic fabrics like Sunbrella are more durable and deliver a pristine, unaffected look. These materials are resistant to staining, stretching, wrinkling and more, making them ideal for more active rooms like kitchens, living rooms, or kids' rooms. So, while they lack the charm of natural fibers, they make up for this by offering you peace of mind with their durability.
Drapery Lining
In addition to the fabric of your drape panels, you also have the option of adding drapery lining. Lining options include privacy lining, blackout lining and privacy lining with a cotton flannel interlining. All types of lining protect your drapery fabric from harmful UV rays which can cause fading and deterioration over time, especially to natural fibers. And all lining, especially blackout and privacy with interlining, help add body and fullness to your drapery panels for a lush, full look.
In addition to their shared benefits, each type of lining also has its own unique benefits that will help you in deciding which type is right for you:
Privacy Lining: Allows some light to pass through for a soft glow, but still offers good privacy for your peace of mind.
Blackout Lining: Blocks up to 99% of light for a tranquil room darkening effect and excellent privacy ideal for bedrooms.
Privacy with Interlining: Provides excellent privacy and extra insulation thanks to its cotton flannel interlining that helps block drafty windows.
Unlined: Choosing no lining for your drape panels is also an option. Reasons you might choose no lining include for drapery sheers which are ideal for filtering and softening light or for synthetic drapery material that will be less affected by UV rays.
Drapery Hardware
Drapery hardware is an essential part of how your drapery panels will open and close, so it's important to think about what kind of functionality you'll need for your panels. Depending on the type of pleat style you've chosen, you'll have the option of choosing one of the following hardware systems: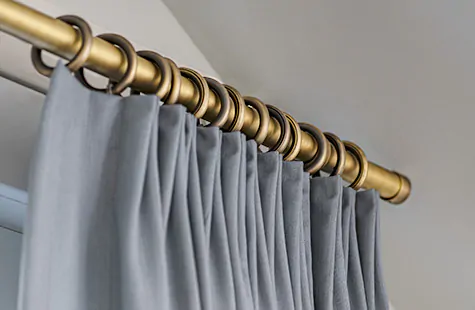 rod & rings
The traditional type of drapery hardware, rod and rings consist of a curtain rod and matching rings from which the drapery panels are hung. This system offers the most aesthetic options so you can find just the right look and delivers simple functionality for everyday use.
Compatibility: All pleat styles except for Ripple Fold and Cubicle Drapery.
track system
A track system consists of a track with carriers to which the drapery panels are attached. The carriers allow you to easily slide the panels back and forth with effortless ease. Plus, you have several design options ranging from sleek and minimalist to more elegant designs.
Compatibility: All pleat styles except for Grommet and Rod Pocket Drapery.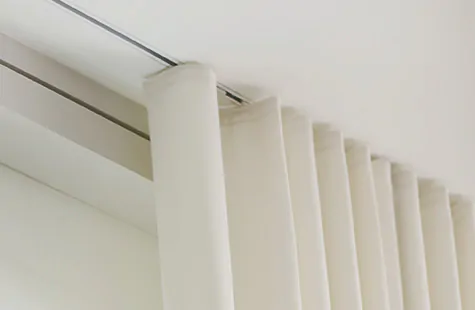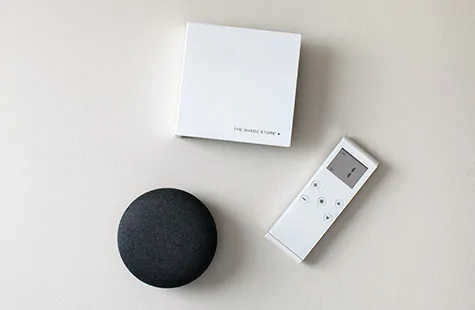 motorized track
A motorized track features a sleek, minimalist design and comes with a remote that allows you to control your drapery panels with the press of a button. Some motorized systems can also be paired with an app on your phone or with your smart home device.
Compatibility: All Pleat Styles Except for Grommet and Rod Pocket Drapery.
How to Order, Install & Care for Custom Drapery Panels
Now that you have an overview of your options for drapery panels, you're likely wondering, what size drapery panel do I need, and how do I order them? Learn more about how to order, install and care for your drapery.
Best Practices for Hanging Drapery
The first step to ordering drapery is to learn the best practices for hanging your drape panels so that they accentuate your window and room.
Generally, the best practice for hanging drapery include:
Hang Them High & Wide: Hanging your drapery panels at least 12 inches beyond the window frame on either side and a little more than halfway between the top of the window frame and ceiling creates the illusion that your window is larger, and your ceiling is taller.
However, the best height for your curtain rod may vary slightly depending on the following factors:
For rooms with shorter ceilings without a lot of space between the top of the window and the ceiling, hang your curtains just below the ceiling, or better yet, ceiling-mount them.
For rooms with cathedral ceilings, hang your curtains about 8 to 10 inches above the top of your window frame to help the window feel taller without going too high with your drapery.
For rooms with crown molding, hang the drapery just below the crown molding to avoid an awkward gap between the top of your drapery and the start of the crown molding.
How to Measure for Drapery
Once you know how you're going to hang your drape panels, you're ready to measure your ordering length and width. Learning how to measure for drapery is especially important if you're ordering custom drapery, but it can also be helpful in choosing premade drape panels that are closest to your desired dimensions.
Measuring Width
To measure the width, measure the width your curtain rod will extend, making sure it extends about 12 inches beyond the window frame on either side. When ordering from The Shade Store, this is your ordering width. If ordering elsewhere, you may need to multiply the width of your curtain rode by 1.5 or 2 to ensure you get a lush, full look. At The Shade Store, we do this math for you and take your chosen drapery fabric and lining into account to give you the optimal fullness.
Measuring Length
To measure the length,measure the distance from where you want the rod or track system to be to the floor. For float-length drapery, measure from your rod to about ½ inch off the floor. For break-length drapes, add 1 to 2 inches to your curtain's float length. For a puddle effect, add 3 to 6 inches to your curtain's float length.
How to Install Drapery
Installing your drapery will of course vary based on the type of hardware you've chosen, but in general, your steps will include:
Step 1: Gather tools. You'll likely need a stepladder, pencil, tape measure, level, drill and screwdriver, but check your drapery's specific install instructions for an exact list.
Step 2: Measure bracket placement based on your hardware's width. Be sure to check your drapery hardware install guide to ensure proper spacing of brackets.
Step 3: Install the brackets with the correct tools as indicated in the installation guide for your drapery hardware.
Step 4: Mount the rod or track system and hang your drape panels.
Caring for Drapery Panels
After installing your drape panels, it's important to care for them so they look their best for the long-haul. Specific maintenance needs will depend on the drapery fabric you've chosen, but in general, all materials should be vacuumed now and then with a low-suction, handheld vacuum to remove dust and dirt. If dirt gets embedded or you have a stain, you may need to contact a local window treatment cleaning specialist who can treat your drapery on site.
BE INSPIRED: CURATED INTERIORS WITH DRAPERY
See how all the selections made above can come together to create drapery that truly transforms a room. Explore these curated interiors to get ideas for your own design.
Creating Height with Drapery Panels
Tailored Pleat Drapery made of a sheer material is hung just above the crown molding at the ceiling, which helps accentuate the height of the ceiling and the short window. The gossamer material of the sheers also helps keep the overall look and feel of the space light, airy and open.
Pictured: Outer Layer: Tailored Pleat Drapery, C.O.M. Elitis Palace in Buci, and Inner Layer: Cascade Roman Shade, C.O.M. Elitis Paris in Buci, designed by Penny Baird of Dessin LLC for the 2023 Kips Bay Showhouse in New York City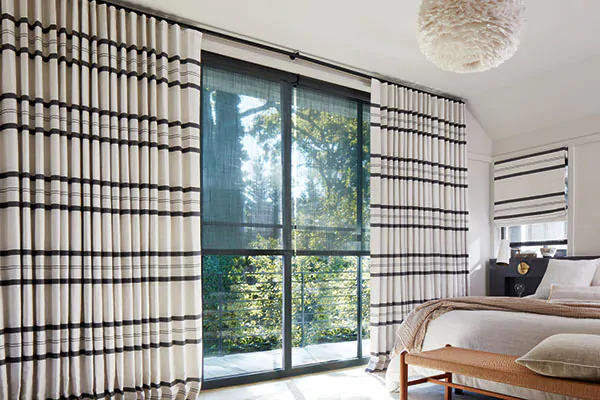 Adding Pattern & Texture for a Unique Look
Patterned drapery panels are a great way to add a unique aesthetic to any room in your home. Choose a bold stripe pattern like Shoreham Stripe to create a modern, linear design. Or opt for a more floral-inspired pattern like Vanda for a softer, subtler aesthetic.
Pictured: Outer Layer: Ripple Fold Drapery, Shoreham Stripe in Jet and Inner Layer: Roller Shades, Naomi in Slate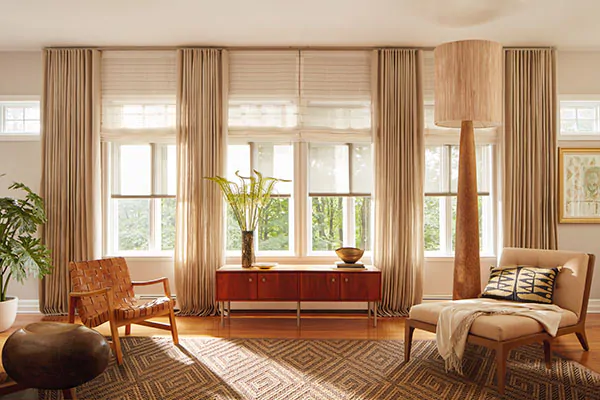 Layering Drapery Panels with Other Window Treatments
Create beautiful design dimension and depth, while also increasing your functionality with more light and privacy control options when you layer your drapery panels with other window treatments. Solar or Roller Shades, Roman Shades and Blinds are all great choices for layering with your drapery.
Pictured: Outer Layer: Ripple Fold Drapery, Linen in Natural and Inner Layer: Flat Roman Shades, Martyn Lawrence Bullard Sahara Stripe in Desert and Solar Shades, 3% Thermo Beige
Explore More to Finalize Your Drapery Selections
With a broad overview of your options for drapery panels as well as tips on how to order, you're ready to make your final selections. Visit a local showroom to see all the drapery pleat styles on display, get a sense for functionality between the different hardware styles and explore all your possible material options as swatches. Plus, you'll meet our talented Design Consultants who can answer all your window treatment questions and help you make the best selections for your needs and preferences.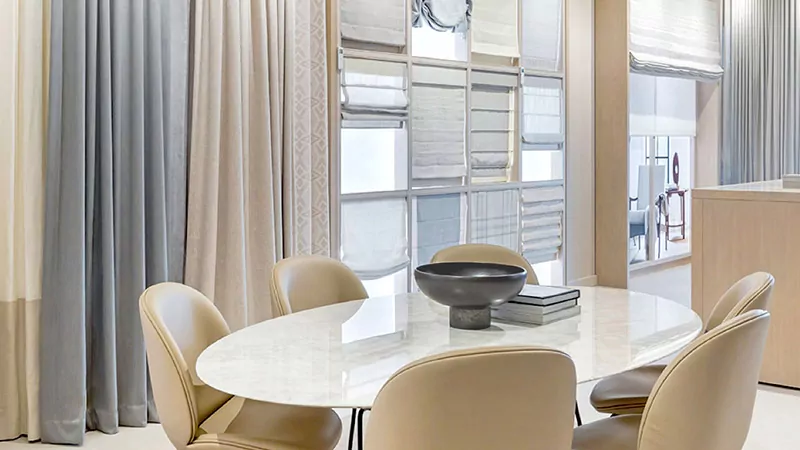 FIND A LOCAL SHOWROOM NEAR YOU
Visit your local showroom for interactive displays of all our products, 1300+ material swatches and helpful Design Consultants ready to assist you.