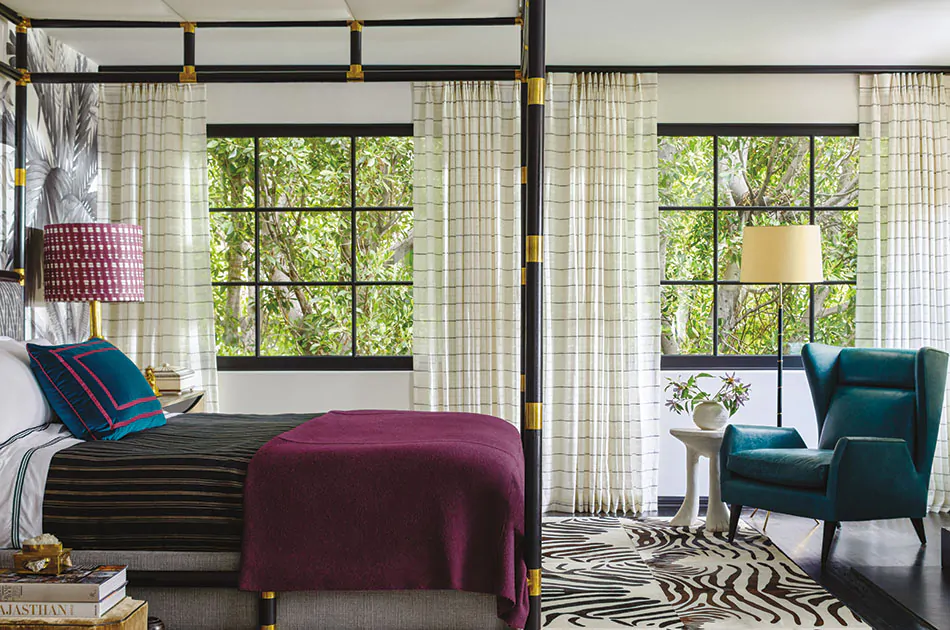 Curtain Sheers: Capture a Delicate Look
If you're considering curtain sheers, you're likely after a delicate, gossamer look that gives you softened natural light and a bit of privacy. Sheer drapes are a great choice for many rooms, whether on their own or layered with heavier drapery for even greater light and privacy control — not to mention a beautiful multi-dimensional aesthetic.
So how do you choose the right curtain sheers for your space? First, learn what they are and the benefits of choosing them. Then, explore the different types of sheer drapes and get tips for choosing between them to discover the perfect match for your needs and preferences. Finally, learn a bit about installation and maintenance so you can get a sense for what sheer curtains will entail.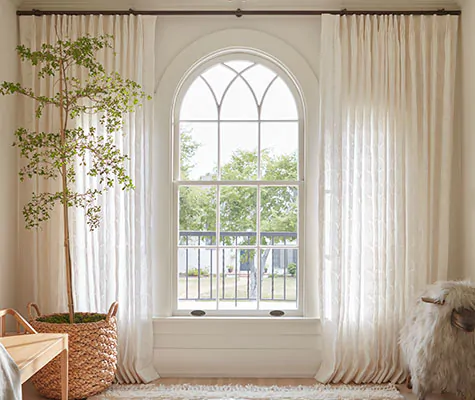 What Are Curtain Sheers?
Curtain sheers are lightweight fabrics that beautifully filter and soften light while providing some privacy. They range in opaqueness from sheer to semi-sheer, with sheer being the lightest weight and least opaque.
Why Choose Sheers?
No matter what kind of sheer you choose, whether sheer or semi-sheer, you'll enjoy similar benefits, including:
A delicate, ethereal aesthetic that adds softness to your window.
Softening of natural light for a gentle warm glow.
Reduced glare for no squinting and a clear view of your TV or monitor screens.
Some privacy, depending on how sheer the material is.
Types of Curtain Sheers
Beyond their level of sheerness, curtain sheers come in several types, mostly based on their material composition. Learn more about the types of sheer drapes available to you to get a sense of which might be right for your space.
Linen Sheers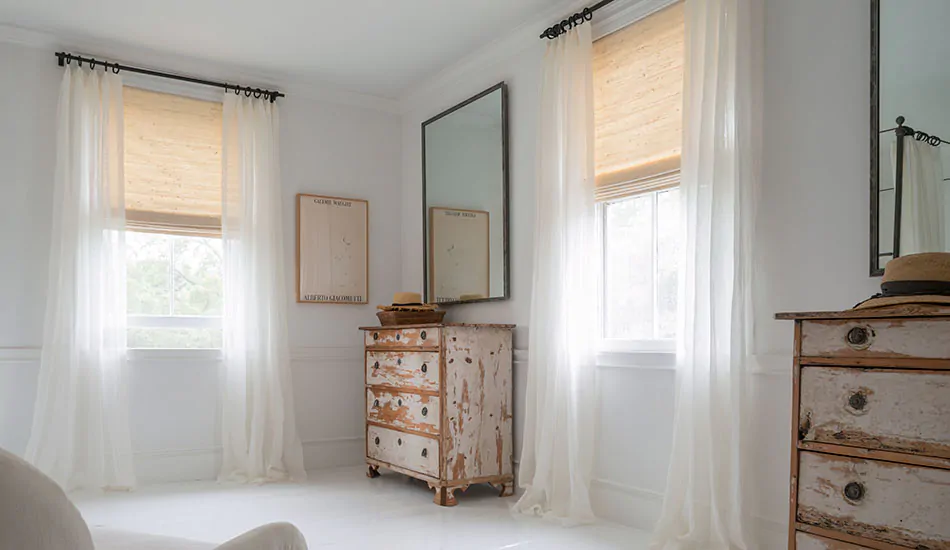 Linen is a strong, durable natural fiber made from flax. Its strength makes it a good candidate for sheers, which typically feature a loose weave, where the hardy linen fibers will be less prone to tearing than other more delicate fibers. Linen sheers are made from 100% linen or within linen blends which feature a mix of linen with other natural or synthetic fibers.
Linen blends include:
Lannister Sheer – Made from 55% Linen and 45% polyester for a beautiful, pliable sheer, available in White or Off White.
Sheer Metallic – Made from 59% linen, and 41% synthetic fibers for a durable, soft sheer with a lustrous sheen, available in four warm neutrals.
For 100% linen curtain sheers, choose from one of these collections: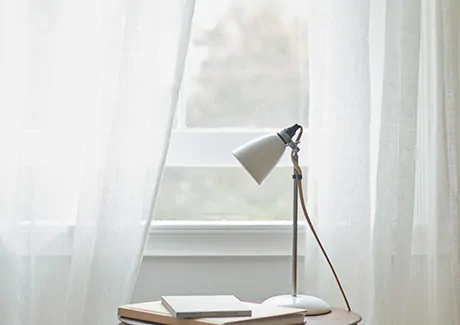 Luxe Sheer Linen
Soft and delicate with a fine woven texture, available in eight neutral warm and cool tones.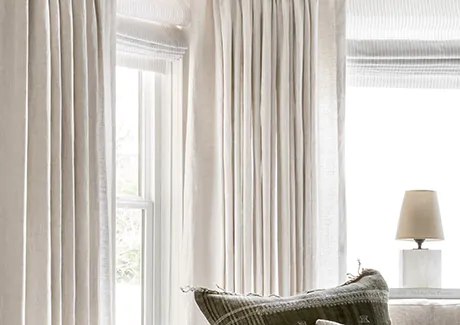 Linen Sheers
Soft, lightweight and with a subtle texture, available in White, Ivory or Oatmeal.
Wool Sheers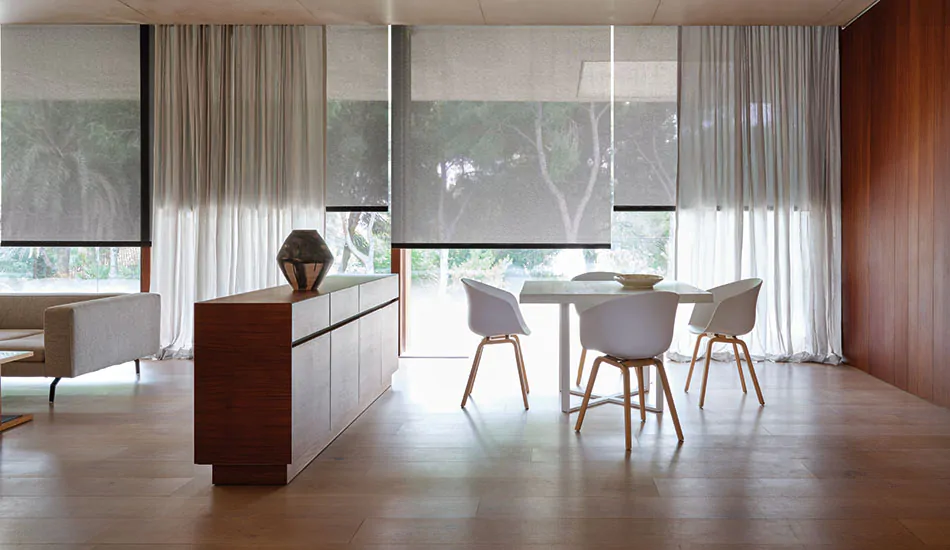 Wool is another strong natural fiber made from sheep's wool. Wool can be processed and woven to either feature lots of texture and rough surface, or a subtle texture with a soft feel. Also similar to linen, wool sheer drapes can be made from a wool blend which includes a mix of fibers, or from 100% wool.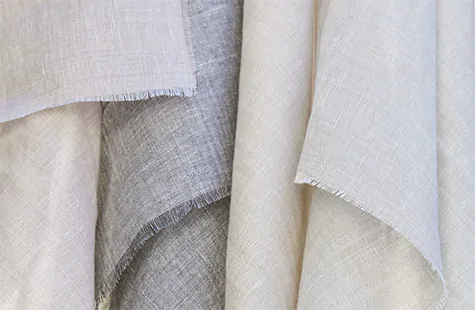 sheer wool blend
Made from 25% wool, 25% acrylic and 50% linen, Sheer Wool Blend delivers a delicate, soft look while still being quite durable. Available in four neutrals, two warm tan tones and two cool greys.
100% Wool: Holland & Sherry Wool Challis
Known for their quality woolen textiles, Holland & Sherry have created a beautiful wool sheer made from 100% natural wool. Wool Challis features a mix of dyed yards for a beautiful textured appearance and a soft feel. Available in five neutrals from light to dark.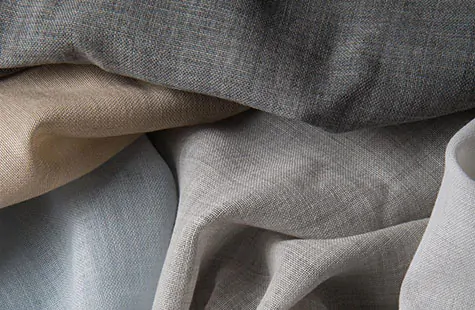 Synthetic Sheers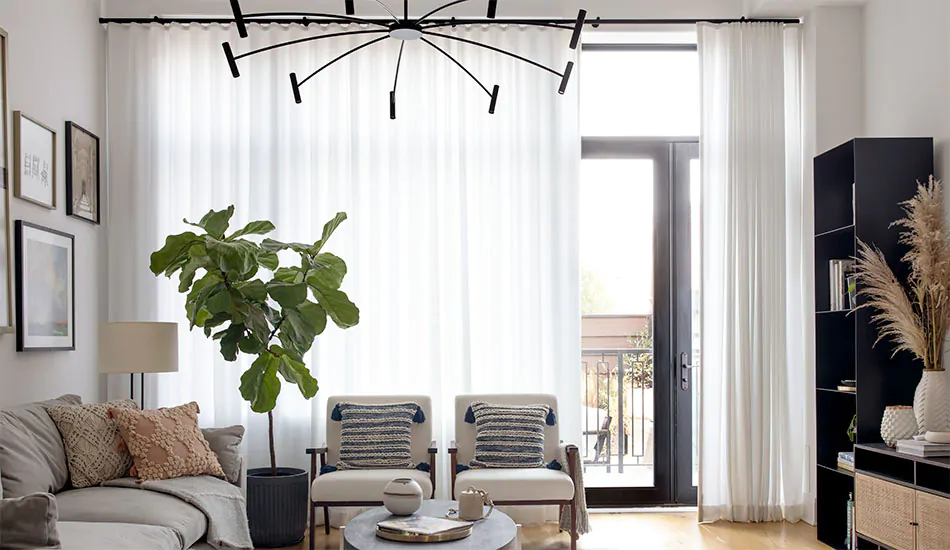 Synthetic sheer drapes can resemble natural fabrics like linens or silk, but often feature greater durability and resistance to moisture and the elements. Synthetic sheers are often made of polyester, nylon or a blend of the two and other man-made fibers like acrylic.
Examples of synthetic sheers include:
Sheer Elegance – Made of 100% polyester, Sheer Elegance is soft and pliable with a voile-inspired texture. Available in White and two off-white colors, Winter and Ice.
Basket Sheer – Made of 100% polyester, Basket Sheer has been woven to replicate the look of linen without its characteristic wrinkles for a more pristine look. Available in five neutrals ranging from light to dark.
Sheer Brilliance – Made of 97% polyester and 3% nylon, Sheer Brilliance offers a subtle sheen when light hits it. Available in five neutral colors made with multi-colored threads for lots of visual texture.
Sunbrella Sheers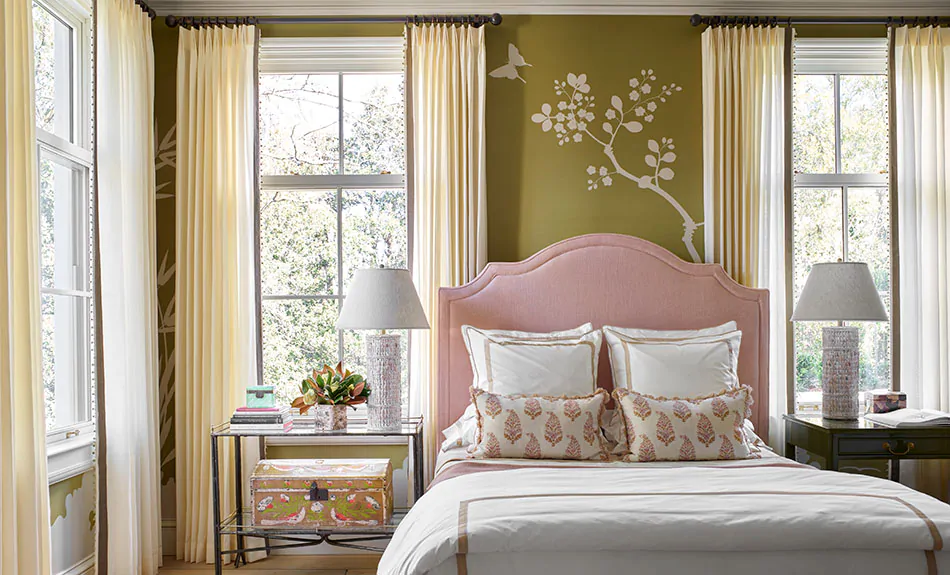 Sunbrella sheers are another type of synthetic sheer, but they are made exclusively with Sunbrella acrylic. This patented acrylic is well-known for its impressive durability as well as its delicate beauty as a sheer.
Sunbrella sheers are available in two materials, both with the same level of performance, but with different textures and colors: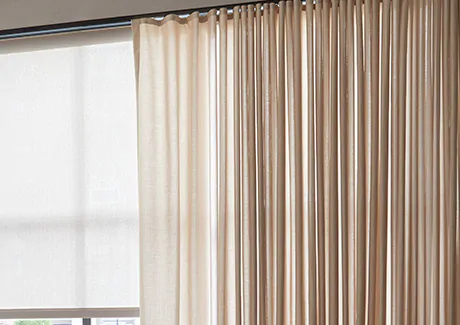 vitela
A fade-resistant sheer fabric with a delicate look and feel. Available in six soft neutral tones.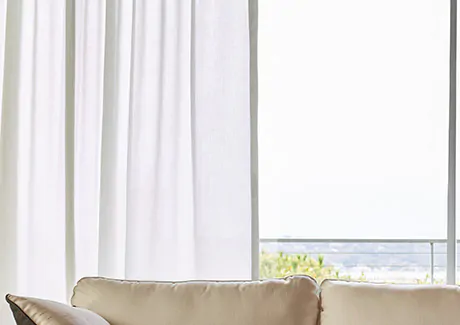 neblina
A durable sheer with a bit more body and structure. Available in five saturated neutral tones.
Designer Pattern Sheers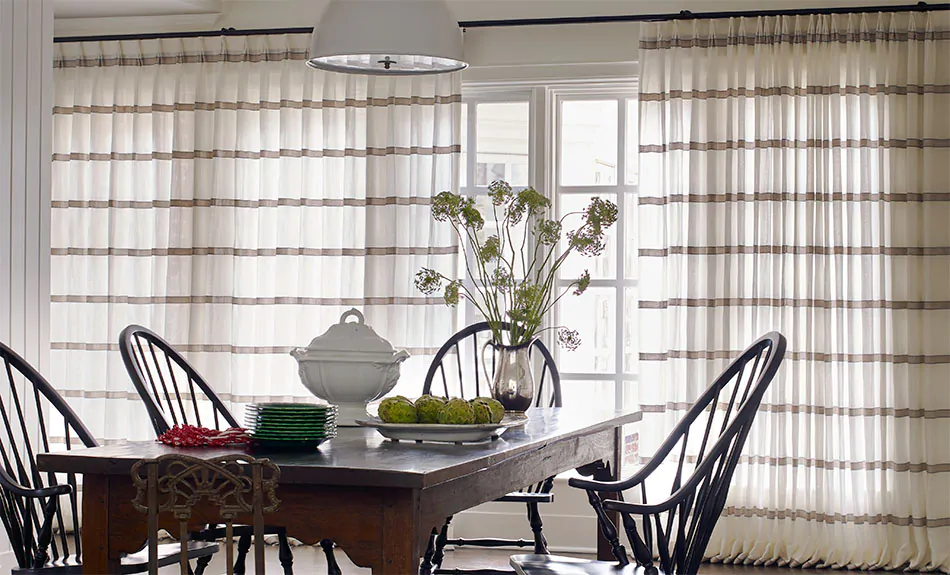 Designer pattern sheers are made by renowned interior designers like Victoria Hagan, Martyn Lawrence Bullard and The Novogratz. They add visual interest to your window and come in several unique designs from stripes to floral and leafy patterns.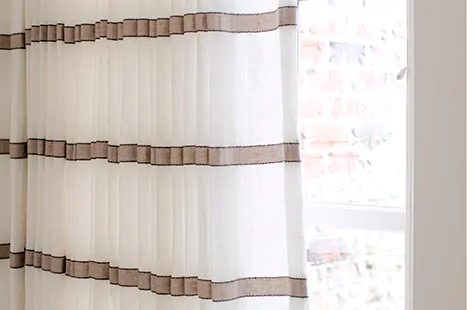 Victoria Hagan, Harbor Stripe
Made of a linen blend featuring 67% linen and 33% synthetic fibers, Harbor Stripe features a repeating tri-colored east-west stripe. The stripes are widely dispersed making for a simple design that delivers a dramatic visual impact to a space, with its linear structure. Available in four subtle colors.
Martyn Lawrence Bullard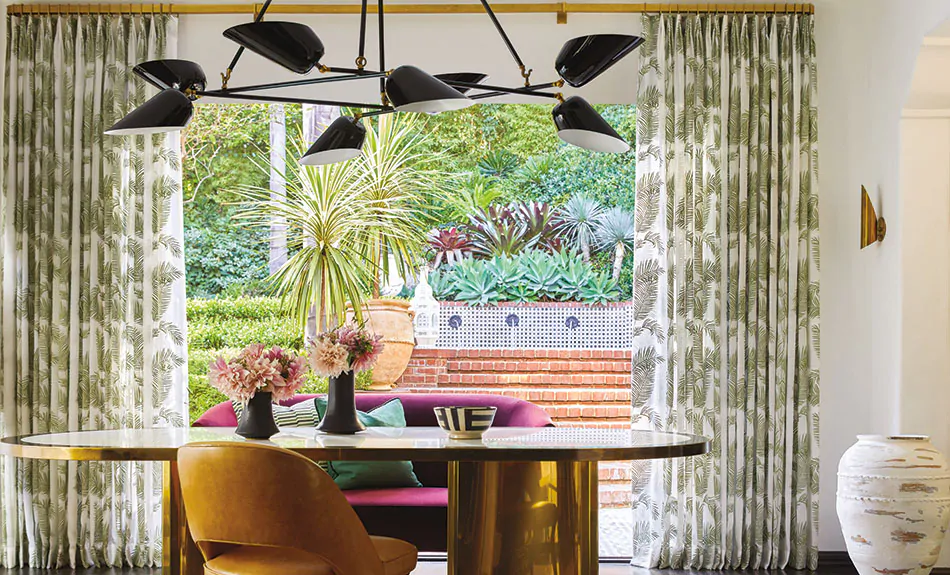 Choose from two linear designs and one leafy pattern in these sheers by Martyn Lawrence Bullard: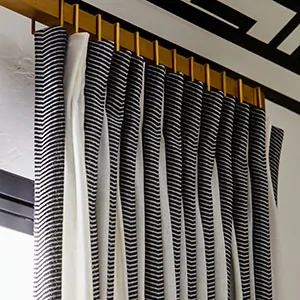 nomad stripe
Made of synthetics and linen, Nomad Stripe offers a dramatic vertical linear design inspired by ancient patterns found on old wooden shields. Available in four colors.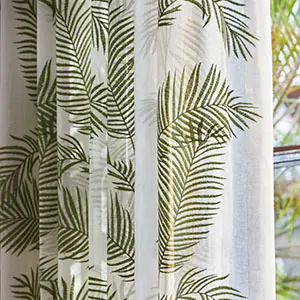 palmier
Made of polyester and linen, Palmier features a vine-like palm design that captures an exotic, tropical vibe but still manages to look elegant. Available in four colors.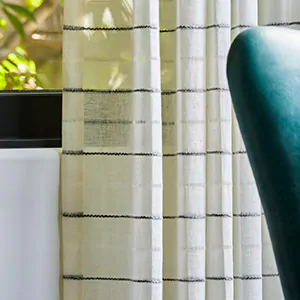 sahara stripe
Made of a mix of linen and synthetic fibers, Sahara Stripe features a subtle east-west stiped design that adds a distinct linear element to your room. Available in three colors.
The Novogratz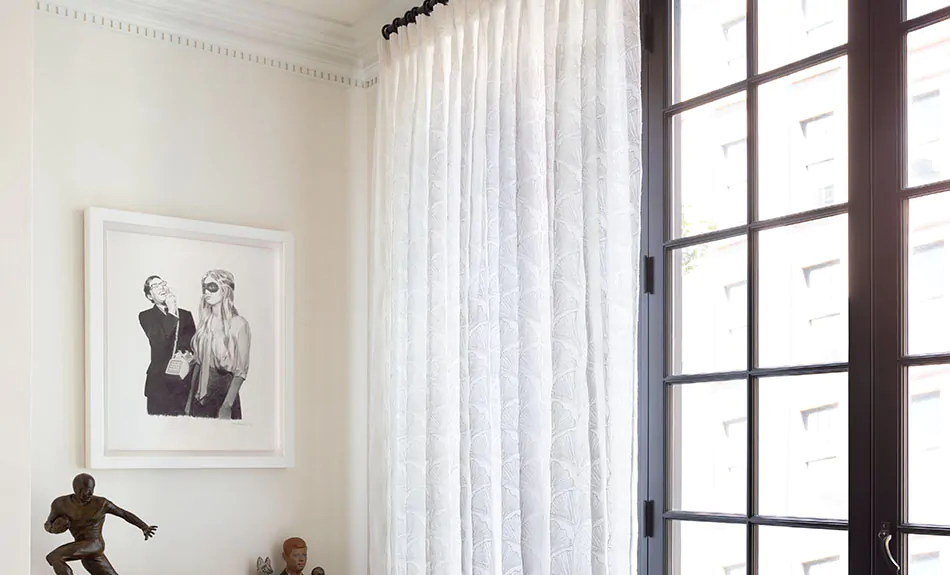 For their designs for curtain sheers, The Novogratz embraced embroidery with two off-white materials featuring delicate embroidered designs.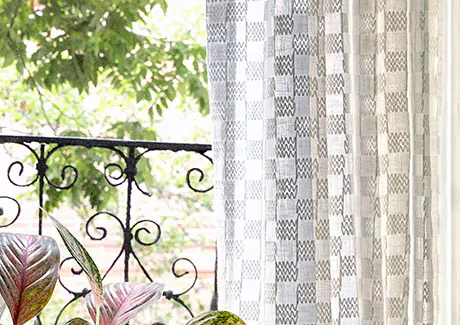 painted check embroidery
Made of linen and acrylic, Painted Check Embroidery features delicate zigzag check patterns that add subtle visual interest and sophistication to your window. Available in Vintage Lace.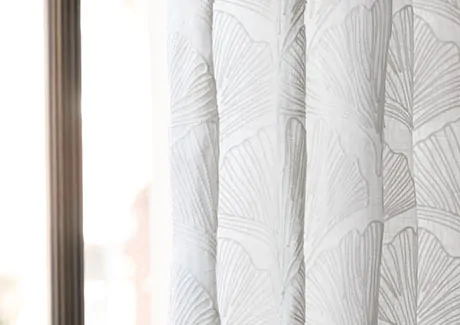 feather palm embroidery
Also made of linen and acrylic, Feather Palm Embroidery features an intricate gingko leaf design that takes a classic botanical pattern and gives it an original refresh. Available in Vintage Lace.
Tips for Choosing Curtain Sheers
Now that you have a lot of different types of curtain sheers to consider, you're ready to start thinking about which is the right one for your space. To help you decide, we've come up with simple tips to consider:
Aesthetics: What kind of look do you want to capture with your sheers? If you want your sheers to offer a soft, subtle look on your window, choose a solid color in a neutral off-white or grey tone. If you want to add some visual interest, consider a designer patterned sheer. Pleat style and hardware also play a role in aesthetics, with styles for each ranging from modern to traditional.
Light & Privacy Control: Some sheers are more transparent than others, so it's important to compare your favorite materials by holding your swatches up to the light to determine which transparency level is right for your space. The more transparent, the more natural light will be filtered through and the less privacy you'll have. Patterns can also sometimes add a touch more privacy and will also affect how the light filters through them a little differently. For the best privacy and light control, consider layering your sheers with thicker drapery with privacy or blackout lining.
Functionality: Do you plan on adjusting your curtain sheers every day? If so, you'll want to choose a pleat style and hardware that makes it easier to adjust regularly, such as Ripple Fold Drapery with a track system. For a more traditional look with excellent functionality, opt for Pinch Pleat Drapery and a track system. Rod and rings hardware can also be adjusted but may be a bit less convenient. If your sheer drapes will be stationary panels, you can consider more decorative pleat styles like Goblet or Inverted Pleat Drapery.
Installation & Maintenance
Get a brief introduction into installing and maintaining your curtain sheers for a greater understanding of the requirements to DIY the job and keep your drapery looking its best.
Installation
Installation will vary slightly based on the pleat style and hardware you choose, but in general, installation looks very similar across product lines. Always be sure to read the installation instructions for your chosen products in full before attempting installation on your own.
How to Measure for Drapery
Measuring for drapery will require you to decide on how high and wide you hang your drapery above your window. Best practices for hanging curtains are usually to go a little more than halfway between your frame and ceiling for height and about six to 12 inches beyond the window frame on either side for width.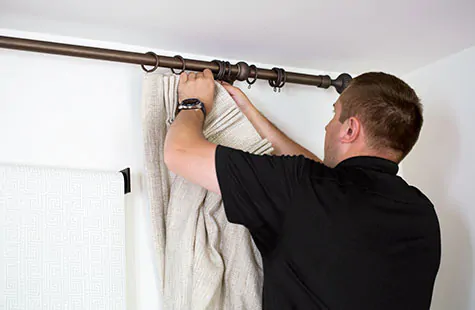 How to Install Drapery
Installing drapery involves first mounting the hardware and then hanging your curtain panels on the hardware. Hardware installation involves using the proper tools to mount brackets at the right distance based on the type of hardware you have and the width of your drapery. Then, you'll attach your drapery panels to the rings in a rod and ring hardware system or the carriers of a track system.
Prefer to Rely on Professionals?
When you choose curtain sheers from The Shade Store, our team of Pros provides a free measurement to get the look and fit just right. Plus, we'll come back for installation after you place your order (install fees apply).
Maintenance for Curtain Sheers
Due to the delicate nature of sheers, it's best to use a low-suction, handheld vacuum, a soft, clean cloth or a feather duster to remove surface dust and dirt. For more ingrained dirt or stain removal, we highly recommend contacting a local window treatment cleaning specialist who can treat your drapery onsite, usually without taking it down. Many carpet cleaning companies offer this service.
If you've chosen synthetic Sunbrella sheers, you might be able to spot clean with the following method:
Blot (don't rub) liquid spills with a clean, dry cloth. For oil- based spills, apply an absorbent such as corn starch, then remove with a straight edge.
Spray on a mild cleaning solution of soap (such as Dawn or Woolite) and water. Always test your cleaner on a swatch of the same material first to make sure it doesn't cause more harm than good.
Rinse the fabric thoroughly to remove all soap residue.
Air dry.
Find the Perfect Curtain Sheers for Your Space
Now that you have a better understanding of curtain sheers and your options, you're ready to dive deeper into selecting the right sheer drapes for your space. Order free swatches of all your favorite sheer materials to compare at home. Be sure to hold each one up to the light to get a sense of its transparency level and the level of light and privacy control it will give you.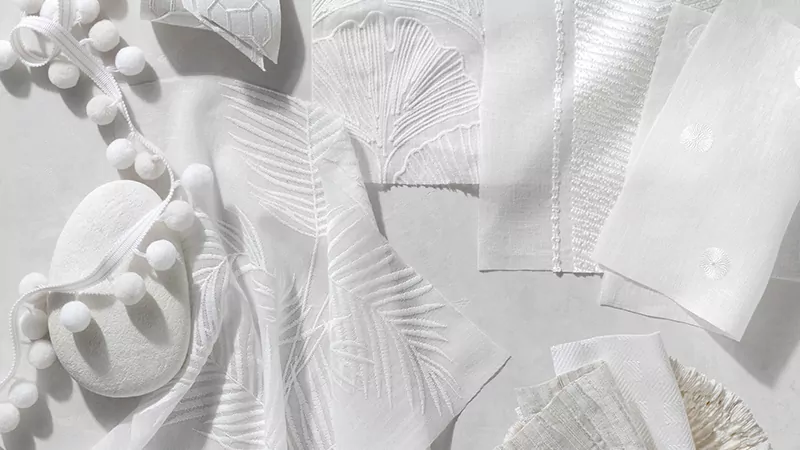 Order Sheer Swatches
Compare as many of your favorite sheer materials from our collection at home when you order free swatches online.