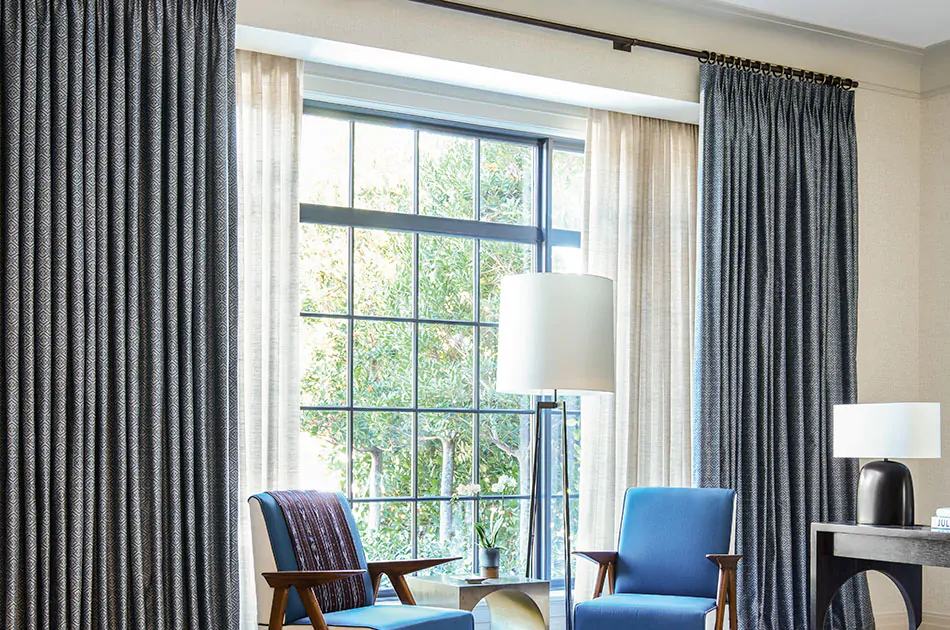 Layered Curtains: Ideas & Tips for Layering
Layered curtains are a great solution for your window treatments, as they create visual interest and improve your natural light and privacy control. But how do you create curtain layers? And what are the best materials to use for layering?
To create layered curtains that elevate your room's aesthetics while also providing the functionality you need, first learn how to hang two layers of curtains on your window. Then, discover the best practices for layering curtains and get inspiration for your design.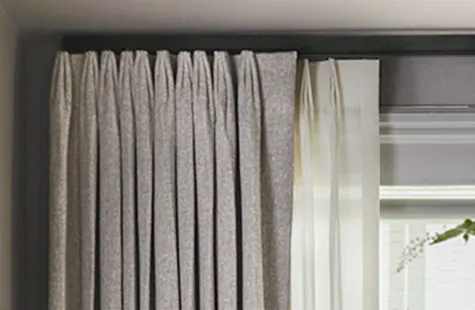 How Do You Hang Two Layers of Curtains?
The best way to hang two curtain layers is with a double curtain rod or double track system. These double systems allow you to hang one layer in front of the other with complete functionality for both layers. It also gives you design dimension by creating a sense of depth.
design only requires one curtain rod, but its functionality is limited, as you can only move the two panels as one, which limits your light and privacy control. Plus, while there is some visual interest created with the two layers, it is not as effective as the look created with two separate curtain layers on two rods. The Shade Store does not offer this type of layered curtains, as using two separate layers of drapery on a double curtain rod is far more functional and attractive for your home.
The Best Way to Layer Curtains: Sheers Under Drapes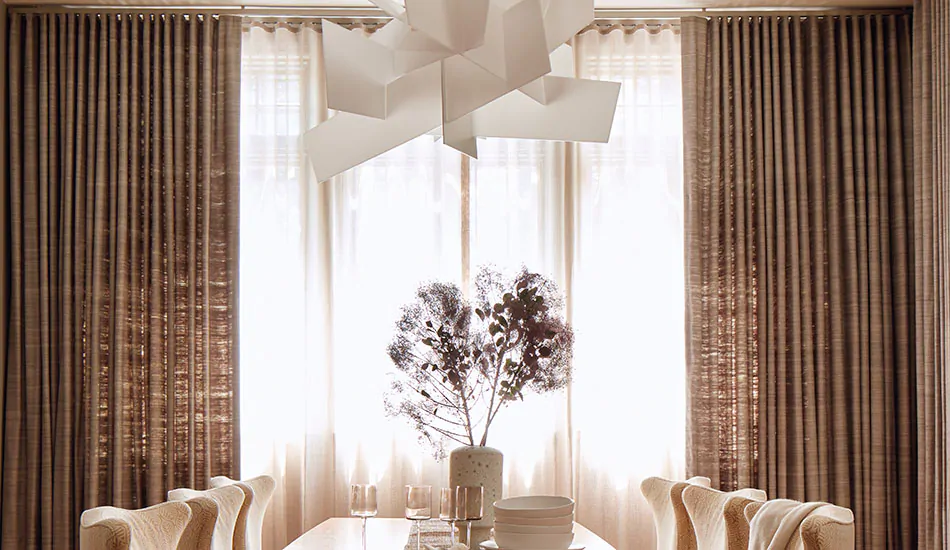 While you know the best way to hang curtain layers is on two curtain rods, you might be wondering how to layer curtain materials for the best functionality and aesthetic effect.
Generally, the best practice for layered curtains is to place sheer, light-colored curtain panels on the inside rod closest to the window and heavier drapes, with privacy or blackout lining, on the outside rod. This pairing gives you the greatest amount of light and privacy control. Pulling the sheers closed and leaving the heavier drapes open lets you reduce glare and soften light while still retaining some privacy. Drawing both sets of drapery closed, including the heavier panels, provides a darker effect and greater privacy. And of course, drawing them both open allows natural light to stream in and a full view of the outdoors.
Inspiration for Your Curtain Layers
Now that you know the best way to hang curtain layers, and the best way to layer materials, you're ready to explore inspiring examples of layered curtains. These curated interiors showcase a few different ways of achieving the right look for your home with the right functionality.
Sheers & Blackout Drapery over Sliding Glass Doors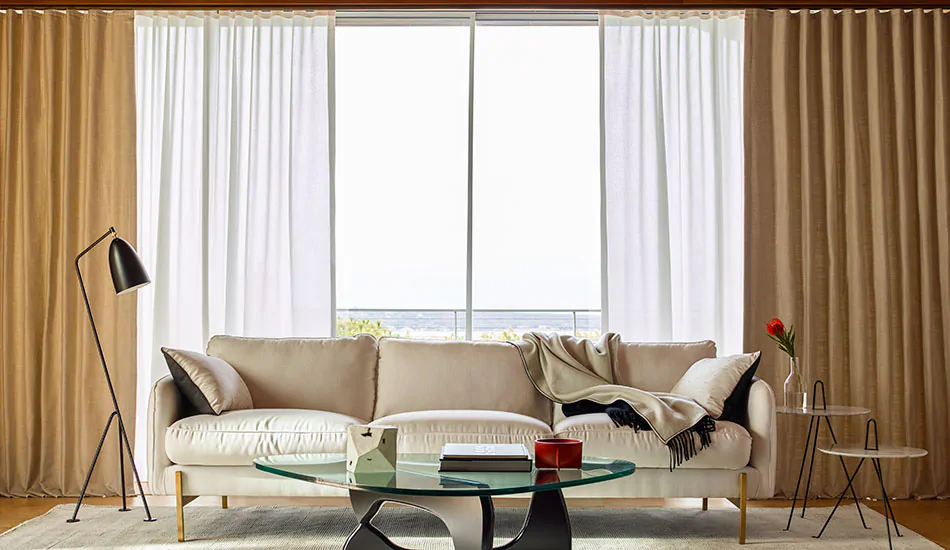 Layered curtains are a great window treatment solution for floor-to-ceiling sliding glass doors, especially when hung on a track system for smooth functionality. For a modern living room space with sliding glass doors, opt for Ripple Fold Drapery, which offers soft S-shaped curves that give it a tall, linear look. For the inside track closest to the glass doors, opt for a light, neutral sheer, like Neblina in Snow, for a bright effect that enhances the natural light while cutting glare. For the outside track, opt for a heavier material in a darker color, such as Alma in Gravel, and add blackout lining to give you a room darkening effect and weight to your drapery. The two layered curtains of different colors and weights create a sense of inviting visual interest while providing the right amount of light and privacy control for a comfortable space.
Layered Sheer & Blackout Drape with Puddle for Tall Windows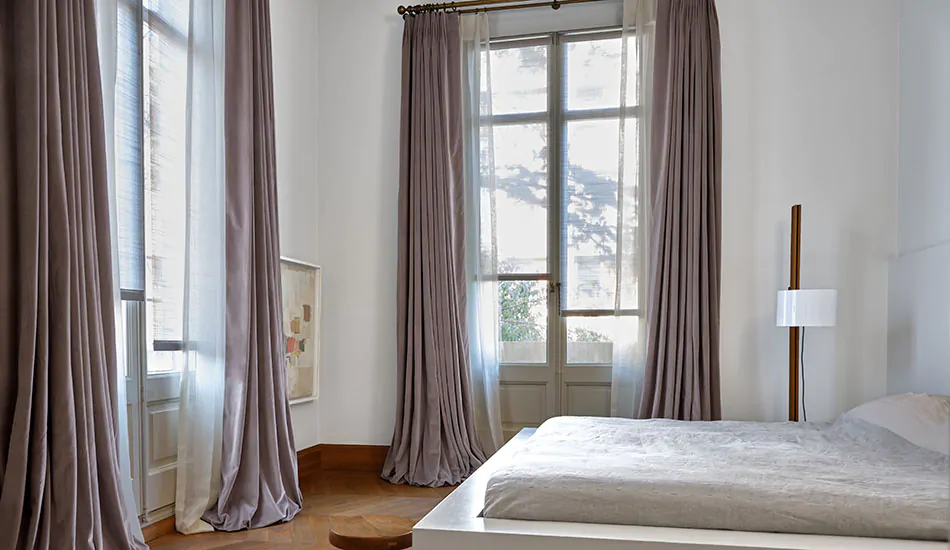 Wondering if it's okay for curtains to drape on the floor? The answer is a resounding yes. Puddling your layered curtains on the floor creates a luxurious effect and helps accentuate your window's height. For tall windows in a mid-century modern bedroom, use puddled curtains in an elegant silk fabric, like Silk Dupioni, to give the space an elevated feel. Be sure to use privacy or blackout lining for your silk drapery to not only give it more body and provide you with more coverage, but to also protect the delicate silk fabric from the sun.
As for color, choose a muted tone such as Pewter for your outer curtain layers to maintain a subtle sophistication and calmness in the space, while still bringing in a bit of color. As for your sheer, stick to another natural material like Luxe Sheer Linen to maintain an elevated look and feel. Choose a light, bright neutral like Off-White to balance the color of your outer layer while softening the natural light in your room.
Embroidered Sheer with Solid Blackout Drape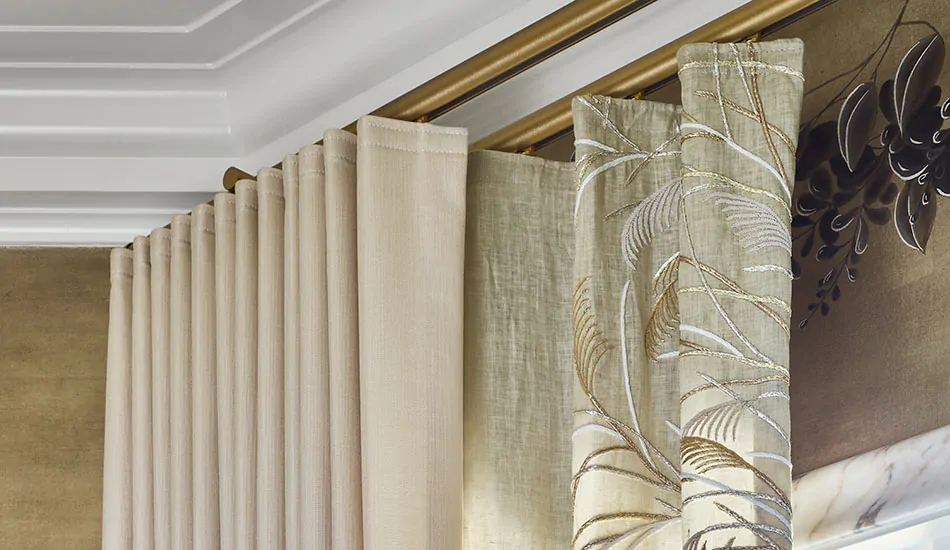 Go for a luxurious look for your layered curtains by using an embroidered sheer drape for the inside curtain rod. Embroidery always delivers a sense of delicacy and elegance, especially when used on a gossamer sheer curtain material. The sheer material will allow light to filter through, emphasizing the heavier lines of the embroidered pattern, creating a graceful, refined look.
To balance the elegant light, airy feel of your sheer, pair it with a heavier drape with lining in a complimentary solid color on the outer rod. The solid color will ensure the embroidery remains the star of the show, while also providing functionality with greater privacy and light control for your room.
Layered Curtains & Shades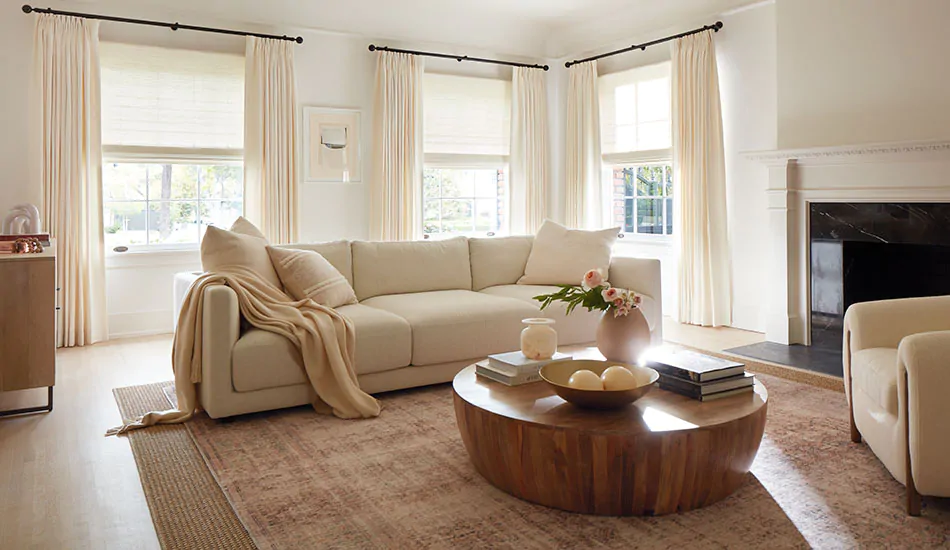 Looking for an alternative to curtain layers? Try layered curtains with shades instead, for a sophisticated aesthetic and excellent functionality. Shades sitting inside the drapery panels naturally create a sense of depth and visual interest for your windows. For greater dimension, choose a Woven Wood Shade material like Harper which features a natural texture with woven jute, to contrast the soft, lush fabric of your drapery. To maintain a subtle overall look for your windows, keep the colors of your drapes and shades in the same color family, such as warm neutral tones, but choose different hues within that family to create a touch of visual interest.
Find the Perfect Combination for Your Layered Curtains
With insight into your options for layered curtains, how to hang them, as well as inspiration from curated spaces, you're ready to find your own perfect combination. Order free swatches of your favorite drapery materials — and shades as well — to compare combinations in the comfort of your home. Be sure to place your swatches in the room you're planning on hanging layered curtains to get a sense for how the colors and textures look in the changing light of day and night. If you're not sure where to start your search for the right combination, order our Most Popular Collection and choose from several timeless and elegant neutrals.
EXPLORE OUR MOST POPULAR SWATCHES
Not sure where to start your material search? Order our most popular swatches for free to see what's in style — and maybe find your new favorite.