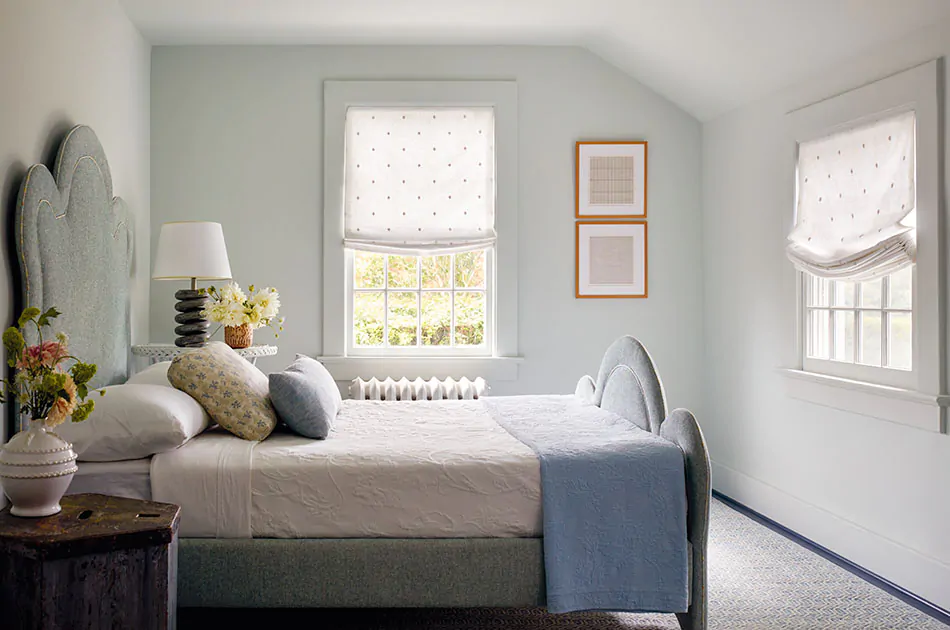 How to Brighten a Dark Room
Wondering how to brighten a dark room? Whether your room has windows that face away from the sun or no windows at all, there are lots of ways to brighten a dark room and make it feel open and inviting.
We've gathered multiple solutions for brightening a dark room, so you can explore your options and choose the right one, or combination of solutions, that works best for your space.
Choose Breezy, Light-Filtering Window Treatments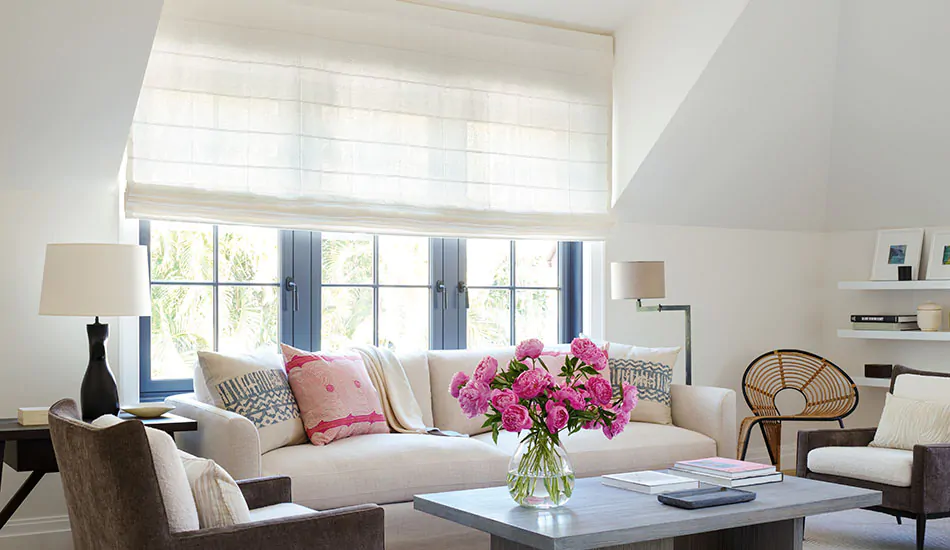 Want to know how to brighten a dark room with windows without compromising your privacy? Choose shades or drapery made with light-filtering materials. Light filtering materials such as sheers for Roman Shades and Drapery, and any selection from the Light Filtering Roller Shades collection, soften natural light while providing privacy coverage. Another consideration for how to brighten a dark room is to choose light-filtering fabrics and materials that are light in color and in weight. Dark, heavy window treatments, even when filtering light, can make your room feel smaller and darker.
Brighten Your Space with Our Most Popular Collection
Find the perfect light filtering material in our Most Popular Collection, filled with bright neutrals for your dark space.
Add the Right Lighting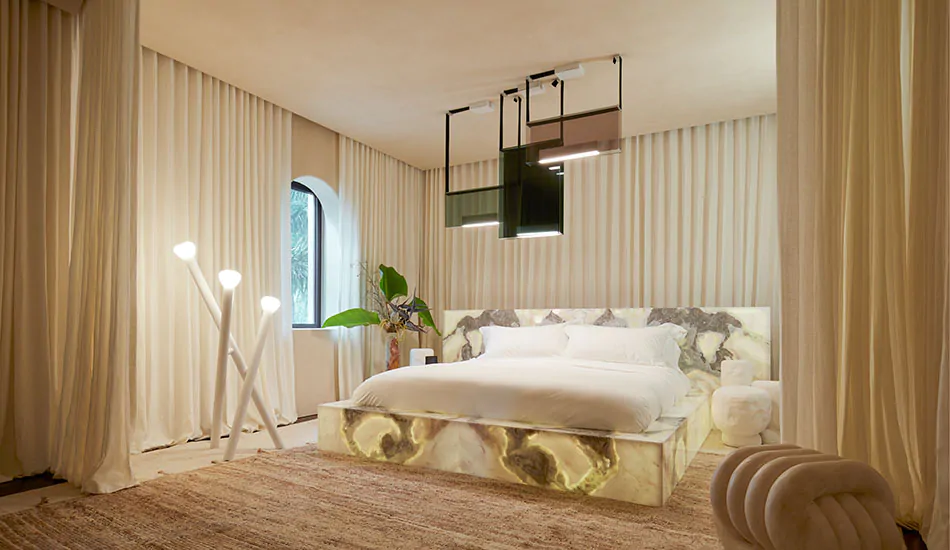 While it may seem obvious that adding lighting to a dark room is an answer for how to brighten a dark room, what's less obvious is how important it is to choose the right lighting. The right fixtures, positioning and color temperature can do wonders for optimizing your space and achieving the right ambiance.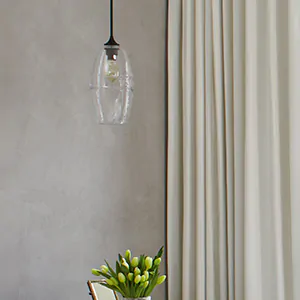 Fixtures
Choose fixtures that allow most if not all light from the bulb to shine through for more illumination. And choose a light, airy versus one that is heavy and bulky to keep your space feeling bright and open.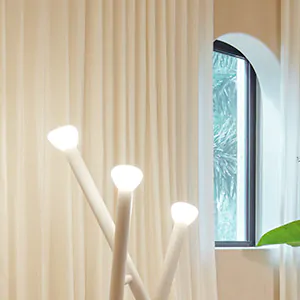 Positioning
Point your lights upwards toward walls and ceilings to illuminate every corner of the space. The effect will give your dark room a brighter, more inviting ambiance.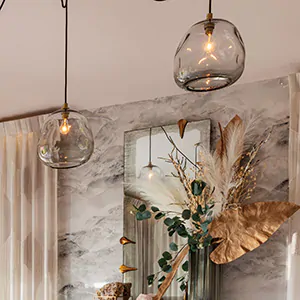 Color Temperature
Light bulbs vary based on color temperature from cool white to warm white. Choose warmer lighting for a gentler, cozier feel that still brings brightness to your space.
Paint with White & Light Colors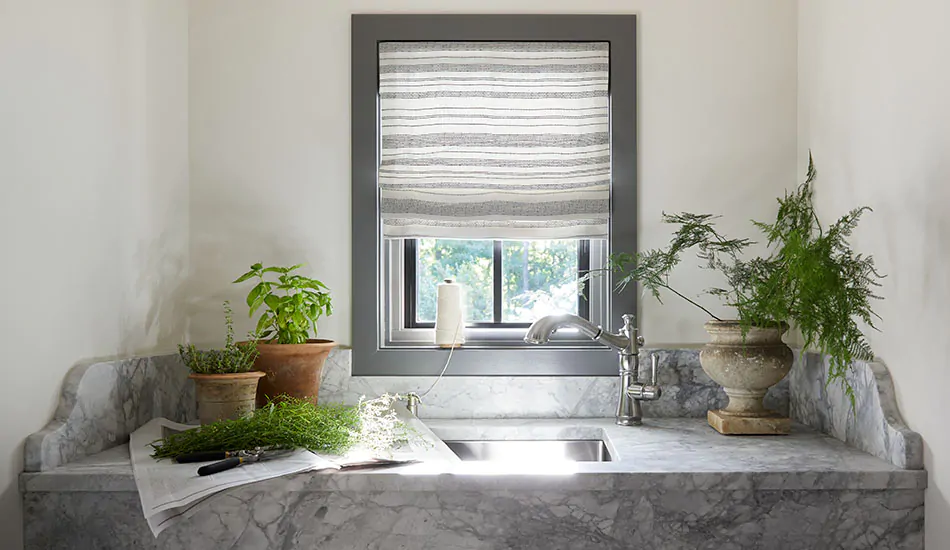 You likely remember from school that white reflects light while black absorbs it. One of the best ways to brighten a dark room is to paint it white or off-white. Painting with white or very light colors helps to reflect light from even the darkest corners, making the entire room feel bigger and brighter. To balance the brightness of your space, add some darker elements and texture with window treatments featuring a subtle pattern in gray or off-white colors.
Opt for Light-Colored Flooring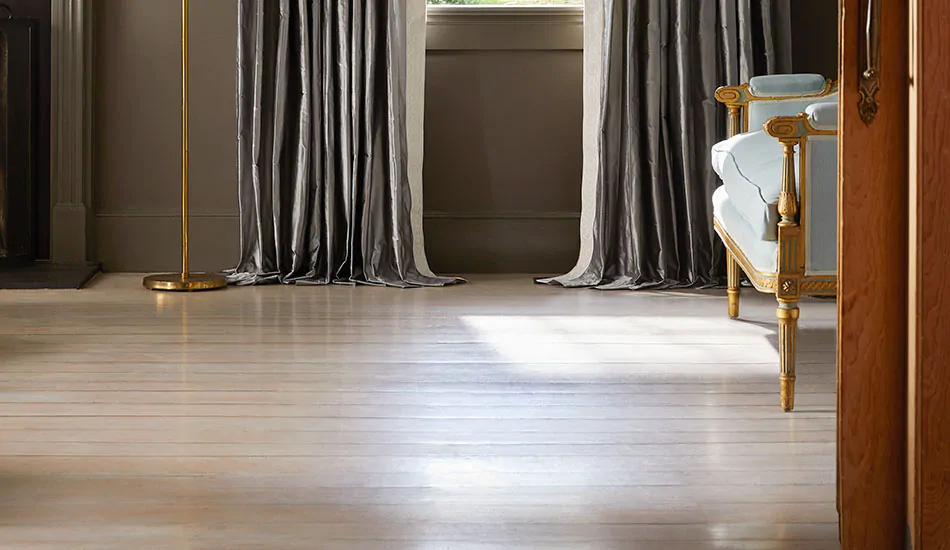 In the same way that white or light-colored paint is one way for how to brighten a dark room, so is white or light-colored flooring. Choose hardwood flooring in a light wood tone or bright white or off-white tile to help illuminate your space. Depending on the type of flooring you have, you may even be able to paint your floors white. Be sure to keep a good amount of the flooring clear of furniture to ensure you get the best brightening effect with your flooring.
If re-doing the flooring isn't an option for you, consider an area rug.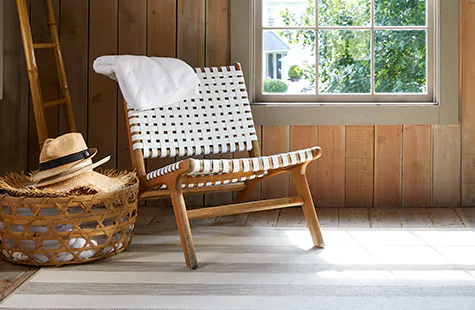 Brighten Your Floors with an Area Rug
A bright, light rug helps illuminate your floors while providing visual and tactile texture to your space. Choose a solid color for a simple aesthetic or go with a subtle pattern like a striped design to bring a touch of visual complexity into your space.
Embrace Minimalism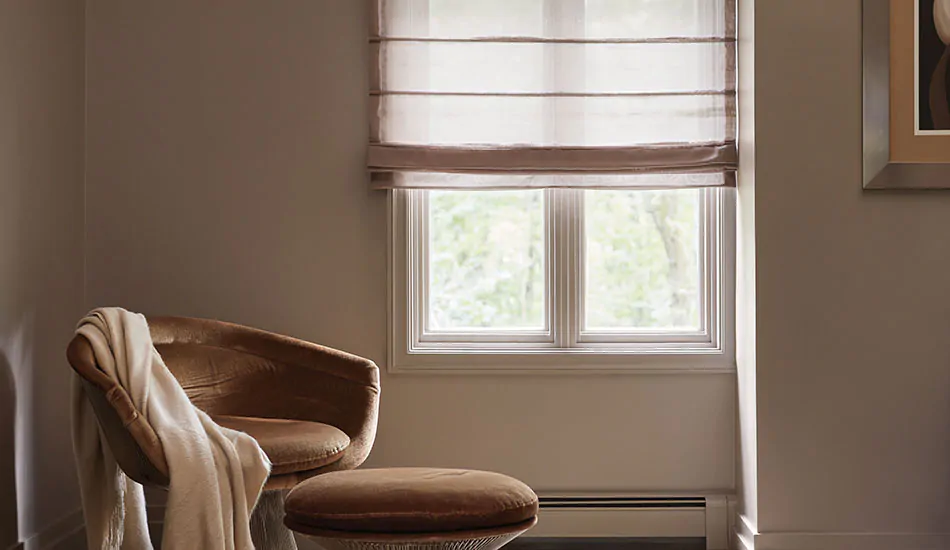 When considering how to brighten a dark room, sticking to a minimalist approach can ensure the end result is a bright, open room. Filling your room with too many pieces of décor and furniture can actually make your room feel smaller, darker and more cramped. This is because items in the room, whether furniture or décor, create more shadows which can make the room feel darker. The best ways to brighten a dark room often involve simplifying your design and optimizing functionality, like replacing a blackout, bulky window treatment with a light-filtering, tailored window treatment.
Pick Bright, Streamlined Furniture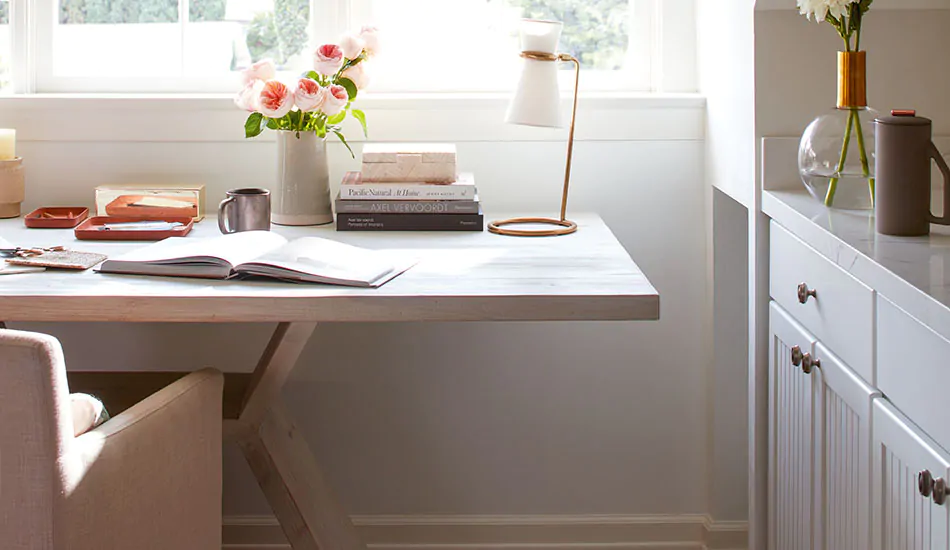 When thinking about how to brighten a dark room, furniture is a key element that can transform your space, helping it to feel lighter and brighter. For your furniture, be sure to choose pieces that are both light in color and design. Streamlined, airy pieces of furniture will minimize the number of shadows, and choosing white and light colors will further help to reflect light for a brighter, more welcoming space.
Choose Bright, Neutral Accent Colors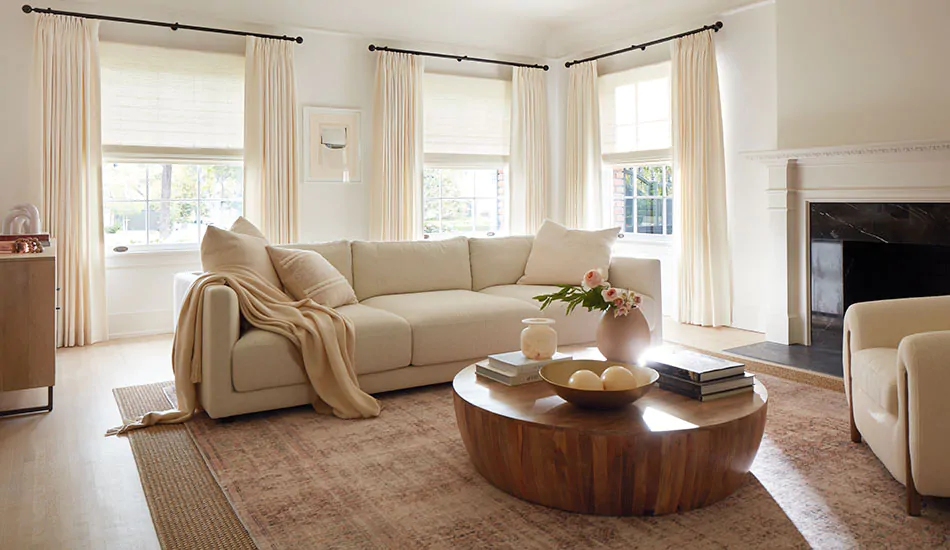 Looking for simple ways to brighten a dark room? Try adding bright, neutral accent colors to your space in the form of décor and textiles like bedding, throw pillows and blankets. Swapping dark bedding with white or neutral light-colored bedding can instantly bring a pop of brightness to your room. In family rooms with chairs and sofas, create a lightened space with white or light-colored throw pillows and blankets. To also bring a bit of visual interest to your space, choose light, bright textiles made of different materials for a variety of textures.
Hang Mirrors on Your Walls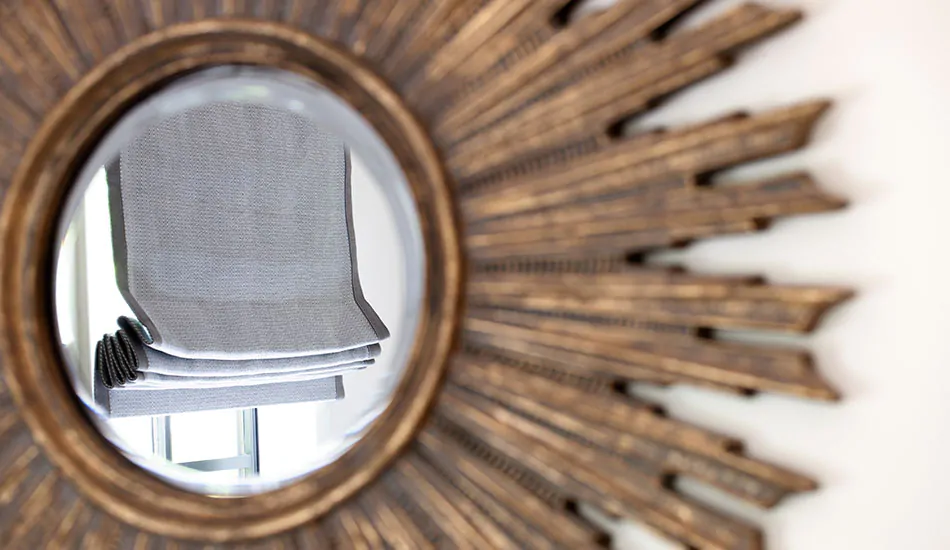 Mirrors are one of the simplest ways to brighten a dark room, and they also help your room to feel larger by creating a sense of spaciousness. Be sure to position your mirrors so they reflect the existing light in your room, optimizing the brightness you have. This can mean placing the mirrors opposite a window to reflect natural light or placing them near an electrical light source.
Get Expert Design Advice
For guidance on how to brighten a dark room with windows, schedule a design consultation with an expert Design Consultant. With their window treatment expertise and eye for design, they can help you choose the perfect window treatments to optimize the light in your space while providing you with the privacy you need.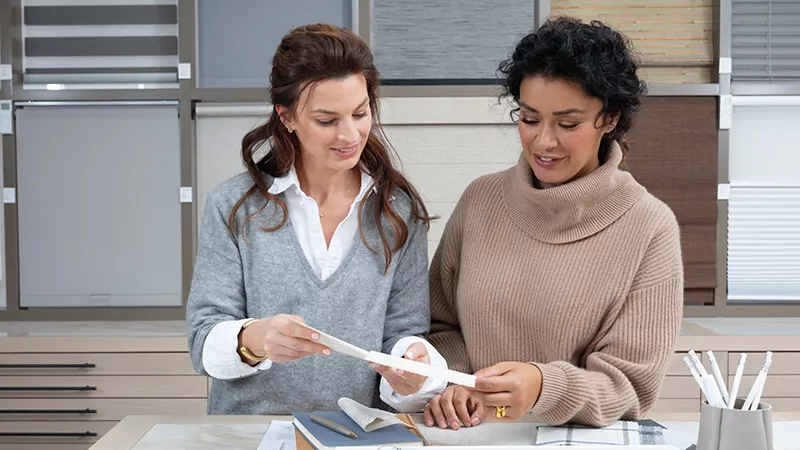 GET THE GUIDANCE YOU NEED
Schedule a free design consultation with our talented Design Consultants for guidance on product choice, material selection and more.