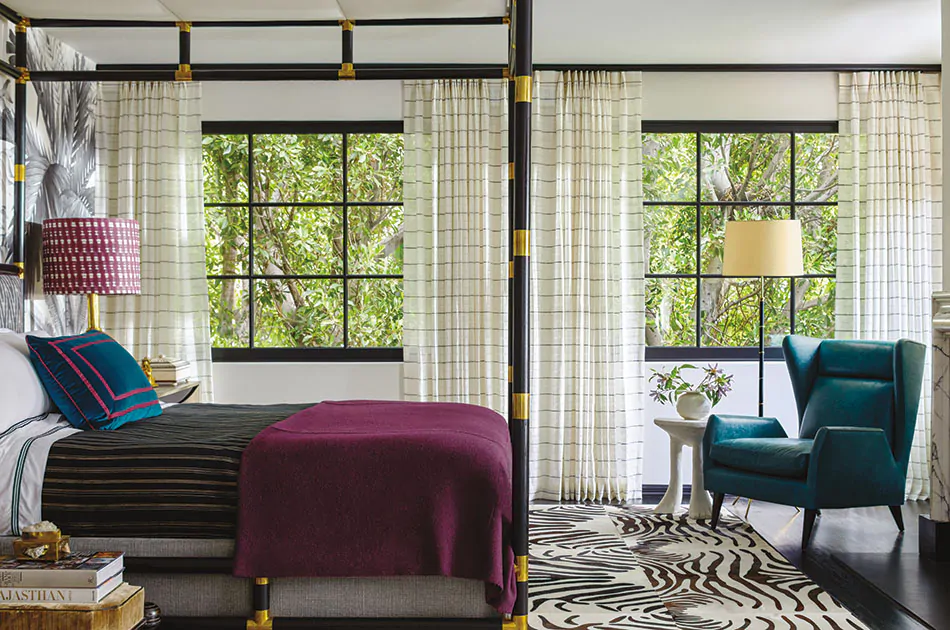 Boho Curtains: Inspiration & Guidance
If you're looking for boho curtains to suit your interior design, you likely know that drapery is an ideal window treatment choice for the boho style. Drapery, with its soft, flowing fabric easily captures the free-spirited, eclectic and lush characteristics of the boho aesthetic.
To create your own look with boho drapes, learn more about the boho style, get tips for capturing the lush boho look and explore curated boho-inspired interiors for inspiration.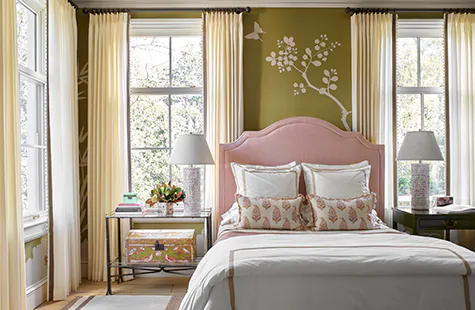 Pictured: Tailored Pleat Drapery, Sunbrella Vitela in Ivory with Flanders Trim in Olive and Seychelles Wood Beads in Sea Salt, designed by Tammy Connor for the 2022 Flower Showhouse
What Is Considered Boho Style?
Boho is short for bohemian, which refers to both an aesthetic and a lifestyle that champions a freeness of spirit and worldwide travel. The result is a look that's bold and unconventional with a mixture of global influences. Organic elements like natural woven fibers, wood tones and greenery are quintessential to this style, as well as layers of textures, patterns and colors. In short, the boho style has no strict rules and allows you to express yourself and your experiences without bounds.
Tips for Capturing a Lush Boho Look for Your Curtains
Wondering how do you make your curtains look luxurious and boho-inspired? There are a few things you can do to your boho curtains to ensure they deliver a lush boho aesthetic: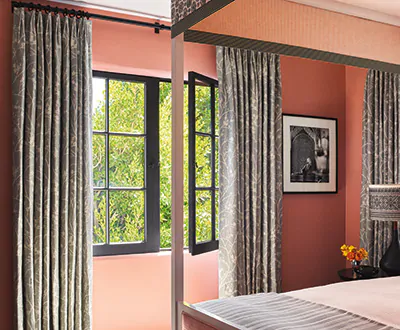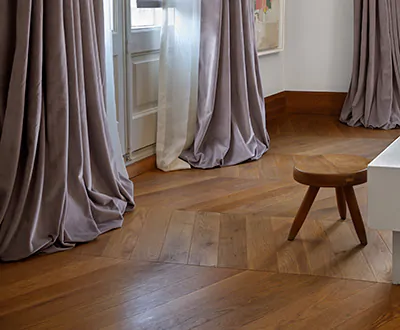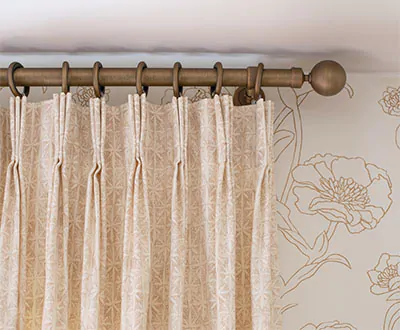 Choose an Elaborate Pleat Style
Create a lavish look from top to bottom by choosing more decorative pleat styles like Goblet Drapery, Tailored Pleat Drapery or Pinch Pleat Drapery (pictured).
Pictured: Pinch Pleat Drapery, Nate Berkus Paloma in Sandstone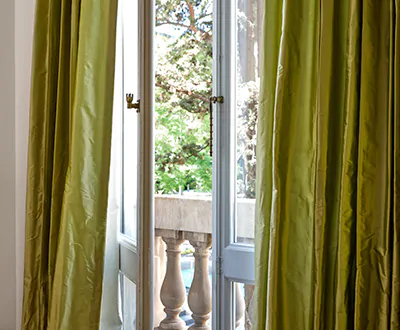 Upgrade to Luxe Materials
To elevate the look and feel of your boho drapes, choose high-end materials like linen, silk (pictured) and velvet. These fabrics offer both a visual and tactile experience for greater dimension in your design.
Pictured: Goblet Drapery, Silk Dupioni in Leaf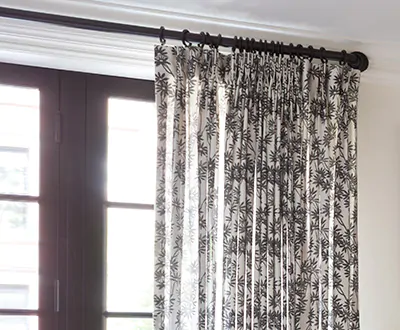 Create Thick Fullness & Stack
When ordering boho curtains, make sure that the panels have enough material widthwise to create a lush fullness when drawn closed and a thick stack when drawn open. The more pleats and folds of fabric, the more lavish the look.
Pictured: Pinch Pleat Drapery, The Novogratz Daisy Bloom in Zebra Black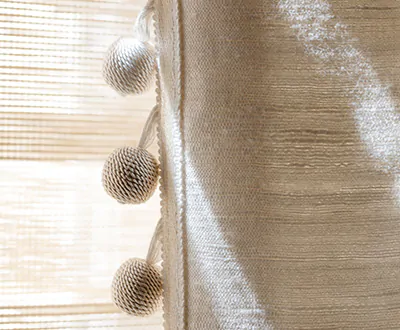 Inspiring Examples of Boho Drapes in Curated Spaces
With some insight into how to elevate your curtains to embrace the boho style, discover curated designs featuring boho drapes to get inspiration for your own window treatments and overall interior
Tropical Boho-Inspired Dining Area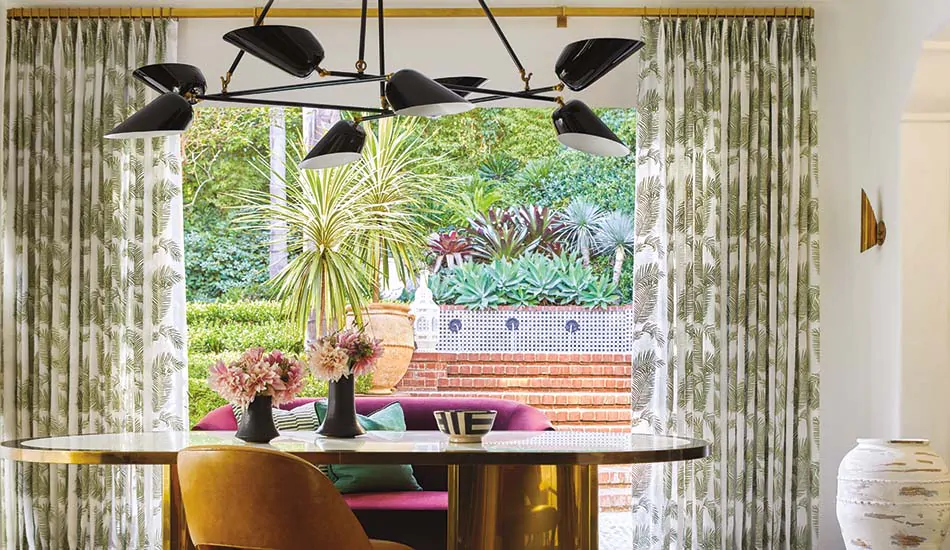 A tropical landscape is the perfect backdrop for a boho-styled space thanks to its bold colors, striking silhouettes and exotic charm that fit right in with the key characteristic of a bohemian aesthetic. Whether you live in a tropical location or not, you can bring tropical elements in your interior design. To start, choose boho curtains featuring a floral or foliage pattern, such as Palmier (pictured) or Boho Vine by Martyn Lawrence Bullard. Build off the foliage in your boho drapes with other floral elements, such as flowers in vases or even floral-inspired décor. For a luxe feel that still suits the theme, work gold elements into your décor, such as a gold curtain rod and gold dining table and chair, all of which are reminiscent of golden sand beaches or a golden sunset.
Luxe Boho Bathroom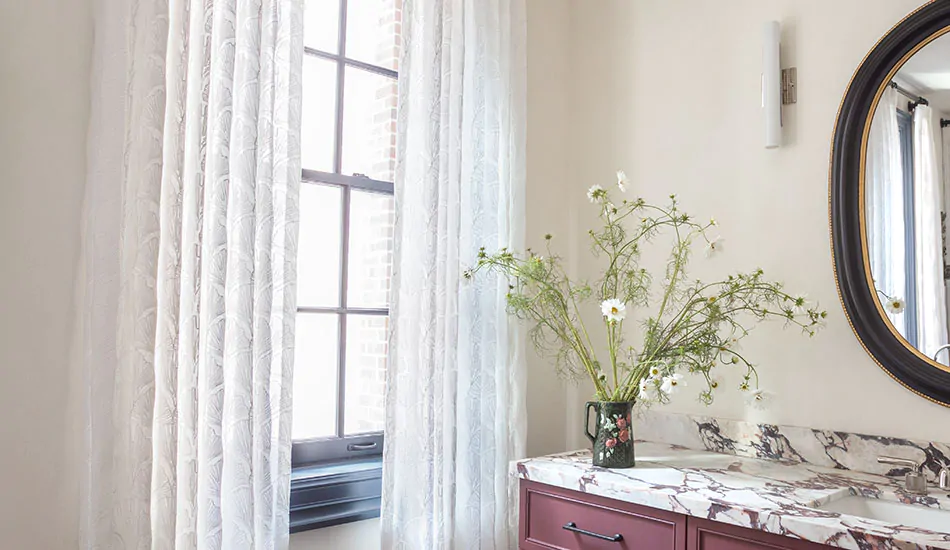 Boho elements can be added to every room in your home to give it a relaxed, yet elevated aesthetic. Try adding subtle boho elements to your bathroom, such as painting the vanity cabinet a plum shade of purple and your window a dark navy blue. Other elements such as bold marble for your bathroom vanity and a round vintage mirror can all bring in the eclectic feel of the boho aesthetic. For your boho curtains, choose a botanical pattern, like Feather Palm Embroidery, in a neutral white for a delicate, subtle appearance.
Light & Airy Boho Bedroom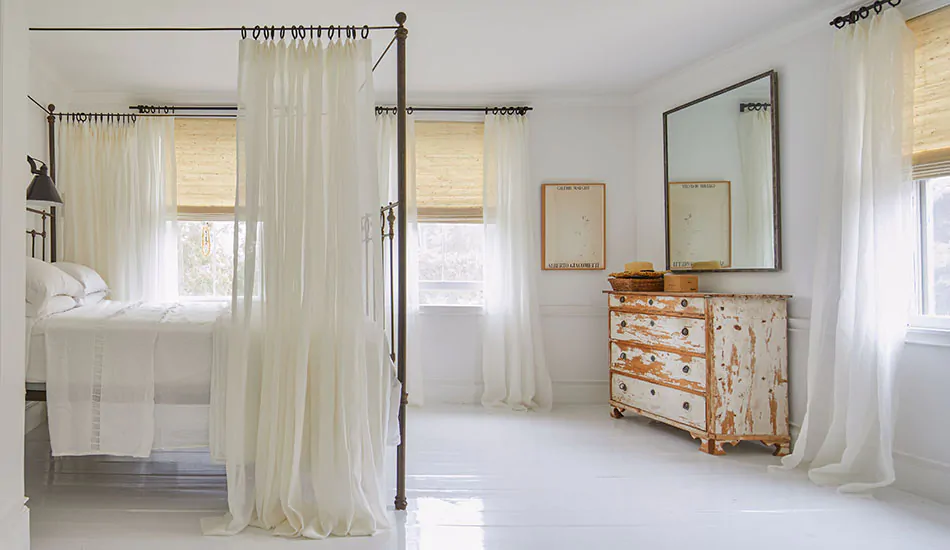 Boho curtains and styling don't always have to be bold and busy. Go for a lighter, softer look with wispy sheer curtains, such as Luxe Sheer Linen and textured Woven Wood Shades made of natural grasses, reeds and bamboo, all in a bright white room. Bring in eclectic elements, like a rustic old dresser, wrought iron bedframe and unique wall art to add more color and character to the space. And of course, a luxurious puddle for your boho drapes adds an extra layer of luxe to the scene.
Soft & Subtle Boho Lounge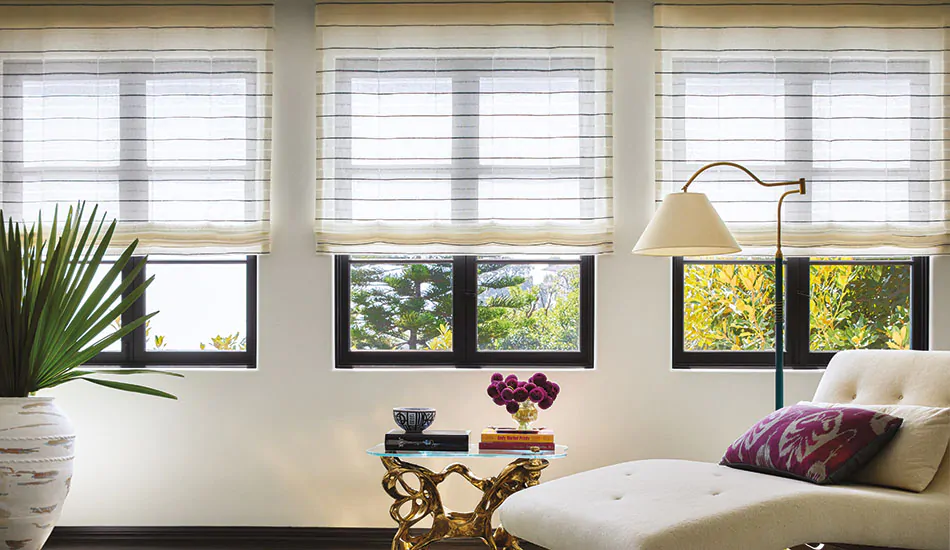 Looking for more casual boho upgrades? Try adding more subtle elements with an understated lavishness. Start with a warm, inviting base color for your space, such as a creamy off-white for the walls and major elements of the room, like furniture and window treatments. For more a more subtle, yet still elegant alternative to boho curtains, try Flat Roman Shades made from sheer, off-white colored material. The sheers will help soften the light in the space as well as the look of your dark window frames, while adding a delicate feel to the space. For a bit more visual complexity without overwhelming the simplicity of design, choose a material with a subtle pattern, such as Sahara Stripe.
Bring in bolder elements of the boho style with a few vibrant pops of color such as greenery and flowers as well as intricately designed and deeply colored throw pillows. For a touch of grandeur and luxury, add in an ornate end table or other small, intricate décor piece.
Get the Right Look for Your Boho Curtains
Now that you have lots of insight and inspiration for achieving the right look with boho curtains, you're ready to start exploring your options in more depth. Order free swatches of all your favorite boho-inspired materials, from subtle sheers to bold patterns and everything in between. Be sure to compare your swatches in different lighting throughout the day to get a sense which will look best in your space on a day-to-day basis.
ORDER YOUR FAVORITE SWATCHES FOR FREE
Compare as many of your favorites from our collection of 1300+ materials at home when you order free swatches online.