How to Measure for Blinds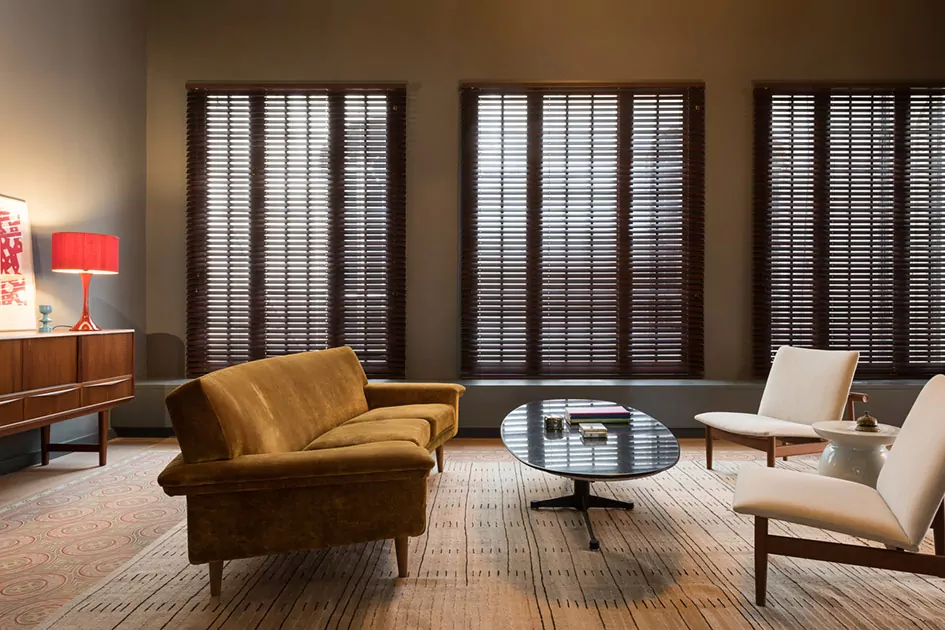 Choosing new blinds for a home doesn't have to be a lengthy or difficult process. One of the first things you must do is measure your windows to determine what size blinds you need, and which mount will work best. Getting an accurate window measurement is one of the most important steps in the process, as an incorrect measurement could lead to ill-fitting blinds or the hassle of returns.
To help you measure your windows for custom fit blinds, we created this easy-to-follow blinds measuring guide, with detailed instructions on how to measure for a variety of different blind types, including inside mount and outside mount styles.
Read on to learn how to properly measure your windows for blinds.
What You Need to Measure for Blinds
Before you begin the process of measuring for blinds, make sure you have the right tools and resources on hand. We recommend that you have the following items to help you measure your windows for blinds:
Steel measuring tape
A ladder or step stool
Paper and pencil
How to Measure for Inside Mount Blinds
As their name implies, inside mount blinds are mounted on the inside of the window frame. Inside mount blinds are very popular because of their aesthetic: they offer a clean look because they fit inside the frame, allowing the woodwork of the window frame to remain exposed.
When it comes to inside mount blinds, measurements must be precise and there's little room for error. In addition, there is limited space inside the actual window frame, so the measurements must be taken properly. Here are the exact steps to help you with depth measurement for inside mount blinds:
Step 1: Measure the Width of the Window
Since all windows are different and imperfect, people should measure their windows in three places: the top, middle, and bottom. You really only need to measure the inside of the window frame when measuring for inside mount blinds – other blind types don't require this measurement since the blinds hang outside of the frame.
To make your measurements as precise as possible, round the narrowest of the three measurements down to the nearest ⅛". This will be the final width measurement for the blinds.
Rule of thumb: Inside mount measurement should never be rounded up, as that will cause them to not fit in the window.
Step 2: Measure the Height of the Window
The height of the window also needs to be measured in three different places: left, center, and right. These measurements should also only be taken of the inside of the frame for inside mount blinds.
Like the width, the height measurement should also be rounded to the nearest ⅛" inch. However, it's the largest measurement that should be used for a blind length measurement.
Step 3: Measure the Depth of the Window Frame
Measuring the depth of the window frame is an extremely important step because many blind styles come with minimum depth requirements, so it's essential to get an accurate measurement. If the windows are too narrow and don't meet minimum requirements, an outside mount blind is the only option.
To clarify, with inside mounts, depth measurement is the depth between the glass and the end of the window frame. When measuring for depth, it's important to consider any obstructions, such as cranks or tracks that can interfere with the installation.
How to Measure for Outside Mount Blinds
When measuring for outside mount blinds, the process is similar to measuring for inside mount blinds, but has some key differences. Outside mounted blinds, which are mounted outside the window frame may be a great choice if any of the following apply:
Your windows are uniquely shaped – Since outside mounted blinds are installed to the wall around the window, they can work for almost any window type.
You're looking to make an impact with design – Outside mounted blinds provide a taller, more dramatic appearance.
Your windows are very shallow – Outside mount blinds are great for windows with small frame depths, such as doors.
Outside mount blinds are easier to measure; since outside mount blinds go around the window, minimum depth is not a required measurement.
Below, we'll go over the two-step process for measuring for outside mount blinds.
Step 1: Measure the Width of the Area to Be Covered
Outside mount blinds have more flexibility than inside mount blinds, you can choose to have the width of your blinds stop right at the edge of your window, or expand to create the illusion of bigger windows. It's up to you to decide how much space you would like your blinds to cover!
While you can choose your perfect width from your measurements, we recommend adding at least 2-3" (1-1 ½" per side) to the measurement to help eliminate light and provide more privacy. At the end of the day, you want your blinds to effectively block light, so adding just a few extra inches of wiggle room on either side will ensure that's not an issue with your finished blinds.
Step 2: Measure the Height of the Area to Be Covered
Similarly to the width measurement, the height can be chosen based on how much space needs to be covered. If the window has a prominent sill, the measurement should end at the top of the sill. If there is no sill, the measurement can be set to where the blind should end, and that length is up to you!
Save Time and Sign Up for Your Free Measurement Today
Whether you choose inside mount or outside mount blinds, an accurate measurement is the most important step before you order window treatment materials. If your home's windows are unique (such as bay windows, transoms, or cutouts), or if you're not confident performing measurements, you can have one of our skilled professionals come to your home and measure your windows for blinds. The Shade Store offers free professional measurements nationwide. Sign up for free measurement services for your windows, today!