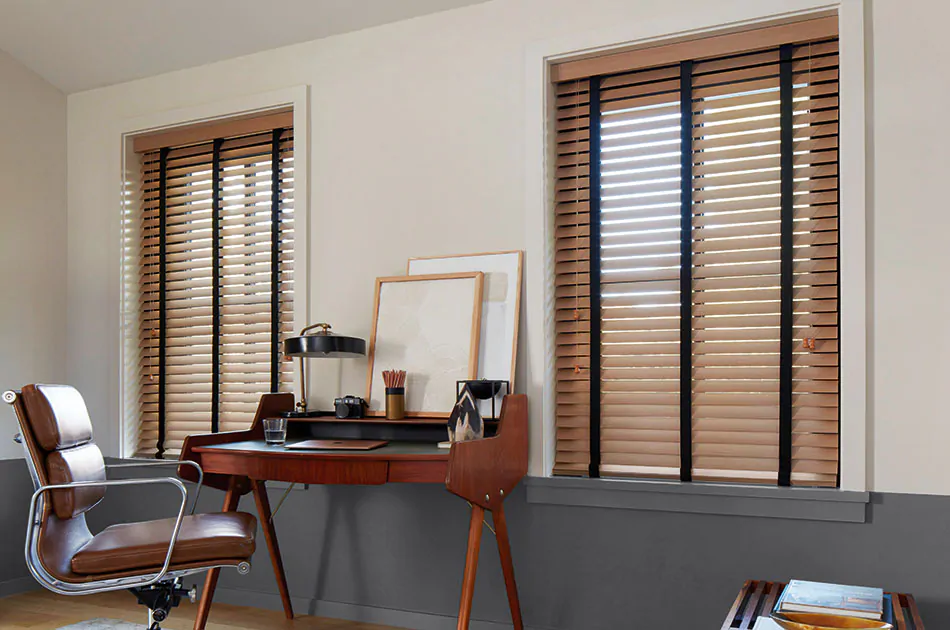 Inside Mount Blinds: Explanation & Benefits
Inside mount blinds are a versatile, attractive option for your home. But what are they, and what does inside mount mean? To ensure you make the best decision for your new window treatments, learn more about this type of window treatment to determine if inside mount blinds are the right choice for your home.
What Is an Inside Mount for Blinds?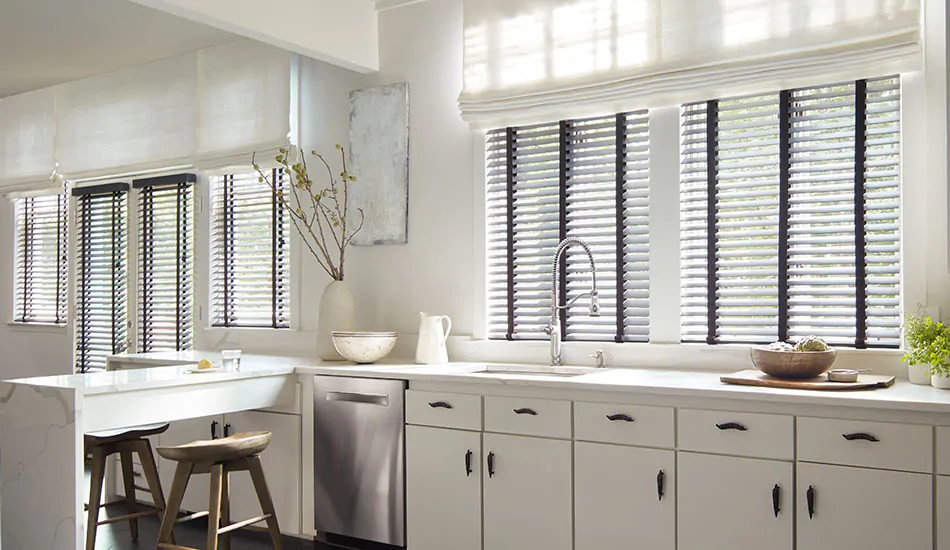 Inside mount blinds are those that are installed inside the window box or window frame. This type of installation requires the window treatment to be secured to the top or sides of the frame.
To fully understand inside mount, it's also important to understand its direct opposite: outside mount.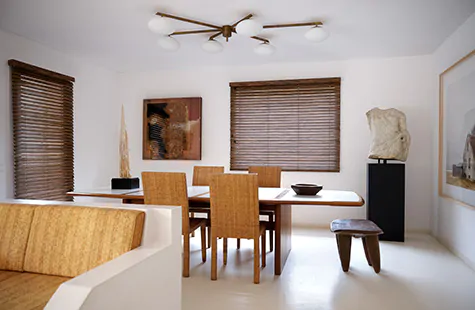 What Is an Outside Mount?
Outside mount refers to window treatment installation on the outside of the window box or window frame on either the window trim, the wall outside the trim or the ceiling.
Are Inside Mount or Outside Mount Blinds Better?
Choosing the right mount application for your windows will depend on a few different factors, including:
How deep your window frame is: Inside mount blinds require at least a ¾-inch depth to be properly secured, and even more to sit flush inside your window frame. If your window frame is less than ¾-inch deep, then an outside mount is your only option.
Your chosen control type: Different control types (how you lift, lower and tilt your blinds), such as cord lock, continuous loop, cordless and motorization, have different install needs and may be too large for your window box. In this case, as well, outside mount is the only option.
Your preference: As long as your window box is deep enough to accommodate inside mount blinds, you can make your choice between inside and outside mount purely based on preference.
So, why would you choose inside mount window treatments? Find out the benefits of an inside mount application to help in your decision.
Why Choose Inside Mount Blinds?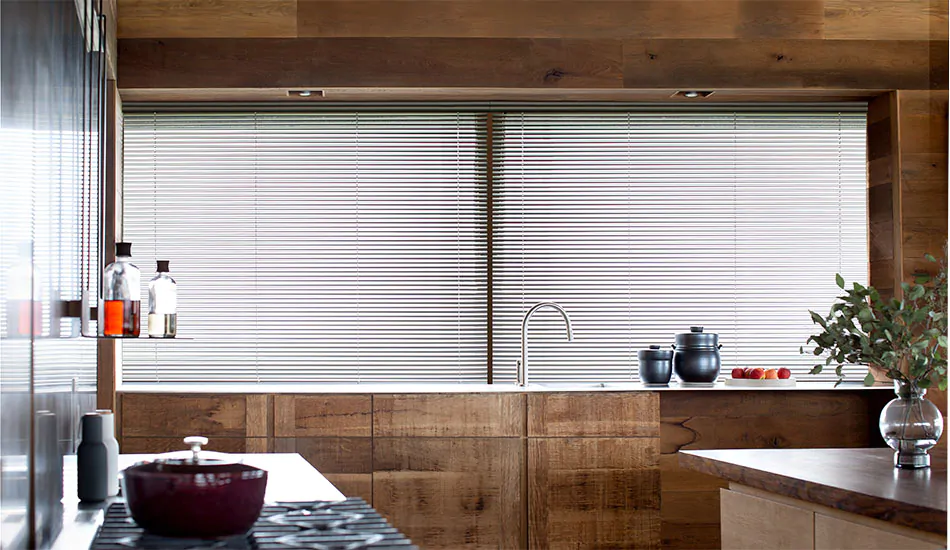 Inside mount blinds—and inside mount window treatments of any type—have several unique benefits, including:
Gives you an intentional, curated look – Blinds or shades inset into your window frame deliver a more intentional, tailored aesthetic for a more elevated overall look and feel.
Offers a clean, uncluttered option for small rooms – Inside mount blinds or shades can help your small room feel larger and less cluttered, since the window treatment sits inside your window frame and doesn't protrude out into the room.
Ideal for layering – Choosing an inside mount application for your blinds or shades gives you more flexibility to layer your window treatments with an additional outside mount application such as elegant drapery or another set of shades.
Allows you to showcase your window frame – If your window frame has intricate detailing, you likely want to keep it exposed no matter the position of your blinds. Inside mount window treatments won't cover up your frame and will instead accentuate its beautiful detailing.
Inside Mount Window Treatments
Blinds aren't the only window treatment that can be inside mounted. Shades and drapery can also be inside mounted, although the inside mount application is most common for blinds and shades. Drapery is more functional when outside mounted, as outside mounted drapery will fully cover your window when drawn closed and will fully reveal your window when drawn open. As inside mount window treatments, Drapery will always block some of your light and view.
Learn more about blinds and shades for your inside mount window treatments:
Shades
Shades come in a wide range of styles, from sleek Roller Shades to elegant Roman Shades, efficient Cellular Shades and more. Each type of shade can be inside mounted so you can take your pick of the different styles as well as many material selections to find the perfect combination of design and functionality.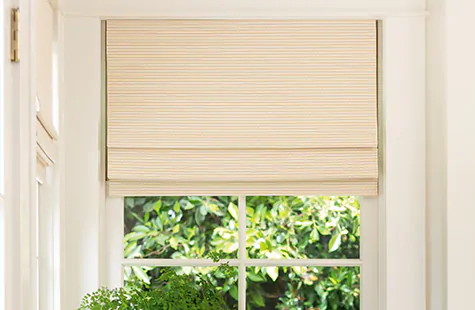 With lots of options for inside mount window treatments, learn best practices for measuring and installing inside mount blinds and shades so you can get the full scope of your project.
Measuring tips for Inside Mount Blinds & Shades
Measuring for inside mount blinds and shades requires a few steps and a few different measurements to be taken inside your window frame.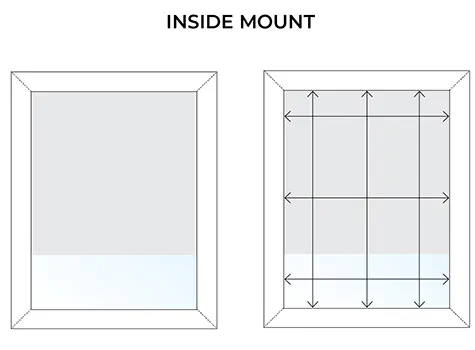 Measuring Steps for an Inside Mount
Step 1: Measure the depth of your window frame (from the glass to the edge of the window's trim) to confirm inside mount is possible (you'll need a depth of at least ¾ inch).
Step 2: Measure the length or height of your window in three different places, left, right and center, and take the largest number as your ordering length.
Step 3: Measure the width of your window in three different places, top, middle and bottom, and take the smallest number as your ordering width.
How Much Space Do You Need for Inside Mount Blinds?
As you learned above, inside mount blinds can only be installed if your window is deep enough to accommodate them. For most Blinds with horizontal slats, you need a window depth of at least ¾ inch for them to be securely fastened. If you want your blinds to sit flush within the window frame, without protruding at all, you need the following depths:
Installation Best Practices for Inside Mount Blinds & Shades
After you've properly measured, you can install your blinds. Review these basic steps for how to install inside mount blinds to get a sense of the process:
Step 1: Gather tools. You'll typically need a stepladder, pencil, tape measure, level, drill and screwdriver, but check your blinds' specific install instructions for an exact list.
Step 2: Mark where the brackets go according to your installation guide and then fasten them with the appropriate tools.
Step 3: Attach the headrail to the mounting brackets.
read the installation guide
Keep in mind that these simple steps are a general overview for inside mount blinds installation. The steps vary based on the type of blinds you have, so make sure to carefully read the installation guide for your chosen blinds before starting your project. READ THE GUIDE
Blinds Installation FAQs
Common questions asked about installing inside mount blinds include:
How do inside mount blinds attach? Inside mount blinds attach to the window frame using mounting brackets. You'll first need to install the mounting brackets in either the top or "ceiling" of your window frame, or the inside sides of the frame, and then you can clip the headrail of your blinds into the brackets for a secure installation.
Do I need anchors for inside mount blinds? Typically, most windows are made with wood framing behind the drywall, so anchors are not necessary to secure your blinds. However, if your window frame is made from drywall, or if your frame doesn't have wood behind the drywall, you should use drywall anchors for the most secure hold.
Take the Guesswork Out of Your Measurement
With the insight you need into inside mount blinds and other inside mount window treatments, you can make the right choice for your home. Whether you decide on inside or outside mount, take the hassle out of measuring yourself when you choose window treatments from The Shade Store. Our team of professionals provides free measurement services for your convenience, so schedule your measurement today.