How to Layer Window Treatment Textures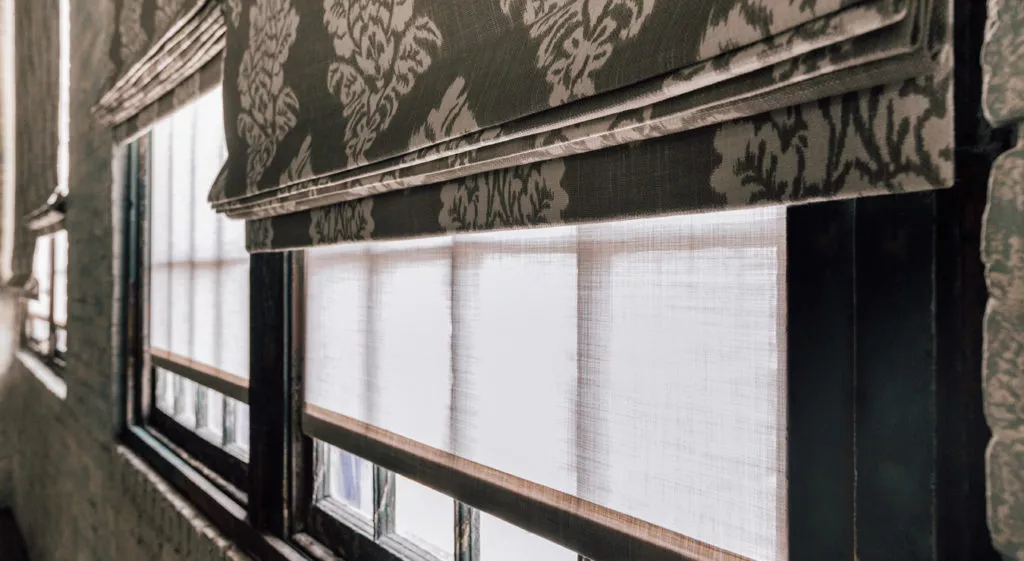 What's the easiest way to make your window treatments stand out and look professionally designed? Many interior designers recommend layered window treatments. "Layering window treatments is like having an array of outfits for your windows for different outings. It's also a beautiful way to give any space texture and it's the perfect way to heighten our senses," explains Jamie Galvis. Jamie is the Creative Director behind Styling Your Space, a NYC-based design firm specializing in interior design and decorating.
Keep reading for easy to use tricks to help you choose a combination of colors and textures to use in layered shades and drapes in your home.
Light Filtering Layers
If you're not sure where to start with layering window treatments, a good rule of thumb is to keep one layer in the sheer or light filtering family. In all the photos included in this blog post, you can see that one layer is always lighter than the other – in these cases, the Solar Shades keep the windows looking bright. Jamie says:
"I like to keep things light – whether choosing curtains or shades, our first set is always sheers. This allows for plenty of light during the day making our client's space brighter and lighter. The possibilities are limitless when we install the second set; here we play with patterns, textures, colors and a combination of all. This layer allows you to control privacy at night and for some, a blackout layer for darkness is imperative for sleep. Your windows will always rise by dressing them with sheers and a complimentary second set."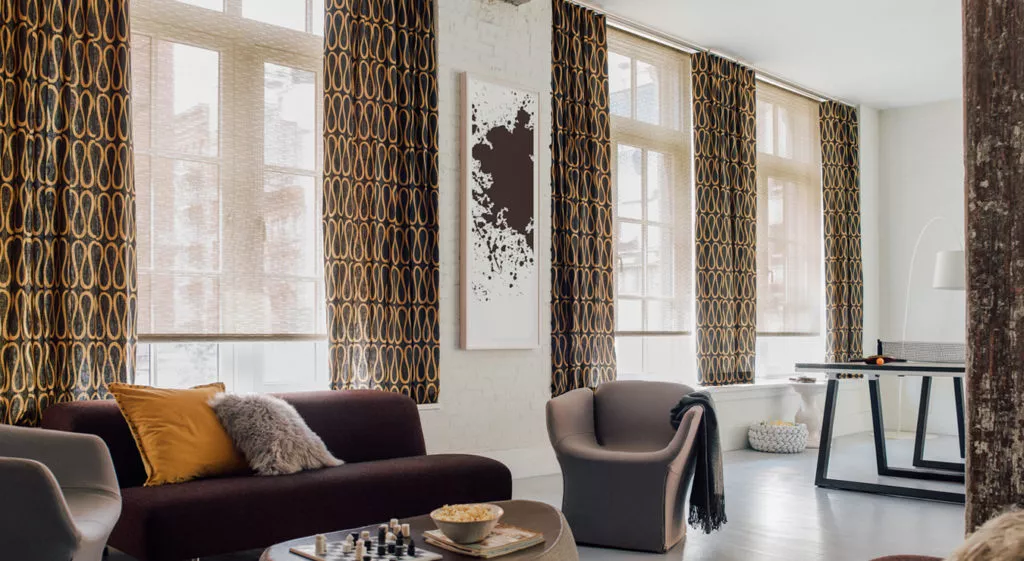 Similar Color Family, Contrasting Designs
Everything does not have to match perfectly when layering window treatments. In the photo above, you'll see contrasting textures and designs with the Solar Shades under Ripple Fold Drapery. The unifying factor is the brown color family: the drapes provide the rich, dark brown and pop of yellow, while the shades pick up the lighter, subtler light brown or tan color of Bamboo. The result is a rich statement that still looks cohesive.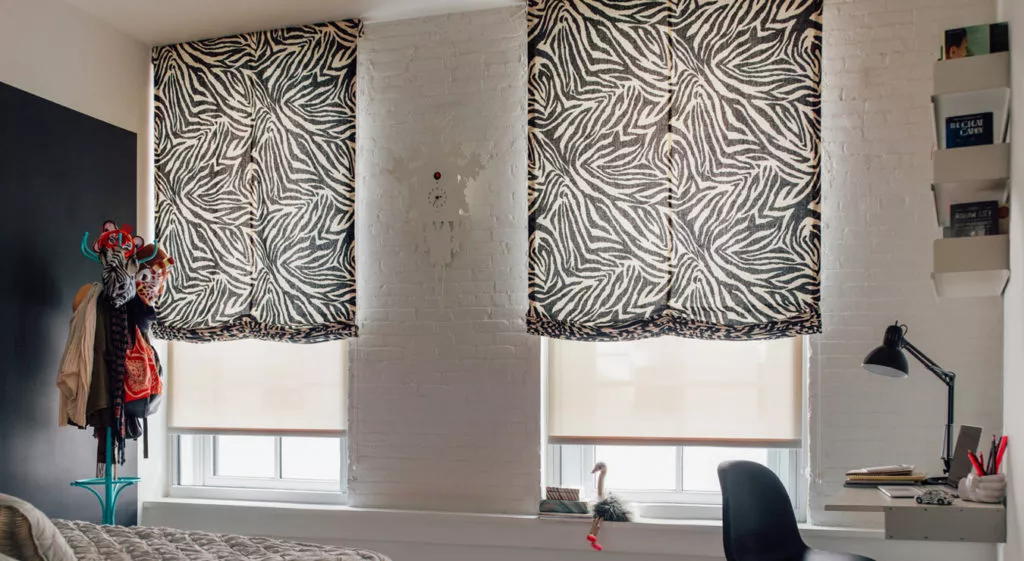 Color From a Dominant Pattern
If you have chosen a dominant pattern for one window treatment, a simple way to add another layer is to pull one color from the pattern. Choose a Roller or Solar Shade, which will work beautifully under Roman Shades or Drapery, in one of the lighter or subtler colors from your primary material. In the bedroom pictured above, the Diane von Furstenberg Funkyzebra print is bold, but light Solar Shades in Beige layered underneath keep the treatments from feeling overbearing or cluttered.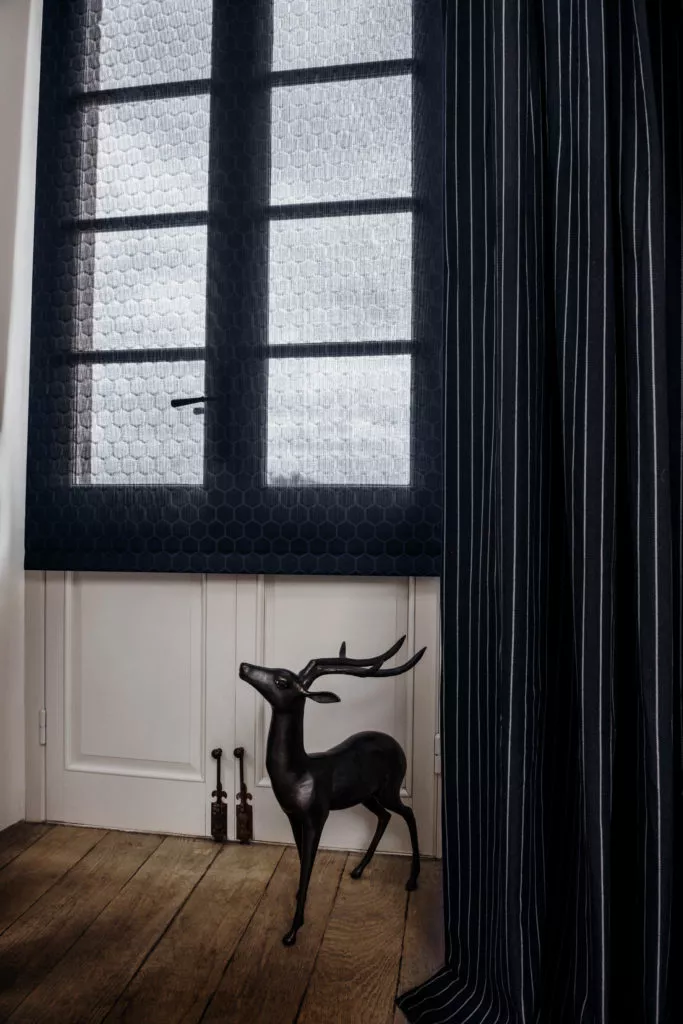 One Color, Different Textures
Even if your décor has only one predominant accent color that you'd like to feature, you can still layer textures in your window treatments. Pick your color and experiment with different materials – this can include light filtering Solar Shades with blackout drapes, or a monochromatic print like Hive paired with stripes (shown above).
You can always test your layering ideas with unlimited free swatches, or visit a showroom near you to see examples of layered shades and drapes and discuss your options with an expert Design Consultant.