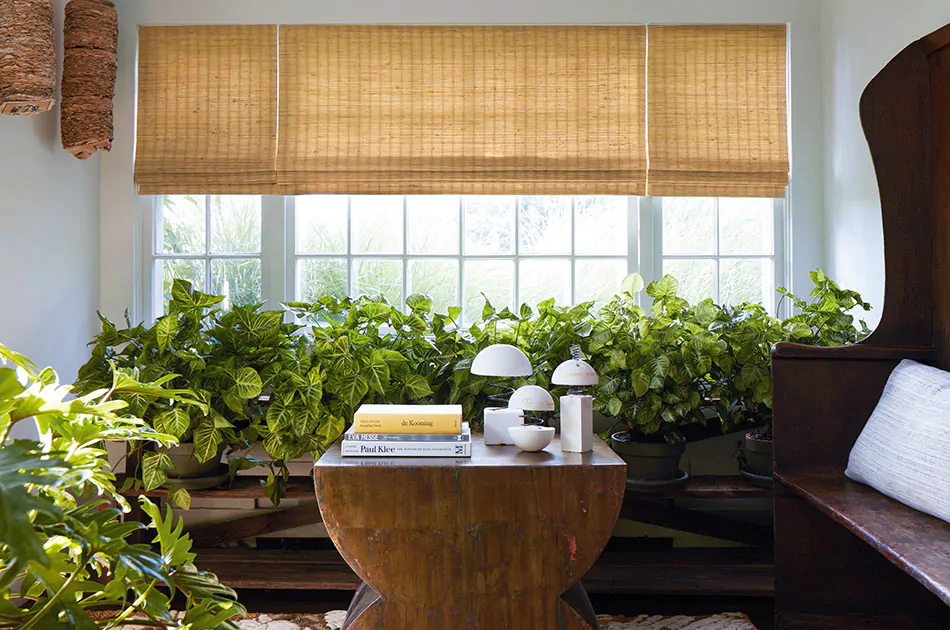 Ideas & Tips for Sunroom Window Treatments
If you're looking for sunroom window treatments, you're likely looking for something that increases privacy and light control without eliminating the main desired characteristic of a sunroom: lots of sunlight. Luckily, there are lots of sunroom window treatment ideas out there so you can find one that suits your specific needs and wants. However, since sunrooms are not always as protected as the rest of your home from the natural elements, not all window treatments are cut out to be in a sunroom. So, choosing the right one will depend not only on your individual wants and needs, but also on the suitability of the treatment and its material for a sunroom.
To learn what the best window treatment options are for a sunroom, it's important to recognize the unique characteristics of a sunroom. Understanding what a sunroom is and how it compares to the rest of the home is essential for choosing the right sunroom window treatments.
What Is a Sunroom?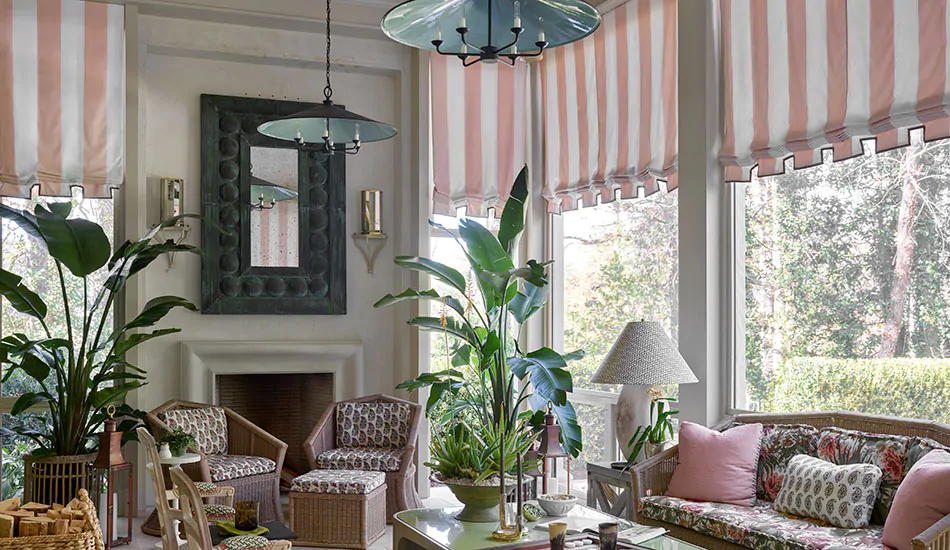 Sunrooms are rooms added to a home with lots of windows to maximize natural light and provide a panoramic view of the outdoors. These rooms are typically built as an addition and often don't share all the amenities of the rest of the house, like temperature control or insulation, and so are best used in mild weather.
Sunrooms are transitional spaces that bridge the indoors to the outdoors, and vice versa, by combining elements of both. Thanks to their abundant natural light, they are often home to many plants, including greenery and flowers. Furnishings for a sunroom are typically made with outdoor-rated materials to minimize weathering from sunlight, temperature fluctuations and exposure to the elements through open doors or windows.
Considerations for Sunroom Window Treatments
Since a sunroom is a transitional space that is exposed a bit more to the outdoors than other rooms in your home, there are special considerations when it comes to the material of your sunroom window treatments.
Things to think through in terms of material include:
UV protection: The material of your sunroom window treatments needs to withstand harmful UV rays which can cause fading and deterioration over time — even through glass — and can cause more severe damage more quickly with the wrong material.
Temperature & moisture fluctuation resistance: Your sunroom window treatment material also needs to be able to withstand frequent changes to temperature and moisture, since sunrooms are typically not built with the temperature control or insulation of the rest of the house.
Light & privacy control levels: The material you choose needs to provide the right privacy and light control to optimize the use of the sunroom. Your window treatments should balance enhancing natural light and the view to the outdoors with providing a bit more privacy and insulation.
Types of Sunroom Window Treatments
The types of window treatments presented here are those that are best suited to sunrooms and will help level-set your sunroom window treatment ideas. Be sure to pay attention as well to the material selection for some types of window treatments, as this is critical for ensuring their longevity and enduring beauty.
Shades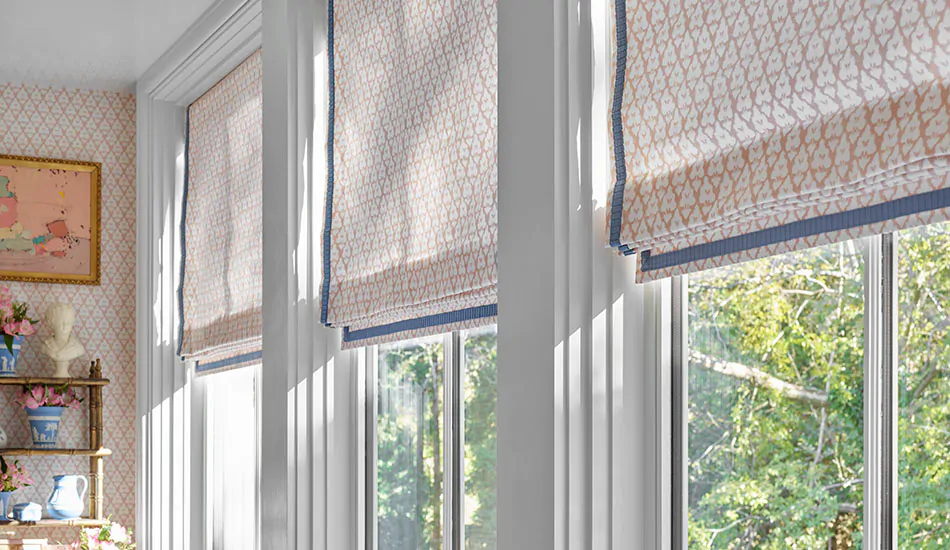 In general, shades are a great choice for sunrooms thanks to their easy functionality and options for durable, weather-resistant materials. However, not all shades are ideal for sunrooms, and some shades are only suited to a sunroom if they have the right material or lining selections.
The best types of shades for sunrooms include:
Solar Shades – An excellent choice, no matter the material chosen as all Solar Shades are designed with unique features that block UV rays while letting natural light filter through.
Roller Shades – Another great choice, Roller Shades are typically made with hardy synthetic materials that can withstand UV rays as well as temperature fluctuations with ease. Plus, they come in many light filtering materials that allow you to maximize your enjoyment of natural light in your space.
Roman Shades – The elegant, functional styles of Roman Shades are a great choice for sunrooms, but it's essential that you choose a synthetic material, like Sunbrella, or a hardy natural material, like linen, with privacy lining to protect the natural fibers from harsh UV rays.
Woven Wood Shades – Made of natural fibers like reeds, bamboo and grasses, woven shades offer an inviting organic look that perfectly suits a sunroom with its greenery. However, the natural fibers are prone to quick deterioration and fading from the sun if not protected with lining.
Learn more about these types of shades below to determine which to incorporate into your sunroom window treatment ideas.
Solar Shades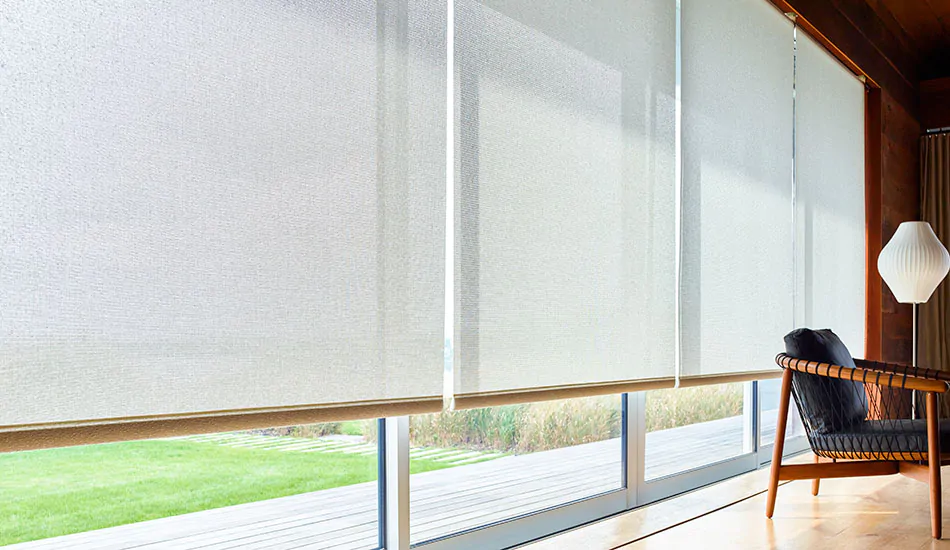 Solar Shades are ideal as sunroom window treatments because they are made from unique synthetic material that blocks up to 99% of UV rays, while still letting natural light cascade through.
By blocking UV rays, Solar Shades help:
Reduce heat buildup for more comfortable temperatures.
Cut glare for softer natural light.
Prevent interior fading of your furnishings.
Solar Shades also allow you to maintain your view of the outdoors from your sunroom with different transparency levels. The percentage of transparency also corresponds with how much UV rays are blocked, for example: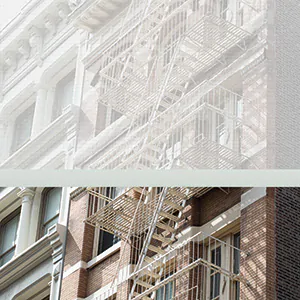 10% Transparency
10% means the shade blocks 90% of UV rays and is the most transparent, providing you with the best views and good privacy.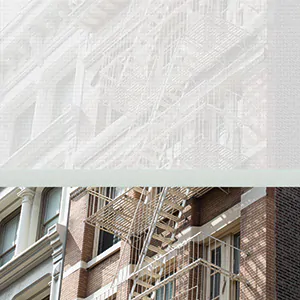 5% Transparency
5% means the shade blocks 95% of UV rays and is a bit more semi-transparent, providing you with great views.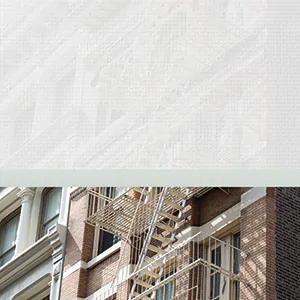 3% Transparency
3% means the shade blocks 97% of UV rays and is semi-transparent, providing you with good views.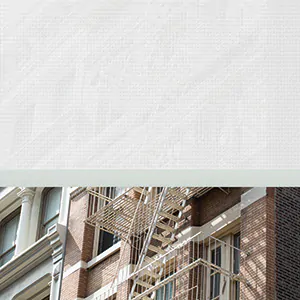 1% Transparency
1% means the shade blocks 99% of UV rays and is also the least transparent, providing you with a good, but somewhat hazy view.
All Solar Shade materials, regardless of transparency levels, are made from synthetic fibers like acrylic and polyester, and so are well-suited to withstand the harsh rays of the sun. Plus, they come in a wide range of neutral colors and textures so you can find just the right look for your space with the right transparency level.
Roller Shades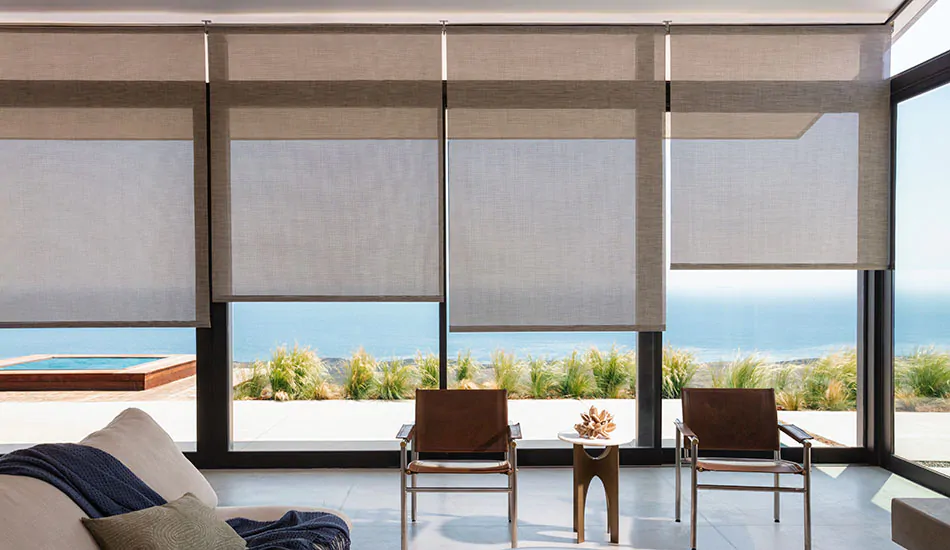 Roller Shades are another great option for your sunroom window treatments thanks to their synthetic materials, including polyester, which are excellent at withstanding lots of UV light exposure.
When deciding on your Roller Shade material, you have two main options: Light-Filtering Roller Shades and Blackout Roller Shades. Since sunrooms are made to enhance natural light exposure, light-filtering Roller Shades are the best way to go because they'll filter and soften the natural light for a more inviting ambiance. Blackout Roller Shades block up to 99% of the natural light, meaning they'll darken your sunroom and prevent natural light from filling the space with its warm glow.
Like Solar Shades, Light Filtering Roller Shades help:
Reduce heat buildup.
Cut glare.
Prevent interior fading.
One main difference is that Light-Filtering Roller Shades materials are opaquer in nature than Solar Shades and will not allow you a clear view of the outdoors. However, they do come in a wider range of both solid colors and patterns so you have more options to spark your sunroom window treatment ideas and to find a unique look to suit your style.
Roman Shades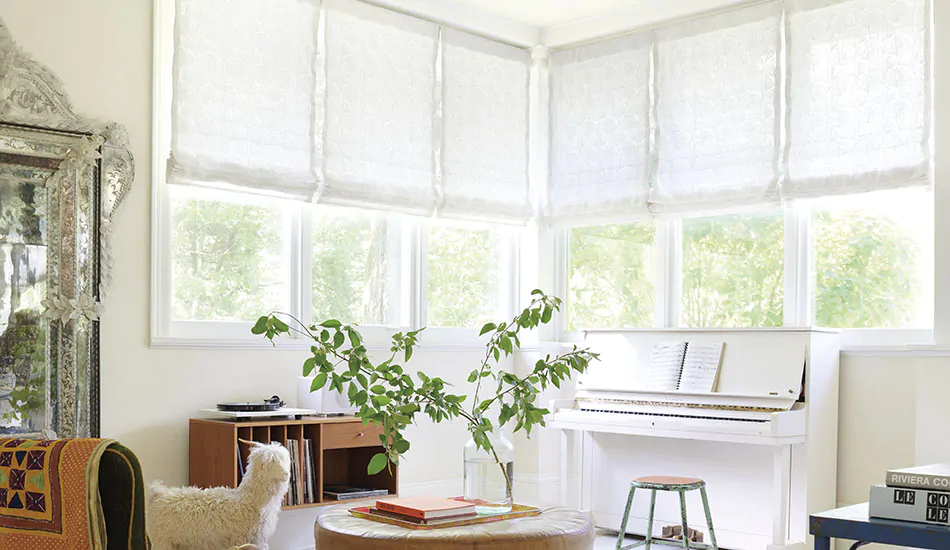 Roman Shades are elegant types of shades made from soft fabric that folds into itself when raised and cascades in a waterfall motion when unfurled. To be used as sunroom window treatments, they require a few special considerations in terms of material and style.
These shades come in six styles, four of which are functional and two of which are decorative in nature.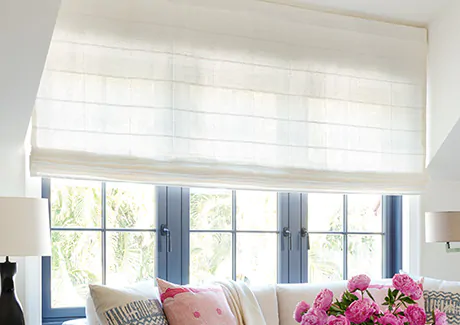 Functional Roman Shades
For sunroom window treatments, functional Roman Shade styles allow you the best control of your light and privacy with easy-to-use controls.
These styles include:
Flat Roman Shades
Cascade Roman Shades
Aventura Roman Shades
Pleated Roman Shades
Flat, Cascade and Aventura are best for sunrooms as Pleated Roman Shades have luxurious folds that won't allow as much light through and may hold on to moisture more readily.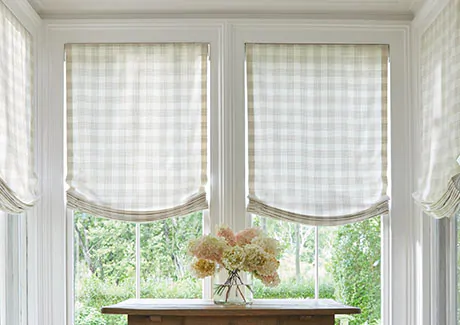 Decorative Roman Shades
The decorative window treatment styles are best used in stationary applications, where you set them once and leave them to provide beautiful aesthetic appeal.
These styles include:
Relaxed Roman Shades
Tulip Roman Shades
If your sunroom window treatment ideas include one of the decorative styles for your sunroom, consider layering the Roman Shade over a more functional option like Solar Shades or Light-Filtering Roller Shades for both aesthetic appeal and better functionality.
Regardless of style, you'll need to ensure your Roman Shades are suited as sunroom window treatments that will last. To do so, it is essential to choose the right material as well as lining.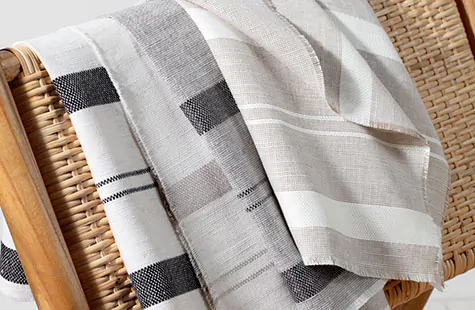 Select Synthetics or Hardy NaturalS
When considering fabric selection in your sunroom window treatment ideas, you'll want to think about not only light filtration but also fabric durability. For the best durability, opt for a synthetic material like Sunbrella, or go with a hardy natural fabric like linen, wool or cotton. These fabrics will better withstand the temperature and moisture fluctuations of your sunroom than more delicate options like silks.
Add Lining
In addition to material, lining is another important option for Roman Shades, especially when used in a sunroom. Lining helps protect your Roman Shade fabric from the sun's harsh rays so the front facing fabric stays richly hued for longer. For sunroom window treatments, privacy lining is your best option as it protects the fabric while still allowing natural light to filter through for a warm, inviting glow. Blackout lining, while heavier and more durable, will block about 99% of the natural light, which will darken your sunroom, making it less inviting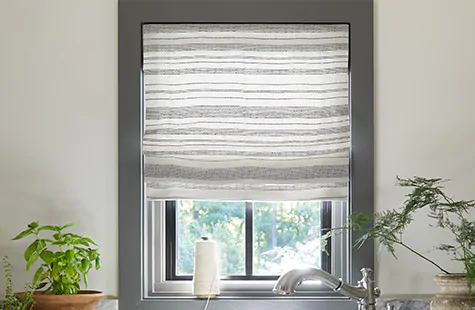 Woven Wood Shades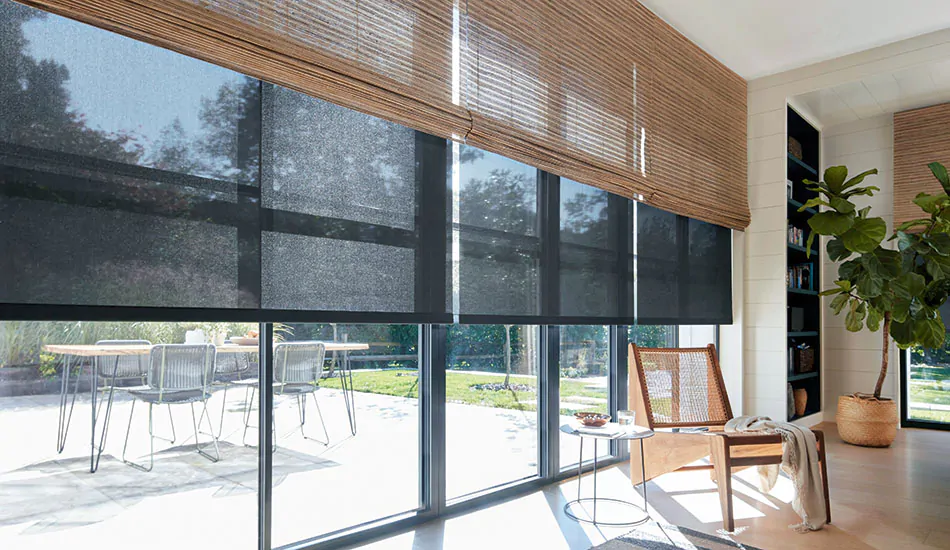 Woven Wood Shades, sometimes called bamboo blinds, offer an organic look thanks to being made with natural fibers like reeds, grasses and bamboo. This natural aesthetic makes them perfectly suited as sunroom window treatments as they bring in a natural, outdoor element to your sunroom to further emphasize it as a transitional space bridging the indoor and outdoor worlds. Plus, these types of shades are all very functional and easy to use on a day-to-day basis.
Woven Wood Shades come in four functional styles, three of which are very similar in style to Roman Shades and one which is just like a Roller Shade.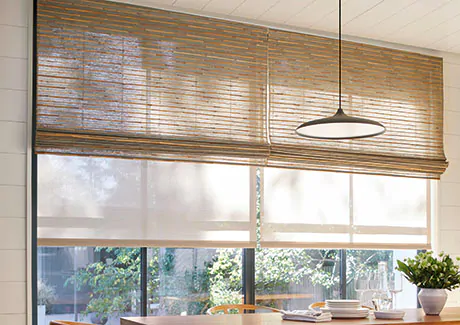 Roman Woven Wood Shades
These styles include:
Waterfall Woven Wood Shades, which are similar in style to Flat Roman Shades.
Cascade Woven Wood Shades, which are similar in style to Cascade Roman Shades.
Standard Woven Wood Shades, which are similar in style to Flat Roman Shades, but the material falls off the back of the headrail, rather than the front.
These styles are compatible with lining like Roman Shades.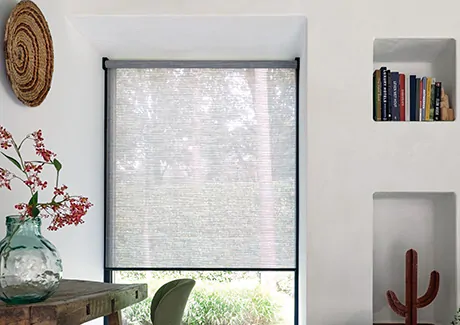 Roller Woven Wood Shades
Roller Woven Wood Shades have the same hardware and functionality of Roller Shades. The only difference between Roller Shades and Roller Woven Wood Shades is material.
Roller Woven Wood Shades are typically made from a mix of natural materials like jute and paper as well as synthetics like polyethylene and polyester.
Since the material rolls around a tube at the top of your window, these types of woven shades are not compatible with lining.
Thanks to their woven nature, all materials for Woven Wood Shades are light-filtering and help cut glare and soften light in your space. However, because they're made with natural fibers, they're prone to fading and deterioration from UV rays. That's where lining comes in. To ensure your Woven Wood Shades are best suited as sunroom window treatments, it's best to choose a style to which you can add lining (any of the Roman Shade styles: Waterfall, Cascade and Standard). Roller Woven Wood Shades cannot have lining added to them, so the natural fibers are fully exposed to the sun's rays, which can cause quicker deterioration and fading.
Blinds
Blinds come in two main categories: Wood and Metal Blinds with horizontal slats and Vertical Blinds with vertical panels of material that run along a track system. Both categories offer great light control and privacy: Wood and Metal Blinds, thanks to their tiltable horizontal slats and Vertical Blinds with their light-filtering materials.
Find out more about Blinds as sunroom window treatments.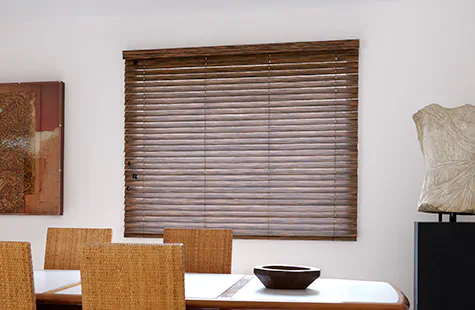 Wood Blinds
Made of two-inch American Basswood slats and available in a wide range of wood grains and finishes, Wood Blinds deliver a natural, organic element to your sunroom with their warm wood tones.
Wood Blinds have finishes that protect the natural wood to a degree from UV rays as well as temperature and moisture fluctuations. However, over time, the wood may still warp, and the color may fade.
Metal Blinds
Metal Blinds are made of aluminum and come in both one- and two-inch slats. Aluminum is a hardier material than wood and will more easily withstand UV rays as well as moisture and temperature fluctuations. The slats are available in attractive finishes with a metallic sheen for a chic, contemporary look.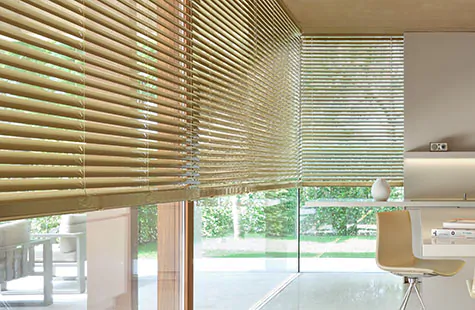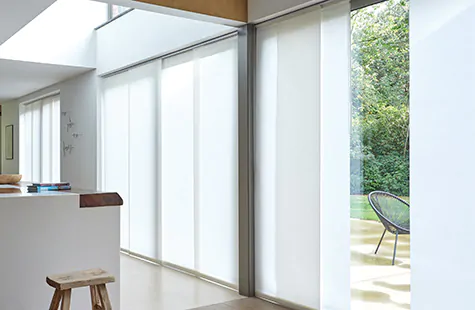 Vertical Blinds
Vertical Blinds materials are available in many of the same synthetic options as Solar Shades and Light-Filtering Roller Shades. This means they offer the same benefits including privacy, glare reduction, minimized heat buildup, and prevention of interior fading. And in the case of Solar Shade materials, you can also enjoy a view to the outdoors through your shades, depending on the transparency level.
Drapery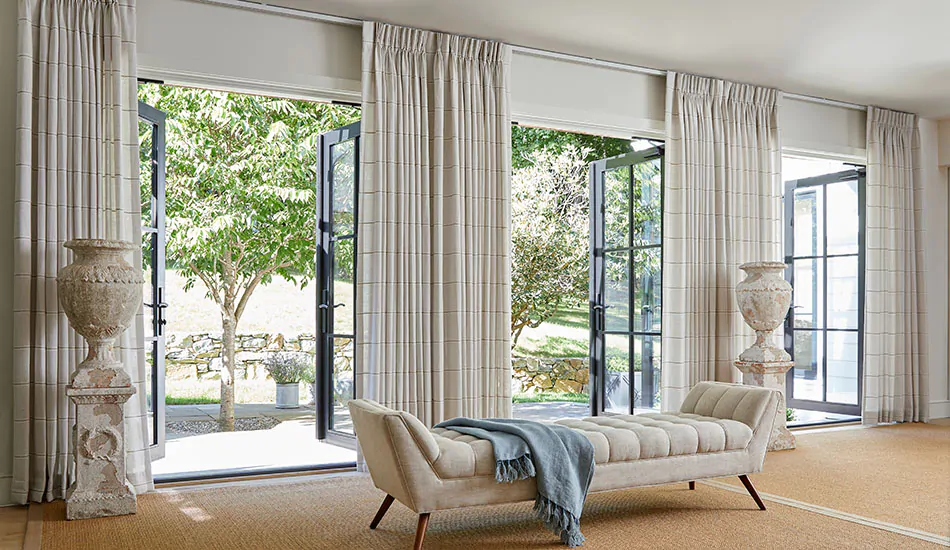 Drapery can be an elegant choice for sunroom window treatments as they add a sense of lushness and luxury to the space. However, if choosing drapery, you'll need to consider: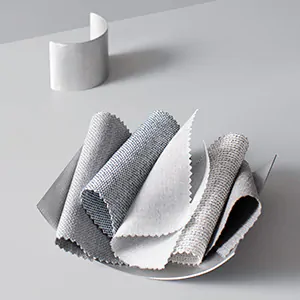 Material Choice
It's crucial to choose hardy materials like synthetics or tougher natural materials like wool, linen or cotton to better withstand exposure to the sun and fluctuations in temperature and moisture. Also be sure to think through light filtration and privacy. Sheers give you lots of softened light filtration.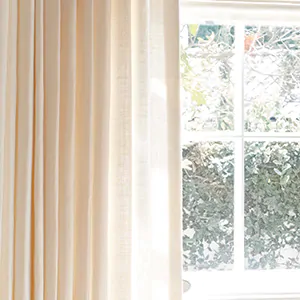 Adding Lining
Lining options for drapery are the same as Roman Shades and includes privacy lining or blackout lining. For a light-filtering option with excellent privacy and material protection, choose privacy lining. Blackout lining will likely result in too much darkening in your sunroom to make it inviting.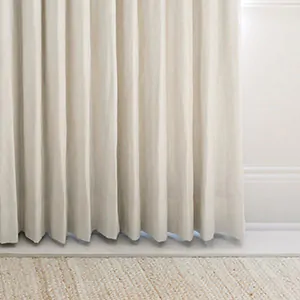 Drapery Length
As transitional spaces between the indoors and outdoors, sunrooms are more prone to dust and dirt on the floor. To prevent discoloration at the bottom of your drapes, opt for float-length drapery, where the panels hang about an inch above the floor, or sill-length curtains where the panels hang at or below your windowsill.
How to Choose the Right Sunroom Window Treatments
Now that you know all the options for sunroom window treatments available, you're ready to start thinking critically about which product, or combination, is right for your space. To help guide your sunroom window treatment ideas, ask yourself these questions regarding the following topics:
Aesthetics: What kind of aesthetic effect do you want your window treatments to have on your sunroom? Do you want them to be subtle or a bold focal point in your room?
Functionality: Will you be frequently adjusting your window treatments throughout the day to maximize privacy and light control? If so, you'll want to choose a style of window treatment that's easy to use.
Light Control: How much light control do you need in your sunroom and how much natural light do you want to block? Sunrooms, as their name suggests, are built to maximize natural light, so choosing light-filtering window treatments will give you a softened glow of natural light while cutting the glare when the sun is at its harshest angles.
Privacy Control: How much privacy do you need in your sunroom? Is it easily visible to neighbors? Sunrooms, as transitional spaces, are typically not used for absolute privacy, but if some privacy is important to you, many light filtering window treatments offer great coverage, while still allowing you to enjoy softened natural light.
Sunroom Window Treatment Ideas for Inspiration
With a firmer understanding of sunroom window treatments as well as tips on how to choose between them, it's time to explore inspirational sunroom window treatment ideas. These ideas can give you a sense of how different window treatments can come together to create the right look with the right functionality in a sunroom.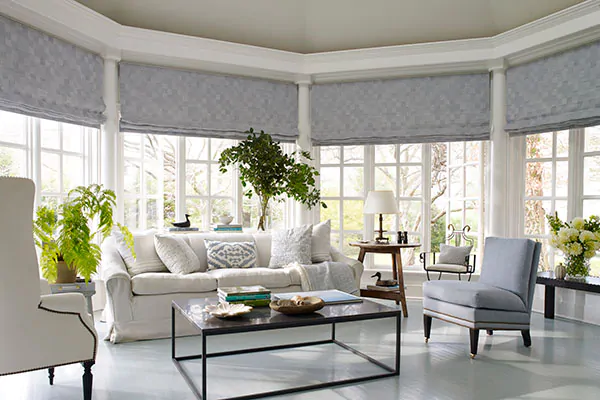 Traditional-Style Sunroom with Roman Shades
For a bright sunroom with more traditional elements like a bow window feature, elegant crown molding and classic columns, Flat Roman Shades bring a modern, linear look to balance the many curved elements. Choose a hearty linen fabric with a subtle pattern like Oceana, which features an understated grid pattern, to add a touch of modernity and visual interest without taking away from the more grandiose classical elements of the space. Be sure to protect your natural linen fabric with privacy lining which also helps balance the brightness of the room, especially when raised about three quarters of the way up.
Pictured: Flat Roman Shades, Victoria Hagan, Oceana in Slate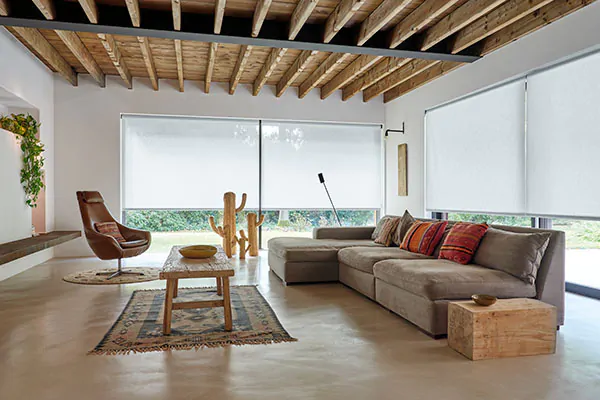 Southwest-Inspired Minimalist Sunroom with Solar Shades
With a minimalist design, you don't want any one element to overpower another. For a subtle southwest flair to your minimalist design, add warm sandy and earthy tones as well as a few accents of brightly colored geometric patterns. Wood tones and textures as well as cactus-inspired décor will all add to the southwest theme. For your sunroom window treatments, choose an understated option like Solar Shades made of a warm white material like 3% Thermo in Cloud. The transparency of the material and the subtle neutral colors will blend into the background to ensure the rest of your interior design takes center stage.
Pictured: Solar Shades, 3% Thermo in Cloud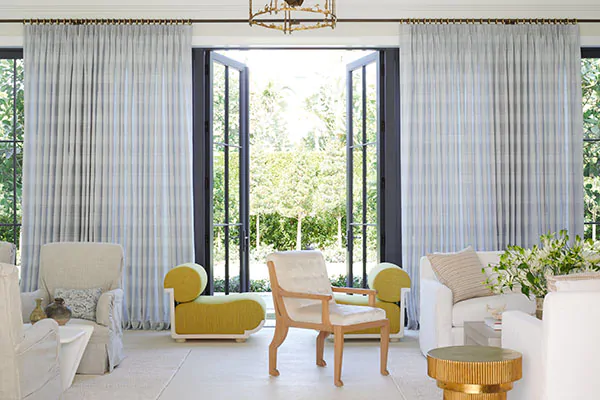 Bright, Contemporary Sunroom with Drapery
For a sunroom with tall windows and glass doors, Drapery may be the best solution for coverage. Drapery will help soften the linear look created by the grilles in the windows and doors while adding lots of light and privacy control. For a more contemporary look, choose Tailored Pleat Drapery, with pleats pinched at the very top to accentuate the height of your sunroom by creating a continuous, streamlined aesthetic from top to bottom. Balance warm wood tones in your interior décor and furniture with a soft cool blue color for your drapery, such as Jasmine in Sky. The patterned fabric, with its linear jacquard design, adds visual interest and a sense of movement to your drapery that echoes flowing water or a light breeze.
Pictured: Tailored Pleat Drapery, Victoria Hagan, Jasmine in Sky
Take the Next Step Toward Sunroom Window Treatments
After getting an overview of your options for sunroom window treatments as well as sunroom window treatment ideas for design, it's time to zero in on your product and material selection. To get started, order our Most Popular Collection of swatches, which features a mix of synthetic materials and hardy naturals for all types of sunroom window treatments. Discover options for Solar and Roller Shades, Roman Shades, Woven Shades, Drapery, Blinds and be sure to think through all the factors you've learned will affect your choice in style and material.