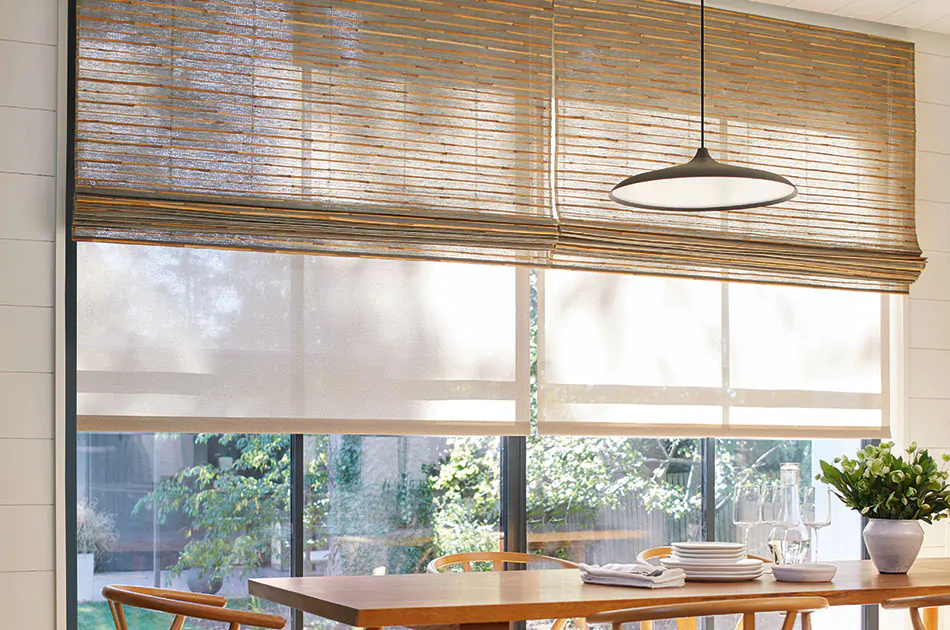 Bamboo Blinds & Woven Wood Shades
If you're looking for bamboo blinds, you're likely looking for Woven Wood Shades, which are textured shades made from natural fibers, including bamboo, reeds and grasses, woven together. No matter which natural fiber they're made of, these types of shades deliver a natural, organic look to your space with optimal functionality. However, if you are looking for traditional slatted bamboo blinds, those are also a great option.
Looking for Slatted Bamboo Blinds?
Explore bamboo window blinds with 2-inch horizontal slats made from 100% natural bamboo.
What Are the Benefits of Bamboo Blinds?
Bamboo blinds, typically used to refer to all kinds of Woven Wood Shades, offer several unique benefits, including:
Made from eco-friendly materials including bamboo, grasses and reeds
Gives you an organic, boho-inspired aesthetic that can suit a wide range of homes
Adds natural texture to your space for visual dimension and complexity
Easy to operate, especially when paired with motorization
Gives you options for excellent privacy and light control
Product Options for Woven Wood Shades
Woven Wood Shades, which are often called bamboo window blinds, come in several styles so you can choose the best one to suit your preferences.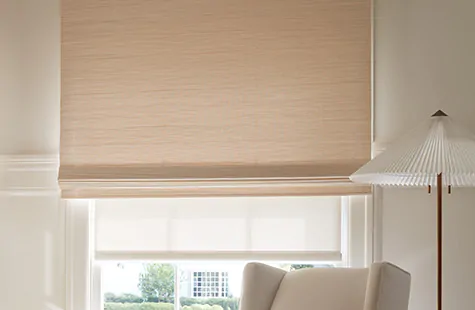 Waterfall Woven Wood Shades
Resembling Flat Roman Shades, these woven shades feature material that falls off the front of the headrail with folds that create a clean lines as the shade is raised. As a simple style, these bamboo shades work well in modern homes, from modern-farmhouse-inspired designs to mid-century modern.
Standard Woven Wood Shades
These types of woven bamboo shades feature material that falls off the back of the headrail, so in an inside-mount application (where the shade is installed inside the window frame) the material will hang closer to the window, providing more coverage. These shades also come with a valance to cover the exposed headrail and provide even more coverage.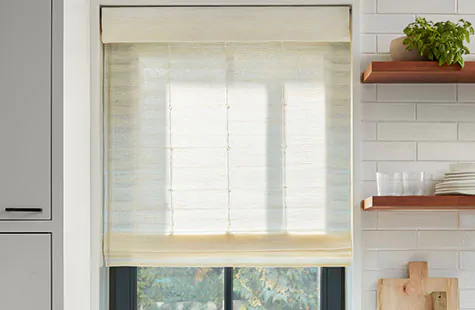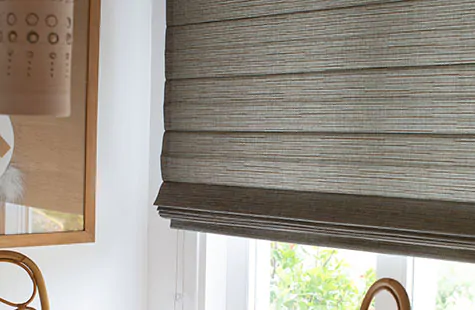 Cascade Woven Wood Shades
Similar to Cascade Roman Shades, Cascade Woven Wood Shades features 1/8-inch dowel inserts spaced evenly along the material to give the shade clean creased lines. The linear design of this type of bamboo shade is perfect for contemporary and mid-century homes.
Roller Woven Wood Shades
These bamboo shades are just like traditional Roller Shades, but feature material made from natural fibers or a mix of natural and synthetic fibers. These shades give you a clean, minimalist aesthetic and are very easy to use.
Since the material rolls around a tube at the top of your window, some woven materials are too delicate, so only a selection of woven materials are compatible.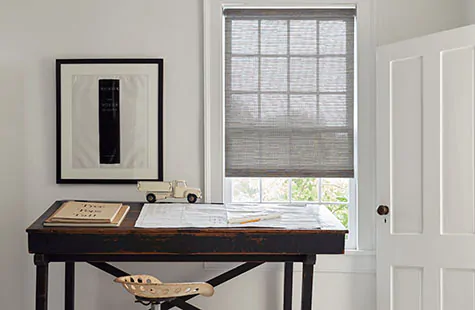 Customizations for Bamboo Shades
In addition to the styles above, bamboo window blinds or shades come with unique customizations in both aesthetics and functionality so you can get the look you want with the operation you need. Explore customization options to learn how you can make bamboo blinds, or Woven Wood Shades, your own.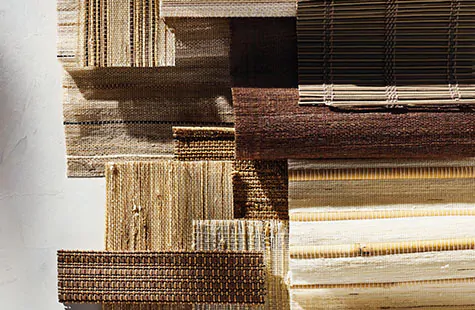 Material Options
Bamboo window blinds and shades aren't just made of bamboo. Other fast-growing, sustainable fibers like grasses, reeds and even paper are also used to make Woven Wood Shades. Beyond material choice, these organic weaves also give you a wide selection of colors and textures to give you the right organic look for your space.
Decorative Borders
Add a decorative border to your bamboo blinds for a defined, sophisticated look. Borders are available in several colors and are also made from woven material, so you maintain the all-natural, textured look you love. Decorative borders are only available for Waterfall, Standard and Cascade Woven Wood Shades.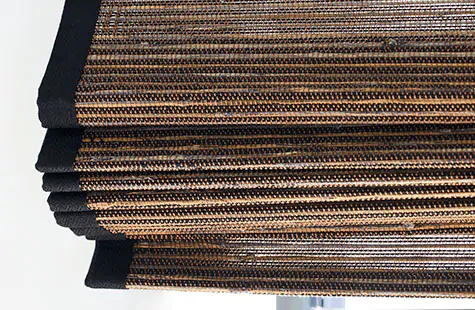 Linings
Lining for your Woven Wood Shades, sometimes called bamboo window blinds, gives you even more options for light and privacy control. When it comes to linings, there are three main options: No lining at all, privacy lining and blackout lining.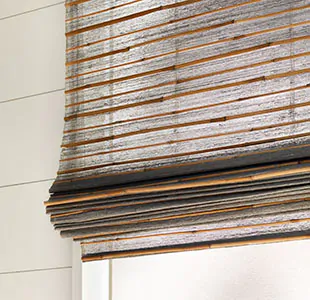 No Lining
Woven Wood Shades without lining allow their natural weave to filter light through for a soft glow that creates an inviting oasis.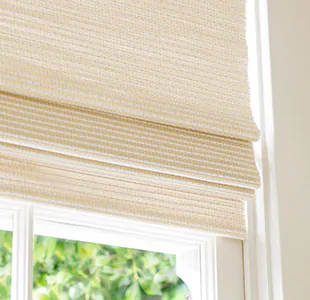 Privacy Lining
Privacy lining allows some light to filter through the shade, but still blocks the view, giving you excellent privacy and peace of mind.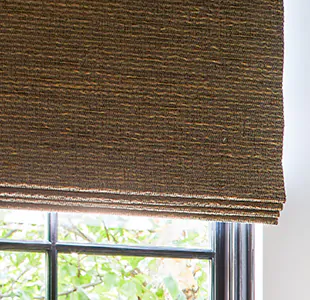 Blackout Lining
Blackout lining blocks up to 99% of the light and the view, giving you a room darkening effect and the highest level of privacy.
Can You See Through Bamboo Blinds at Night?
Whether or not you can see through bamboo blinds, or rather, Woven Wood Shades, at night will depend on the material you've chosen and the lining you've added to your window treatments. For many unlined Woven Wood Shades, some visibility may be possible at night, as light filters from inside your home to the outside. However, passersby will likely not see much beyond silhouettes. For greater privacy, it's best to line your bamboo shades with either privacy or blackout lining.
Control Types
Control types for Woven Wood Shades affect how you raise and lower them, with some options being easier to use than others.
Continuous Loop – This control type features a looped chain attached to a tension device in the headrail that allows you to lift and lower your shade by pulling on one side of the chain. Available for all types of Woven Wood Shades.
Cord Lock – Cord lock control features a cord attached to a locking device in the headrail. To operate shades with a cord lock, you need to pull the cord to the center of the shade to release the lock, adjust the shade to your desired height and then move the cord back to its original position to lock the shade back in place. Available for all types of Woven Wood Shades except Roller Woven Wood Shades.
Cordless – For bamboo blinds, or Woven Wood Shades, without cords or chains, consider a cordless control type, which features a tension device in the headrail to control the shade's height. To use this type of control, simply pull on the ring just behind the bottom edge of your shade toward you to release the lock and pull the shade down or allow it to lift to adjust its height. Then, push the bottom of the shade back toward the window to lock it into place.
Motorized – If you're looking for effortless ease for your bamboo shades, upgrade to motorization. Motorized window treatments allow you to control the height of your shade with the press of a button on a remote, an app on your smart device or even the sound of your voice when paired with a home automation system.
Bamboo Blinds Inspiration
With insight into the types of Woven Wood Shades, also called bamboo blinds, as well as customization options, you're likely starting to think about how all these pieces can come together for your own design. Explore these curated interiors featuring Woven Wood Shades, each with a distinctive style, to draw inspiration for your own design.
Modern Farmhouse Dining Room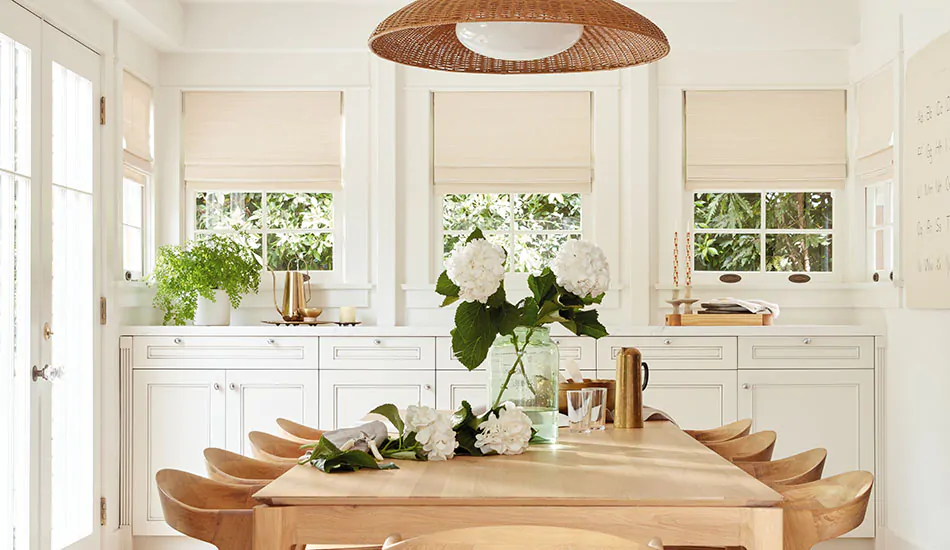 Embrace the warm, inviting style of a modern farmhouse, popularized by Joanna Gaines with bamboo blinds in your design. For the characteristic bright, warm-toned spaces of a modern farmhouse design, Woven Wood Shades are a great choice to add depth with warm natural colors and their organic texture. Plus, woven shades tie nicely together with other natural materials like wood or woven furniture. For more variety in color and texture, incorporate greenery like flowers in a vase or a potted plant in your design.
Modern Coastal Living Room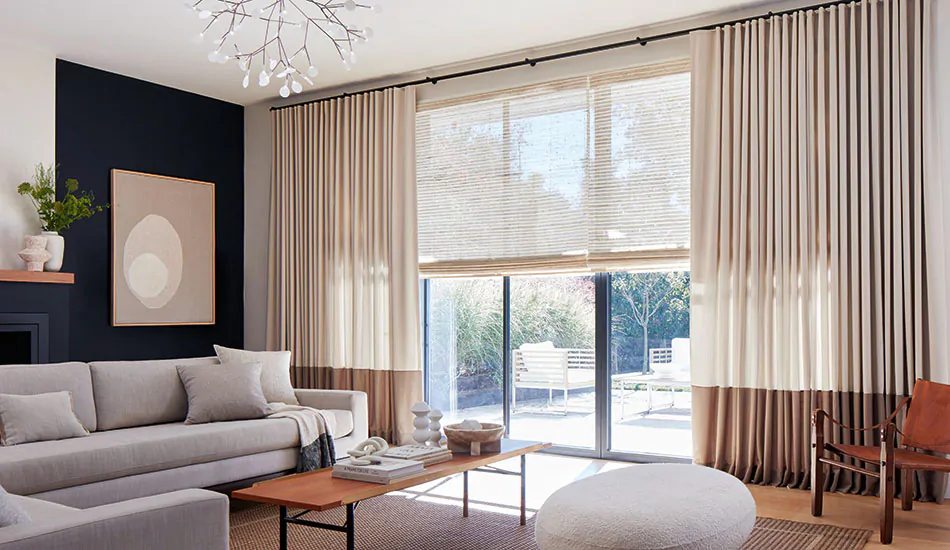 The coastal style is one of many aesthetics that champion natural materials and textures in their design. For a more modern-coastal-inspired room, use Woven Wood Shades, also known as bamboo window blinds, to contrast the sleeker elements of a modern aesthetic. The woven texture, especially when paired with chic Ripple Fold Drapery made from soft wool or linen, creates a dynamic contrast that adds depth to your window design. Be sure to keep this balance of soft and textured surfaces going with other elements in your room, like a smooth upholstered sofa with textured throw blankets and pillows, smooth hardwood floors with a textured rug, etc.
Boho-Inspired Sunroom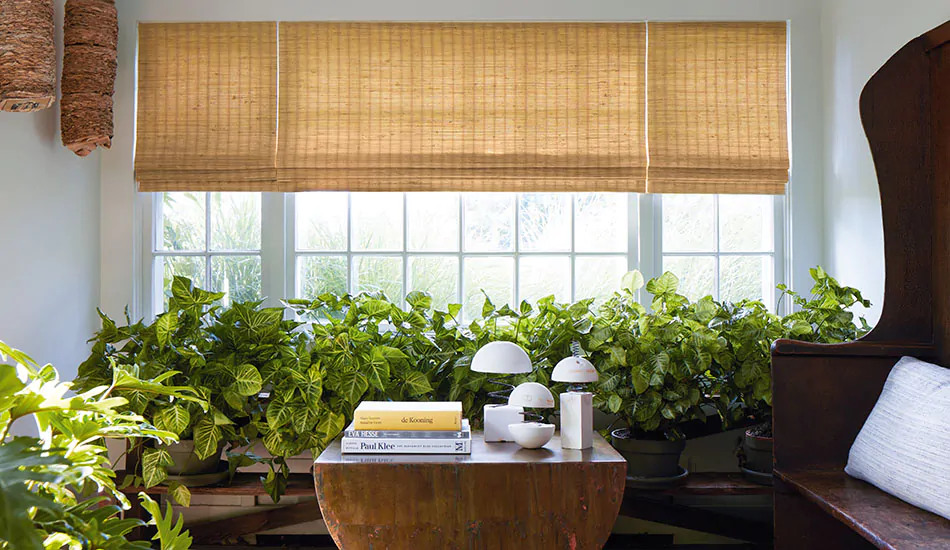 A boho-inspired room is a perfect backdrop for Woven Wood Shades, also sometimes called bamboo blinds. The bohemian aesthetic embraces natural materials as well as textures and patterns of all kinds, making it easy to find a place for Woven Wood Shades. For a boho-inspired sunroom, amplify the golden light of the sun with warm honey-toned woven shades with either privacy lining or no lining to allow soft light to filter through. Wood furniture and lots of greenery will add to the lush, relaxed feel of the space, as well as other textured elements like woven light shades and patterned throw pillows.
Discover the Right Bamboo Shades for Your Home
With all the insight into your bamboo blinds product options, including Woven Wood Shades styles, as well as inspiring curated interiors, you're ready to take the next step in finding the right fit for your home. Order free swatches of your favorite bamboo window blinds materials to compare the colors and textures in the comfort of your home. Be sure to observe the swatches in different lighting throughout the day to get a sense of how they'll look as well as how they filter light.
ORDER YOUR FAVORITE SWATCHES FOR FREE
Compare as many of your favorites from our collection of 1300+ materials at home when you order free swatches online.