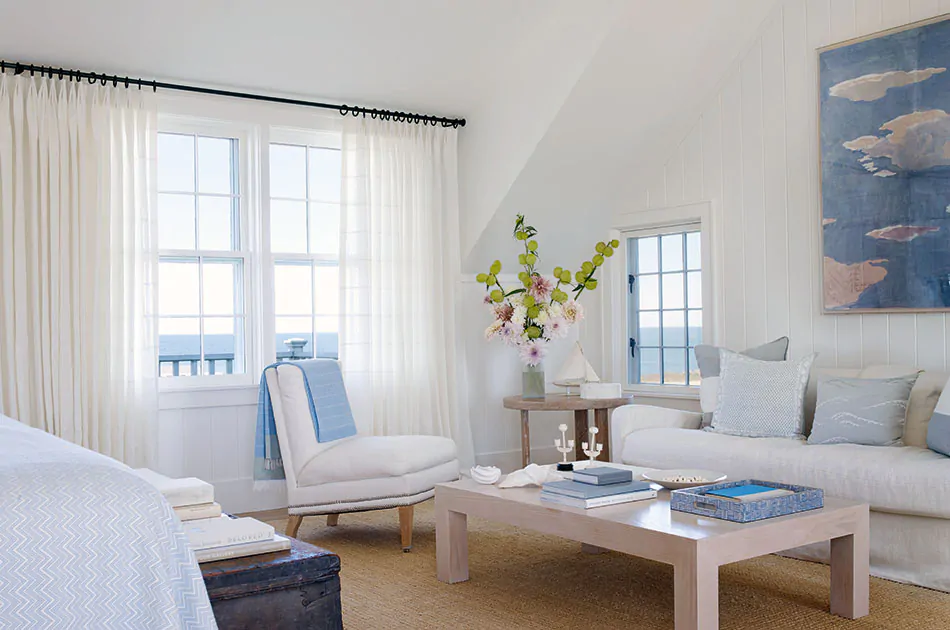 5+ Ideas for Coastal Window Treatments
Love the cool, carefree and inviting feel of the coastal design style and looking for coastal window treatments to match? You have many options when it comes to coastal window treatments from soft flowing drapery to textured shades, wood blinds and much more. Finding the right window treatments for your coastal home will depend primarily on your preferences and choosing styles and materials that reflect the coastal style.
Learn more about the coastal style itself and its key characteristics and get tips on the best types of window treatments for the coastal aesthetic. Then dive into coastal window treatment ideas to spark your creativity for your own design.
What Is the Coastal Style?
The coastal style comes in many forms, from casual beach house vibes to the elegance of modern coastal décor. Yet all coastal styles tend to share the same focus on bringing elements of the seaside, from the water to the sand to the sky, into the home. Understanding the key elements used to bring the seaside into your home can help you choose coastal window treatments that perfectly fit your signature coastal aesthetic.
Key characteristics of the coastal style include:
A neutral color palette that reflects the sand, sky and sea, like sandy tans, white, greys with pops of blues and greens
An emphasis on natural wood construction (like shiplap walls, wood furniture and exposed beams) and soft matte painted surfaces
Clean lines and simple patterns like stripes, all with sense of minimalism
Woven textures for furniture and décor like rattan and jute
Natural, soft fabrics like cotton and linen
What Are the Best Window Treatments for a Coastal Aesthetic?
When it comes to choosing coastal window treatments, you want to keep the above characteristics in mind and think about how your window treatments will complement other interior design elements.
Some types of window treatments are more suited to the coastal style than others, such as the clean, simple lines of Ripple Fold Drapery vs the ornate, formal pleats of Goblet Drapery. So, when thinking about the type of coastal window treatments to choose, opt for those with simple aesthetics, minimal or no adornments and a less formal feel.
Next, you'll want to think about material. The material you choose has the potential to transform your window treatment into a truly coastal-style design. Keep the above characteristics in mind, such as colors that reflect the seaside, natural materials like linen and woven textures.
Start with our Coastal Living themed collection and explore a few other options below to get a sense for choosing the right materials for your coastal window treatments.
Coastal Window Treatment Ideas
With some insight into choosing coastal window treatments, discover curated coastal interiors to draw inspiration for your own design. These coastal window treatment ideas feature several product options and many different materials to give you a sense of the possibilities.
1. Coastal Bay Window with Relaxed Roman Shades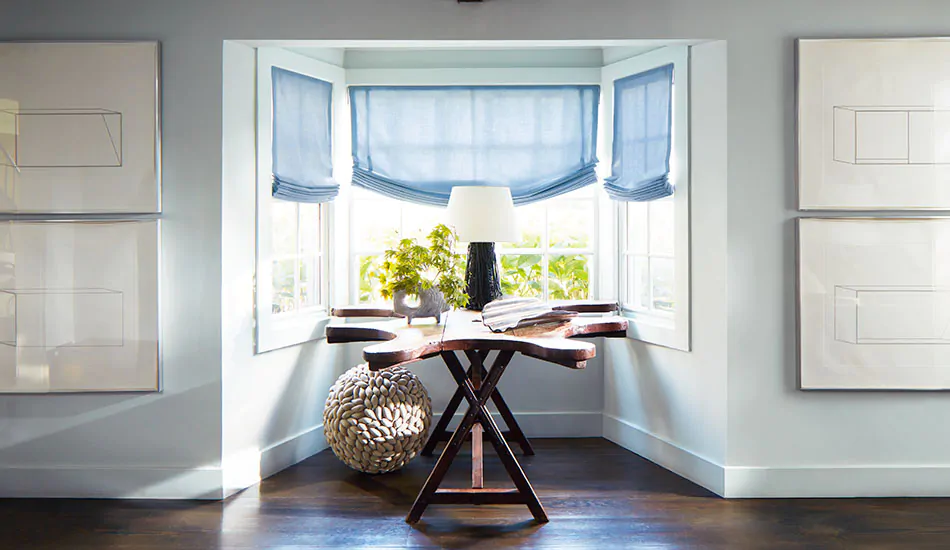 Transform a small nook created by a bay window into a coastal escape with their right décor and coastal window treatment. Relaxed Roman Shades in a bright blue color like Andes in Fountain evoke the inviting beauty of blue skies and waters while the casual swooping design exudes a sense of relaxation. Pair the bright blue coastal window treatments with a dark wood toned table made with repurposed driftwood for a rugged look that brings a touch of the outdoors, indoors. Add a bit more dimension to your nook with woven elements such as a woven décor piece with thick knots or a jute or rattan area rug.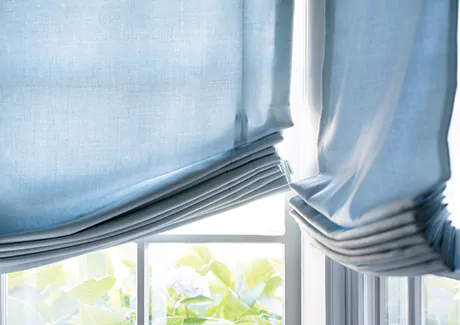 Relaxed Roman Shades
With their gentle swoop of fabric and casual folds, Relaxed Roman Shades embody the inviting simplicity of coastal window treatments.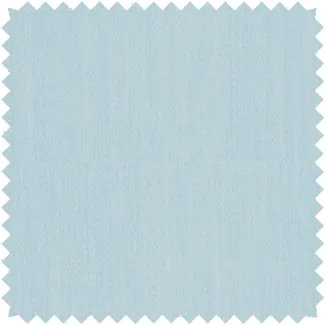 Holland & Sherry, Andes in Fountain
A light, bright blue wool material, Andes in Fountain brings a feeling of sunny skies and clear waters to your room.
2. Rugged Coastal room with Tailored Pleat Drapery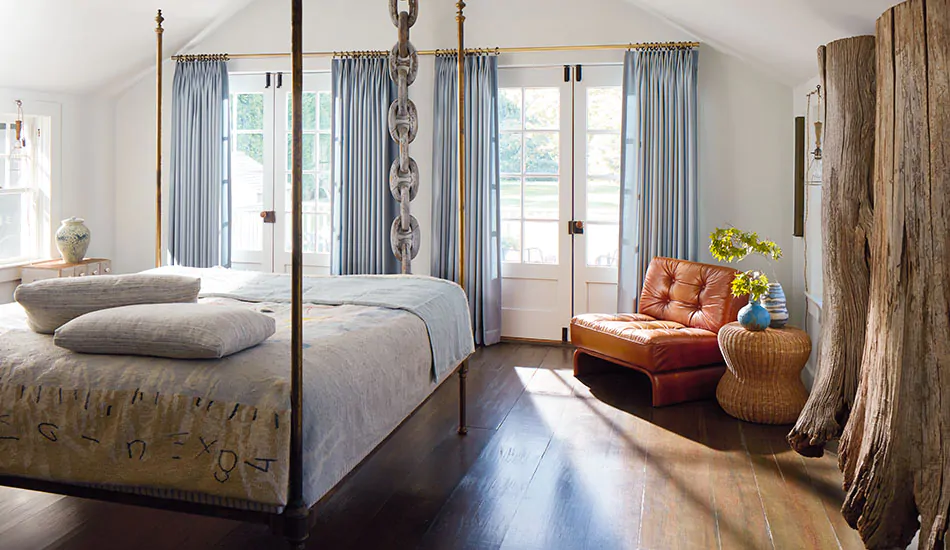 Give your bright, white coastal-styled room a rugged look with repurposed driftwood used in creative ways, such as wall art or as decorative bracing and rafters for the ceiling. A repurposed anchor chain can also add a bold element to your space with its weathered surface. For soft features to balance the rough, rugged elements, opt for coastal window treatment ideas like floor-length Tailored Pleat Drapery made from soft, light wool material like Andes in a dark stormy blue. Distressed bronze drapery hardware will help tie the elegant drapery to other worn elements of the room, creating a cohesive and dynamic aesthetic.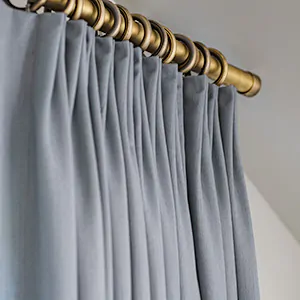 Tailored Pleat Drapery
With pleats pinched at the top of the panel, Tailored Pleat Drapery delivers an elongated, streamlined look ideal for coastal window treatments.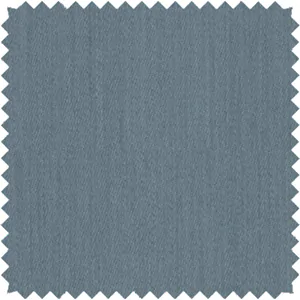 Holland & Sherry, Andes in Lake
A deep, grey-blue color with a touch of green, Andes in Lake evokes the color of a churning sea under a stormy sky.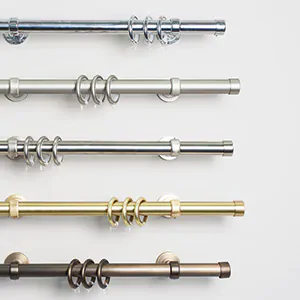 Steel Hardware in Antique Bronze
The worn, aged look of Antique Bronze hardware (bottom rod) is reminiscent of distressed metal elements like anchors and their chains.
3. Coastal Hallway Window with Flat Roman Shades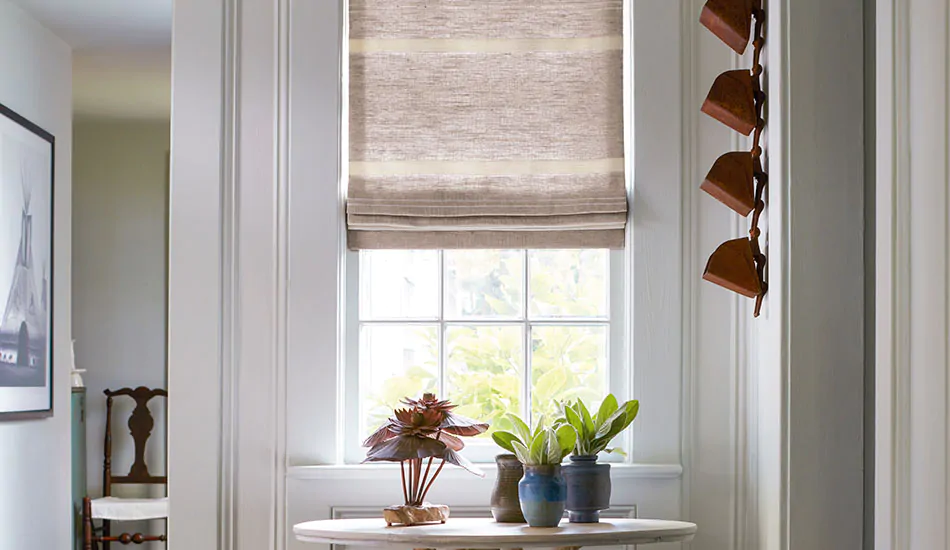 Add subtle coastal elements to a single hallway window for a touch of inviting seaside vibes in every corner of your home. For a different approach, move away from blue and white as the main color scheme and focus on the colors of the sand and dunes. Choose a small table with an interesting driftwood pedestal base for a rugged element. Soften the scene with a Flat Roman Shade in a soft linen material and subtle pattern like Shoreham Stripe. Opt for a light brown or beige color to evoke the sandy shore. Add a few small potted plants to the tabletop in blue pots to incorporate both greens and blues for the final touch.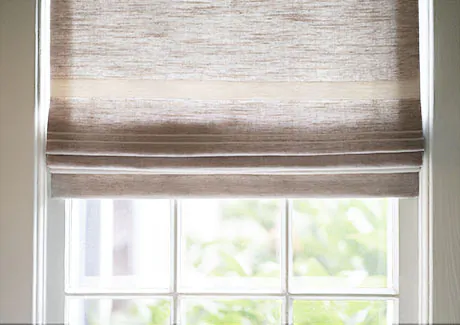 Flat Roman Shade
With their sleek, unadorned face and clean, linear folds, Flat Roman Shades are a suitable choice for coastal window treatments.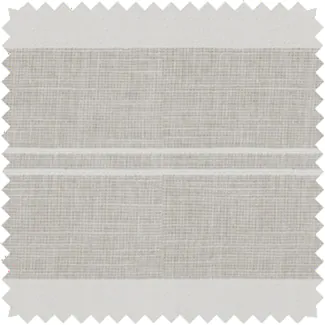 Shoreham Stripe in Oatmeal
The light sandy colors in this east-west ticking stripe design are reminiscent of the changing color of sand as waves wash over it.
4. Wood Blinds for a Bright Tropical Design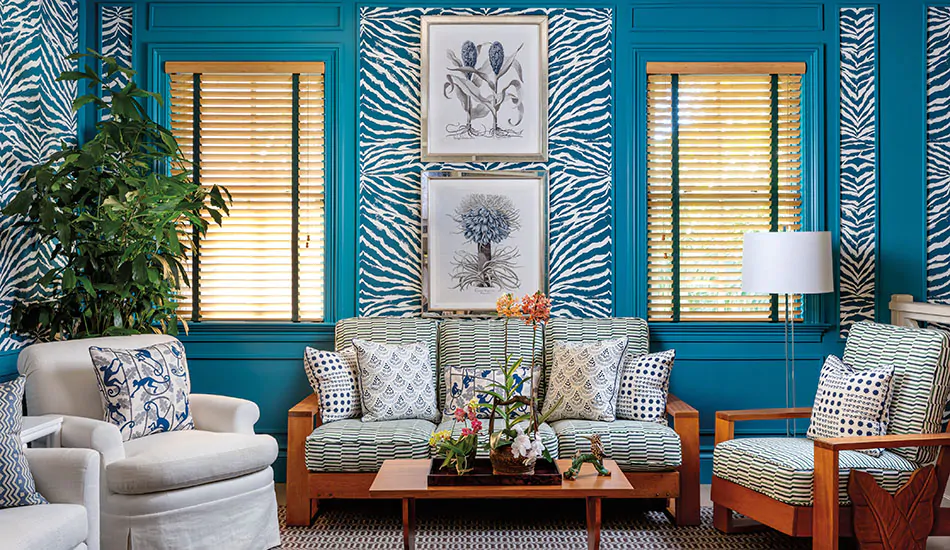 Prefer a bold coastal look for your home? Go for bright turquoise painted walls with wallpaper featuring a turquoise and white zebra stripe pattern to break up the color. Adding wall art of floral elements can further help break up the bold color. To maintain the bold aesthetic through your furniture choices, opt for patterned upholstery on warm wood frames. Add in throw pillow featuring a range of patterns from seashell-inspired designs to polka dots but keep the colors similar across pillows for a cohesive look. For your coastal window treatment ideas, try Wood Blinds in a similar wood tone to the furniture to tie the two together.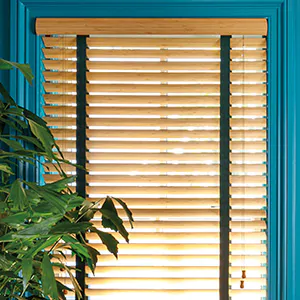 2-Inch Wood Blinds
The warm wood tones of Wood Blinds from weathered whitewashed wood to dark rich tones are a great choice for coastal window treatments.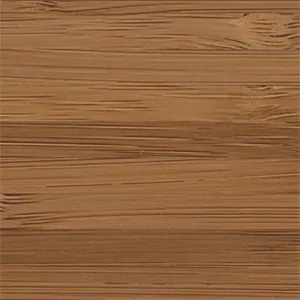 Bamboo in Natural
With a warm earthy wood tone, Bamboo in Natural fits right into the coastal style's affinity for natural wood furnishings and décor.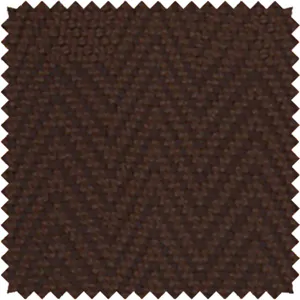 Mocha Tape
A dark brown cotton material, Mocha decorative tape delivers a touch of elegance and additional texture to your wood blinds.
5. New England Coastal Room with Tailored Pleat Drapery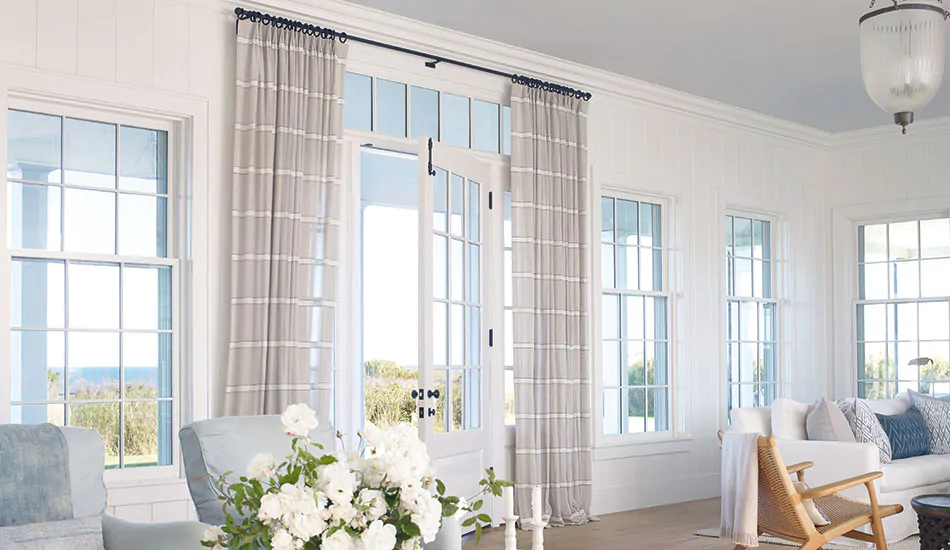 Go for a light, bright and subtle coastal design with white walls, light wood flooring and light greys, tans and blues as complementary colors. Choose white or very light-colored furniture pieces to keep the scene bright, but add in some depth of color with throw pillows and décor details like end tables. For your coastal style window treatments, choose tall, elegant Tailored Pleat Drapery in a fair, neutral color like a white sand tone and choose a subtle pattern such as east-west stripes for a touch of visual interest. Choose black drapery hardware for contrast to ground the bright scene.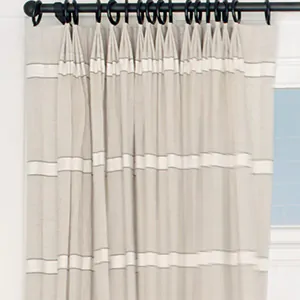 Tailored Pleat Drapery
With pleats pinched at the top of the panel, Tailored Pleat Drapery delivers an elongated, streamlined look ideal for coastal window treatments.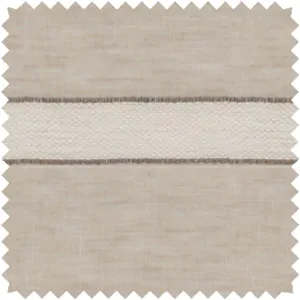 Harbor Stripe in Sand
This tri-colored stripe provides a defined linear look that suits the coastal aesthetic, and the lighter and darker tan colors resemble the drying sand as the tide recedes.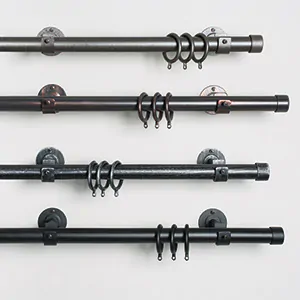 Wrought Iron Hardware in Black
The stark black hardware (bottom rod) provides a dynamic contrast to the white and bright sandy colors of the coastal style for a balanced, defined look.
Find the Perfect Look for Coastal Window Treatments
With plenty of inspirational ideas to fuel your creativity, you're ready to explore all your options for coastal style window treatments. Start with material and order free swatches of your favorite colors and patterns to compare in the comfort of your home. Be sure to observe how each swatch looks throughout the changing light of the day to get a true sense for how it will suit your space.
ORDER YOUR FAVORITE SWATCHES FOR FREE
Compare as many of your favorites from our collection of 1300+ materials at home when you order free swatches online.