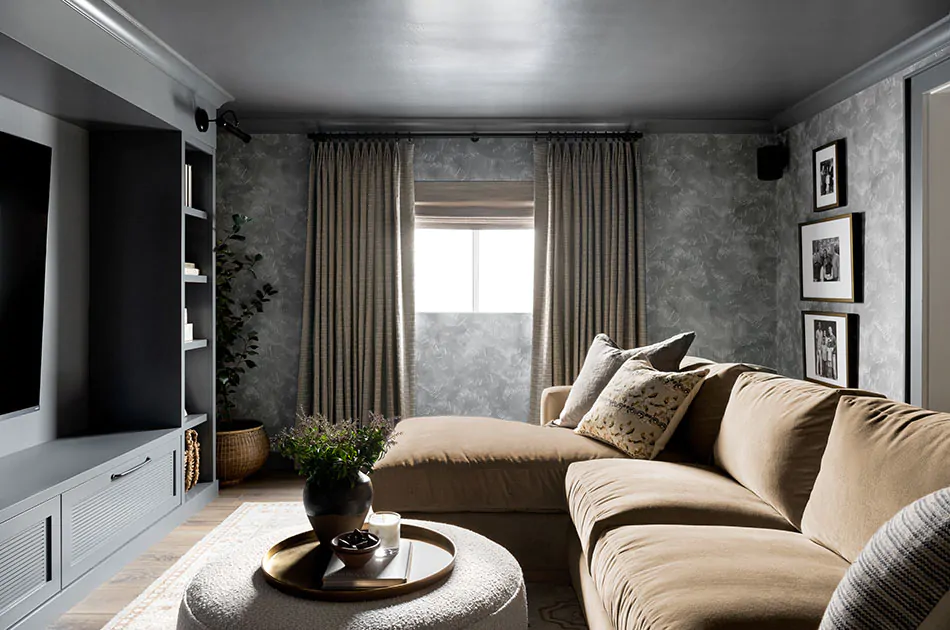 Basement Window Curtains: Tips & Ideas
Basement window curtains can be a great window treatment option to transform the overall look of your basement while also providing needed light and privacy control as well as insulation. Curtains for basement windows vary in style, size, material and functionality, so you're bound to find just the right look and fit for your space.
To help you choose the perfect basement window curtains, learn what factors you need to consider for your selection as well as the benefits of choosing the right curtains. Then, see curated examples of curtains for basement windows for inspiration to design your own curtains.
Factors to Consider for Basement Window Curtains
Selecting the right basement window curtains for your home will depend on several factors such as your light and privacy control needs, functionality needs and aesthetic preferences. All these factors will need to be considered as you explore your options for basement window curtains.
Material & Lining Selection for Light & Privacy Control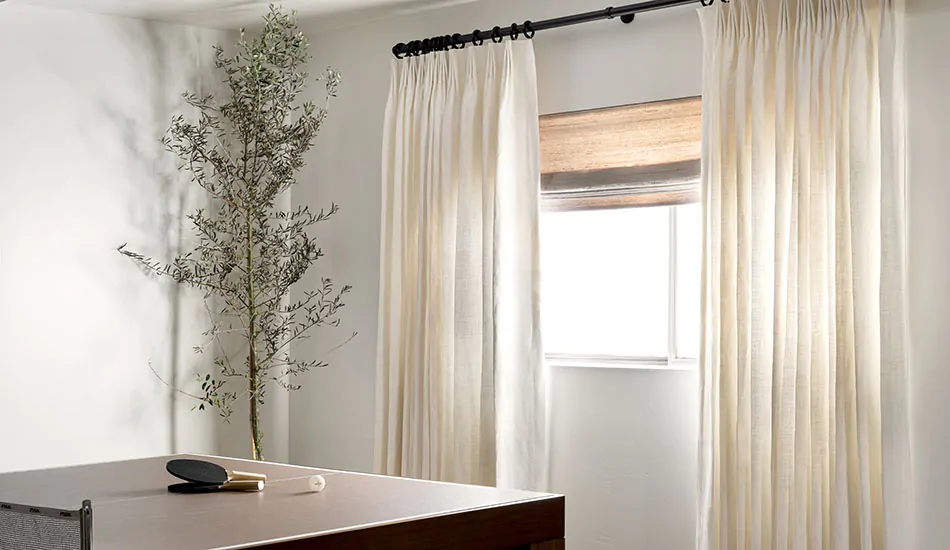 Curtains for basement windows are made from a wide variety of materials, from light, translucent sheers to thick, luscious drapery. Plus, you also have options for drapery lining, including privacy and blackout lining. To choose the right material and drapery lining, you'll need to consider your light and privacy control needs.
If privacy and light control are of little concern, consider lighter, elegant materials like sheers or unlined natural materials like cotton, wool or linen. These soft, delicate fabrics may offer minimal light control or privacy but are ideal for softening light and creating a warm, inviting atmosphere for your space.
If privacy and some light control are essential, opt for privacy lining on your chosen drapery fabric. Privacy lining still allows some light through for a soft glow, but also provides excellent privacy for peace of mind.
For the best privacy and light control, choose blackout lining for your drapery fabric. Blackout lining blocks up to 99% of natural light for a tranquil room darkening effect and the best privacy, which are ideal for basement bedrooms and basement media rooms.
Material & Lining Selection for Insulation
For basements that are drafty or hot depending on the weather, insulation may be a primary concern for you when choosing basement window curtains.
For the best insulation, you'll want to choose drapery with privacy lining plus interlining, which is an extra cotton flannel inserted between your drapery material and the standard privacy lining. This combination creates a thick, full panel of drapery that can easily block drafts and moisture, both of which contribute to a chill in your basement. Plus, the extra material also blocks sunlight which can cause heat buildup.
Functionality & Ease of Use
Different types of drapery vary in their functionality and ease of use. While some styles and hardware systems are very easy to open and close on a daily basis, others are more decorative in nature and not ideal for everyday use.
For the easiest functionality, opt for Ripple Fold Drapery or Cubicle Drapery, both of which include a track system on which they glide effortlessly back and forth. Pinch Pleat Drapery and Tailored Pleat Drapery are also compatible with a track system but can also be used easily with rod and rings hardware. For truly effortless functionality pair your drapery track system with motorization which allows you to control your drapery with a remote, an app or the sound of your voice when paired with a home automation system.
For decorative basement window curtains that you don't plan to open and close daily and are more for aesthetics, you have several options. Choose Grommet Drapery for deep, dramatic folds, Inverted Pleat Drapery for a chic, modern look, Goblet Drapery for an elegant, feminine aesthetic or Rod Pocket Drapery for an inviting, casual look. While Inverted Pleat and Goblet Drapery are both compatible with track systems as well, their unique pleats and folds do not effortlessly maintain their attractive look, and so opening and closing them regularly will also require dressing (adjusting) the pleats to look their best. Grommet and Rod Pocket Drapery, are only compatible with a curtain rod, making them more difficult to open and close regularly.
Aesthetics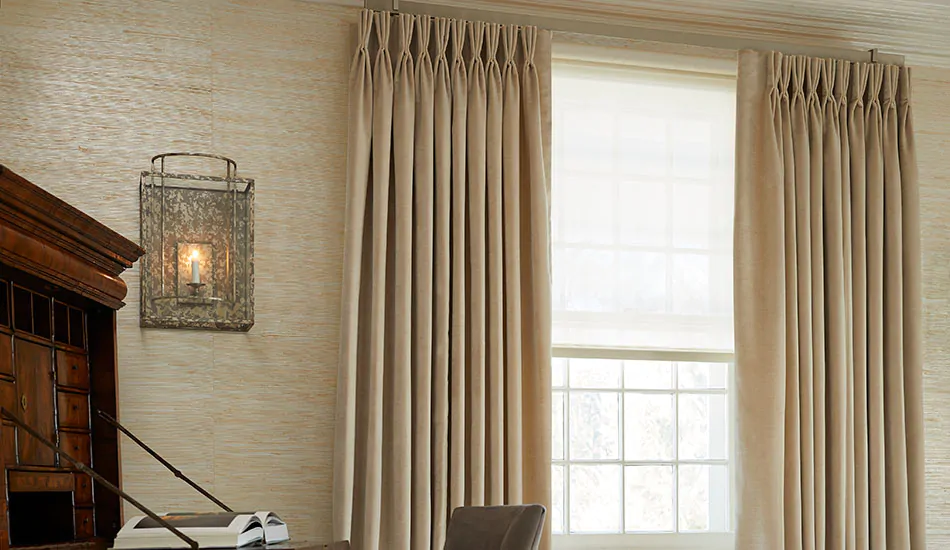 When choosing curtains for basement windows, aesthetics is certainly an important factor to consider. You want to make sure any drapery you choose will enhance the look of your windows and your overall basement aesthetic.
A few things to think through when considering the aesthetics of your basement window curtains include:
Coordinating your drapery style with your existing interior décor. Some drapery styles are decidedly more modern, like Ripple Fold or Tailored Pleat Drapery, while others are more ornate and traditional like Pinch Pleat and Goblet Drapery.
Choosing the right color and pattern based on your existing color scheme. The right color and pattern will depend on what effect you want your basement window curtains to have within your existing interior design. If your basement décor is simple and neutral, you may choose to use your curtains to bring in greater visual interest and dimension, such as with bright colors and vibrant patterns. Or, if your basement décor is already vibrant, you may choose more subtle, neutral curtain colors and patterns to complement the existing décor without taking away from it.
Creating the illusion of taller, wider windows with drapery.Depending on how you hang your drapery, you may be able to create the illusion that your basement windows are taller and wider, which can help the overall basement feel more spacious as well. A general rule for hanging drapery is to hang it high and wide above and beyond the window, which helps the window look larger than it is.
FAQs for Basement Window Curtains
The above factors are a great starting point when thinking through your basement window coverage options, but you may still have some questions. Here are some common FAQs you might be asking:
What Are the Standard Sizes for Basement Windows?
Standard basement window sizes are about 12-24 inches tall and 30-36 inches long. However, some homes may have larger windows depending on how low your basement is.
Can I Use Regular Curtains or Do I Need Special Ones for Basements?
Regular curtains made of your chosen fabric are perfectly fine for basements. However, if you have a very damp basement or one that's prone to flooding, consider an alternative window covering options that's more moisture-resistant such as Metal Blinds or Faux Wood Blinds.
Are There Any Safety Considerations for Basement Window Curtains?
Generally, curtains are very safe, even for children. However, for the utmost safety for children, choose cordless Drapery options such as curtains drawn with a baton control or motorized curtains.
Benefits of Curtains for Basement Windows
When you think through the factors above and obtain the right basement window curtains for your home, you'll enjoy several benefits, including:
The right level of light control and privacy so you can enjoy your basement at any time of day with the perfect ambiance and greater peace of mind.
Energy efficiency and insulation for a more pleasant experience no matter the weather outside and the potential for lower utility costs.
Improved aesthetics for a more inviting, engaging space that has the potential to draw family and friends in to spend more time in the basement and allow you to get the most out of the space.
Ideas for Your Basement Window Curtains
With the insight you need to select the best basement window curtains for your space, you're ready to explore ideas featuring several different applications for curtains to spark your creativity.
Long, Luscious Drapery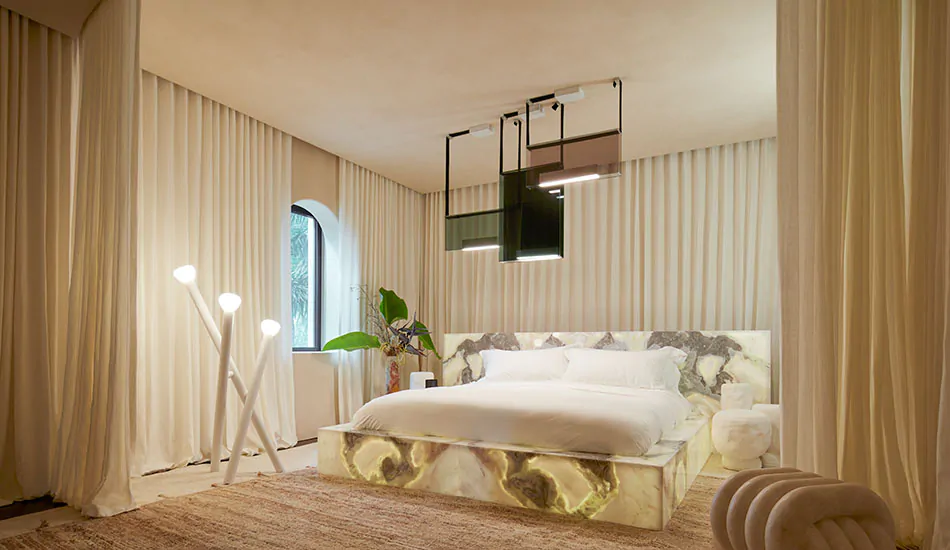 Even if your basement windows are small, it doesn't mean you can't use floor-to-ceiling drapery to make a statement. Long, luscious drapery covering every wall of your basement softens the look of the space, while adding a sense of warmth to what can sometimes be a dark, chilly place in the home. You can also use floor-to-ceiling drapery to divide up sections of your basement, such as providing privacy for a bedroom, or a darkened space for a media area. Plus, when you choose a light color like Linen Sheers in Ivory, along with well-placed lamps and overhead lighting, you brighten the space for an inviting ambiance.
Short, Tailored Drapery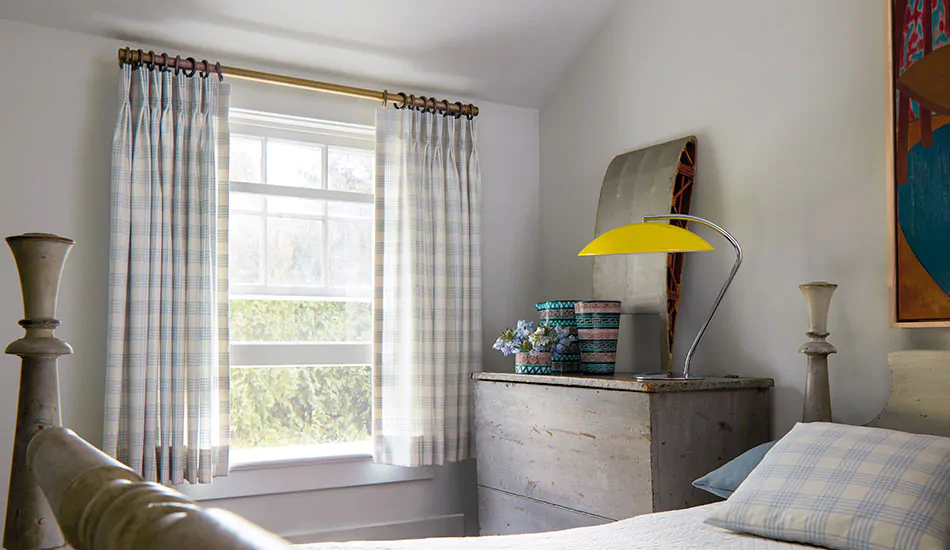 If you prefer a more subtle, tailored look for your basement window curtains, consider short, sill-length drape panels. These shorter curtains can still provide great light control, insulation and functionality, while also accentuating the look of your window. With a subtler visual impact on the overall appearance of your basement, you might consider using these curtains to add a touch of color or pattern to your space, without overwhelming the rest of your basement décor. For a cohesive look, pull an accent color from your basement's color scheme to work into your drapery selection, either as the main drape color or as a detail in a pattern. For instance, if you have light blue detailing in your basement décor, consider the same light blue color for your drapery for a pop of color that still feels cohesive.
Drapery Layered with Roller Shades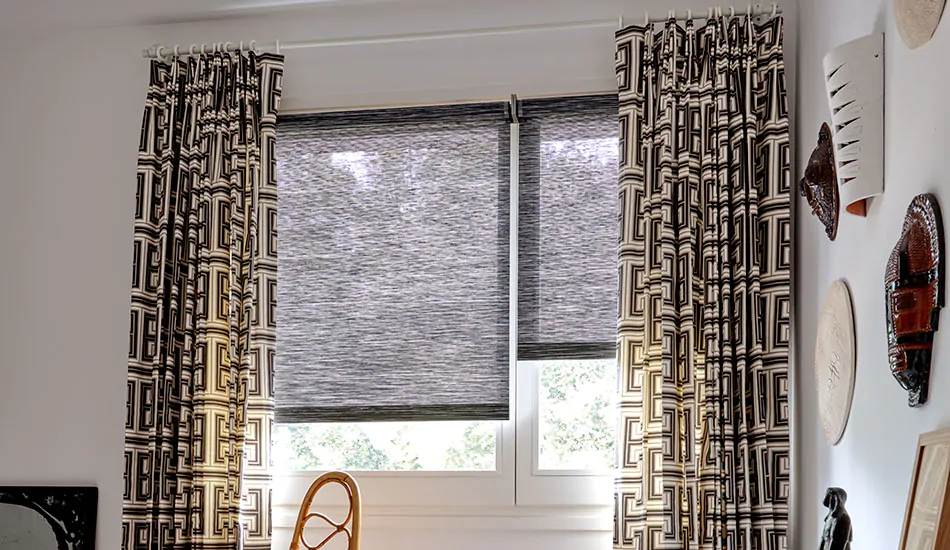 For greater functionality and visual dimension, consider layering your basement window curtains with another window treatment option like Roller Shades. Choosing light-filtering Roller Shades under your drapery gives you greater control over your light and privacy with more options for just how much light you let in and privacy you achieve. Plus, the layered look of two different materials, colors and patterns creates depth and dimension in your design.
For a cohesive yet dynamic layered look, choose a solid color for one layer and a pattern featuring the solid color for your other layer. Choosing the pattern for your drapery will give you a bolder look with greater visual interest, while choosing the pattern for your Roller Shades is a more subtle way to incorporate a pattern to your design.
Alternatives to Curtains for Basement Windows
Still not convinced basement window curtains are the right choice for your space? Other window treatments, like shades and blinds, can also be a great choice for basement windows. Discover some additional curated spaces featuring a mix of shades and blinds to determine whether a drapery alternative might be better for your basement windows.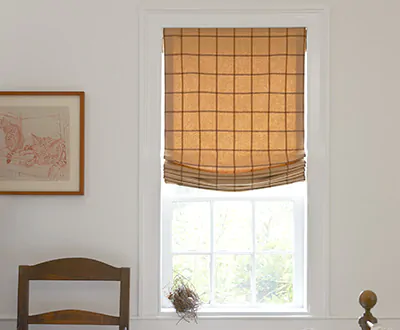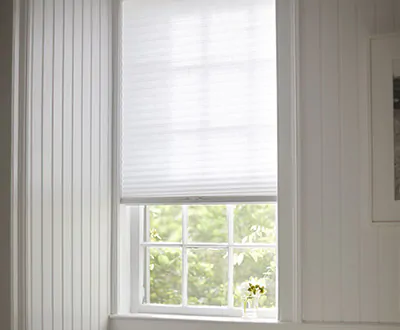 Cellular Shades
Cellular Shades are sleek, minimalist and incredibly efficient. Their unique honeycomb design captures both hot and cold air alike, keeping your basement temperatures more regulated. Plus, they are very easy to operate, regardless of control type and come in both light-filtering and blackout options.
Pictured: Cellular Shade, ¾" Single Cell Light Filtering in Lace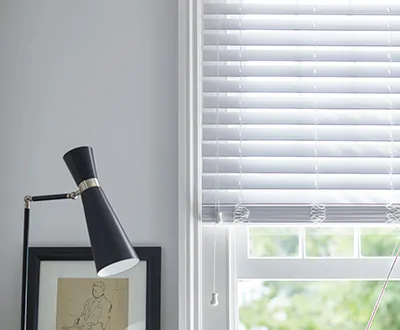 Faux Wood Blinds
Blinds provide a sophisticated, linear aesthetic to your basement windows, and choosing Faux Wood Blinds means you get additional durability and moisture resistance as well. Made from eco-friendly foamwood, Faux Wood Blinds are ideal for the sometimes-humid basement environment. Plus, they come in a wide variety of colors and finishes that resemble real wood.
Pictured: Faux Wood Blinds, 2-Inch Faux in Blanc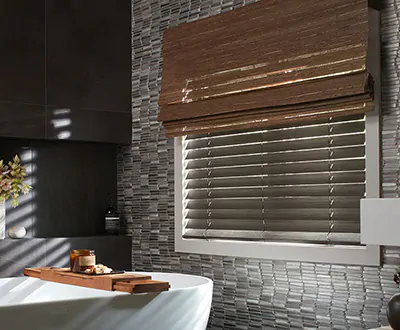 Get More Advice on Your Basement Window Curtains
With an understanding of your options for basement window curtains as well as factors to consider when making your selection, you have a good starting point for finding the right fit for your space. To ensure you make the best choice for your basement, schedule a design consultation with one of our Design Consultants at a showroom near you. Our Design Consultants have extensive product knowledge with a keen eye for design and can help guide you toward the basement window curtains that are the perfect fit for your aesthetic preferences and functionality needs.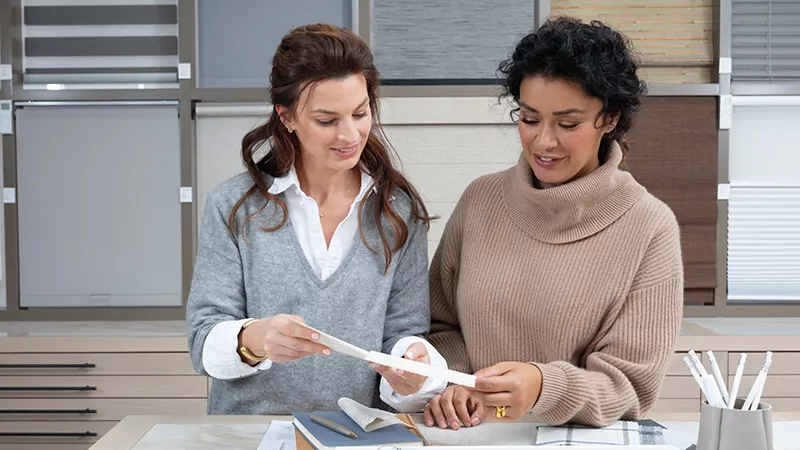 GET THE GUIDANCE YOU NEED
Schedule a free design consultation with our talented Design Consultants for guidance on product choice, material selection and more.