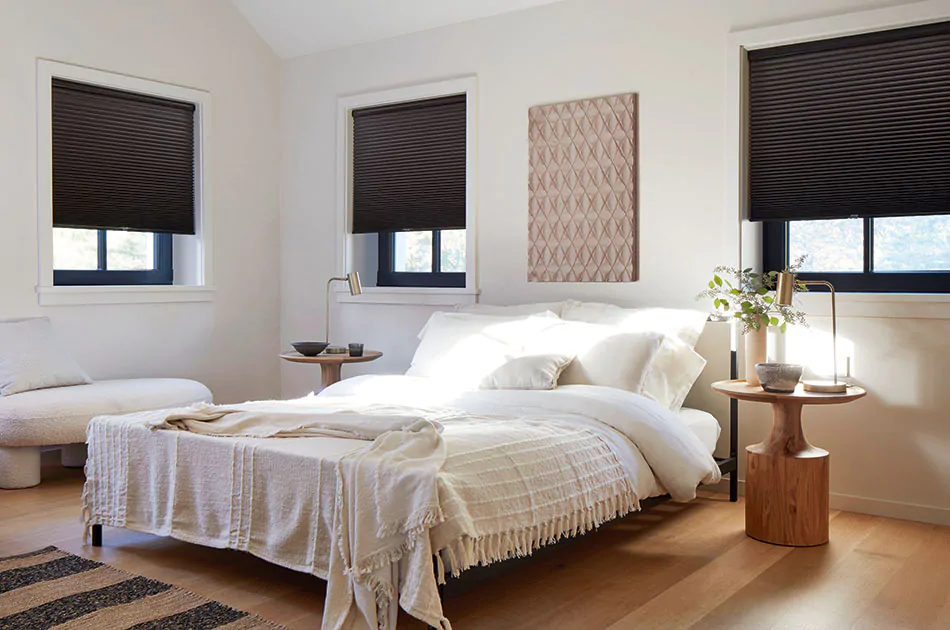 8+ Ideas for Modern Window Treatments
If you're looking for modern window treatments, you're likely interested in clean lines, neutral colors and a high level of functionality. But the term "modern" can mean different things, depending on how it's used. "Modern" can refer to the modern aesthetic style that became popular in the mid-twentieth century and evolved along with society's move toward industrialization. And "modern" can also sometimes be used to refer to what's popular today, which is actually the contemporary design style.
So, what's the difference between modern and contemporary design?
Modern Design
Elements of modern design include:
Clean lines
Neutral colors like whites, beige and black
Natural materials, from wood to bamboo to steel
An open concept floor plan
An emphasis on natural light
An ethos of "form follows function"
Contemporary Design
Elements of contemporary design are harder to pin down because "contemporary" refers to the style of the present day — which is constantly evolving. But some popular trends to look out for include:
An emphasis on intentionality and craftsmanship
Timeless simplicity
A minimalist approach that champions space over stuff
These design styles naturally have some overlap, but the important thing to note is that neither is better than the other. When it comes to aesthetics, you're the best judge for what works in your home. Plus, you don't need a modern-style or contemporary-style home to embrace modern or contemporary window treatments, as you can incorporate them seamlessly into your existing style of décor.
To discover ideas for modern and contemporary window treatments for your home, first learn what window treatments are popular today to get a sense of trending looks.
Then, explore styling ideas for using contemporary and modern window treatments in different aesthetically styled homes to get the inspiration you need to choose the right option for your space.
What Types of Window Treatments Are in Style?
Interested in today's most popular window treatment options? These contemporary window treatments are in style today while also having a timeless appeal that will keep them relevant for years to come.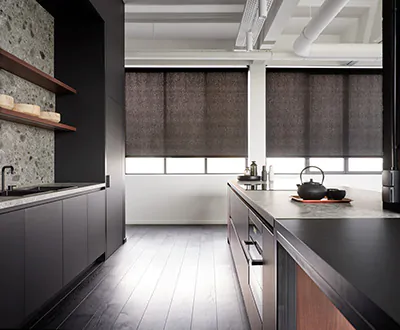 Roller Shades
With their sleek design and optimal functionality, Roller Shades fall into both modern and contemporary styles. With sheer, light filtering, and blackout options, you can find just the right amount of light control and privacy for your space.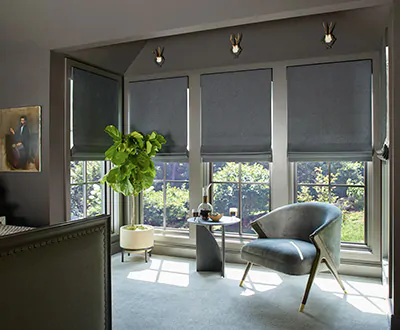 Flat Roman Shades
Roman Shades bring the softness of drapery to the optimal functionality of shades. Flat Roman Shades feature a minimalist design and simple ease of use that fit in perfectly with modern and contemporary window treatments.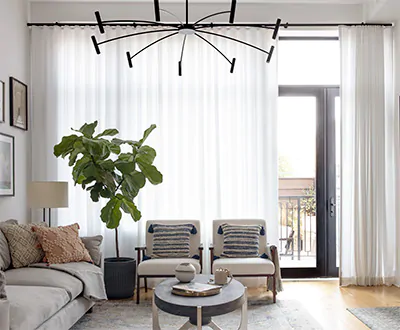 ripple fold drapery
With clean curved lines in its S-shaped folds and a modern track system for easy use, Ripple Fold Drapery is your most contemporary drapery option. With solid and patterned options, you can find just the right look.
If you're still looking for inspiration beyond the most popular contemporary window treatments of today, we have you covered. These ideas show ways to use contemporary and modern window treatments in different modern- and contemporary-inspired homes.
1. Stick to Strictly Modern Design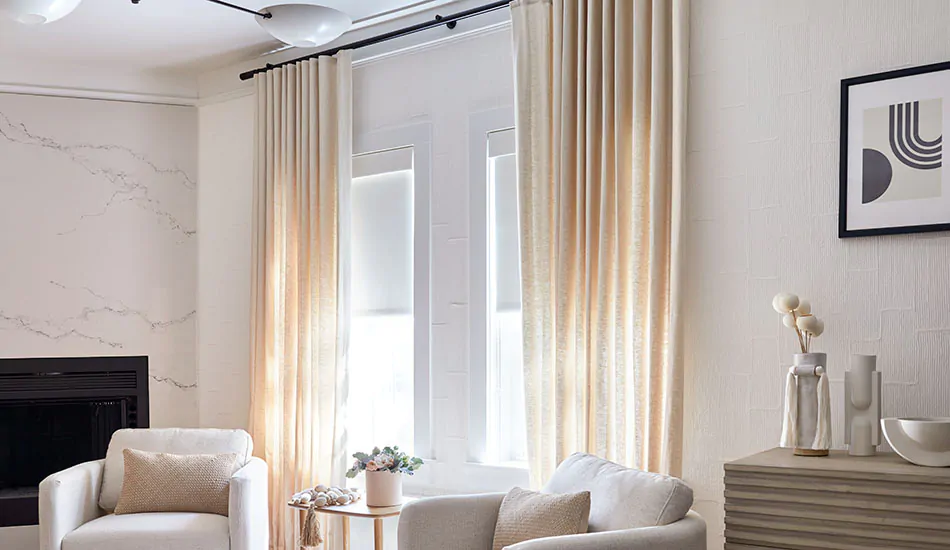 For a truly modern space, stick to the main tenets of modern design: clean lines, a neutral color scheme and an emphasis on natural light. Cream-colored light-filtering Ripple Fold Drapery delivers clean lines and brings warmth to your space, which is accentuated by natural light seeping through during the day.
Pair your drapery with crisp white Roller Shades made with blackout material for total light control. The clean white shades also give you a sleek, minimalist look by blending in seamlessly with your white window trim and walls. To help ground the space, choose contrasting drapery hardware in black. The dark hardware will also help link other black elements in your otherwise bright room.
2. Go for Cool Contemporary Window Treatments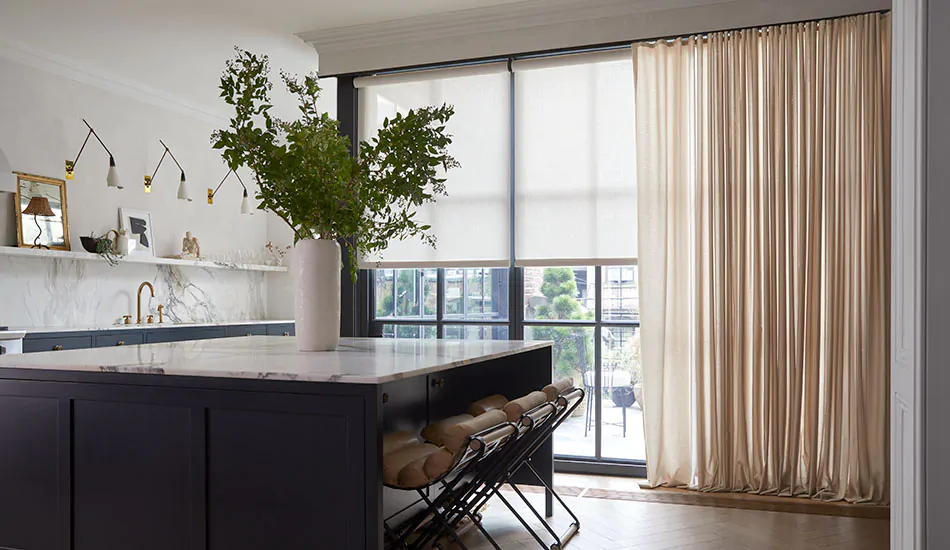 Bring a timeless simplicity and a curated feel to your space with contemporary window treatments. Choose light and bright Ripple Fold Drapery to create balance with your dark furniture and décor. For an intentional, curated look, hang your curtains high and choose a longer length that allows your drapery to puddle on the floor. Doing so gives you a soft, luxurious look while helping to emphasize the quality of your drapery — as well as the craftsmanship of your beautiful hardwood or tiled flooring. For greater light control while still keeping the design simple, layer your drapery with sleek white Roller Shades.
3. Choose All-Natural Materials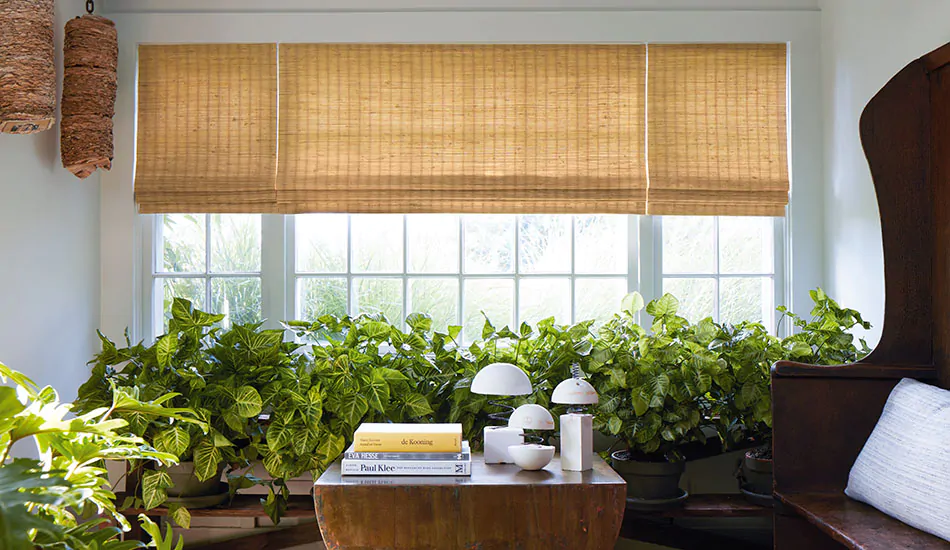 The use of natural materials is a core tenant in modern design. Natural materials like wood and bamboo can add warmth and texture to your space for a boho-chic-inspired feel.
Incorporate natural materials into your décor with modern window treatments like Woven Wood Shades. These types of shades are made from sustainable, eco-friendly materials like bamboo, reeds and grasses for an intentional purchase you can feel good about. Plus, the woven fibers allow light to seep through for a soft warm glow that brightens your space without sacrificing privacy.
4. Embrace a Scandi-Chic Look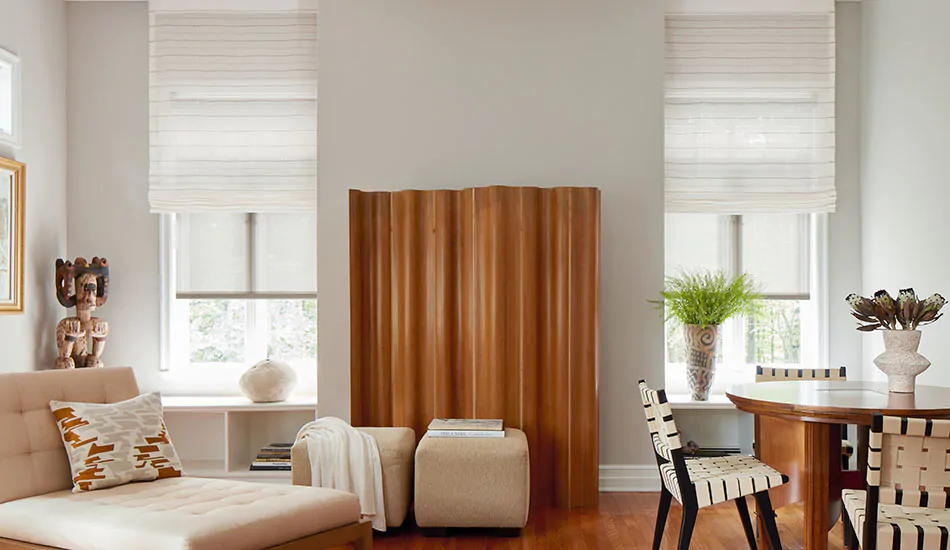 Scandinavian-inspired design is a popular trend that shares similarities to both modern and contemporary design. It emphasizes natural wood tones, de-cluttered spaces, cozy, warm elements, and lots of natural light.
Use your modern window treatments to bring a cozy feel and allow the right amount of natural light into your space. Layered window treatments made with linen like Flat or Cascade Roman Shades over light-filtering Roller Shades deliver a sense of warmth to the room, like layered blankets. Plus, by choosing two light-filtering materials, you'll always be able to enjoy just the right amount of natural light, with one or both shades extended.
5. Be Farmhouse Fresh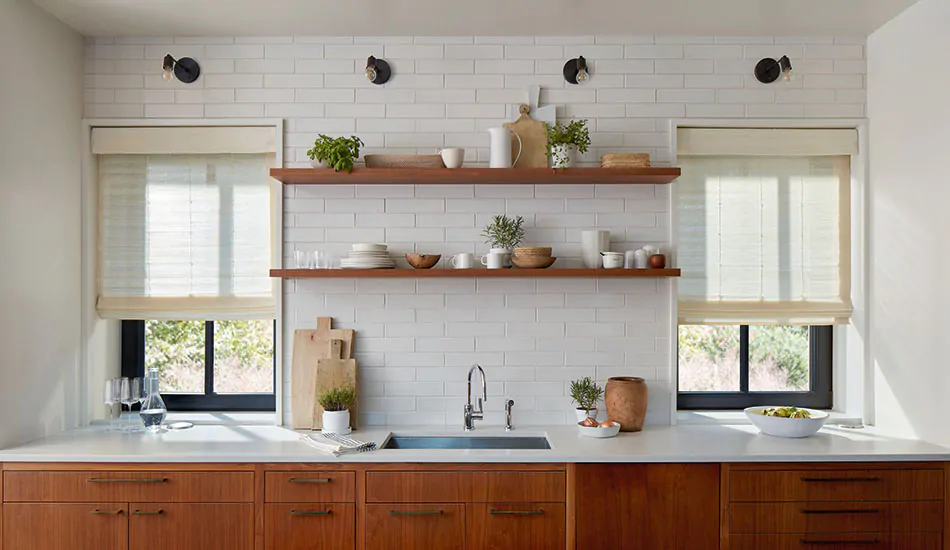 A modern farmhouse style takes the charm and relaxed feel of the classic farmhouse aesthetic and upgrades it with smooth, clean lines, glossy accents and a neutral color scheme. Warm wood tones, natural materials and an emphasis on practically pervade both styles.
When it comes to modern window treatments for a modern farmhouse home, opt for natural materials like linen, wool or cotton and choose cool or warm neutral colors like creams, beige, or shades of grey. Flat Roman Shades and Roller Shades are best for practicality, but drapery on an easy-to-use track system fits the bill as well.
6. Go for a Mid-Century Modern Look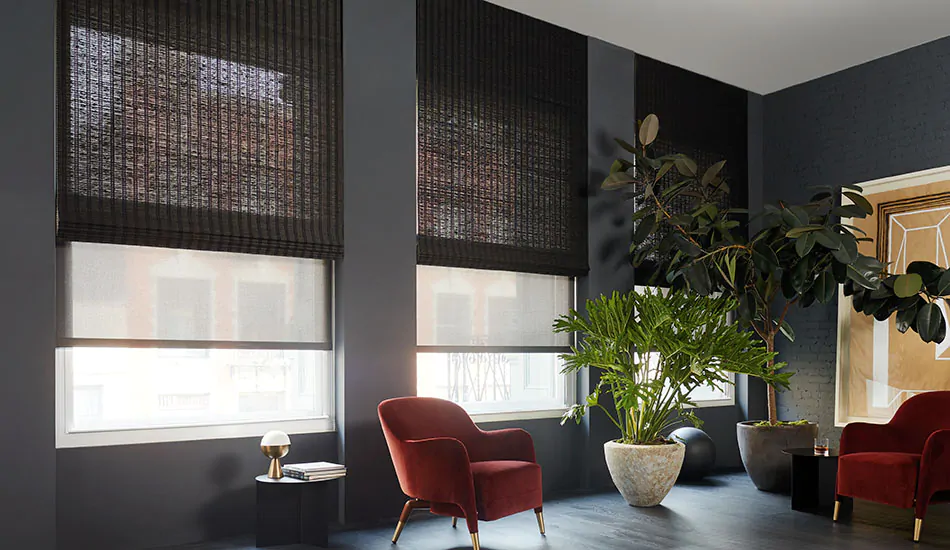 The mid-century modern aesthetic style grew out of the original modern style in post-war America and elements of this pervasive style show up in contemporary design as well. Mid-century modern style champions organic shapes, a mix of synthetic and natural materials, minimal décor and a focus on functionality.
For mid-century modern window treatments, embrace a mix of materials by layering natural window treatments like textured Woven Wood Shades with the sleek material of Roller or Solar Shades. Both types of modern window treatments are also highly functional, fitting the theme of "form follows function."
7. Opt for a Breezy Modern Coastal Vibe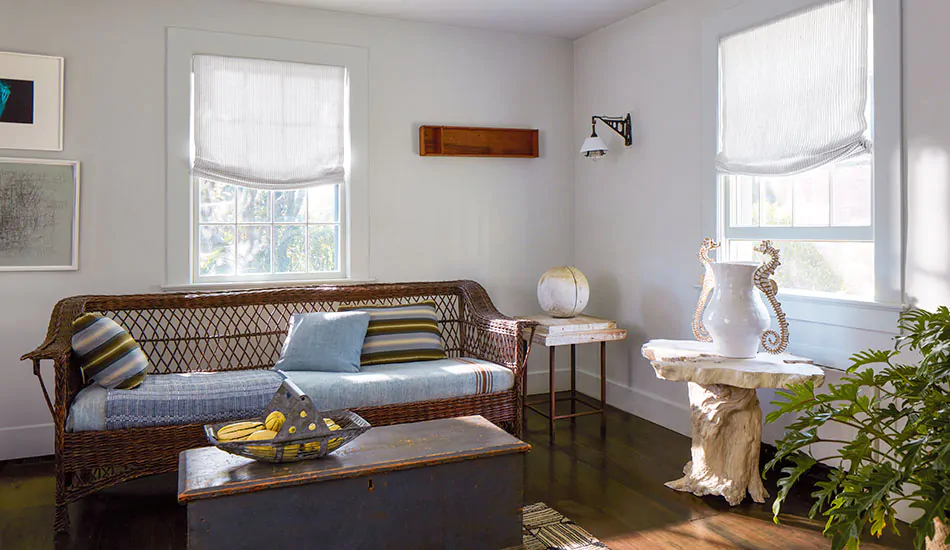 Modern coastal design takes the cool, bright tones and the sometimes-kitschy décor of traditional coastal design and tones it down, adding sleek lines, muted coastal colors and more subtle nods to the beach.
For coastal modern window treatments choose styles with a more causal feel like Relaxed Roman Shades that feature a gentle slouch of fabric that gives it a carefree look. Woven Wood Shades are also a great choice as they fit in with modern coastal design's love of natural fibers — plus, their wooden texture and color will nicely complement any wood-toned elements in your décor.
8. Adopt an Urban Modern Aesthetic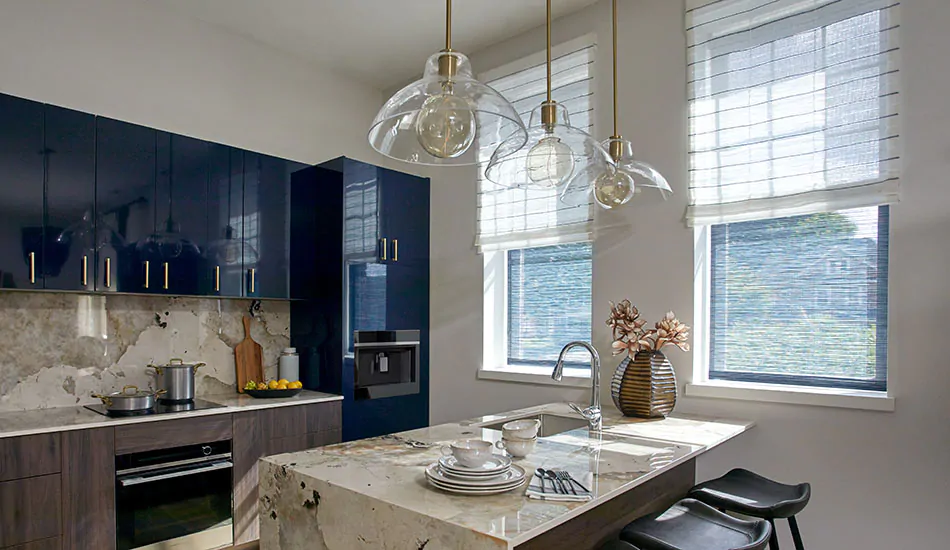 Often found in city dwellings like apartments and lofts, urban modern design blends contemporary and industrial influences with contrasting soft elements to create practical, yet comfortable spaces.
Use contemporary window treatments like Flat Roman Shades in a natural material like linen, silk or wool to add softness to your space. The supple material contrasts with harder elements like metal, stone or glass accents to add warmth that balances the otherwise cold industrial-inspired space. Roller Shades also fit in well with this style, but often don't add the same amount of softness or warmth as Roman Shades, so make sure to incorporate other soft elements like throw pillows and blankets into your space.
Find the Right Material for Your Modern Window Treatments
Options for modern window treatments are varied so finding the perfect material and product for your space is easy. To start exploring your material options, order our most popular swatches to compare your trendiest options, which are especially ideal for more contemporary window treatments. Or, you can also order your favorite colors and patterns a la carte for free to compare at home.
EXPLORE OUR MOST POPULAR SWATCHES
Not sure where to start your material search? Order our most popular swatches for free to see what's in style — and maybe find your new favorite.