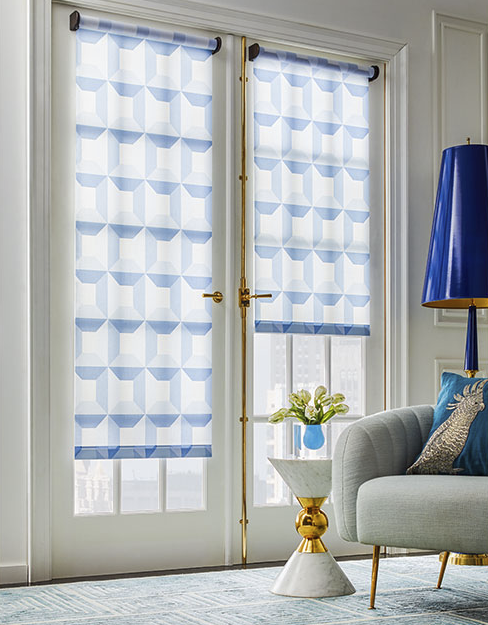 Roller Shades — Jonathan Adler Sorrento, Azure
Popular in postwar America, the mid-century modern style has enjoyed a resurgence in interior design. Flat roofs, bold colors, and hairpin furniture legs are just a few elements that epitomize the clean and bright feel of these homes. If you live in a home built between the 1940s and 1970s, or if you would like to introduce a touch of mid-century flair to your current abode, read on for our top tips and picks.
Dressing a Glass House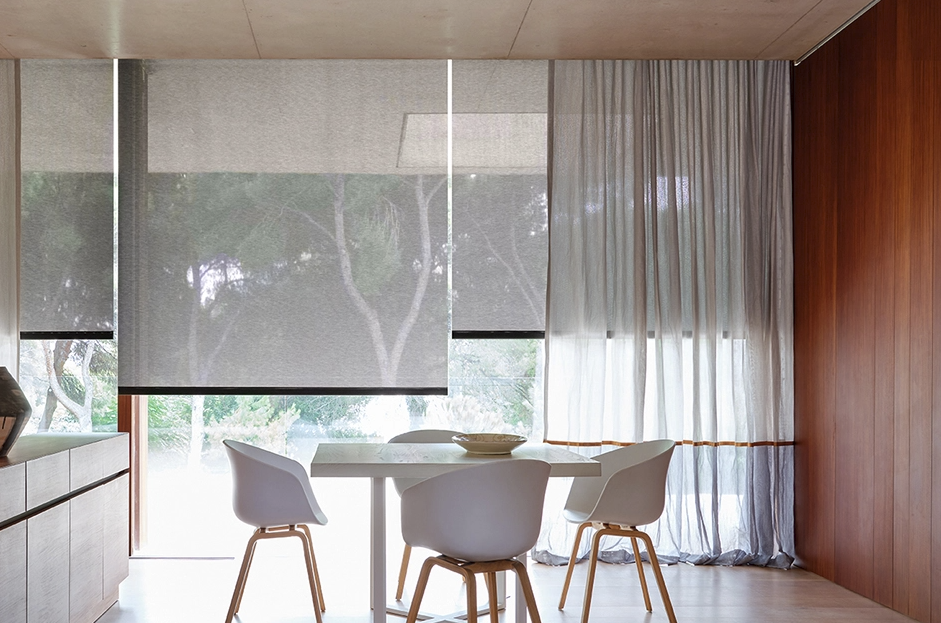 Inner Layer: Solar Shades — 5% Metallic, Zinc / Outer Layer: Ripple Fold Drapery — Sheer Wool Blend, Grey Owl
One of the hallmarks of mid-century modern homes is an emphasis on nature and the outdoors. This often manifests in large windows, sliding glass doors, patios and other indoor-outdoor living spaces. Drapes make an excellent window treatment on large spans of windows, as they can be swept aside during the day to maintain the views of nature and closed at night for privacy.
In the photo above, a layered look of neutral Solar Shades and Drapery let soft natural light filter into this comfortable dining space, creating a seamless barrier between the indoors and outdoors. The window and open floor plan are classic features in this mid-century home.
Walking the (Straight) Line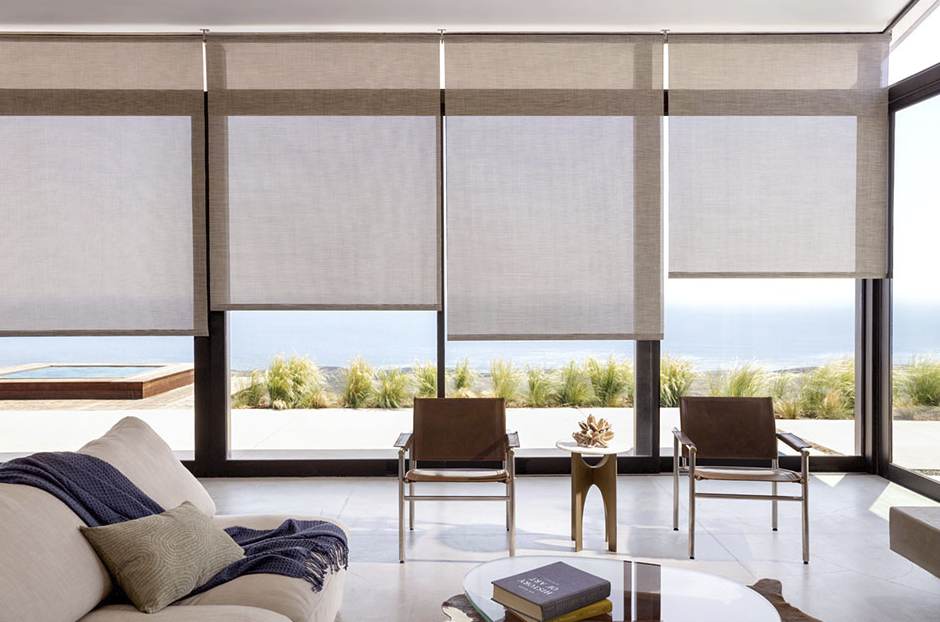 Roller Shades — Naomi
Contrasting with the views of nature and organic textures is mid-century modern's reliance on straight, clean lines throughout the home's interior. Roller Shades are a perfect fit for this style, with their sleek, minimal design and almost invisible stack when raised. Roller Shades can be used to cover glass doors and wide windows, with a variety of light-filtering and blackout options depending on your home's needs.
Incorporating Geometric Prints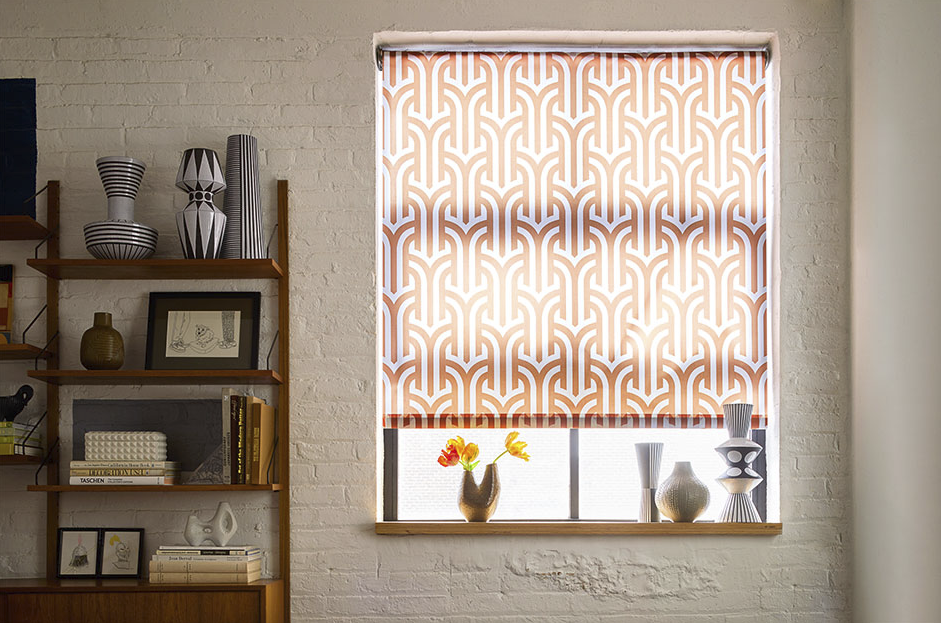 Roller Shade — Jonathan Adler Anton, Clementine
We can't bring up the 1960s and 1970s without mentioning prints. For an instant dash of mid-century style, try geometric patterns with saturated colors like spring green, mustard yellow, teal, and orange. Many of our designer collections feature bold prints with geometric lines, such as Jonathan Adler and The Novogratz. If you choose a bright and busy material for your drapes or shades, your wall and furniture colors can be slightly muted to create contrast.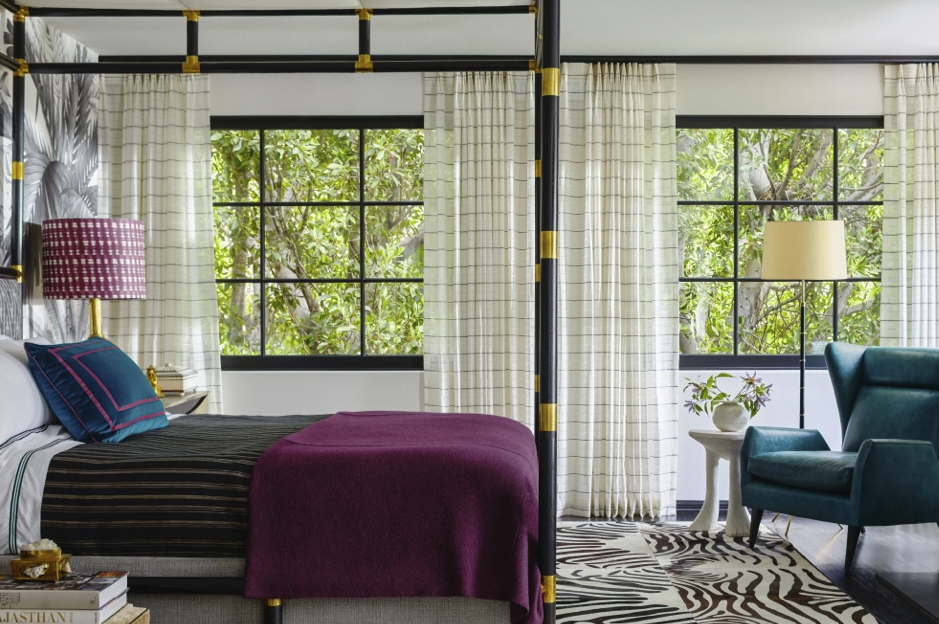 Tailored Pleat Drapery — Martyn Lawrence Bullard Sahara Stripe, Onyx
We invite you to browse our photo galleries for more inspiration, or stop into a showroom to explore all of our mid-century window treatment options. We'd love to help you complete your mid-century modern look with period-appropriate window treatments.