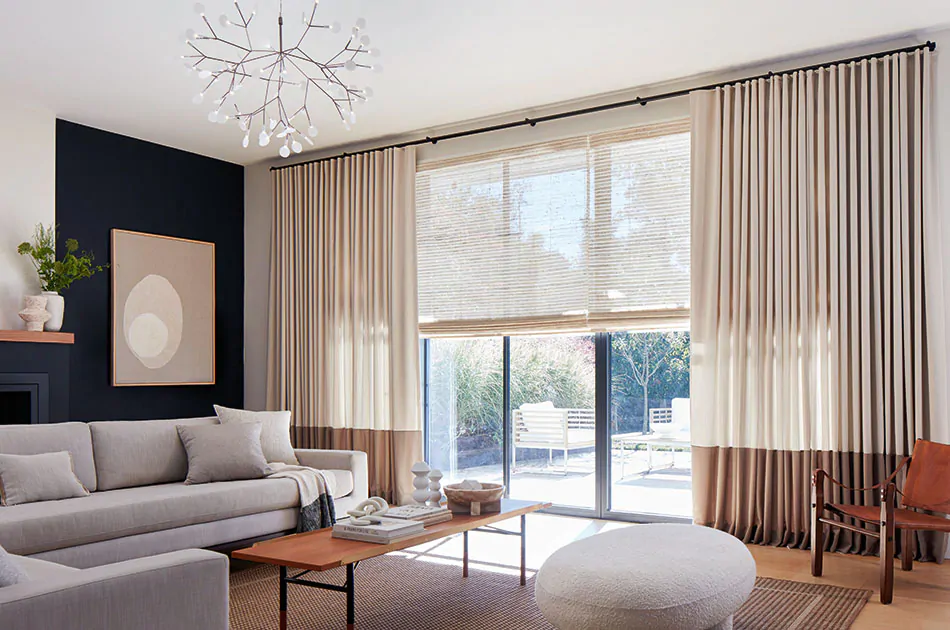 Discover Transitional Window Treatments
If you're looking for transitional window treatments, you're likely looking for treatments with a soft, inviting look and feel that transcends traditionalism and modernity. Luckily, there are plenty of options for transitional window treatments across shades, blinds and drapery so you can find just the right fit for your preferences and functional needs.
But how do you choose transitional style window treatments? First, learn more about the transitional style, then get tips on how to apply key elements of the style to your window treatments. After that, explore inspirational examples of curated spaces with transitional window treatments to spark your creativity for your own design.
What Is the Transitional Style?
The key defining factor of the transitional aesthetic style is that it combines elements of both traditionalism and modernism for a space that is casual, comforting and refined. Fundamental elements of this style include:
A neutral, muted color scheme that's often monochromatic.
An emphasis on comfort and warmth, both aesthetically as in warm colors and soft textures and functionally as in cushioned furniture and throw blankets.
Intentionality in your décor so that no one piece seems out of place, but everything blends together cohesively.
A mix of textures and patterns, with some being subtle and others bold, but no one element overpowers another.
Balanced feminine and masculine design elements, such as a mix of linear furniture (masculine) with embellished throw pillows (feminine).
How to Choose Transitional Window Treatments
Once you know the main characteristics of the transitional style, you can apply them when choosing your window treatments. These key elements are a great starting point when choosing transitional window treatments: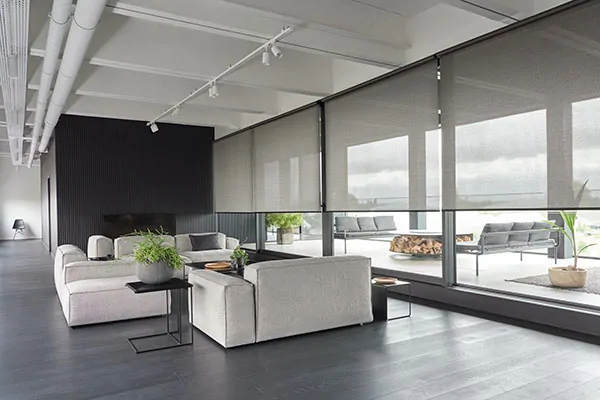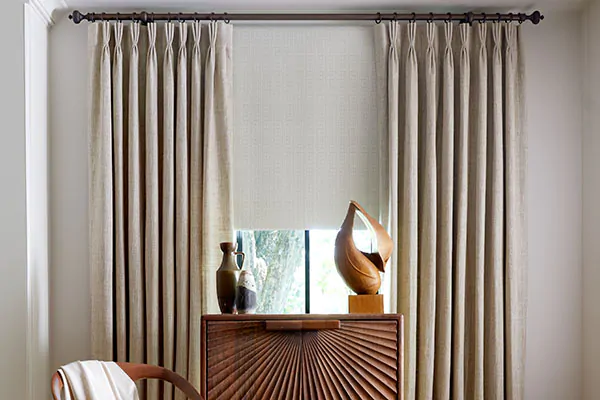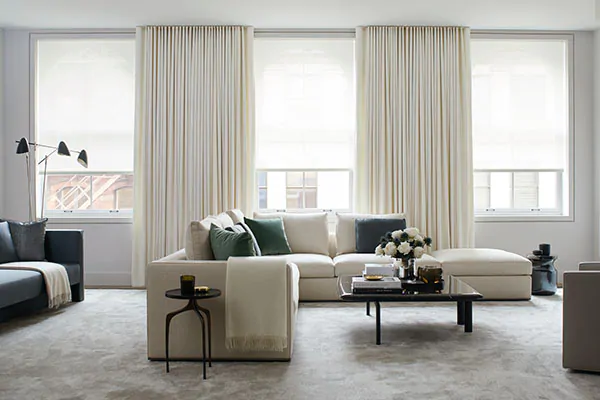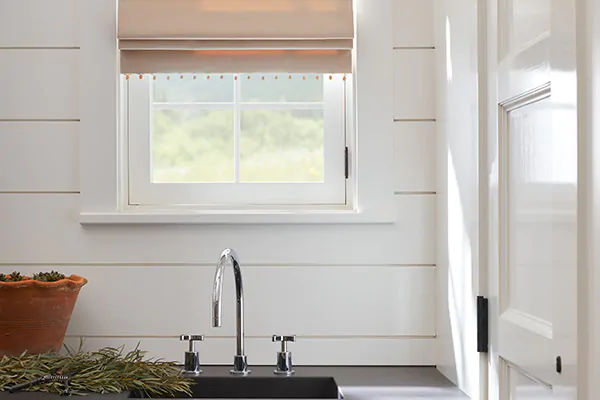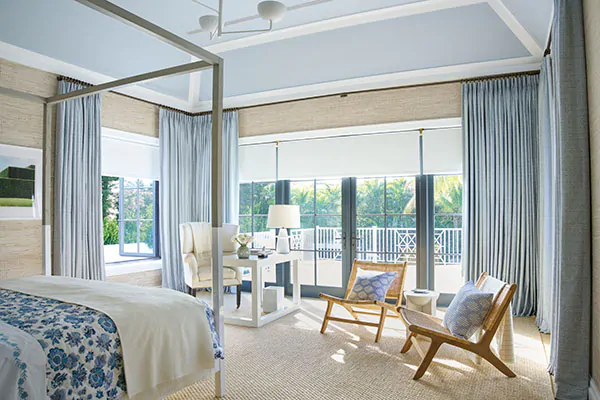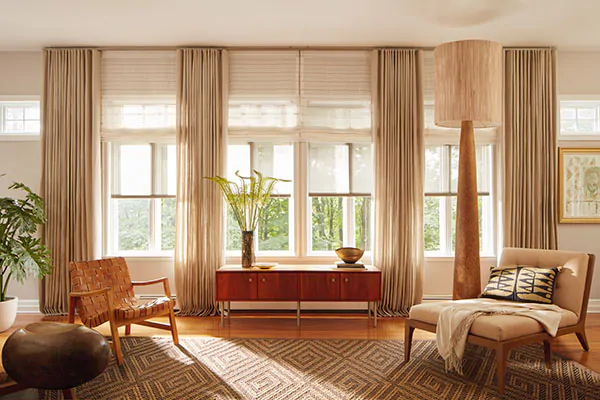 Want Transitional Functionality?
Get Inspiration from Transitionally Designed Spaces
Explore curated rooms with transitional window treatments and other transitional elements to draw inspiration for your own interior design.
Warm, Inviting Sitting Room with Feminine & Masculine Elements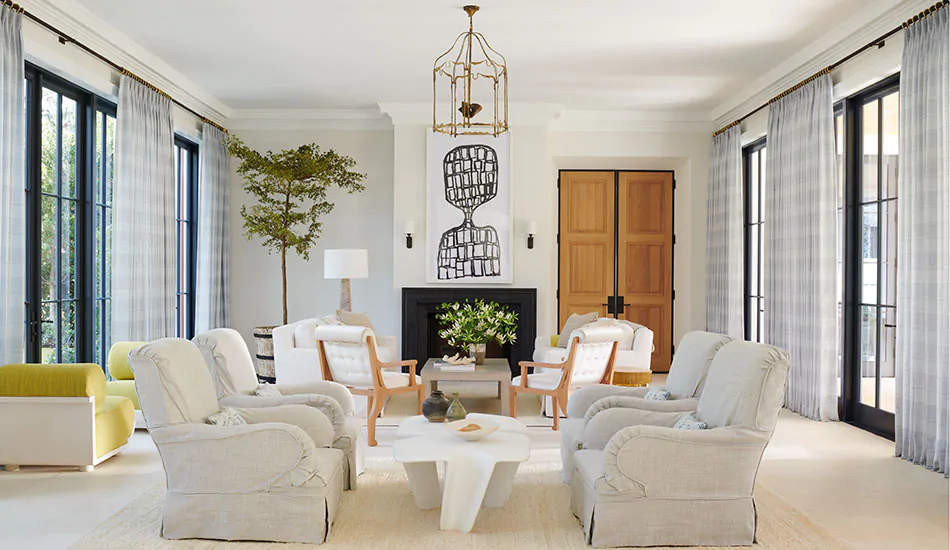 Transitional design champions neutral colors and a harmonious mix of masculine and feminine elements. To embrace this balanced approach, keep your room's primary color a neutral tone like cream, beige, or gray and add masculine and feminine elements of color and pattern with furniture, décor and of course, window treatments. Choose soft, feminine drapery with a subtle color and pattern to bring a touch of visual complexity to your space. Pair your feminine drapery with more masculine dark-toned metal hardware and black window frames for balance.
For more visual breaks from your primary neutral color, consider wood framed furniture for a natural element and potted plants for greenery, both of which transcend modern and traditional design. If you're looking for a bolder, more modern look, add in black-and-white artwork. The black-and-white contrast will tie your black window frames and dark drapery hardware together with other light-toned elements in your space for a unified aesthetic.
Soft, Monochromatic Dining Room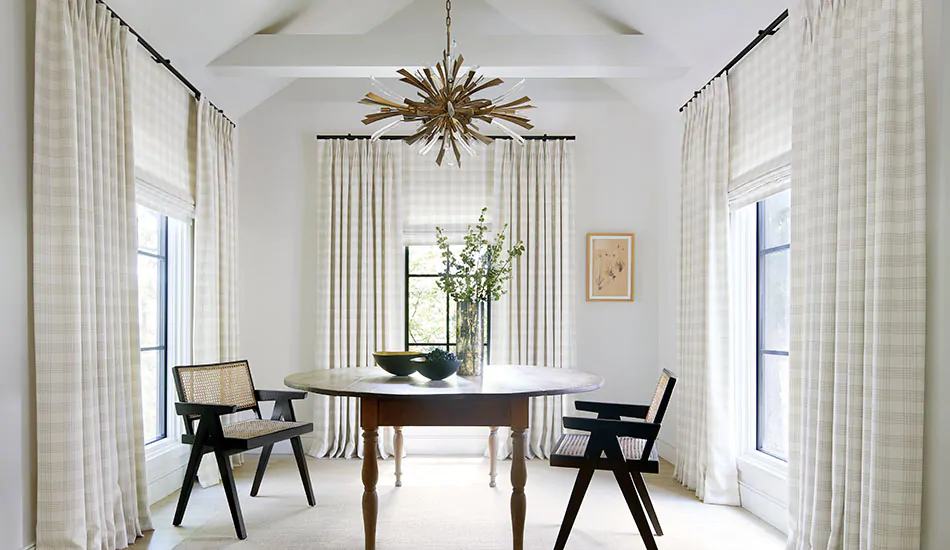 A neutral, monochrome color palette is a typical design choice of transitional homes, but that doesn't mean these designs are bland or boring. Monochrome color palettes give you the opportunity to capture visual complexity in other ways, such as pattern, texture and a mix of materials. For a monochrome dining room with a bright, warm off-white color palette, break up the color scheme with soft Drapery and Roman Shades in the same traditional, understated plaid pattern. The layered shades and drapery, even in the same color and pattern, give your space a touch of visual depth. For greater dimension and more texture, choose a dark wood-toned table and matching chairs with woven backings and seats. A modern, statement-making chandelier in a burnished gold color will top-off your design, helping to make the space a truly transitional one.
Living Room with Ornate Accents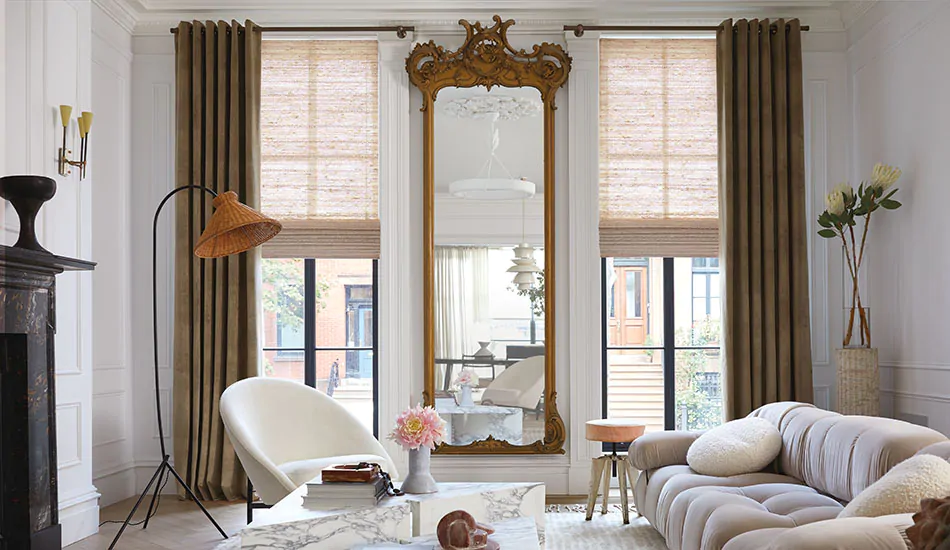 While not an overly luxurious aesthetic style, transitional design still makes room for delicate embellishments to create dimension in the space. When choosing your transitional window treatments, consider a more lavish material, like velvet, to add a touch of lavishness to your room, but opt for a neutral color to keep it from overwhelming other elements in your design. To balance the lush material, layer it with another window treatment made from a more textured, fibrous material like the natural woven fibers of Woven Wood Shades. The combination of soft, lush velvet and coarse, natural fibers creates a balance that's ideal for transitional window treatments.
For the rest of your interior design, continue to combine both soft and hard textures and materials to maintain that balance, such as soft, curved upholstered furniture with an angular marble coffee table.
Bedroom Sitting Area with Layers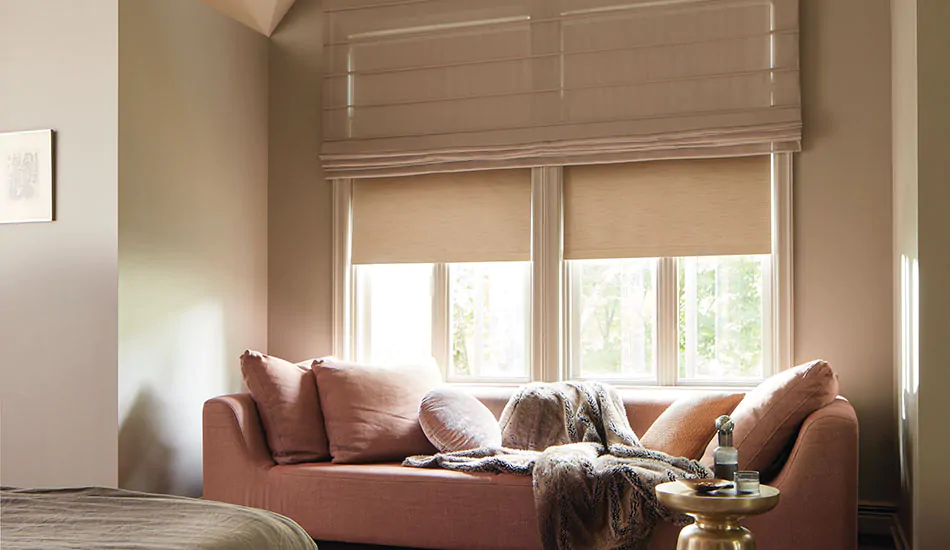 Emphasize comfort in your transitionally styled room with cozy, comfortable furniture and layered throw blankets and pillows. Mix textures with your blankets and shapes with your pillows to create design dimension. Match the cozy, layered design of your furniture with layered window treatments for a cohesive look and feel. Choose soft treatments like Roman Shades with their layered folds and pair it with a hard treatment like Roller Shades with their crisp, clean lines for a balance of feminine and masculine elements. For true comfort and convenience, upgrade your transitional window treatments with motorization, which makes controlling your light and privacy levels a breeze.
Find the Perfect Material for Your Transitional Window Treatments
With plenty of insight into transitional window treatments and guidance on how to customize your own window treatment designs, you're ready to explore your options in more depth. Order free swatches of your favorite colors, textures and patterns to compare at home and discover the perfect fit for your interior. Be sure to observe how each swatch looks in the changing light of your room to ensure you're choosing the right color for your space. It's also a good idea to check the opacity of your materials by holding each up to the light to get a sense of the privacy and light control the material will give you.
EXPLORE OUR MOST POPULAR SWATCHES
Not sure where to start your material search? Order our most popular swatches for free to see what's in style — and maybe find your new favorite.