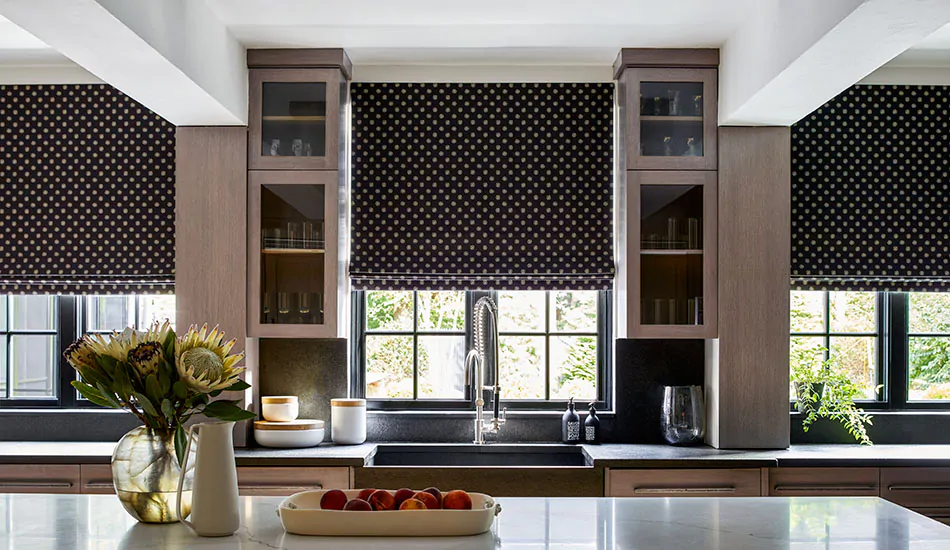 Black Roman Shades & Other Bold Options
If you're looking for black Roman Shades, you're likely looking for a bold, dark element for your window treatments. You may also be looking for excellent light control and privacy. Black Roman Shades are a great option to add that extra layer of design finesse to your space as well as providing excellent functionality.
Find out more about Roman Shades in general, and dive into your color and lining options to capture the right look with the right functionality. Finally, get ideas from curated designs featuring richly hued Roman Shades, black and white Roman Shades, and more.
What Are Roman Shades?
Roman Shades are a type of shade made from soft fabric that fold into themselves when raised and unfurl in a beautiful cascading motion when lowered. These shades deliver the soft, elegant look of drapery with a more tailored look on your window, especially when inside mounted within the window frame.
Roman Shades come in several styles and vary in their functionality, with some being easy to use and adjust and others being best used decoratively. Before diving into ideas for black Roman Shades, it's important to first understand your style options so you can pick the right one for your style preferences and aesthetic needs.
Get the full picture of what Roman Shades are and your customization choices including styles, fabrics, linings, control types and more in our comprehensive Buying Guide. READ THE GUIDE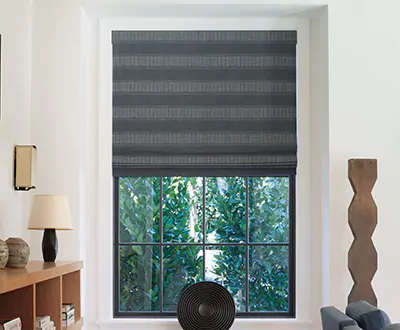 flat roman shades
With a clean line at the bottom of each fold, and a simple, unadorned face, Flat Roman Shades are very versatile in their design and can work in contemporary and traditional settings. The defined, crisp silhouette of these shades is beautifully emphasized by a dark color.
Functionality: Easy, ideal for everyday use.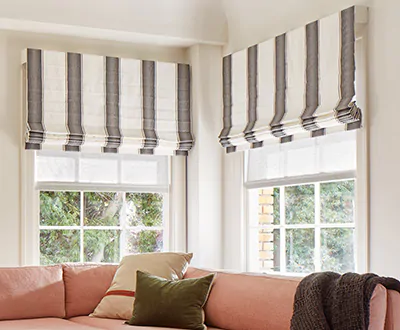 Cascade Roman Shades
Featuring aluminum dowels stitched in the back of the shade, Cascade Roman Shades have clean, crisp folds that unfurl beautifully in a cascading motion when lowered. A bold, dark color helps to emphasize their linear design for a chic, modern look.
Functionality: Easy, ideal for everyday use.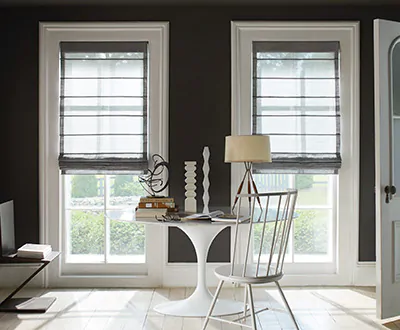 Aventura Roman Shades
Inspired by Japanese shoji screens, which traditionally consist of semi-transparent paper stretched over a frame, Aventura Roman Shades feature aluminum dowels sewn to the front of the shade. To capture the same effect as shoji screens, these shades are best left unlined which means dark fabric may appear lighter as light filters through.
Functionality: Easy, ideal for everyday use.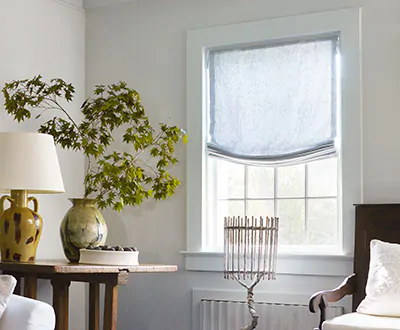 relaxed roman shades
Featuring soft, swooping curves when raised, Relaxed Roman Shades deliver a casual, charming look that fits in well with coastal, farmhouse and boho-styled homes. While rich dark hues aren't common in these styles, black and white Roman Shades in the relaxed style can get you a bold look without going all-black.
Functionality: Primarily decorative, not ideal for everyday use.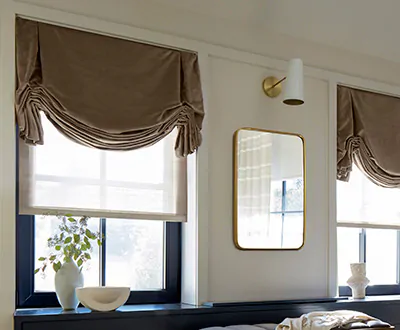 Tulip Roman Shades
As their name suggests, Tulip Roman Shades feature an inverted pleat with a deep curve that resembles a tulip flower. These decorative shades are best suited for formal traditional or southern-style homes which often champion rich hues as accents, making dark and black Roman Shades a perfect addition.
Functionality: Primarily decorative, not ideal for everyday use.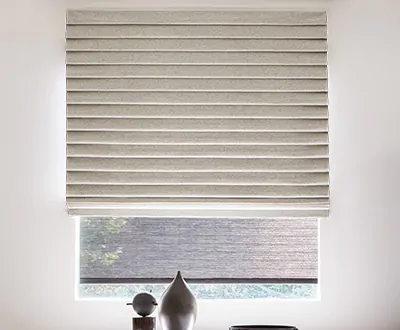 Pleated Roman Shades
With luxurious hobbled folds made with extra fabric for an opulent appearance, Pleated Roman Shades are very formal in their design and best suited to traditional or neoclassical homes. In a rich color, these lush shades look even fuller and more prominent, making them ideal as a focal point in your design.
Functionality: Easy, ideal for everyday use.
Black vs Blackout Roman Shades
When looking for black Roman Shades, it's important to differentiate between black and Blackout Roman Shades.
Black Roman Shades refers to the color of the shade's fabric and it will filter light based on its weave and whether or not it has any lining added.
Blackout Roman Shades refers to the blackout lining added to the shade that blocks up to 99% of the light coming through your window for a room darkening effect. Blackout Roman Shades can be any color.
While the two have different definitions, they work beautifully together because blackout lining on your black Roman Shades will give you the richest hue and boldest aesthetic.
Beyond Black: Capturing a Bold Aesthetic
Black is a highly versatile neutral hue that suits a wide range of aesthetic styles. However, it's not the only color that gives you a dark, bold look. Consider these other richly hued colors when designing your custom Roman Shades.
Inspiration: Black Roman Shades & Beyond
Discover curated examples of custom black Roman Shades as well as other richly hued tones and even bold patterns like black and white Roman Shades.
High Contrast Living Room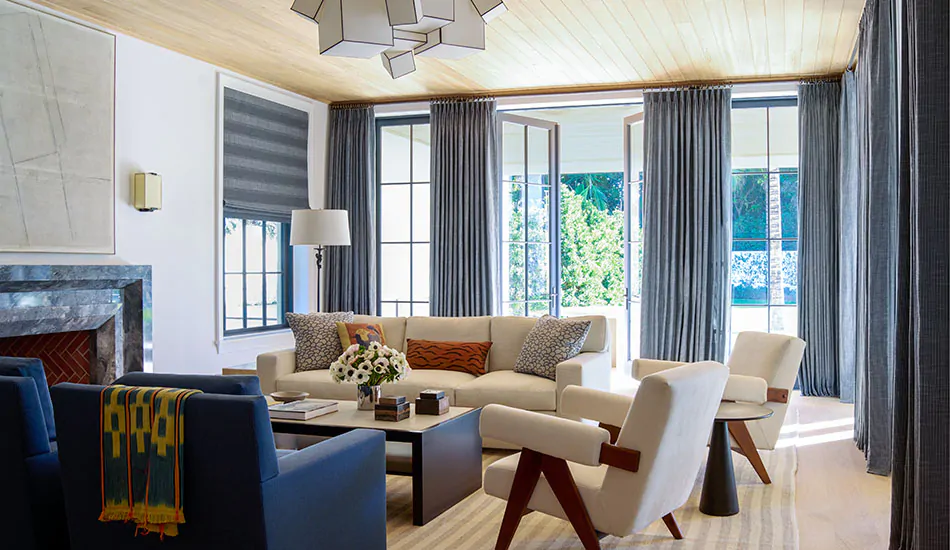 When using black Roman Shades or other richly hued window treatments, it's important to think about how to create balance with lighter contrasting tones as well as natural and ambient light. In a living room with lots of tall windows and glass doors, you already have lots of natural light during the day to brighten the space and create balance with the dark window treatments. However, when night comes and you shut your richly toned or black Roman Shades and Drapery, you'll need to ensure there are lots of other light elements to brighten the space and keep it from feeling too heavy. White walls and furniture, as well as a light-colored rug or flooring and bright overhead or ambient lighting can beautifully balance your richly hued window treatments and keep the space feeling open and welcoming.
Black Tones & Metal Finishes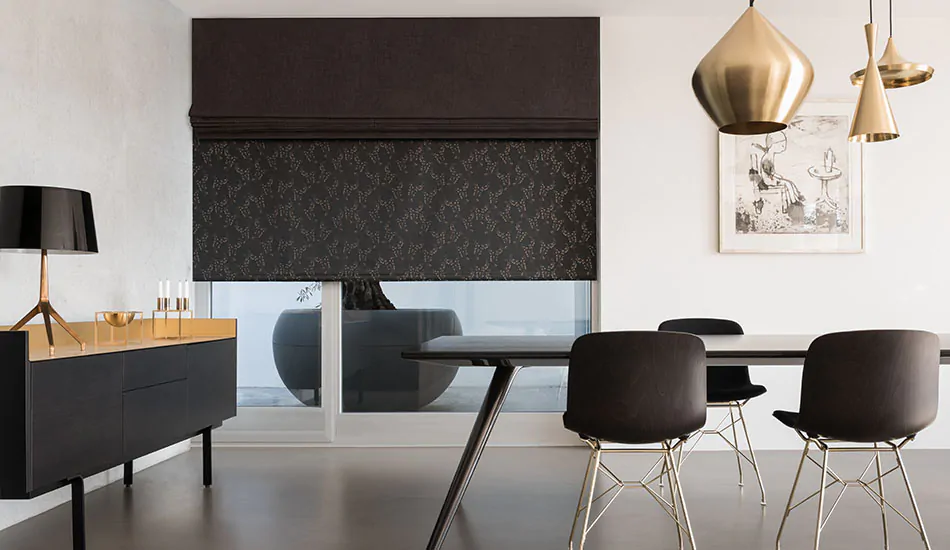 Black and metal combinations make for an elevated industrial-chic aesthetic and black Roman Shades are a great way to bring in a strong black element.
When mixing black Roman Shades with other black décor pieces such as wood furniture and upholstery, it's important to make sure all the black items are the same shade of color. Shade in color theory terminology refers to the darkness of a color. While it may seem like black can only have one shade, there are actually many different shades that vary in their brightness and tone, with some being warmer and others being cooler in tone. And while these varieties may be difficult to discern when viewed separately, if viewed in the same room, the differences can quickly become apparent. Choosing the same shade of black will create perfect cohesion between all the different textures of black in the room, from the painted hardwood furniture to black upholstered chairs to the black Roman Shades fabric.
For your metal finishes, work these in sparingly for a more modern look, as using too many metal finishes can quickly transform the room into a more glam-inspired design. Thin metal picture frames, metal furniture legs, drawer nobs or handles as well as metal fixtures are all great subtle ways to bring an industrial metallic element into your design.
Dark, Warm Grey Bedroom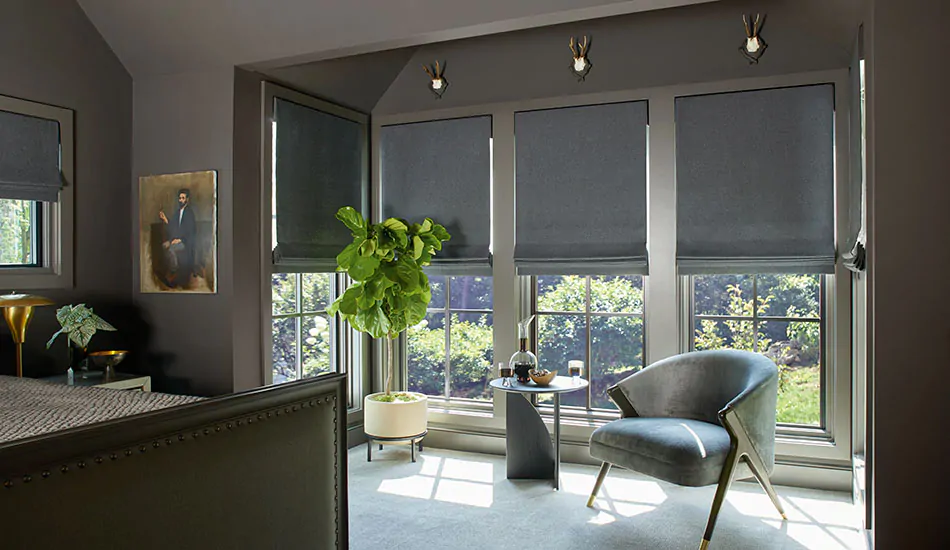 Richly hued or black Roman Shades with blackout lining can contribute significantly to the tranquil, calm atmosphere of a bedroom. A warm, dark grey color can be a great alternative to black as it offers a rich, deep color but with a warmer, more inviting aesthetic that's perfect for a cozy bedroom. Plus, with a slightly lighter tone than black like dark grey, balancing light and dark is less important in the space, since the grey tone won't absorb as much light from its surroundings as black will. So, you can stick to a similar color scheme throughout, mixing other warm, neutral tones with a similar saturation for a dark, rich, relaxing palette.  
Bold Bedroom with Black and White Roman Shades & Drapery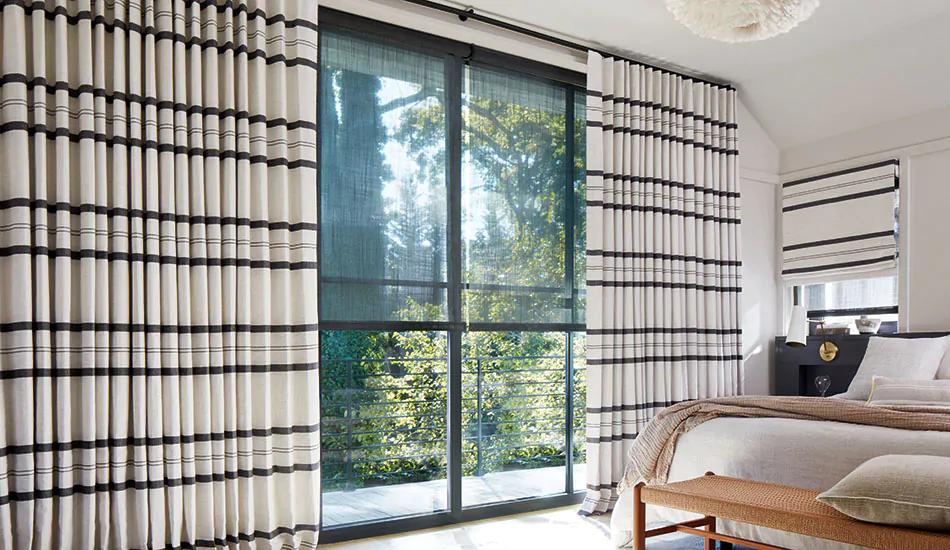 Prefer a bold look that isn't all black? Try black and white Roman Shades and Drapery for an eye-catching aesthetic that keeps your space looking and feeling lighter than all black or dark tones would. Black and white Roman Shades and other window treatments come in a wide range of patterns, including east-west stripes like Shoreham Stripe in Jet, subtle dot patterns like Gemma in Noir, and bold block prints like Family of Cranes in Zebra Black. For bolder patterns, you may want to tone down the visual intensity by sticking to softer white or off-white elements throughout the rest of your space. Softer elements can include light wood tones and plush, off-white elements like carpeting or rugs, bedding or pillows. For more subtle patterns in your black and white Roman Shades, you can create a more even balance between black and white elements throughout your space, like dark furniture with light flooring or vice versa.
Explore Your Options for Black Roman Shades & More
With inspiration and insight into black Roman Shades and other richly hued options, you're ready to start making your fabric selections. Order free swatches of all your favorite dark hues and black and white patterns to compare each in the comfort of your home. Be sure to hold each to the light to get a sense of how much privacy and light control you'll have so you can decide if privacy or blackout lining is right for you. You can also get free swatches at your local showroom, where you'll also meet our expert Design Consultants who can answer your questions and help you create the perfect custom black Roman Shades for your space.