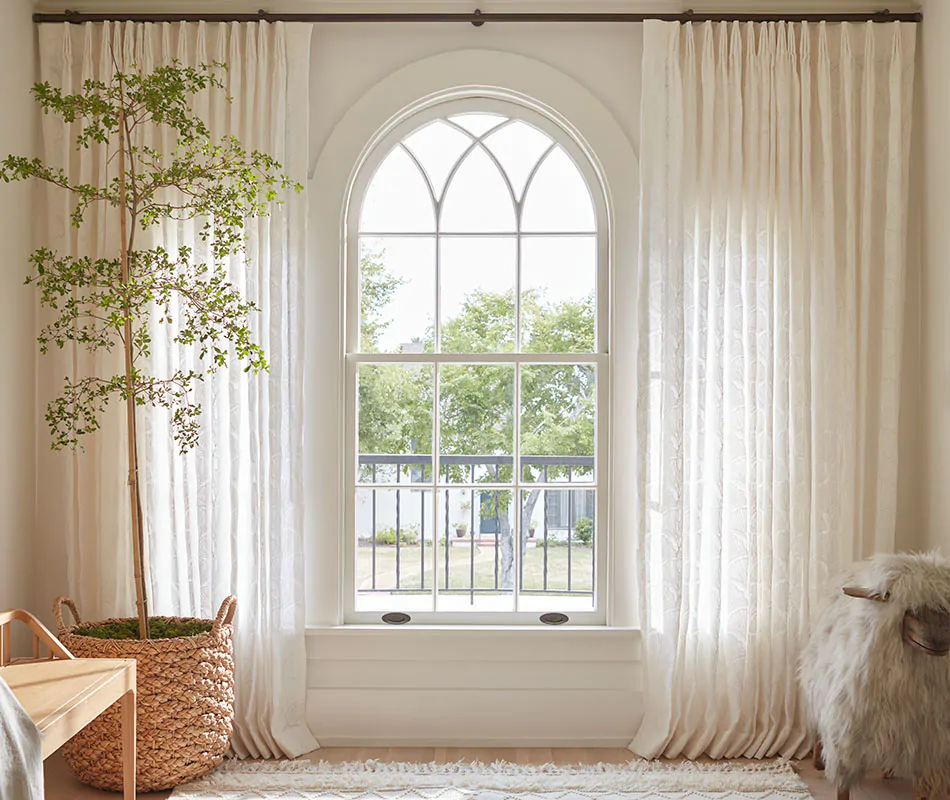 Nursery Curtains: Ideas & How to Choose
If you're looking for nursery curtains, you're likely interested in creating a soft, elegant and inviting ambiance for your nursery. Choosing the right drapery for your nursery will depend not only on your aesthetic preferences but also your needs in terms of functionality, light and privacy control and safety.
So how do you choose the right nursery curtains? First, learn about the overarching benefits of drapery for your nursery and get answers to a few common questions. Then, discover specific factors to consider when choosing nursery curtains so you can make the most informed decisions. Finally, explore your drapery options in terms of pleat style and spark your creativity with inspiring ideas from curated nursery rooms.
Why Choose Drapery for a Nursery
Drapery is a beautiful and functional choice for a nursery and delivers several unique benefits, including: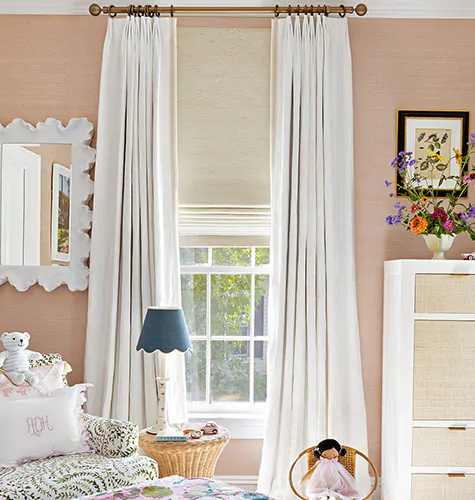 A soft, welcoming aesthetic thanks to the long, elegant panels of fabric.
Several pleat styles varying from modern to traditional to suit your aesthetic style.
Hundreds of fabrics ranging in color, pattern, texture, weight and more so you can find the right combination for the perfect look.
Lining options including privacy lining, blackout lining and interlining for better privacy, light control and insulation to keep your nursery darker and cooler to promote better sleep.
Beautiful hardware with safe, cordless control options, including traditional rod and ring hardware with a baton, modern track systems with a baton for easy functionality and motorized track systems for effortless control.
Pictured: Outer Layer: Tailored Pleat Drapery, Linen in Ivory with Samuel & Sons Sorrento Cotton Striped in Sand and Inner Layer: Waterfall Woven Wood Shade, Sienna in Ivory, design by Ariel Okin, photography by Donna Dotan
Even knowing the benefits of nursery curtains, you may still have a couple of burning questions. Here are a couple quick FAQs to put your mind at ease:
Are Curtains OK for a Nursery?
Yes, nursery curtains are a safe choice, especially when you choose cordless control options such as a baton with your track system vs a corded loop. Motorized track systems are another safer choice as the cords for a power source can often be placed well out of reach, or with a battery power source, you won't have any power cords at all.
Does a Nursery Need Blackout Curtains?
No, blackout curtains for nursery rooms are not necessary, as it will depend on the room and your baby's needs. However, it is typically recommended that babies have complete darkness to help them sleep best. So, to ensure the best environment for sleep, blackout curtains for nursery rooms are a great idea as they'll block most of the light during the day for nap time and provide greater room darkening at bedtime. To achieve the best blackout from your drapery, choose a thicker fabric like wool or velvet and add blackout lining.
Factors to Consider When Choosing Nursery Curtains
Now that you have a good understanding of why nursery curtains are a good choice, it's time to think about the specific factors you need to consider when choosing drapey for a nursery.
Functionality & Hardware
In a nursery, you'll likely be adjusting your drapery a lot: closing it for nap time, opening it for feeding time, closing them again for bedtime, etc. Functionality and ease of use are hugely important for your curtains, and since not all pleat styles are compatible with all drapery hardware and control types, you'll need to consider your functionality needs when making your selections. For instance, if you're set on a track system, your pleat style options are limited since some, like Grommet Drapery, are not compatible with track systems — standard with a baton or motorized. For less functional drapery pleat styles and hardware, these are often best used in a decorative application where they're layered with Shades or Blinds which will act as the more functional option to open and close regularly.
Pictured: Ripple Fold Drapery, Luxe Linen in Beige, designed by Becca Tobin, photography by Katie Jameson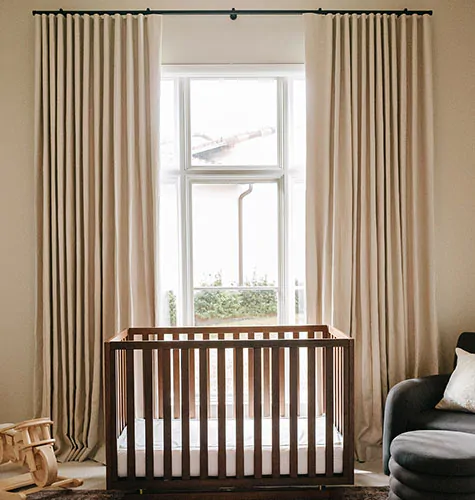 Safety
When it comes to nursery curtains, safety is of paramount importance. The control you choose for your drapery plays a big role in safety, and your best bet is to choose options with control types featuring a Best for Kids® certification which indicates the highest safety accreditation in the industry. All cordless drapery, including rod and ring hardware with a baton, track systems with a baton (pictured) and motorized track systems are all certified Best for Kids.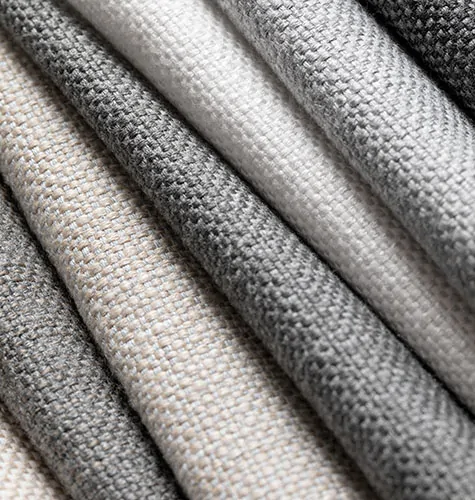 Fabric
When choosing your drapery fabric, it's not just about how it looks and feels. You'll want to consider its material makeup to ensure it's safe for your sensitive newborn. Natural materials made with minimal or no chemical compounds are an excellent choice and you can identify these options as those with an OEKO-TEX® certification. Examples include Luxe Linen, Osprey, and Victoria Hagan's Oceana. Synthetic materials can also be a safer choice with green certifications like OEKO-TEX and GreenGuard®, which measures the chemical emissions of materials. Examples of green-certified synthetics include: Sunbrella® Alma (pictured) and Neblina, and Victoria Hagan's Breeze.
Lining
Lining can make a big difference in the atmosphere of your nursery. It can give you blackout curtains for nursery windows that block light for a better room darkening effect. Lining can also do more than provide light control; it can also block a draft and warming sunlight to keep the room temperate and even block sound for a more tranquil environment.
Your options for lining include:
Privacy lining, which provides excellent privacy, some insulation and some room darkening, while still letting some natural light filter through.
Blackout lining, which gives you blackout curtains for nursery windows, providing excellent privacy and a room darkening effect, along with better insulation.
Interlining, which is an additional cotton flannel lining in between either privacy or blackout lining that adds lots of body to your drapery and provides the best in insulation as well as adding to your privacy and a room darkening effect.
Color & Pattern
The aesthetics of your nursery curtains are purely down to your preferences, but there are certain factors to consider before you make your selections. Namely, the longevity of your design choice. If you choose a child-friendly color or pattern such as a bright pink like Canvas in Petal, you may need to consider the possibility of swapping out your drapery as your child ages and their tastes change. Or if you prefer to make a longer-term investment in your drapery, choose a more neutral color or pattern that will grow with your child as they age.
Nursery Curtains: Product Options
With insight into how to choose nursery curtains, you're ready to explore your product options so you can find the right look with the right functionality for your space.
Functional Pleat Styles
These styles of drapery are easy to use on a daily basis, so you can adjust them for naptime, bedtime, and more. They are all compatible with track systems with a baton as well as motorized track systems. These styles will be best suited as blackout curtains for nursery rooms since you'll be able to more easily adjust your nursery curtains to achieve a room darkening effect when needed. Tailored and Pinch Pleat are also compatible with rod and ring curtain rods, which can be easy to use as well, depending on the rod's height and whether or not you have a baton or pull the fabric panels.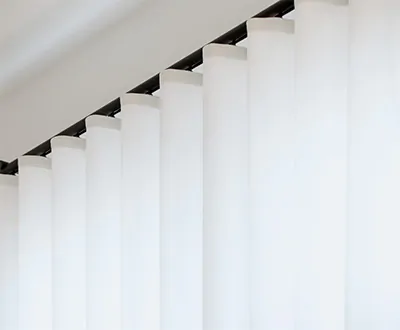 ripple fold drapery
Featuring soft S-curves that create sleek waves of fabric, Ripple Fold Drapery delivers a more modern or contemporary aesthetic for your nursery curtains. The streamlined design helps add a sense of height to your room. This style of drapery is only compatible with a track system, making it very easy to use on a daily basis as the curtain panels slide effortlessly along their track.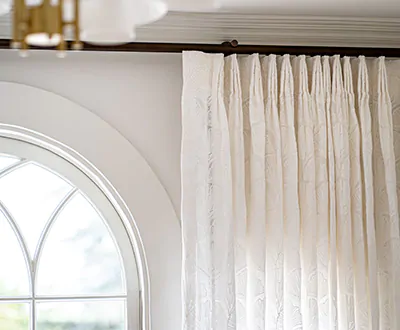 Tailored Pleat Drapery
With three-finger pleats pinched at the very top of the drapery panels, Tailored Pleat Drapery offers a sleek, modern aesthetic. Like Ripple Fold, Tailored Pleat helps add a sense of height to your room thanks to its linear pleats and folds. This style of drapery offers easy functionality, as it's compatible with both track systems and rod and rings hardware.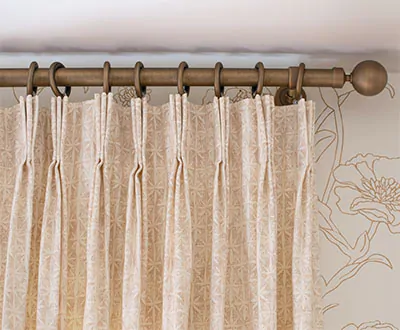 Pinch Pleat Drapery
A traditional pleat style, Pinch Pleat Drapery features three-finger pleats pinched four inches from the top of the drape panels. The pleats create a natural visual break between the drapery and your wall or ceiling, for an elegant aesthetic. Like Tailored Pleat, Pinch Pleat offers easy functionality as it's compatible with both track systems and rod and rings hardware.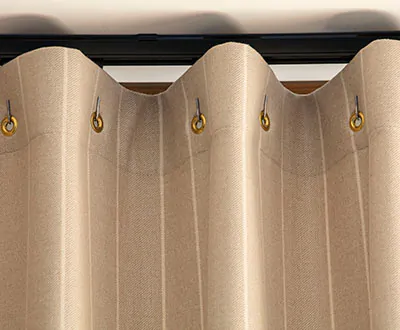 cubicle Drapery
Featuring small grommets a few inches from the top, Cubicle Drapery attaches to hook carriers in a track system. The result is wide, gentle waves that deliver a more casual aesthetic. Since Cubicle Drapery is only compatible with a track system, it's very functional and easy to use. Plus, since Cubicle Drapery doesn't use as much material as other pleat styles, it has a very tight stack, so is ideal for smaller spaces.
Decorative Pleat Styles
These styles are all compatible with a traditional curtain rod, and a few are also compatible with track systems. However, they are either somewhat difficult to adjust, or their pleats do not look their best in certain positions without significant dressing (adjusting the pleats by hand). Therefore, they are best used decoratively as standalone panels, perhaps paired with blackout Roman Shades or Roller Shades.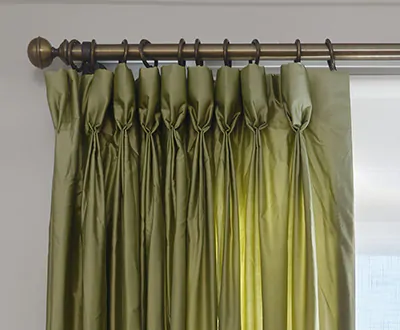 Goblet Drapery
Delicate, goblet-shaped pleats are the namesake of this elegant pleat style. The luxurious aesthetic brings a soft, feminine element into your space. While Goblet Drapery is compatible with both track systems and rods and rings, it's best used in a decorative, stationary application because the goblet pleats don't stack nicely over themselves when opened fully to reveal your window.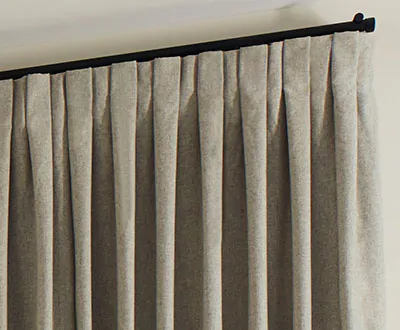 Inverted Pleat Drapery
With flat, crisp pleats across the top that create clean angles and lines down the drapery panels, Inverted Pleat Drapery offers a formal, stately look. Just like Goblet Drapery, Inverted Pleat Drapery is compatible with both track systems and rods and rings, but the flat pleats don't stack nicely when the drapery is fully opened to reveal your window, so it's best used in a decorative application.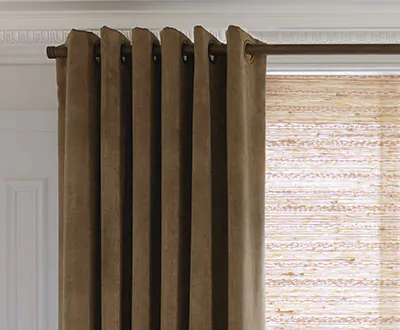 Grommet Drapery
Featuring rings pressed into the drapery material about one inch from the top, Grommet Drapery creates deep, dramatic pleats for a modern, linear look. The grommets make this type of drapery only compatible with rod and ring systems, as the grommets thread over the rod. This style is best for decorative applications as the rings make it somewhat difficult to move across the rod.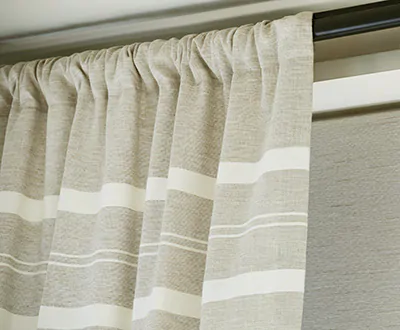 Rod Pocket Drapery
Just as the name suggests, Rod Pocket Drapery features a sewn pocket of fabric at the top to accommodate a curtain rod to be thread through. This application creates sections of gathered fabric at desired places which gives this style a very soft, casual aesthetic. Since Rod Pocket Drapery is difficult to move back and forth along the rod, it's best used for decorative applications.
Ideas for Nursery Curtains
Now that you know what factors you need to think through when choosing nursery curtains as well as your pleat style options, dive into inspiring examples of curated nurseries to spark your own ideas.
Warm Tones & Layered Textures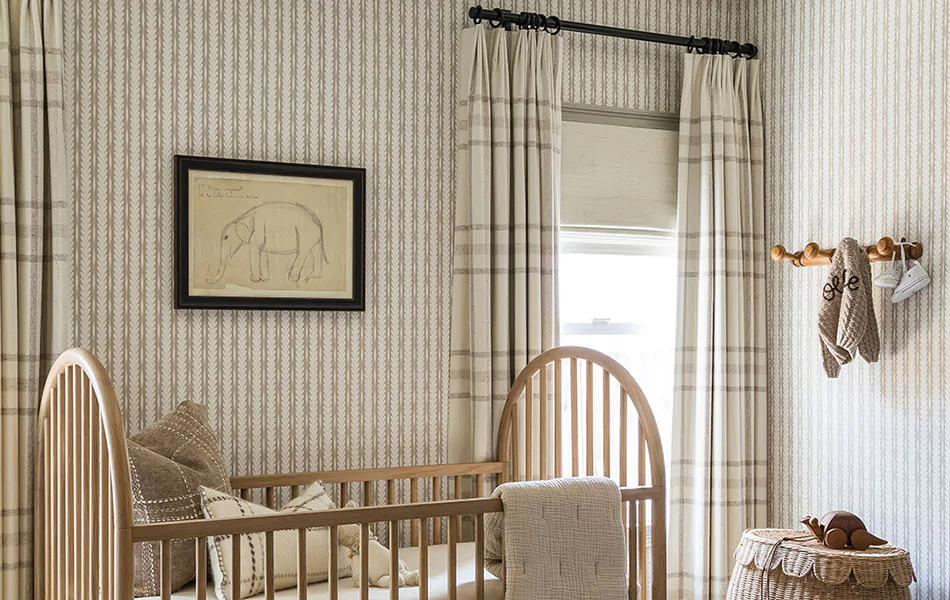 Instead of using colors to create design dimension in your nursery, use patterns and textures. A subtle plaid pattern for your drapery, like Aberdeen, layered with a Woven Wood Shade made of Laguna in Shell creates two layers of different textures without being overwhelming. Adding in other textures and patterns, all using the same warm-toned color scheme creates even more depth and dimension, like patterned wallpaper, woven baskets and textiles like pillows and blankets.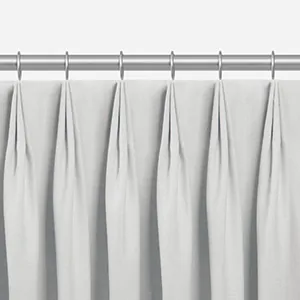 Tailored Pleat Drapery with Blackout Lining
Tailored Pleat Drapery delivers an elongated look that adds a sense of height to the room. Plus, blackout curtains for nursery windows darken the room perfectly for sleep.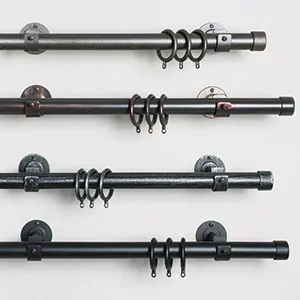 Wrought Iron Hardware, Black
Wrought Iron Hardware is a rod and ring system that delivers beautiful, character-rich designs. The sleek Black rod with a matte finish contrasts nicely with the warm, light cream colors of the room.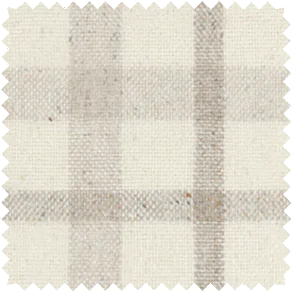 Aberdeen, Bisque
A plaid pattern with subtle lines, Aberdeen in Bisque adds an inviting warm color as well as a touch of visual interest to your space, all without overwhelming other design elements in your room.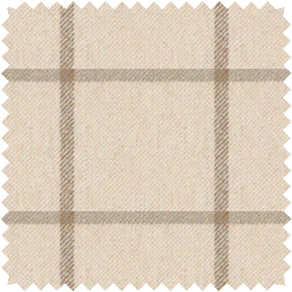 highland, Driftwood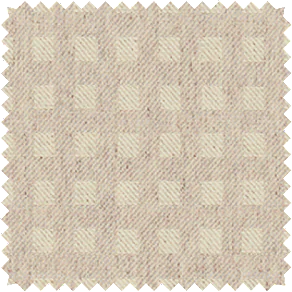 osprey Check, Parchment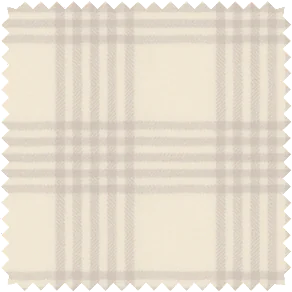 Holland & Sherry, Emerson, Shea
Soft, Neutral Color Scheme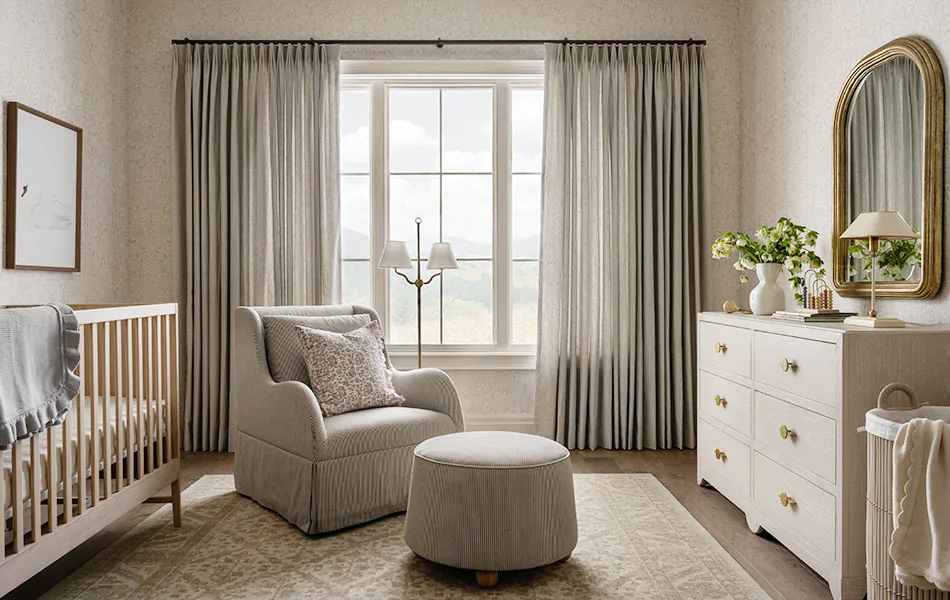 Sticking to a neutral color palette doesn't have to be boring. Mixing subtle patterns and different shades of the same color scheme can create a multi-dimensional, contemporary look for your nursery. Contrast the soft, muted beiges and tans in your drapery and furniture with bright off-white furniture and décor elements. Burnished gold and bronze elements like a mirror frame and drapery hardware add subtle metallic elements that contrast the soft textiles in the rest of the space.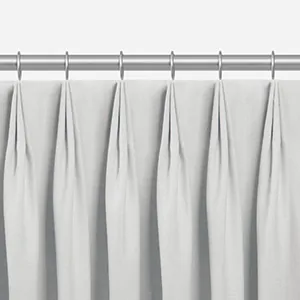 Tailored Pleat Drapery with Privacy Lining
Tailored Pleat Drapery creates a modern, streamlined look that's accentuated by the striped fabric chosen. Privacy lining provides excellent privacy while still letting some soft light in.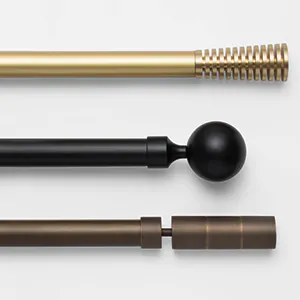 Madison Track, Bronze
Embrace a modern look and easy functionality with a Madison Track that allows you to effortlessly pull your drapery back and forth. The Bronze color adds a warm metallic element that complements other warm tones.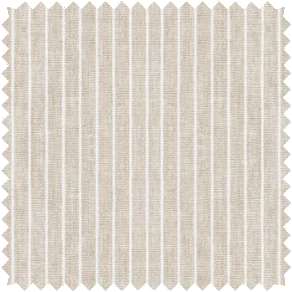 Windsor Stripe, Taupe
A subtle pinstripe pattern, Windsor Stripe adds a touch of visual interest without pulling away from other design elements in the room. Plus, the soft Taupe color creates a feeling of inviting warmth.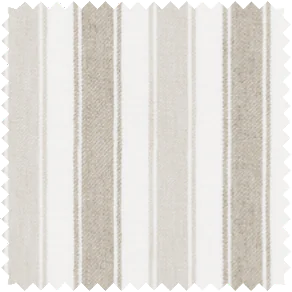 Awning Stripe, Fawn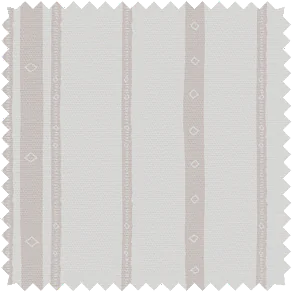 Nate Berkus, Alejo, Willow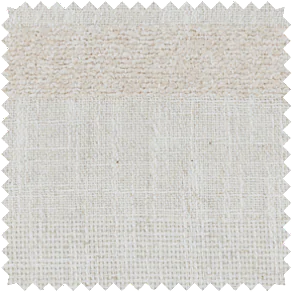 Victoria Hagan, Lily, Buff
Off-White Linen with Decorative Pink Tape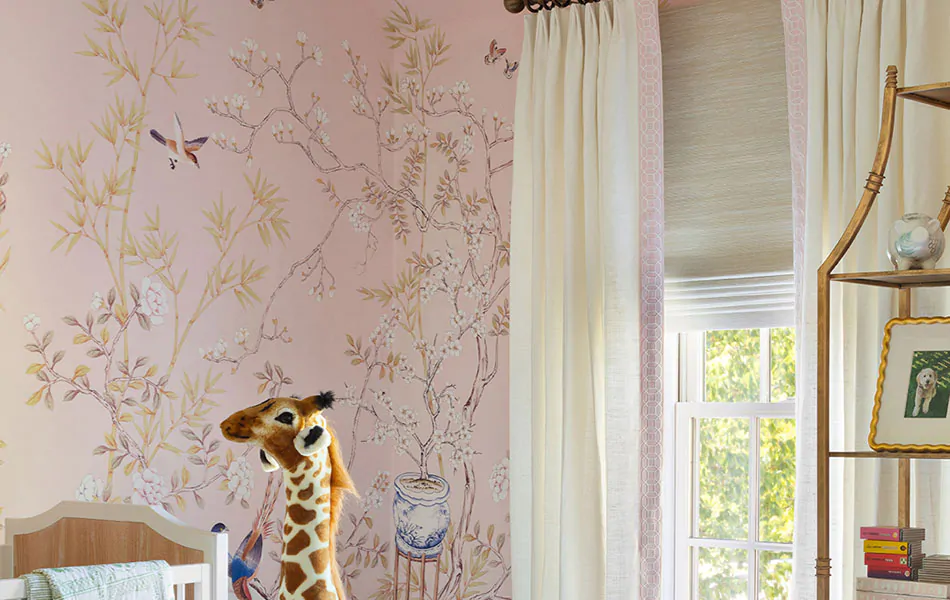 For a more playful take on your nursery design, opt for a traditional color scheme like pink for a girl or blue for a boy. Incorporating one of these traditional colors can be as subtle or as bold as you please. For a subtle addition, add pink or blue decorative tape, like Sakiori Embroidered in Blush or Porcelain to your neutral off-white drapery. To add bolder elements, paint your walls pink or blue or work in other larger elements like artwork, furniture or bedding textiles with these colors.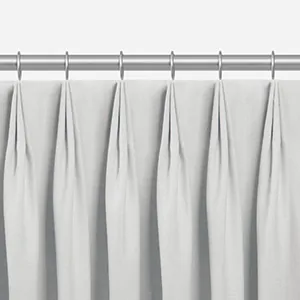 Tailored Pleat Drapery with Blackout Lining
Tailored Pleat Drapery, even on a smaller window, adds height to the room. With blackout curtains for nursery windows, you'll create a tranquil environment for sleep.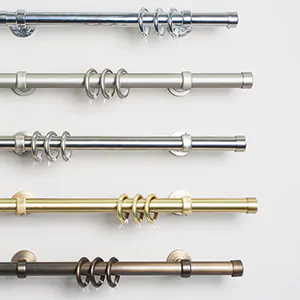 Steel Hardware, Antique Bronze
A rod and ring system, Steel Hardware delivers finishes ranging from matte to a metallic sheen. Antique Bronze features a matte finish and deep bronze color for a character-rich look.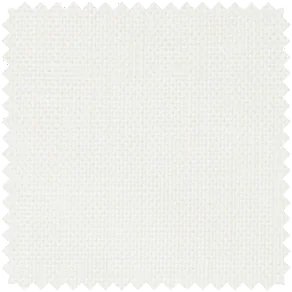 Luxe Linen
Oyster
A heavyweight linen, Luxe Linen features a beautiful, durable weave ideal for children's rooms. Warm, off-white Oyster is an inviting soft hue that complements pink beautifully.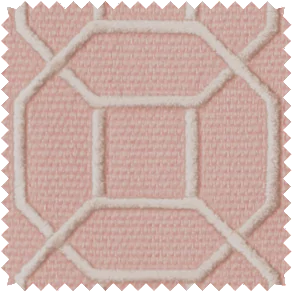 Samuel & Sons Sakiori Embroidered, Blush
The hexagonal satin stitch embroidered over the linen canvas background gives this trim a bold yet versatile design. The light pink color is charming and sweet for a girl's room.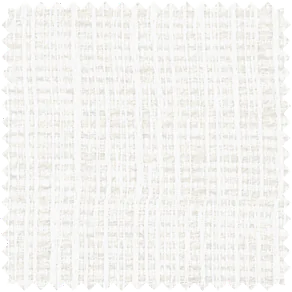 Shoreline, Pearl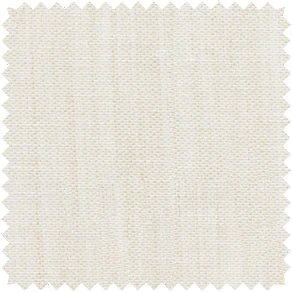 Sheer Wool Blend, Bisque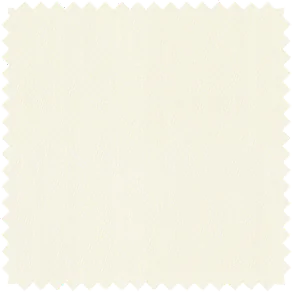 Holland & Sherry, Andes, Vanilla
Start Designing Your Perfect Nursery Curtains
With insight and inspiration for nursery curtains, you're ready to start designing your own Drapery. The best place to start is to order free swatches of your favorite Drapery fabrics in either neutral tones or bold colors. If you're thinking of laying your nursery curtains with Shades or Blinds, be sure to order swatches of those materials as well to compare at home and see which colors and finishes pair well with each other. For any questions about lining for blackout curtains for nursery designs or other lining or layering options, be sure to visit your local showroom where you can connect with our expert Design Consultants who can help guide you toward the right options.
explore Kids & Nursery Materials
Explore our curated collection of kids and nursery window treatment materials to find the perfect match for your space.