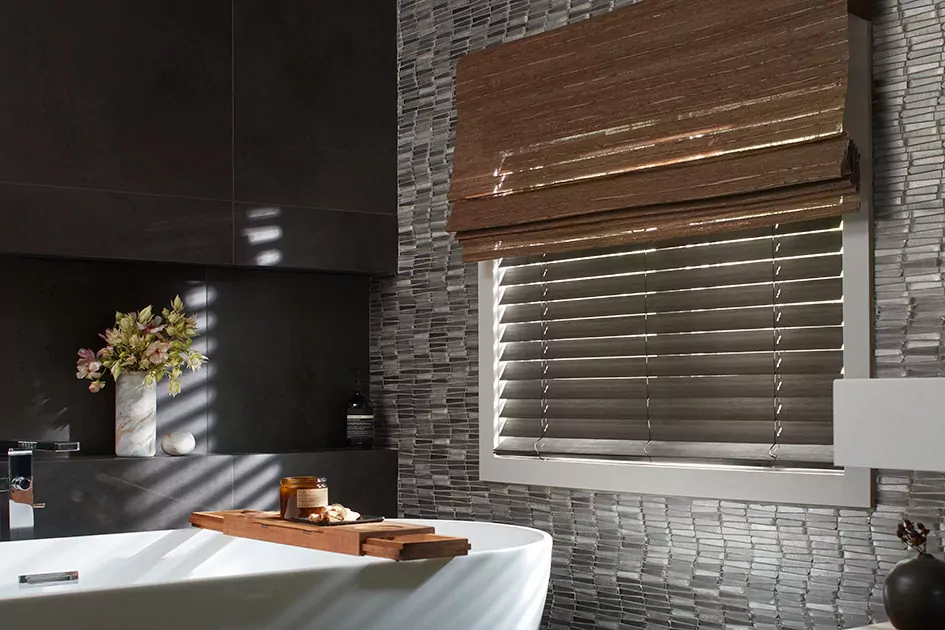 How Do Cordless Blinds Work? What You Need to Know
A frequently asked question regarding window treatments is: how do cordless blinds work? The streamlined functionality and clean aesthetic of cordless blinds may seem too good to be true, but when made well, they are an easy-to-use, long-lasting, and attractive choice for your window treatments.
When considering cordless blinds for your space, it's important to understand what they are and how they operate. While they are highly efficient and desirable, cordless blinds may not be the best choice for every window application. The more you understand about how cordless blinds work, the better you'll be able to decide if they're the right choice for your windows.
What Are Cordless Blinds?
Cordless blinds are raised and lowered without visible hanging cords or strings. When comparing cordless vs corded control methods, cordless provides a cleaner look while still maintaining the functionality of more traditional corded methods such as:
A continuous loop: A loop of either cloth or chain held taught by a tension device, where pulling one side opens the window and pulling the other closes it.
A cord lock system: A hanging cord that must be pulled toward the center of the window to unlock and move the shades or blinds up or down and then locked again by pulling the cord to the outer edge of the window.
The cordless control method is available for a wide range of window treatments beyond just blinds, including:
Wood and Metal Blinds
Roller and Solar Shades
Flat and Cascade Roman Shades
Cellular Shades
Now that you know what cordless blinds are, you're likely still wondering how do cordless blinds work? To understand how cordless blinds work, think of an elevator, or a pulley system.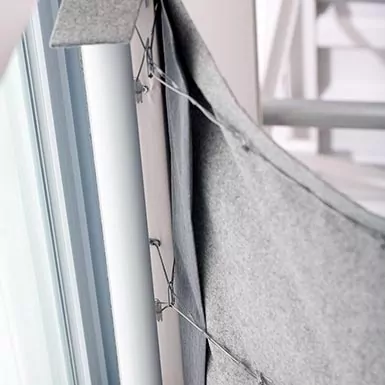 Cordless blinds and shades alike have a tension mechanism inside the headrail or bottom rail that holds them in place while also allowing you to raise and lower them to the desired position.
It's also important to note that many cordless blinds and shades still have cords in between the slats, within the shade, or behind the shade that allow it to move up and down.
For blinds, you have the option of covering the cords in between the slats with decorative tape. For shades, the visibility of cords will depend on the type of shade as well as the material chosen. Roller Shades and Solar Shades, for instance, have no visible cords, as they are controlled by the roller in their headrail. Cellular Shades and Roman Shades, on the other hand, do have cords, but they are typically within or behind the material for minimal or no visibility.
HOW TO LOWER AND RAISE CORDLESS BLINDS & SHADES
When asking how do cordless blinds work, it's important to know the answer will vary slightly depending on the type of blind or shade you've chosen, as each rises and lowers a bit differently
Raising & Lowering Cordless Blinds & Cellular Shades
How do you get cordless blinds to go up or down? Raising and lowering cordless blinds is the same process as Cellular Shades because the tension mechanism is in the bottom rail for both. You simply pull gently on the bottom rail, or lift it up. The tension mechanism does the rest — it provides just enough force to hold the blinds in place, while still allowing you to move them up and down with a bit of pressure in either direction. You can also control the slats on cordless blinds with the bottom rail: Gently twist it toward you or away from you to adjust the slats to the desired position.
Raising & Lowering Cordless Shades: Roman, Roller & Solar Shades
For Roman Shades and Roller and Solar Shades, the tension mechanism is in the headrail, so it relies on more of pull and lock motion to work. To adjust the height on these shades, pull the bottom edge of the shade down and slightly toward you to release the lock. Then, adjust the shade to the desired height by letting it rise or pulling it down. To lock it into position, push the shade slightly away from you, toward the window. Keep in mind, with Roman Shades, you'll be pulling the ring sewn on the back of the shade, while for Roller and Solar Shades, you'll just pull the bottom bar.
Benefits of Cordless Blinds & Shades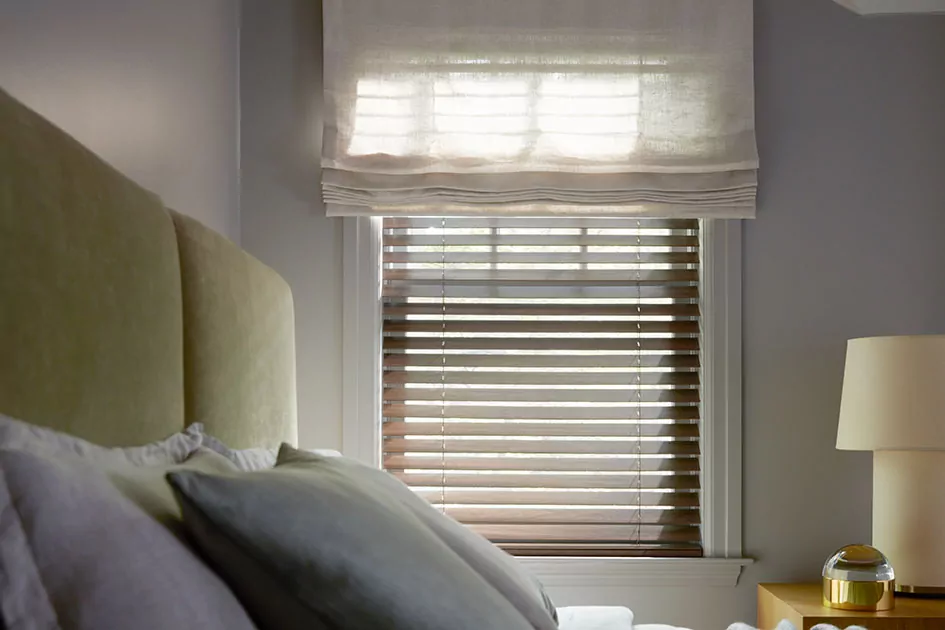 With the question, how do cordless blinds work answered, another question may come to mind: Why choose a cordless control method for your blinds and shades? When compared to corded options, cordless has clear benefits:
Clean aesthetics: Cordless blinds and shades don't feature any hanging cords or chains like cord lock or continuous loop options. The result is a more polished, modern look for your window treatments.
Ease of use: Cordless blinds and shades are very easy to operate — often easier than cord lock controls — as they only require a simple pull or lift of the bottom rail or ring.
Safe for kids and pets: No dangling cords plus a Best for Kids™ Certification means there's no potential harm to children or pets, giving you greater peace of mind
Factors to Consider Before Choosing Cordless Blinds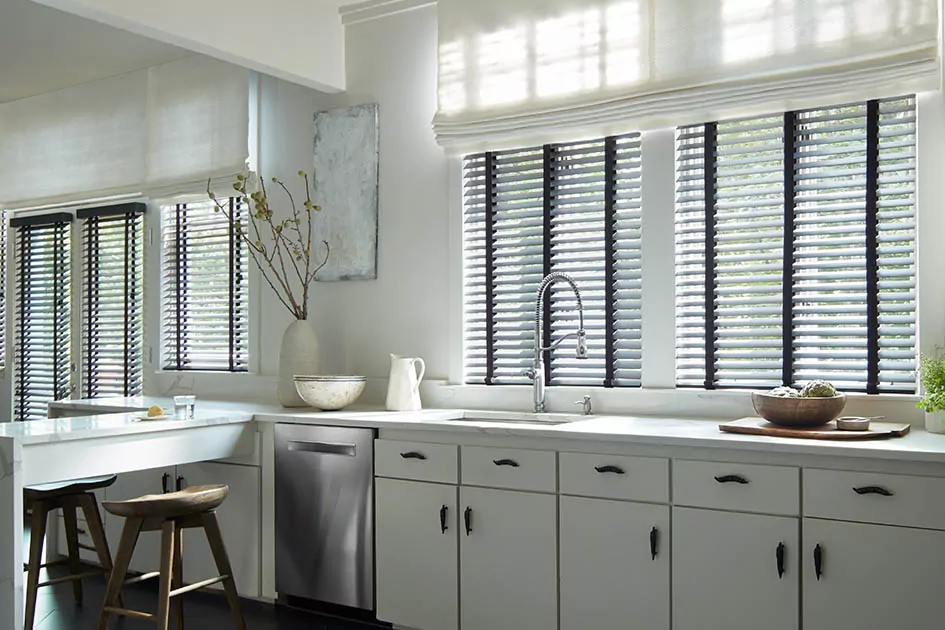 While cordless blinds and shades do have advantages, there are some applications where a corded method, or even motorization might be a better choice. Take these situations into consideration when deciding whether cordless blinds or shades are right for you:
For very wide windows, beyond about 84 inches, it becomes more difficult to lift and lower the blinds or shades easily. To ensure the bottom rail stays level and even when lifted or lowered, it will likely require two people to adjust the blinds or shades. A continuous loop control method or motorization is the better choice for wide windows.
Very Tall Windows
Cordless blinds and shades are only beneficial if you can reach their highest position. For blinds and shades installed at the top of tall windows, it may be impossible for you to reach them without the aid of a stepping stool or ladder — which can be more trouble than it's worth. For tall windows that you can't easily reach, consider a corded method like cord lock or continuous loop, or opt for the effortless ease of motorization.
Inaccessible Windows
Whether your windows are directly behind the couch or other piece of furniture, or they're placed high near the ceiling, any inaccessible window is not an ideal application for cordless blinds or shades. Instead, inaccessible windows benefit best from motorization, so you don't have to worry about clamoring over furniture or climbing a ladder to adjust your window treatments.
Limits With Reaching or Lifting
For those who are differently abled or living with limited mobility, it may be more difficult to lower or raise their cordless blinds or shades to the desired positions. Continuous loop, cord lock and motorization all offer a more manageable window treatment for anyone who is differently abled or has limited mobility.
MULTIPLE CORDLESS BLINDS OR SHADES IN A ROW
Because of how cordless blinds work with their tension mechanisms, it can be tricky to perfectly line up multiple blinds and shades next to each other. Each application may have a slightly different level of tension in the blinds or shades, making lining them up evenly difficult. If this is a concern for you, consider a continuous loop method or motorization, both of which make lining up multiple window treatments easy.
Your Other Option for Cordless Blinds & Shades: Motorization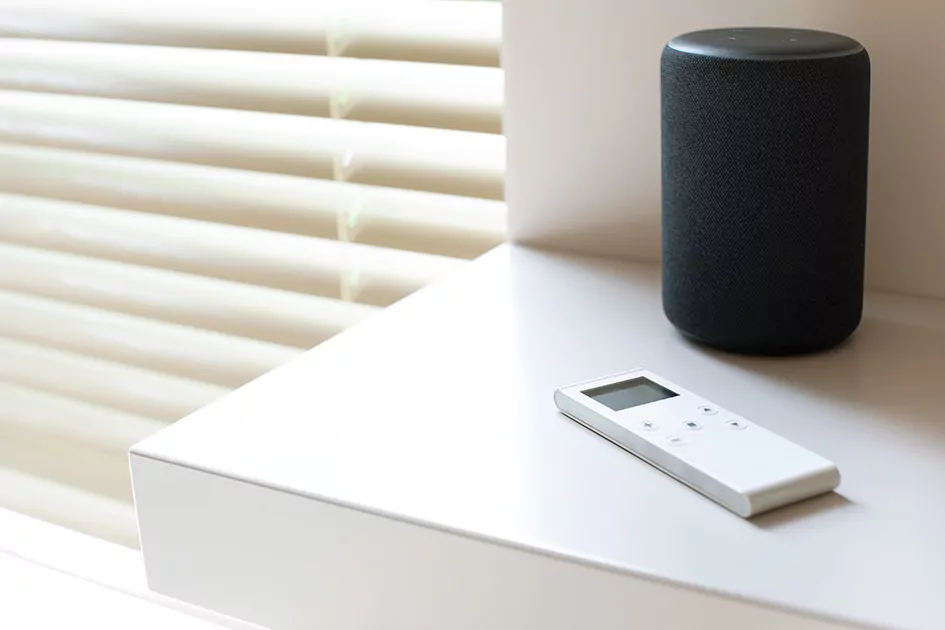 If you know that a cordless option might not be the best solution for your application, motorization is you next best bet. Motorized blinds and shades give you the sleek cordless look you want with even easier functionality. Motorization allows you to control your window treatments with a remote, an app on your phone or tablet, or the sound of your voice when paired with a smart home device. Adding motorization is an ideal solution to all the considerations listed above, whether you have wide, tall or inaccessible windows, or don't want to strain yourself lifting and lowering on your own.
Keep in mind, motorization allows you to raise and lower your shades, but for blinds, it only allows you to tilt the slats — you'll still need to raise or lower blinds manually.
How Do Cordless Blinds Work: Answered + What's Next
While you may know the textbook answer to how do cordless blinds work, there's nothing better than experiencing them for yourself.
Visit a local showroom today to see how cordless blinds work and explore other cordless options, including motorization, to find the right fit for your space. Plus, you'll meet friendly, knowledgeable Design Consultants ready to assist you in choosing the perfection window treatments for every room in your home.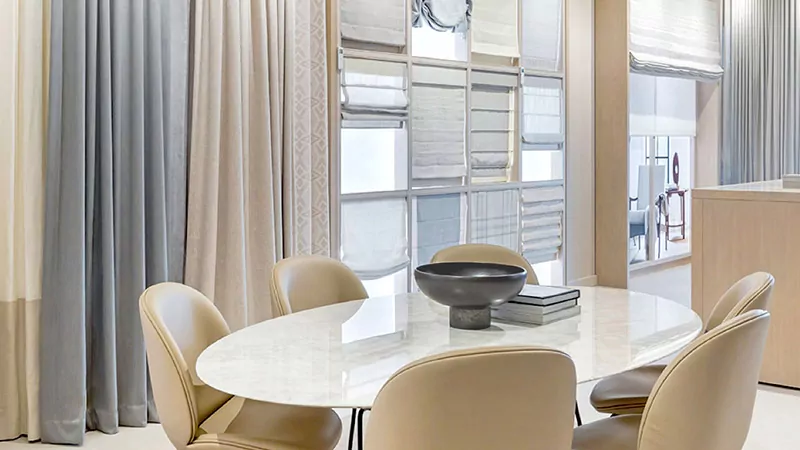 FIND A LOCAL SHOWROOM NEAR YOU
Visit your local showroom for interactive displays of all our products, 1300+ material swatches and helpful Design Consultants ready to assist you.