Narrow windows, often found in bathrooms, stairwells, and older homes, often require custom window treatments because of their various unique sizes. At The Shade Store, we specialize in creating custom window treatments of all sizes, in a wide variety of luxurious and exclusive materials. So whether you need blinds for small windows or curtains for tall and thin windows, we have a lot of options for you to choose from. Privacy, light blockage, or simple decoration — The Shade Store has your windows covered.
Blinds for Small Windows
Wood Blinds are a wonderfully versatile window treatment option, allowing light in when the slats are open and providing privacy when they're closed. The Shade Store offers three timeless collections of wood blinds in more than 60 finishes.. The minimum size is 9 inches wide, and they are customizable to the eighth of an inch.
In the bathroom below, designed by Kristin Taghon for Selah House, decorative tapes are used to give the white blinds interest and dimension and coordinate with the bold wall color. Wood Blinds can be tilted with a cord as shown, or with a wand, which is excellent for children's rooms as it reduces the amount of cords on the treatment. We also offer a motorized tilt option, making blinds easy to tilt on high or hard to reach windows.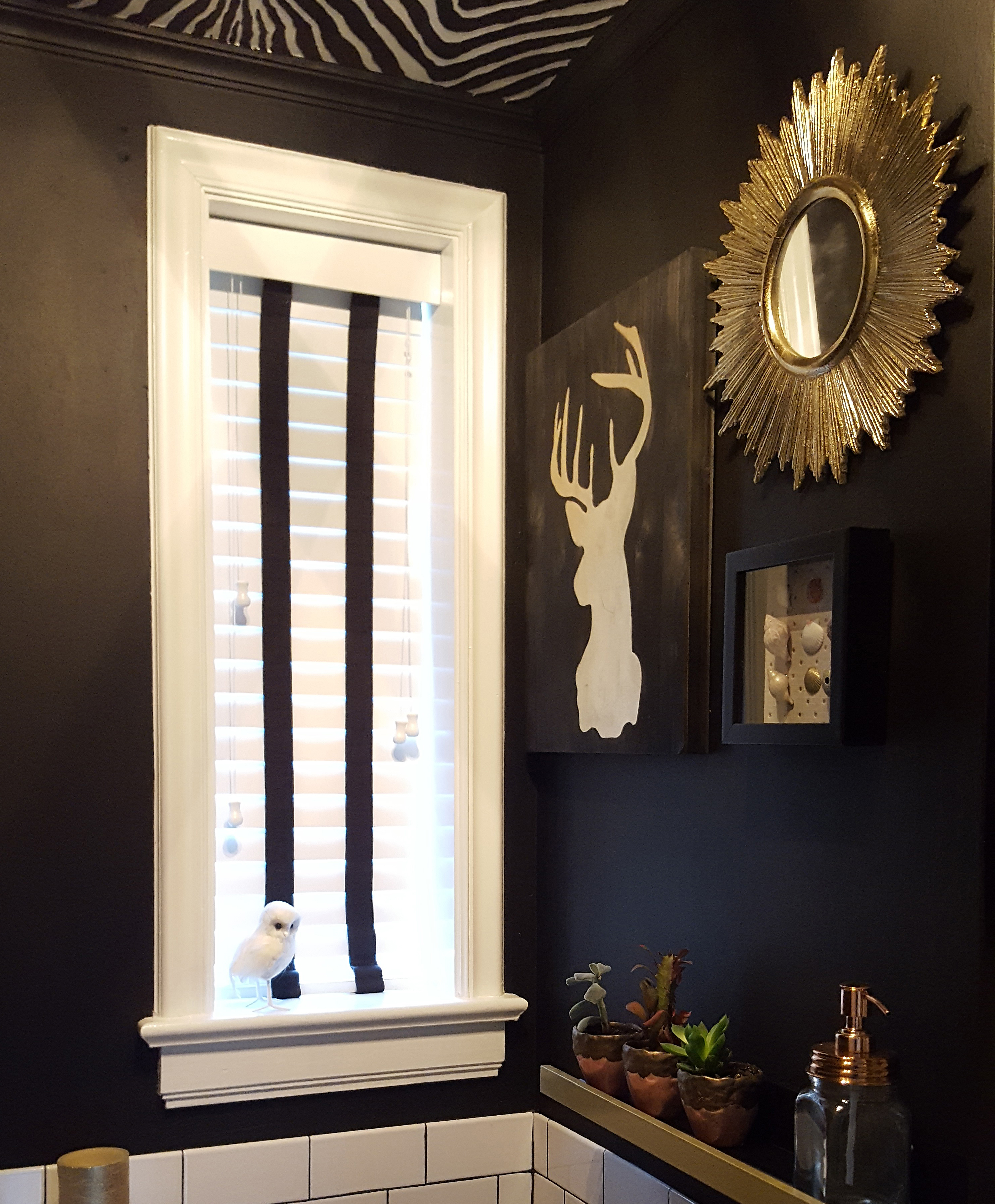 Roller Shades for Tall & Narrow Windows
You can't go wrong with Roller Shades for tall and narrow windows. Rollers can be made as small as six inches wide and are also customizable to the eighth of an inch. The Shade Store offers a gorgeous selection of exclusive materials in varying transparencies, from light filtering to blackout. The Novogratz and Nat Roller Shade collections are full of bright colors and textures, adding personality to windows of all shapes and sizes.
Door sidelights are often very narrow, and many struggle with finding a stylish solution to add privacy in such small places. Below, designer Suzanne Schultze shows how Roller Shades in Fountain fit the bill perfectly, blending in with the style of the doorframe and keeping the space bright. Rollers have three control types: continuous loop chain control, cordless (great for keeping narrow treatments clean and simple), and motorized.
Curtains for Tall & Thin Windows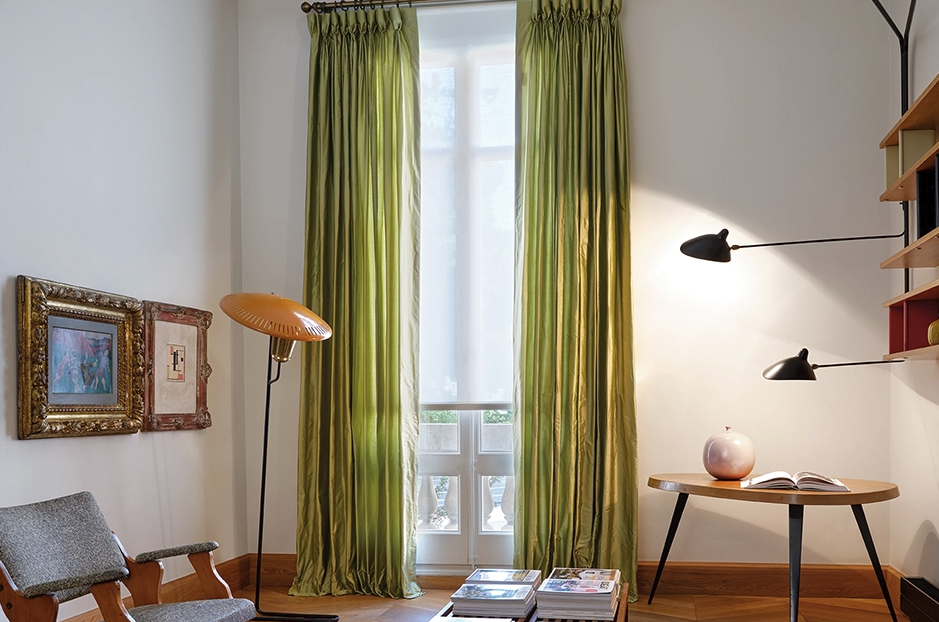 Inner Layer: Roller Shade — Prince, Ivory / Outer Layer: Goblet Drapery — Silk Dupioni, Leaf
When designing curtains for tall and thin windows, we recommend floor-to-ceiling drapery. This gives your windows a dramatic appearance, making them look larger and taller. The Shade Store offers a beautiful selection of exclusive materials for curtains for tall and thin windows.
Cellular Shades for Small Windows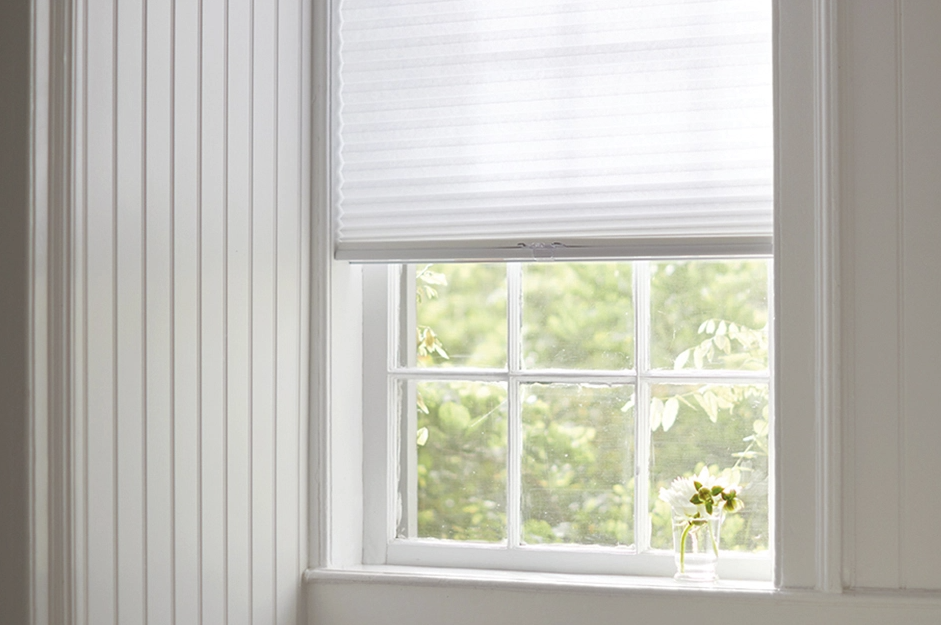 Another great idea if you're looking for shades for small windows is our Cellular Shades. Available in Light Filtering and Blackout options, they offer excellent privacy, light control and even insulation!
For help or window treatment design advice on your tall and narrow windows, simply give us a call at 800.754.1455, visit us online or come see us at one of our nationwide showrooms. We will help you create the ideal shades and blinds for your space.