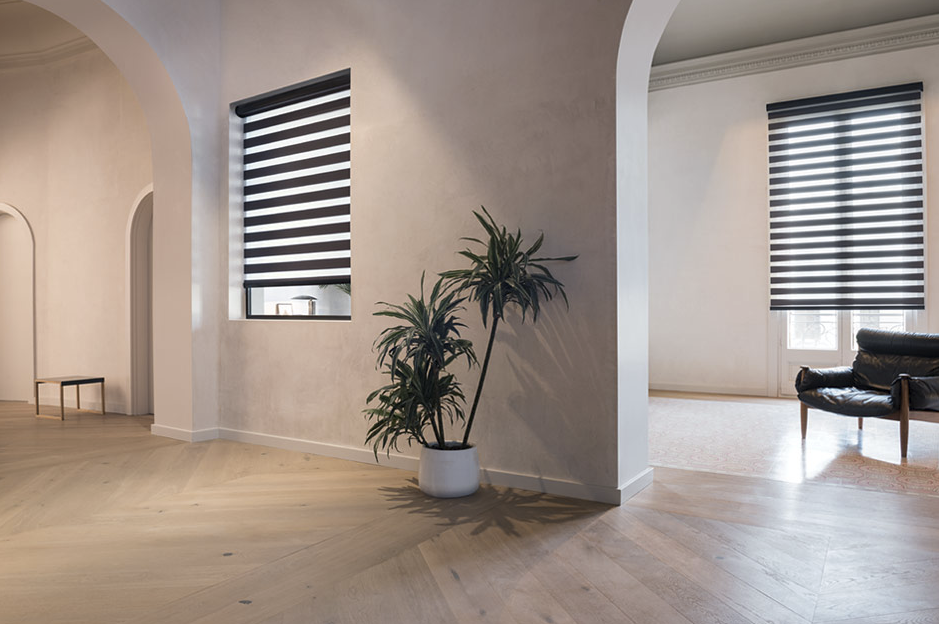 What Is a Double Roller Shade?
Double Roller Shades, also known as dual shades or double roller blinds, boast a clean, simple, and modern design aesthetic. Double roller shades have alternating bands of sheer and opaque material that can be adjusted to let light in or overlaid for privacy and light control.
Double Roller Shades: The Features
Dual shades appear with alternating 2 inch sheer and 3 inch privacy opaque bands of material.
Comes standard with a metal valance and bottom bar.
With a variety of materials and colors to choose from, you can customize your double roller shade look to match seamlessly with the rest of your space.
Our Double Roller Shade is an addition to our ever-popular Roller Shade Collection. As with all of our roller shade options, the double roller shades are a great choice when you want your window treatments to be sleek and stylish.  View our double roller shade materials and order free swatches today.
Want to Learn More About Dual Shades? We're Here to Help.
If you have questions about Double Roller Shades or dual shades, or if you're ready to find the perfect Double Roller Shades for your windows, we're here to help.   Our expert Design Consultants are available to assist you with whatever you need — from material selection to measurement and installation scheduling and more. Come visit us in your local showroom or request a free design consultation to get started.