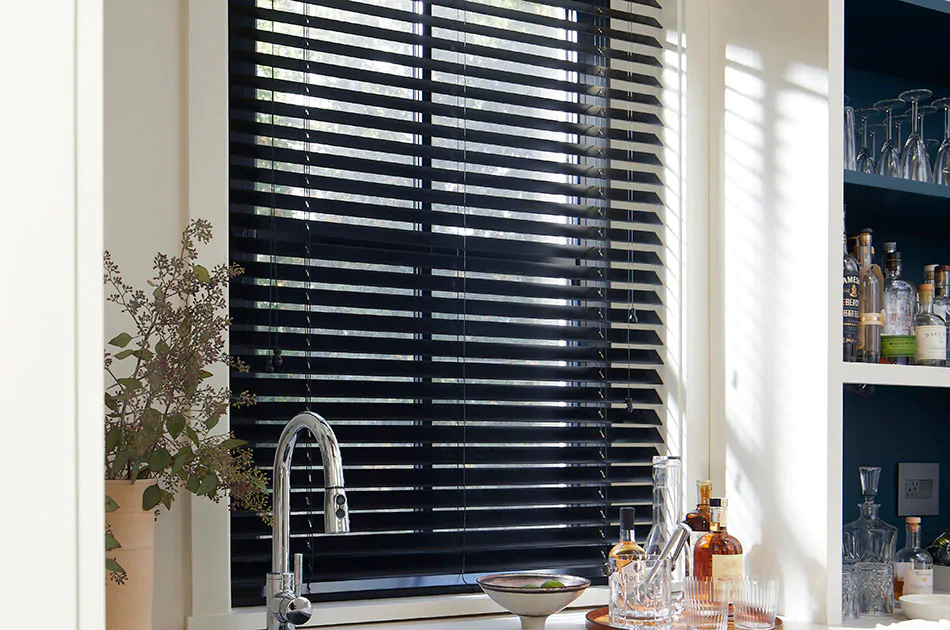 Small Window Blinds: Small & Narrow Options
Looking for small window blinds for your home? Small window blinds can refer to a few different types of blinds, so it's important to first identify which is most relevant to you before diving into your options.
Blinds for small windows – These are blinds that fit into a small window frame that's short and small such as a small bathroom window.
Tall, narrow window blinds – These are blinds that fit a tall, narrow window like a sidelight window.
Mini blinds – These are blinds with slats that are 1-inch wide or less and often a good option for small and short or narrow and tall windows.
These types of small window blinds are often used for the following small and tall, narrow windows:
Now that you understand what small window blinds can mean, as well as the types of windows they're best used for, you're ready to explore your options to find the right match for your space.
Your Options for Blinds
Whether you need blinds for small windows or tall windows, you have many options to choose from. All of these blinds can be made in very small sizes, with a width as narrow as 9 inches and height as short as 6 inches for certain blinds, and can also be made quite tall, up to about 120 inches for most blinds. So, no matter what size window you have, you'll likely be able to find a suitable solution from these options.
Explore the different types of blinds to decide which is best for your space.
2-Inch Wood & Metal Blinds
2-inch Wood and Metal Blinds are a versatile option that can suit a wide range of window sizes. These blinds feature 2-inch-wide slats, so are not considered mini blinds, but instead offer a more defined, sophisticated aesthetic.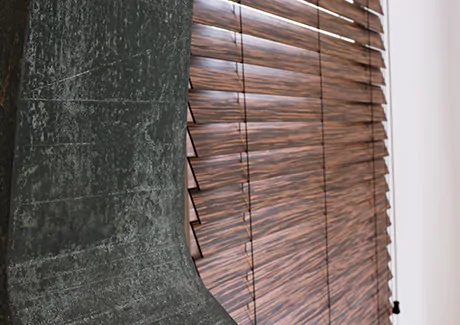 2-Inch Wood Blinds
Wood Blinds are available in real wood and faux wood options. Both feature a realistic wood look, but Faux Wood Blinds are moisture-resistant, making them a better choice for humid environments like bathrooms and basements.
Choose from a wide range of wood grains, colors and finishes to find the right look for your small window blinds.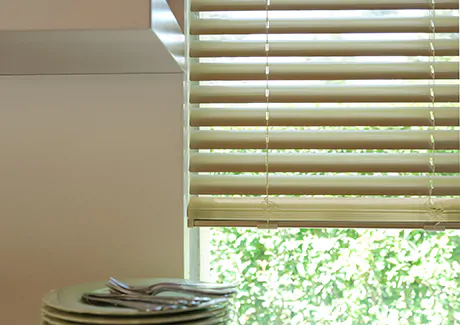 2-Inch Metal Blinds
Metal Blinds are made from durable, lightweight aluminum that's easy to clean and resistant to moisture, so is a good choice for moisture-rich and humid environments as well as high activity areas like above the kitchen sink.
Choose from several colors, from muted White and Black to a more metallic options like Silver and Champagne.
Benefits of 2-Inch-Wide Slats
2-inch blinds offer several benefits for use as small window blinds or tall, narrow window blinds:
A more distinguished, sophisticated look – Wider slats carry more visual weight for a more distinctive look than mini blinds, which lends them well to small windows in more formal spaces like the dining room or living rom.
Better view and lighting – Wider slats give you a wider gap between the slats when the blinds are tilted open. This means you'll enjoy a better view to the outdoors as well as let in more natural light, both of which need to be optimized to get the most out of a smaller window.
Shows off the grain pattern and color variation of Wood Blinds – 2-inch slats are ideal for allowing the pattern and colors to repeat several times for a more engaging aesthetic.
Emphasizes the sleek, metallic sheen of Metal Blinds – 2-inch slats for Metal Blinds have more luster than thinner blinds, giving them a more elevated, industrial-chic look.
Size Considerations
Wood and Metal Blinds can be made as narrow as 9 inches wide and as short as 10 inches in length. However, any narrow window blinds less than 12 inches wide will only function with a tilt control and won't be able to be lifted or lowered. This is because the headrail, when less than 12 inches wide, does not have enough space for all the control mechanisms. Also, due to their wider slats, these blinds are often not the best choice for very small or short windows, since the 2-inch slats may look too big and out of place in a small frame.
1-Inch Metal Blinds: Mini Blinds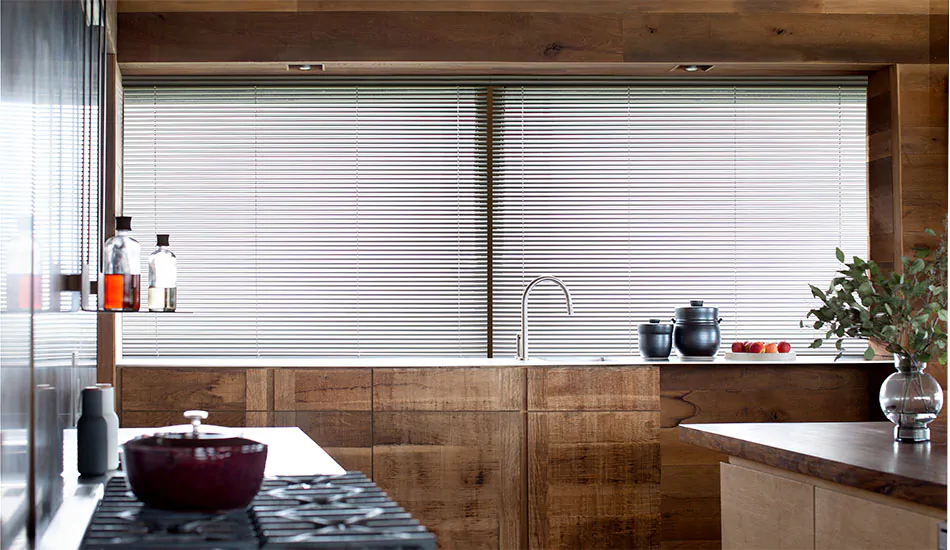 Mini Blinds are those with slats that are 1-inch wide or less. Mini blinds are often made from aluminum or plastic, with aluminum mini blinds typically being the higher-quality, longer-lasting option for small window blinds.
Benefits of Mini Blinds
Mini blinds, thanks to their unique design, offer benefits as small window blinds that 2-inch blinds don't:
Deliver a sleek, utilitarian aesthetic – The narrower slats create a tight linear design that suits a modern aesthetic style where function is greater than form.
Better suited to the smallest windows –Thanks to their smaller slat size, mini blinds deliver a more tailored, intentional look when used with your smallest windows
Size Considerations
Mini blinds can be made as narrow as 9 inches wide and as short as 6 inches tall, making them the best choice for your extra small and short windows. However, just like 2-inch blinds, mini blinds less than 12 inches wide will only function with a tilt control and won't be able to be lifted or lowered.
FAQ: Can You See Through Mini Blinds at Night?
Since mini blinds are made from opaque material like aluminum, you won't be able to see through them at night, when the slats are tilted all the way down or all the way up. However, all blinds, including mini blinds and 2-inch blinds, are made with braided ladder cords that run through the slats, holding them together, which does allow some light to escape. Therefore, while your neighbors or a passer-by won't be able to see through your mini blinds at night, they might be able to tell if you have the lights on or off. For increased privacy, some types of blinds, like 2-inch Wood Blinds, are compatible with decorative tape that runs along the ladder cords, covering any gap they create. You can also consider a secondary blackout window treatment to pair with your blinds for increased privacy and a great room darkening effect
Looking for the Best Blinds for Small Rooms?
Have a small room? Ensure your small space feels cozy but not cramped with Vertical Blinds that can help make your window and ceiling feel taller.
Alternatives to Small & Narrow Window Blinds
Not sure if the small window blinds listed are the right fit for your space? Several other window treatment options exist as alternatives to small or narrow window blinds. These shade options are comparable functionality to small window blinds: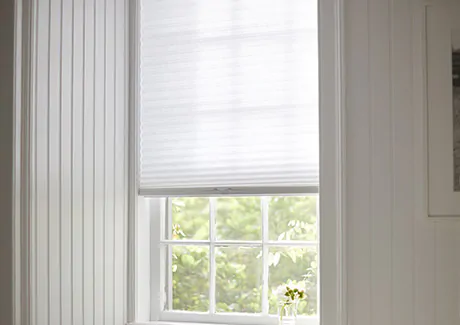 Cellular Shades
With their unique honeycomb design, Cellular Shades give you a similar linear look to blinds but are made from soft fabric. Cellular Shades can be made as small as 9-inches by 6-inches, making them ideal for your smallest windows. Plus, their honeycomb design offers effective insulation against the heat and cold, helping to regulate your interior temperatures.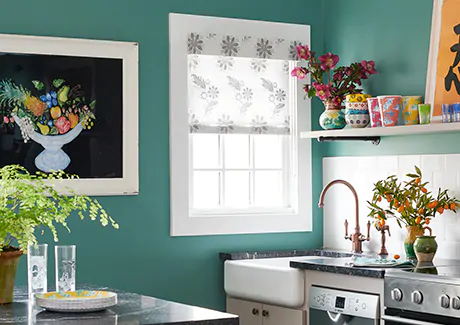 roller shades
Roller Shades feature material that rolls up and down around a tube at the top of your window. These shades can be made as small as 6-inches by 6-inches, making them ideal to replace your small window blinds. Roller Shades come in a wide variety of materials, including light-filtering and blackout options, so you can choose the right look and functionality for your space.
Get an Estimate for Your Project
Now that you know your options for small window blinds and tall, narrow window blinds, you likely have an idea of which option will work best for your space. To get a sense of how much your project will cost, request a free quote for your chosen small window blinds or shades. Our Design Consultants will be happy to assist with your quote, as well as answer any questions you have about your product choices, installation and more.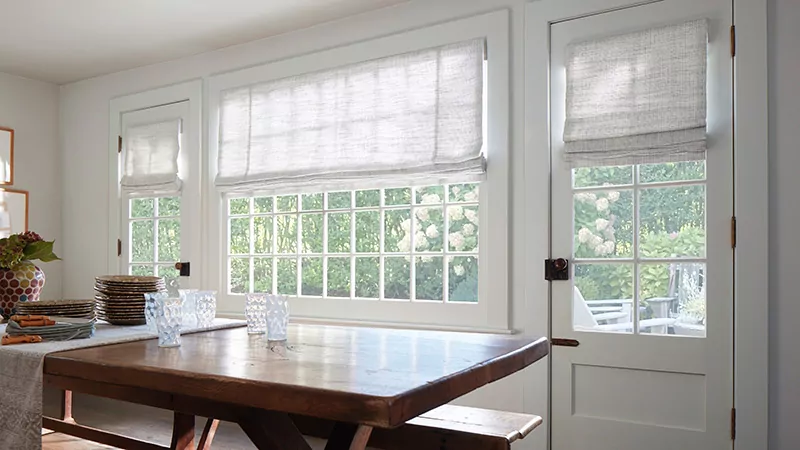 GET A FREE COST ESTIMATE FOR YOUR PROJECT
Request a free quote for a cost estimate calculated by our team based on information you provide such as product type, material choice, size and more.