Style Spotlight: Neutral Curtains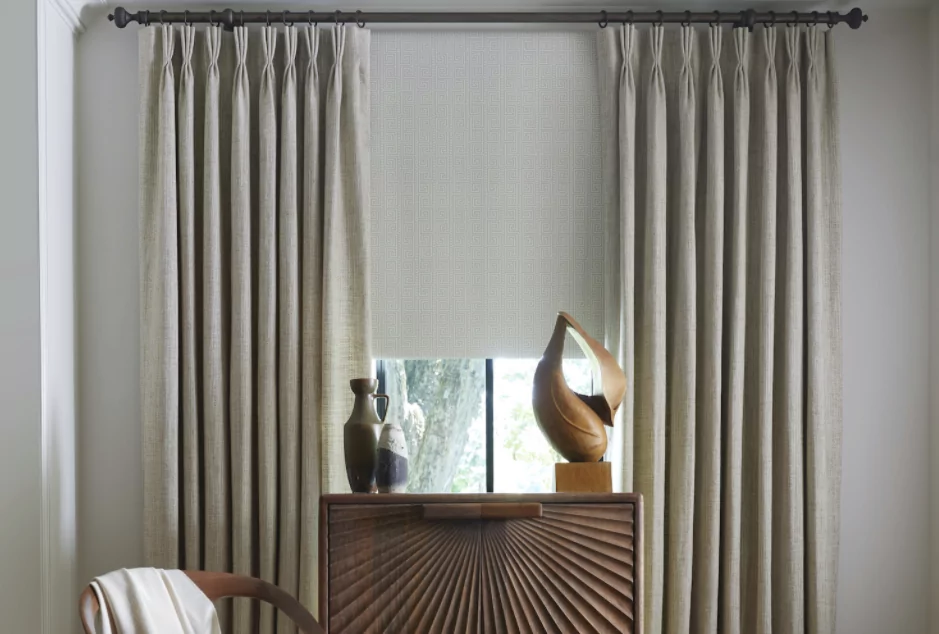 At The Shade Store, we believe neutral curtains are an essential part of home décor. Our window treatment material collection by SunbrellaⓇ showcases a variety of neutral curtain materials designed to go with everything. In this partnership, stylish design meets unparalleled performance in three exclusive collections. Featuring subtle solids, rich textures and iconic patterns, these fade-resistant fabrics add softness and warmth to every interior.
Filter Light Flawlessly
A great way to fill your favorite spaces with natural light while also introducing warmth and texture is with neutral curtains in a semi-sheer material. We suggest a neutral curtain material like Tinte from the Sunbrella Ventana Collection. Order free swatches today.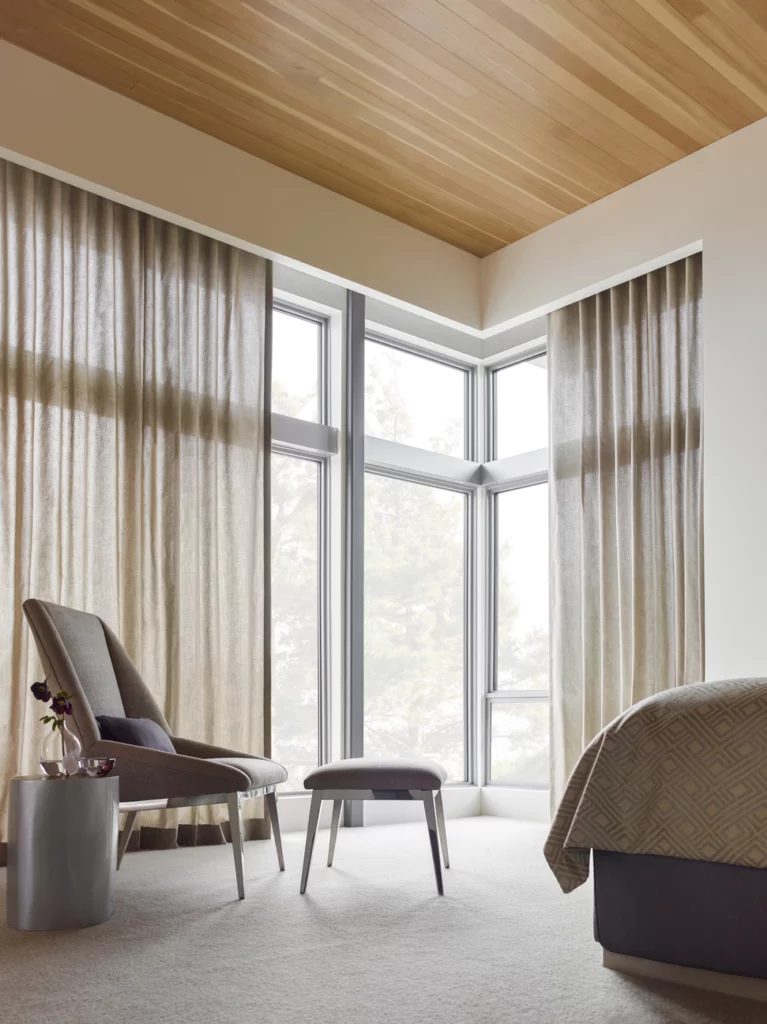 Pictured: Ripple Fold Drapery — SunbrellaⓇ Ventana CollectionⓇ Tinte, Ash
Elevate Your Space
To give your space the illusion of having higher ceilings, our expert Design Consultants recommend floor-to-ceiling neutral curtains. This is also an easy way to add a touch of drama into your home interior. Get started by layering neutral Solar Shades with Ripple Fold Drapery — both from our Sunbrella collection.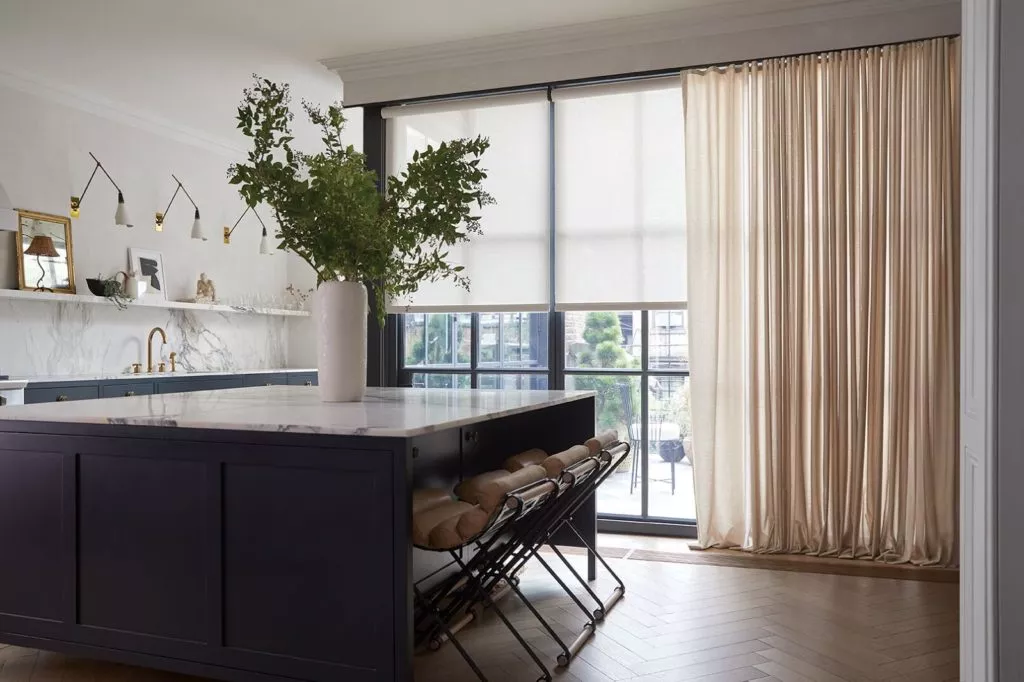 Pictured: Solar Shades — SunbrellaⓇ Solar Collection 5% Solistico, Oatmeal and Ripple Fold Drapery — SunbrellaⓇ Ventana CollectionⓇ Vitela, Heather Beige
Lavish Layers
Layering neutral curtains is a great way to add elegance and luxury to your home — and neutral hues give you the versatility to make putting a layered look together easy. Try styling cream curtains with soft translucent shades to add subtle richness and contrast to your space.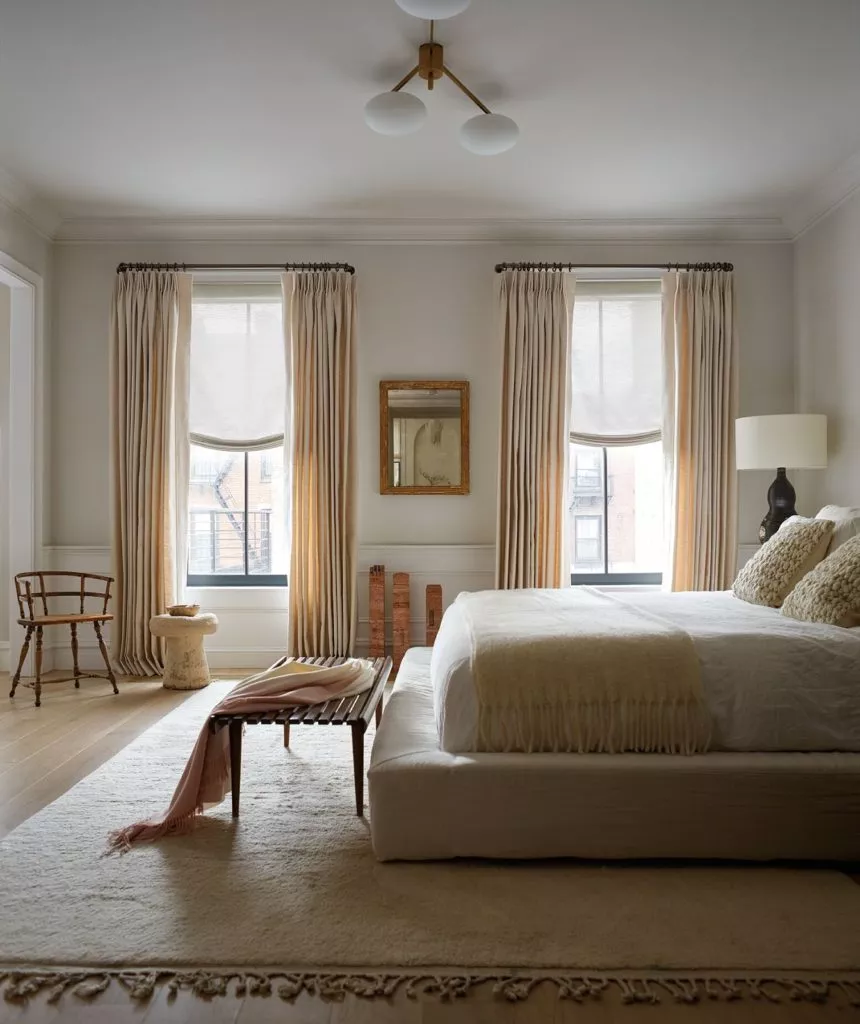 Pictured: Relaxed Roman Shades — SunbrellaⓇ Ventana CollectionⓇ Vitela, Silver and Tailored Pleat Drapery — SunbrellaⓇ Ventana CollectionⓇ Alma, Beige
Find the Perfect Neutral Curtains for Your Windows
If you have any questions about neutral curtains or need assistance finding the perfect custom window treatments for your home, we're here to help. The Shade Store offers expert services every step of the way — from inspiration to installation. Our team of Design Consultants is available to assist you with material selection, color coordination, measurement & installation scheduling and more, however you choose to shop. To get started, stop by your local showroom, visit us online or give us a call at 800.754.1455.