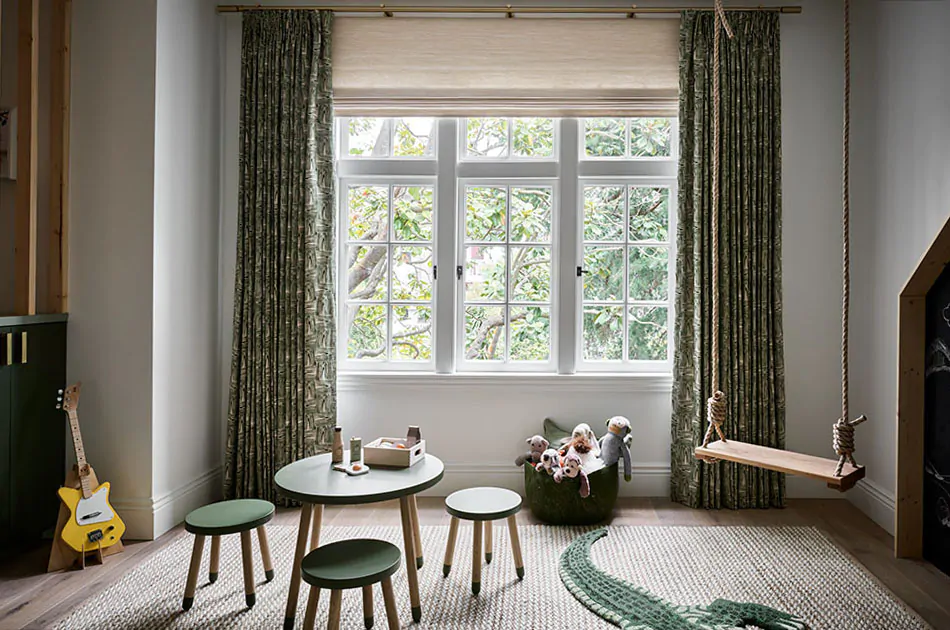 Kids Curtains: Styling Ideas & Tips
Kids curtains not only add stylish color, pattern and texture to your child's room, but will also provide the light and privacy control your child needs to feel comfortable and sleep better. Finding the right kids room curtains will depend on a mix of your child's preferences, your own preferences, as well as what kind of functionality best suits your needs.
Learn tips to help you choose your kids bedroom curtains, then explore inspiring examples to spark your creativity.
Tips for Choosing Kids Room Curtains
Choosing kids curtains can be tricky: You want the look to suit your child's sense of style, while not straying too far from your own. And you likely also want them to be functional so you and your child can open and close them easily and without struggle. These tips can help you discern the right style of kids curtains as you explore your product options.
Choosing the Right Look (that Lasts)
To choose the right look, it's important to consider the following: Do you want the design to suit your child's style now, with the potential of updating the drapery as they get older? Or would you prefer to choose a more neutral "mature" look that will last through their teenage years? As you consider the answers to these questions, think about them in a twofold sense: budget and aesthetics. If you want to go with a more fun style that reflects your child at the age they are now, you'll need to factor in budget for the kids curtains today and the updated window treatments as your child grows up. If you choose a more neutral, mature look, the only budget you have to worry about is the one you'll spend now.
Achieving the Right Level of Privacy & Light Control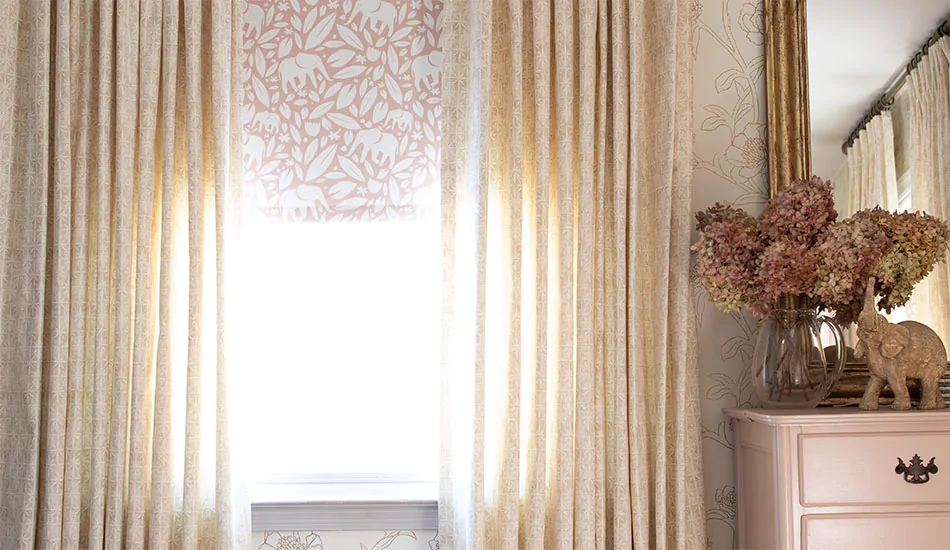 Drapery fabric comes in many different materials and opacities, from sheers to thick wool blends, as well as lining options like privacy and blackout lining. When considering the right fabric and lining in terms of privacy and light control for your kids curtains, think about your child's needs and sleep preferences. Blackout lining can be a game-changer in terms of giving them a better night's sleep. Or, if they prefer to wake up with the sun, a lighter drapery fabric like cotton or linen, along with privacy lining may be just the right combination to give them privacy while still allowing the warm glow of morning to gently wake them.
Safety Features
Depending on your child's age and abilities, the safety of your kids curtains may be of prime importance. The biggest danger to children lies in the use of cord control systems, but luckily, there are lots of safe control options, including those with Best for Kids® certification. Your best choices for better safety including kids room curtains with one of the following controls:
Rod and rings hardware with or without a baton: Rod and rings hardware systems from The Shade Store come without any control type: You simply pull the drapery panels by hand back and forth. However, you can custom order a baton for each drapery panel so you can avoid touching your drapery each time you want to draw it open or closed.
Track system hardware with a baton: Track systems from The Shade Store come with either a cord control or baton control system. While the looped cord is kept taut with a tension device to prevent entanglement, for the utmost safety, be sure to choose the baton as your control type.
Motorized track system: Motorized track systems have no control cords at all and operate effortlessly with a remote, an app on your smartphone or even with the sound of your voice when you pair it with a home automation system. And if you're worried about power cords, don't be: A battery-powered option is available from The Shade Store. If you do choose a plug-in option, you can likely rewire the electrical in your child's room so that the motor plugs into the ceiling rather than an outlet near the floor. However, keep in mind, if any rewiring is necessary, you'll need to work with an electrician.
Material Concerns
For kids room curtains especially, the durability and maintenance level of fabric is an important factor to consider. You want to make sure the material you choose can stand up to everyday use as well as possibly occasional tugging or rough handling. For the most durable and easiest-to-maintain materials, opt for synthetics like Sunbrella materials that are beautifully made for longevity. Or, if you prefer the imperfect beauty of natural materials, opt for hardier fibers like linen, cotton or wool.
Dive Into Kids-Inspired Drapery Fabrics
Ready to start exploring your fabric options for kids curtains? We have an entire collection dedicated to kids designs, and you can order all the swatches for free to compare at home with your family.
Inspiration for Kids Curtains
Get ideas for your own design from these curated kids rooms featuring drapery as well as other layered window treatment options. Plus, learn what products are used in each room so you can get the same look or pick and choose specific elements to incorporate in your own kids curtains or other window treatments.
Simple & Chic Blackout Drapery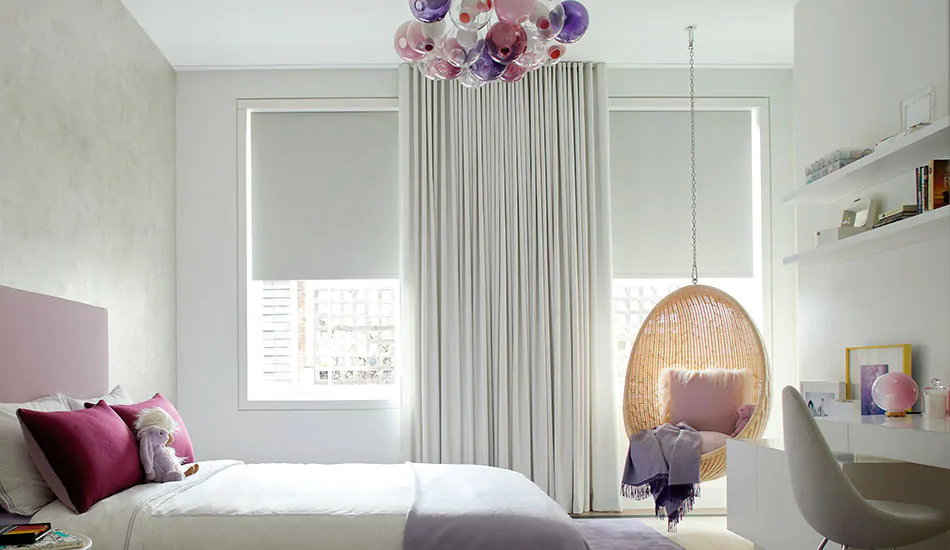 For a neutral choice for your kids room curtains, opt for simple, elegant Ripple Fold Drapery in an off-white color. Blackout lining on the drapery can both ensure a good night's sleep for your child as well as providing excellent privacy and a full, lush look for the drapery. Plus, the neutral tone suits any style and color scheme while being a timeless look that will last through your child's teenage years. To achieve even greater privacy and light control, while still sticking to the simple, chic look, layer your kids curtains with Blackout Roller Shades in a similar off-white tone.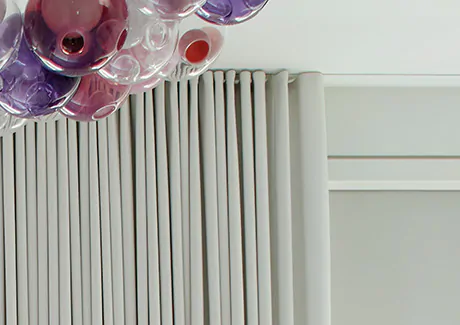 Ripple Fold Drapery
Ripple Fold Drapery comes with a track system for ease of use for both you and your child. Plus, the soft S-curves of the design give these curtains a sleek, modern look.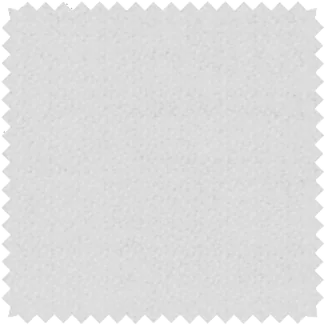 Holland & Sherry, Wool Flannel in Glacier
A warm, off-white, Glacier is super versatile and suits many styles and color schemes. Plus, the 100% wool fabric is both durable and soft — perfect for a kids bedroom curtains.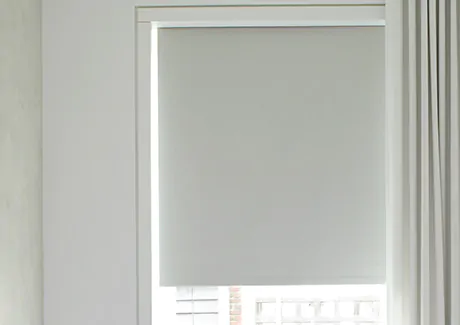 blackout Roller shade
With a sleek design and optimal light and privacy control, Blackout Roller Shades are a versatile addition to layer with kids curtains. They're also super easy to use and safe for kids, with cordless and motorized options available.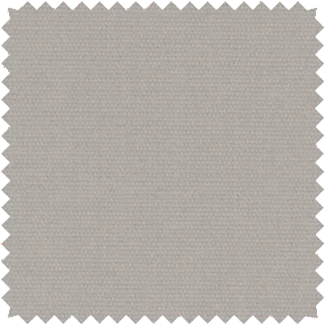 hudson in Grey
This warm grey tone creates a sense of calm and tranquility — and is excellent for layering with other neutral tones. Plus, the 100% polyester material offers blackout coverage and excellent durability for your peace of mind.
Playful Patterns with a Blackout Effect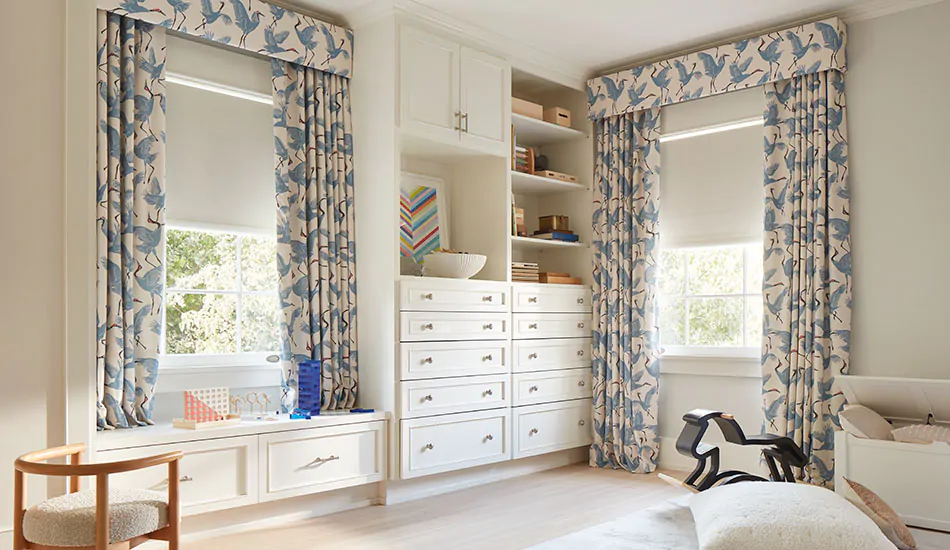 For the very best room darkening effect for a good night's sleep, add a cornice as the finishing touch to your kids curtains design. Cornices are decorative structures that help block light seepage at the top of your drapery while also providing a polished aesthetic. Layering Blackout Roller Shades adds another layer of light and privacy control as well as visual texture and dimension.
Choosing a playful pattern, such as Family of Cranes, for a drapery and cornice combination helps bring the pattern to life. You'll be able to see the pattern fully on the cornice while enjoying the visual movement it brings to your drapery folds. While there are patterns that will appeal to young children, you can also find lots of options that give you the whimsical feel you want while still being elegant enough to transition with the child as they age. If you choose a bold pattern for your kids curtains, keep the rest of the room's design pared down to allow the drapery to be the focal point in the room.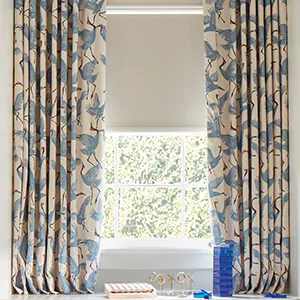 Ripple Fold Drapery
The soft S-curves of Ripple Fold Drapery are a great choice to showcase a pattern and give it a sense of movement between the folds. Plus, it's easy to use.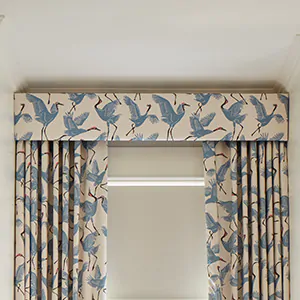 drapery cornice
Cornices help showcase the sequence and details of a pattern while also providing a finishing touch for your overall design. Plus, they block more light for better room darkening.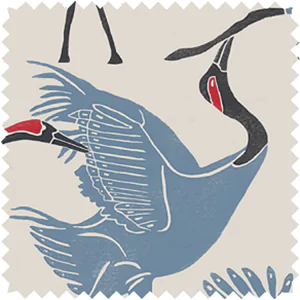 the novogratz, family of cranes in Waverly Blue
A bold, detailed pattern, Family of Cranes adds lots of movement and visual interest to your room and works best as a focal point.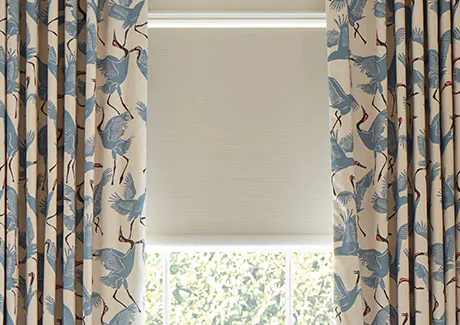 blackout roller shade
The sleek, simple style of Roller Shades is ideal for paring with patterned drapery, while offering another layer of privacy and light control.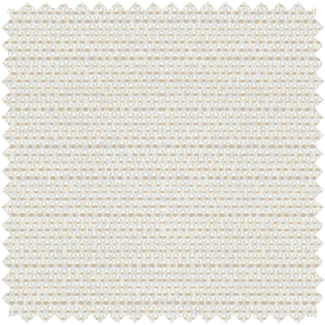 ava in Birchwood
The crisp woven pattern of Ava adds just a touch of visual interest to the design, without competing with other patterns like that of your drapery.
Light-Filtering Drapery with Black-and-White Pattern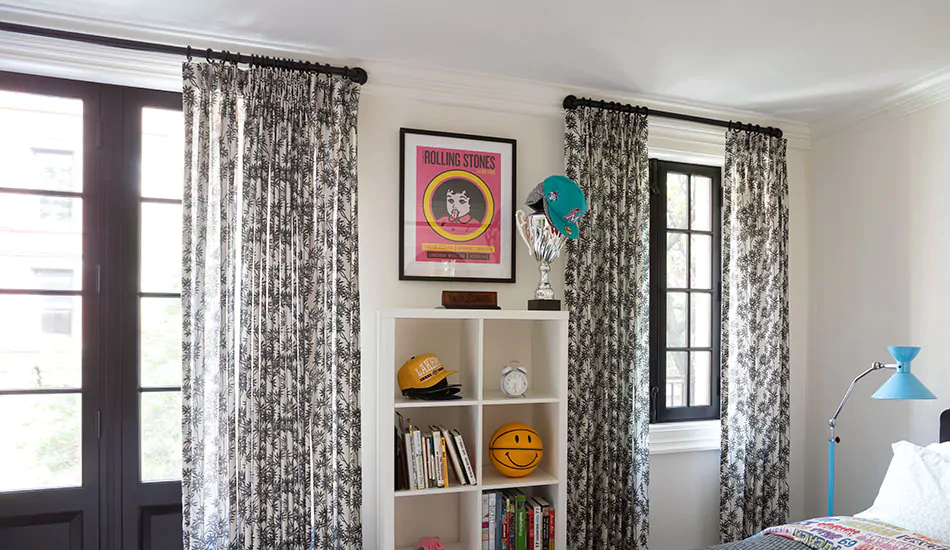 For kids that don't need a room darkening effect to sleep, or prefer to let in the natural light, light-filtering kids bedroom curtains are the way to go. To get a light filtering effect, choose a drapery fabric and don't add lining or add just privacy lining for a bit more coverage. Go with a fun black-and-white pattern, like Daisy Bloom in Zebra Black, to add lots of visual interest while keeping the color scheme neutral. While a black-and-white pattern can be a bold choice with blackout lining, in an unlined or privacy lined application, the natural light helps to soften the pattern for a more subtle aesthetic. Plus, the neutral color scheme will easily transition with the child as they age.
To add a bit of color to the space, consider décor or bedding with bright pops of color to bring a fun, pop-art feel to the space, which may bode well with older children in their pre-teen or early teen years.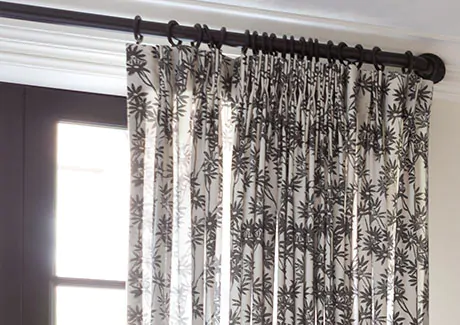 pinch pleat drapery
While often associated with traditional design, Pinch Pleat Drapery can be surprisingly versatile when paired with a contemporary or modern pattern. Plus, it's compatible with track systems, motorized tracks, and rod and rings so you can get the right look with the right functionality.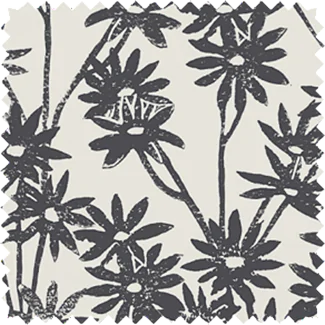 the novogratz, daisy bloom in Zebra Black
A vintage-inspired floral pattern, Daisy Bloom is a block print that brings a lot of character to your space. As a lightweight cotton-linen blend, this is a great material for light filtering drapery, as you can leave it unlined or add privacy lining for a bit more coverage.
Learn best practices for hanging your kids curtains, how to measure for the right height and width, and more. HOW TO HANG CURTAINS
Alternatives to Kids Room Curtains
Not sure if kids room curtains are the right choice? You have many additional options for kids window treatments, and lots of other patterns, textures and colors to choose from as well.
Check out these additional ideas for your kids bedroom.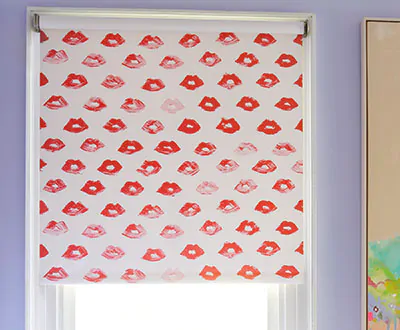 Playful Pop-Art Punctuations
Go bold in your design and simple in functionality with Blackout Roller Shades made from The Novogratz Painted Lips design. This pop-art-inspired design brings color and character to your child's room while also providing a room darkening effect and being very easy to use.
Product: Blackout Roller Shades
Material & Color: The Novogratz, Painted Lips in Red Lips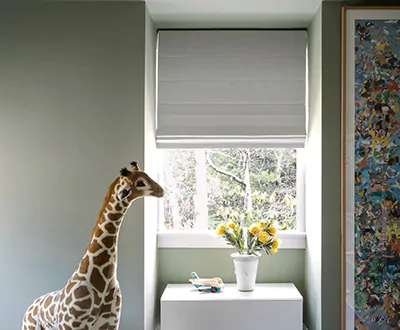 Subtle Neutral Tones
For a subtle look that champions texture and dimension over color and pattern, opt for Cascade Roman Shades in a natural, durable material like Luxe Linen with a neutral color like Optic White. The soft color allows the texture and clean lines of the shade to be the stars of the show, all without overpowering any other design elements in the room.
Product: Cascade Roman Shade
Material: Luxe Linen in Optic White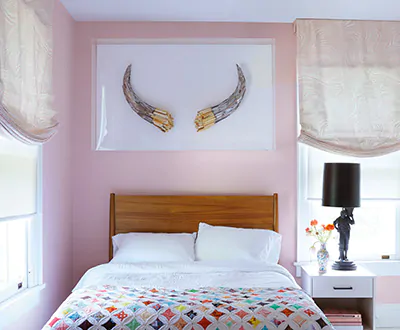 soft colors & folds
For a casual, inviting look, choose Relaxed Roman Shades with a gentle swoop of fabric at the bottom. While not super functional, Relaxed Roman Shades are character-rich and easily layered with functional options like Roller Shades. A subtle pattern like Zebra Marble in Waverly Pink adds a touch more character to bring the design to life.
Product: Relaxed Roman Shades
Material: The Novogratz, Zebra Marble in Waverly Pink
Explore Selections for Your Kids Curtains
With insight and ideas for your kids curtains, you're ready to dive deeper into your product and material options. Start your journey by ordering free swatches of all your favorite — and your child's favorite — materials to compare in the comfort of your home with your family. Be sure to observe each swatch in the changing light of day to night to get a true sense for how the color and pattern will look in your child's room.
ORDER YOUR FAVORITE SWATCHES FOR FREE
Compare as many of your favorites from our collection of 1300+ materials at home when you order free swatches online.