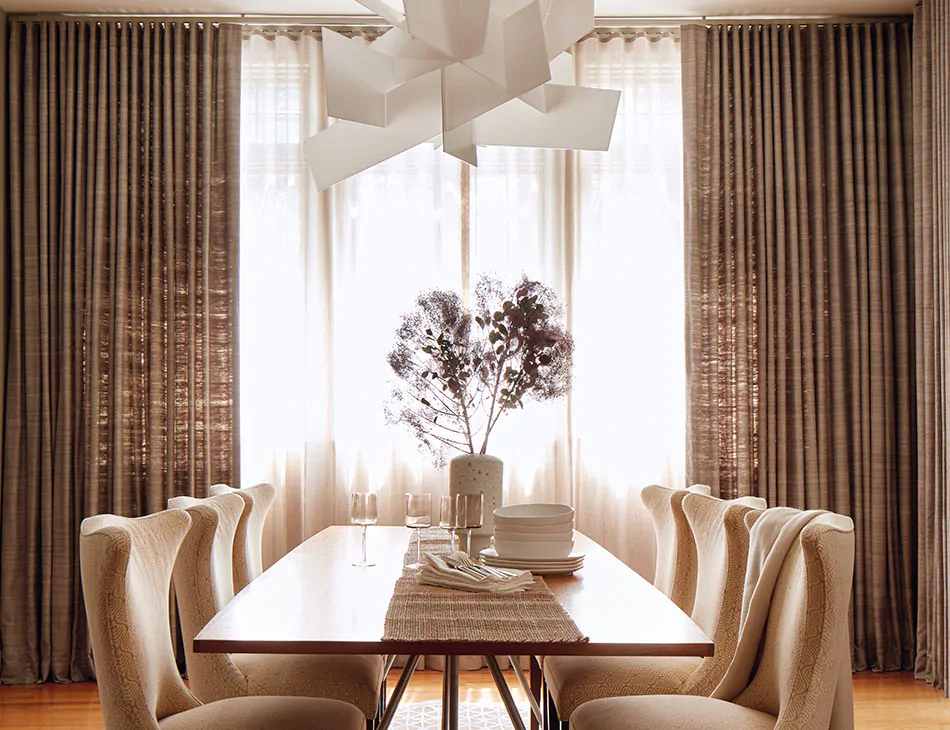 Silk Curtains: Discover Natural Beauty
Silk has been world-renowned as a sought-after, luxurious fabric for centuries. If you're looking for silk curtains, you're look to bring that luxurious look to your home interior. Yet, you also might be wondering if silk drapes are really the right choice for your space. Luckily, despite is delicate appearance, silk is actually a great fabric to use for drapery as it is strong, soft and durable — and when cared properly, it can last beautifully for years.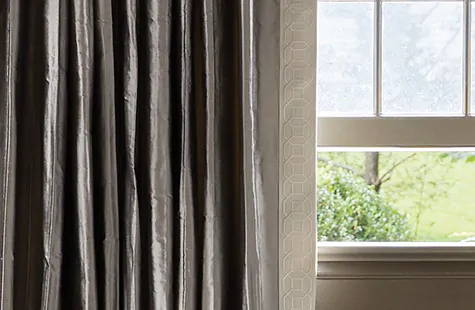 What Is Silk?
Silk is a protein fiber produced by silkworms. Silk production is an ancient art that began in China in the third millennium B.C.E. It's beauty and durability make it highly desirable for luxurious garments and tapestries. Since then, it's continued to be a coveted fabric, including for use in window treatments like Roman Shades and Drapery.
Benefits of Silk Curtains
Choosing silk curtains is a good choice for several reasons:
Beautiful, lustrous material that features more or less shine depending on how its processed.
Strong and durable, as one of the strongest natural fibers, so you can trust it to last beautifully for years.
Unique characteristics of natural material give each piece of silk a one-of-a-kind look.
Variety of options in terms of textures, colors and weight so you can find the perfect match for your space.
Factors to Consider Before Choosing Silk Drapes
While it is a durable material that will last, silk is also 100% natural. This means it requires a few more considerations regarding its vulnerabilities and maintenance needs than synthetic fabrics like polyester and acrylic.
To ensure silk curtains are the right choice for your home and your abilities, review the following factors:
Silk will experience shrinkage over time – Silk fibers shrink with moisture, so overtime your curtains will likely shorten. That's why it's best to choose a break (fabric kisses the floor) or puddle length (fabric puddles on the floor) for silk curtains so any shrinkage isn't noticeable.
Vulnerability to sun damage – UV rays from the sun can weaken silk fibers, resulting in fading and tearing. To prevent these issues and protect your beautiful silk drapes, add privacy or blackout lining.
Vulnerability to water stains – Water can leave a visible, permanent stain on silk that's impossible to get out. So, it's best to install silk curtains in rooms where moisture and water presence is at a minimum, such as bedrooms, dining rooms and living rooms.
Regular maintenance needs – All drapery, including silk, benefits from routine vacuuming with a handheld, low-suction vacuum. However, silk's propensity to shrink with moisture and even be damaged by water makes deep cleaning difficult at home. It's highly recommended that silk curtains undergo dry cleaning, preferably with a window treatment cleaning specialist who can likely come to your home and clean the curtains without taking them down. If you don't have a window treatment cleaning specialist in your area, any dry cleaner with silk expertise should be able to help.
Types of Silk Used for Curtains
There are many different types of silk used for curtains, each with its own unique texture, weight and appearance. Three common types of silk used for drapery, that are part of The Shade Store fabric collection, include Raw Silk, Silk Dupioni and Matka Silk. All our silk fabrics are made from 100% silk and are woven and processed differently to create a unique look and feel.
Choosing the Right Style of Silk Curtains
After deciding on the particular silk fabric and the lining option for your silk curtains, you also need to think about the pleat style and hardware. Pleat style and hardware both have as much to do with functionality as they do with aesthetics, so having an understanding of how you need your silk drapes to function is essential.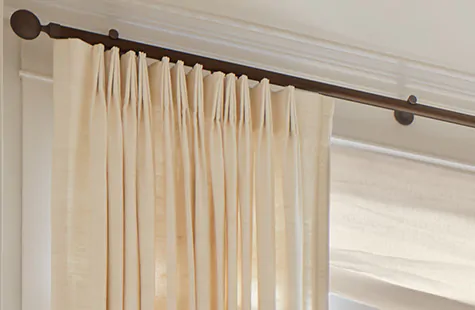 Pleat Styles
Pleat style refers to the design of your curtains at the very top of the panel, and subsequently, how the fabric falls toward the floor. Pleat styles range from modern like Ripple Fold and Tailored Pleat (pictured) to traditional like Pinch Pleat and Goblet Drapery. Choosing the right one for your silk drapes will depend on matching the style to your existing décor as well as choosing a pleat that best accentuates the beauty of your chosen silk fabric.
For instance, Ripple Fold Drapery creates S-curves for pleats, which create linear lines from the top of the panel to the floor. Choosing this style will give your silk curtains a sleek look that tones down their sense of opulence with modern sensibility. On the other end of the spectrum, Goblet Drapery features delicate goblet-shaped pleats that create lots of luxurious folds in the drape panel as it falls to the floor, so your silk curtains catch the light from multiple angles, accentuating its sheen.
These styles also vary in their functionality, as some pleats are easy to open and close while others are best used as stationary, decorative panels. So, thinking about how often you plan to open and close your drapery is also essential.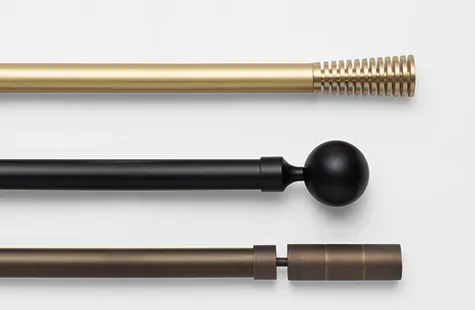 It's important to note that avoiding touching your silk drapes is ideal as oils from your hands can cause discoloration over time. A baton can also be added to rod and rings hardware, but it will still be a bit more difficult to move than a track system. Motorized track systems give you the very best control by effortlessly allowing you to adjust your drapery with a remote, an app, or even a smart home system.
Ideas for Styling with Silk Curtains
Now that you know all about your options for silk drapes as well as pleat styles and hardware options, gather inspiration for your own design from these curated spaces. Each features silk curtains in a different aesthetic style so you can get a sense for the many ways silk can be incorporated into your design.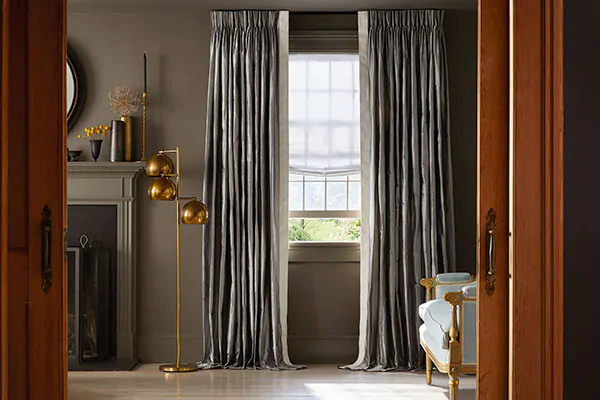 Traditional Living Room with Opulent Accents
For a traditional living room with a warm, dark color scheme, silk curtains can be the perfect addition to an already opulent aesthetic. To help lighten the space while still sticking to the darker color scheme, choose Silk Dupioni with its lustrous sheen. Even in a darker color like Pewter, the light-reflecting material still helps to brighten the space. Gold accents in your décor have the same effect, with a deep color but lustrous sheen.
Pictured: Outer Layer: Pinch Pleat Drapery, Silk Dupioni in Pewter with Samuel & Sons Sakiori Embroidered trim in Salt and Inner Layer: Relaxed Roman Shade, Silk Dupioni in White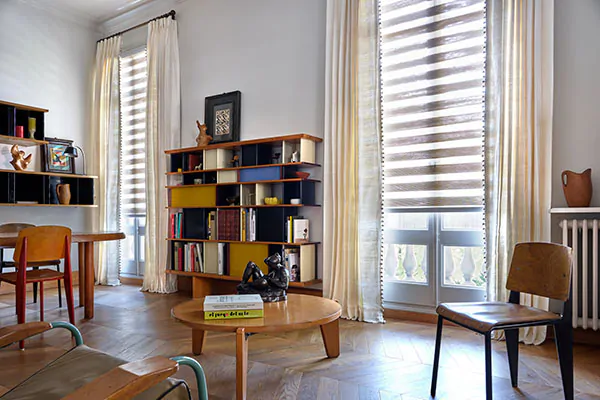 Mid-Century Modern Lounge with Natural Tones & Textures
In a mid-century modern lounge, choose Raw Silk curtains for a touch of luxury and lots of texture. The mid-century modern style champions natural colors and textures alongside modern elements like metal and glass. The natural texture and color of Raw Silk is especially complementary toward this style, especially when combined with the metallic curtain rod and other modern elements. For a contrast to the softness of the drapery and even greater functionality, add a layer of Double Roller Shades in a similar neutral tone to your silk drapes. Be sure to mix more soft, curving lines as well as straight crisp lines throughout the rest of your space to echo this contrast.
Pictured: Outer Layer: Pinch Pleat Drapery, Raw Silk in Glacier and Inner Layer: Double Roller Shade, Windansea in Canyon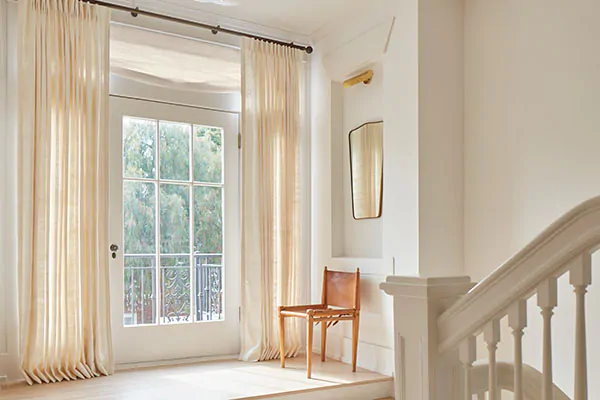 Airy, Warm & Elegant Foyer
For a bright space that gets a lot of natural light, accentuate the warmth of the sun's rays with a warm color for your silk drapes like Raw Silk in Glacier. The creamy off-white tone captures the golden light of the sun to soften it and provide a warm glow. Plus, the natural light also accentuates the beauty of the Raw Silk by highlighting its distinctive, character-rich texture. In sunny spaces, be sure to choose privacy lining to protect your silk curtains while still allowing some natural light to filter through.
Pictured: Outer Layer: Tailored Pleat Drapery, Raw Silk in Glacier and Inner Layer: Relaxed Roman Shade, Luxe Sheer Linen in Off-White
Compare Silk Fabrics at Home
Now that you know all about your options for silk drapes, order free swatches of silk fabrics in your favorite colors to see how they complement your own space. Be sure to look at not just the color, but also pay attention to the visual and tactile texture of the silk to ensure it aligns with your space's existing aesthetic. For your lining choices, visit your local showroom, where expert Design Consultants can talk to you about linings. They'll also be able to help you with pleat styles and hardware so you can make the right selections for your preferences and needs.