A Guide to Sheer Drapery: From Fabrics to Styling

Tailored Pleat Drapery — Victoria Hagan Sankaty Stripe, Sand
Let soft light filter into your home. Add luxurious depth and texture to the window. Elevate every space. Sheer drapery is one of the most elegant ways to adorn your windows, and in this post we'll go over some of the best fabric to use and a few expert tips on how to style sheer curtains.
Selecting the Perfect Sheer Drapery Fabric

Inner Layer: Ripple Fold Drapery — Sheer Wool Blend, Cloud / Outer Layer: Ripple Fold Drapery — Wool Blend, Fleece
When selecting sheer drapery fabric, always consider form and function. We recommend asking yourself the following questions:
What do I want my sheer curtain material to accomplish in my space?

What aesthetic am I going for?
Solid-Color Sheer Curtain Material

Ripple Fold Drapery — Sheer Elegance, Winter
If you are looking to simply soften the natural light coming into your home and fill spaces with a gentle glow, we recommend a solid sheer drapery fabric. Explore a few of our favorites below: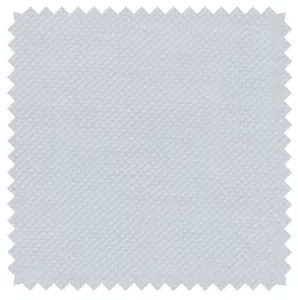 Sheer Elegance is a sheer curtain material that's soft and pliable with lovely texture — an affordable essential with a timeless look.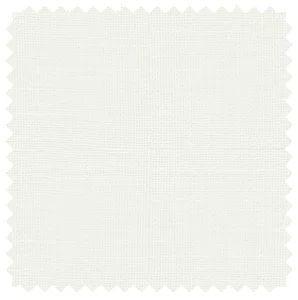 Wool Challis, part of our exclusive partnership with Holland & Sherry, is a 100% natural wool sheer drapery fabric woven with a melange of dyed yarns for an elegantly textured appearance and a soft hand.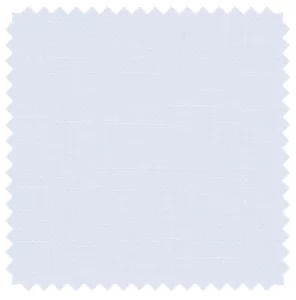 Soft, lightweight and delicately woven with subtle texture, Linen Sheers is an ideal choice for filtering light while maintaining privacy.
High-Performance Sheer Curtains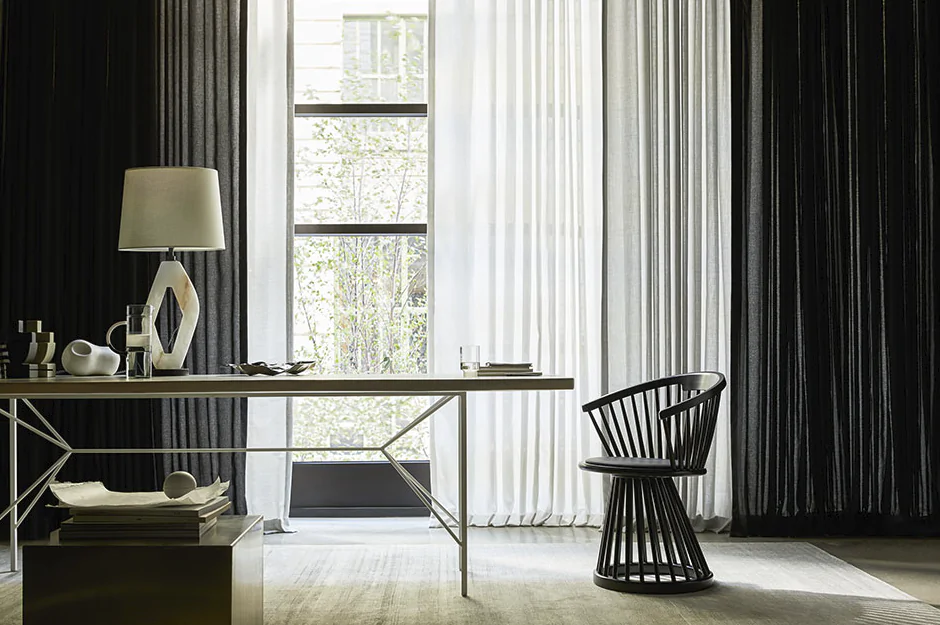 Ripple Fold Drapery — SunbrellaⓇ Ventana CollectionⓇ
Inner Layer: Vitela, White / Middle Layer: Vitela, Ivory / Outer Layer: Sombra, Charcoal
If you would like to reduce glare in your home and prevent your furniture and artwork from fading, we highly recommend sheer drapery fabric from SunbrellaⓇ. In this high-performance collection, stylish design meets unparalleled performance in three beautiful assortments. Featuring subtle solids, rich textures and iconic patterns, these fade-resistant fabrics add softness and warmth to every interior.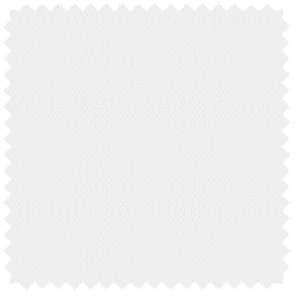 A fade-resistant sheer drapery fabric, Vitela filters light beautifully and is very easy to clean.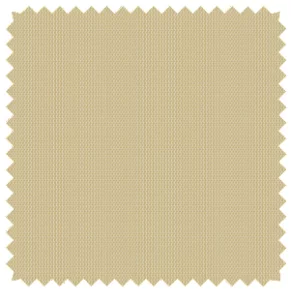 Neblina is a elegant, durable and luxuriously sheer.
Patterned Sheer Curtain Fabric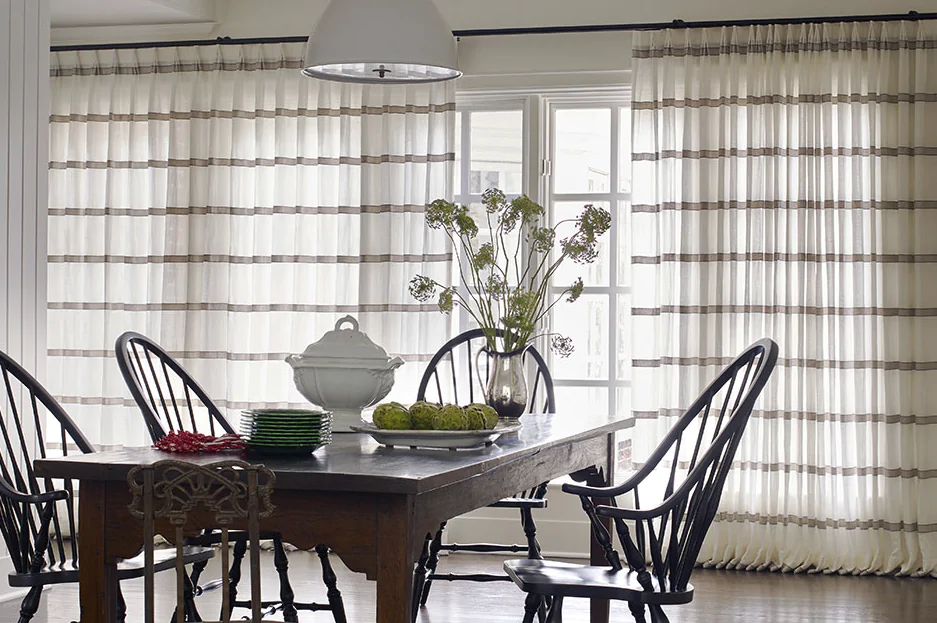 Tailored Pleat Drapery — Victoria Hagan Harbor Stripe, Stone
The Shade Store offers a wide selection of sheer curtain fabric by our exclusive designer partners. These elegant styles are great options if you are looking to add a touch of pattern to your windows.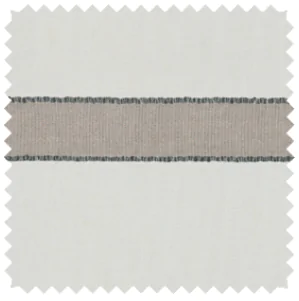 Harbor Stripe by Victoria Hagan is a tri-colored linen stripe that's perfect for both traditional and modern interiors. A simple sheer decorative fabric with major impact, it serves as a dramatic backdrop to any space by providing structure and geometry.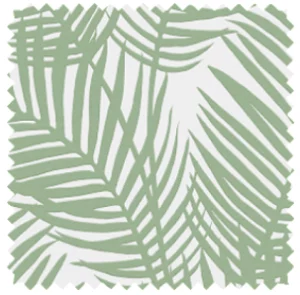 Inspired by the nineteenth-century fascination of palm trees and palm design in interiors, Palmier by Martyn Lawrence Bullard celebrates the art of embroidery with a sophisticated vine-like palm design that captures a tropical flavor yet carries great elegance, adding a touch of the exotic to any room.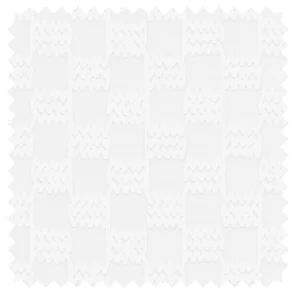 Made with a delicately embroidered zig-zag check pattern, Painted Check Embroidery is a soft linen blend that adds subtle sophistication and texture to the window. Part of the Novogratz Designer Collection.
How to Style Sheer Curtains
Here are a few tips on how to make sheer curtains look good:
Fill an entire wall of windows with sheer drapery fabric.
One of the ways to use sheer curtains is to fill a wall of windows with a soft sheer layer. This creates an elegant, ethereal effect by filling every corner of your space with calming natural light.

Ripple Fold Drapery — Sheer Elegance, Winter
Layer sheer drapery with designer patterns.
Layering drapery is a beautiful way to achieve dramatic depth on windows of all types.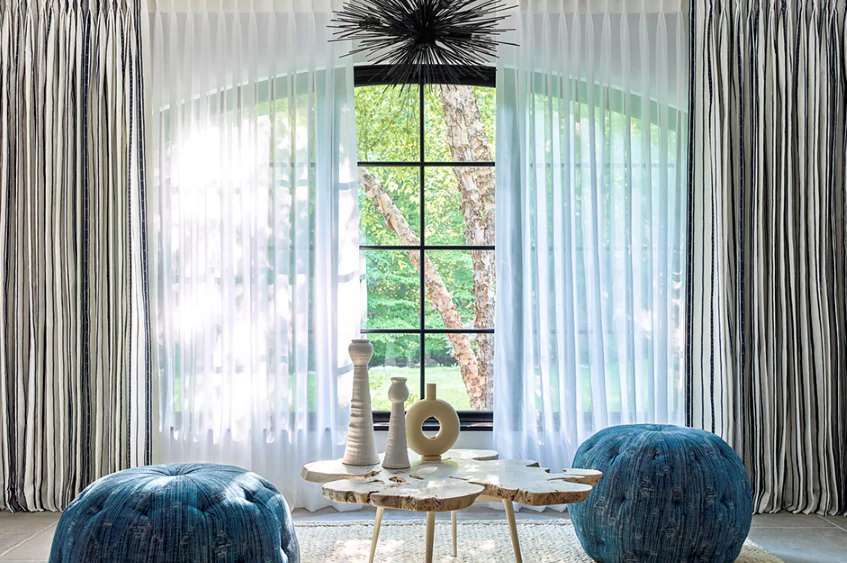 Inner Layer: Pinch Pleat Drapery — Sheer Elegance, White
Outer Layer: Pinch Pleat Drapery — Nate Berkus Alejo, Willow
Floor-to-ceiling drapery works wonders.
Adorning your windows from the floor to the ceiling with sheer drapery instantly draws the eye toward the outdoors, creating a beautiful backdrop in your favorite spaces.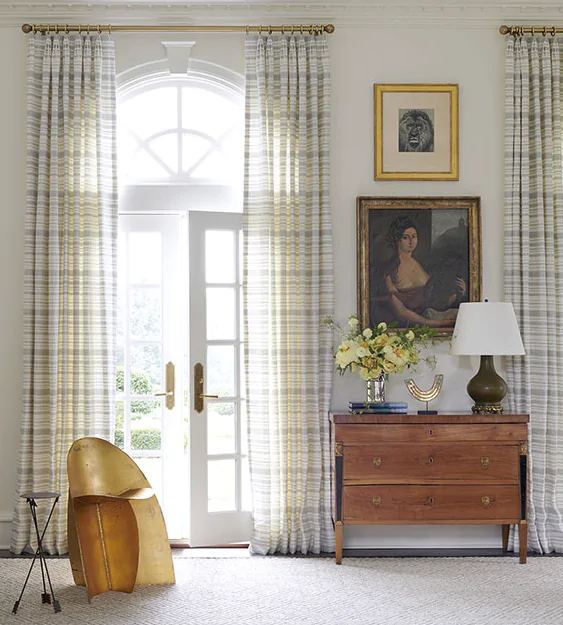 Tailored Pleat Drapery — Victoria Hagan Tidal Line, Slate
Have questions about sheer drapery? We're here to help.
If you have any questions about sheer drapery at The Shade Store or need assistance finding your dream window treatments, we're here to help. The Shade Store offers expert services every step of the way — from inspiration to installation. Our team of Design Consultants is available to assist you with material selection, color coordination, measurement & installation scheduling and more, however you choose to shop. To get started, stop by your local showroom, visit us online or give us a call at 800.754.1455.
About The Shade Store
The Shade Store is a premium custom window treatment company with a rich heritage in luxury textiles and interior design. Its exclusive collection of more than 1,300 in-stock fabrics and materials provides customers with an unparalleled amount of style and customization options. Every window treatment is proudly handcrafted in the USA, hung and tested for quality assurance and ships free in 10 days or less. With showrooms nationwide, The Shade Store offers a complete range of in-person and virtual design services for consumers and design-trade clientele, including swatches, complimentary professional window measurements and photo rendering. Additionally, the company is an advocate for environmental sustainability: For every purchase made, the company provides the 'Gift of Shade' by planting a tree in partnership with the Arbor Day Foundation. For more information about The Shade Store, please visit theshadestore.com.