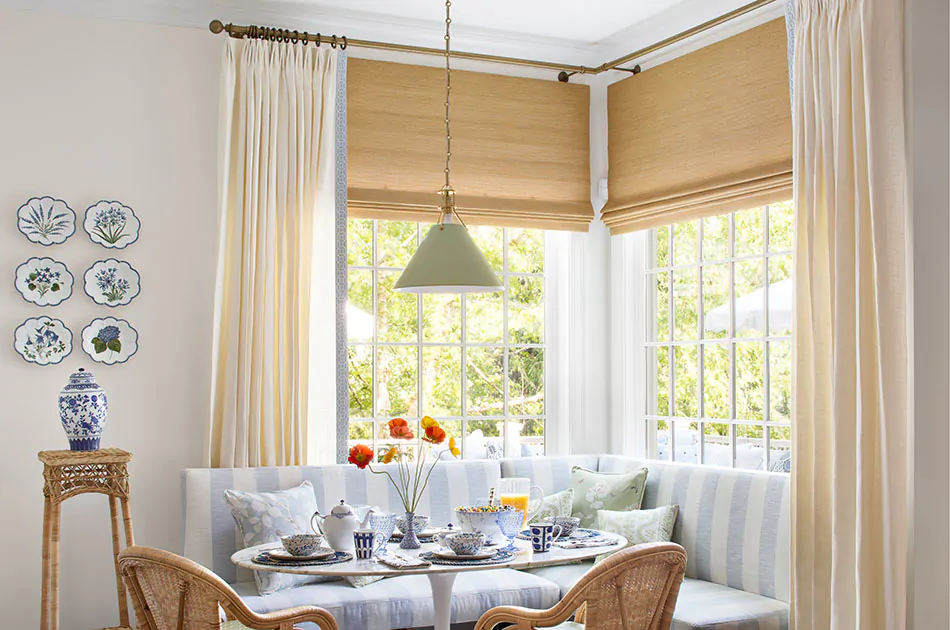 Corner Window Curtains: Solutions & Ideas
Looking to cover a corner window? Corner windows may seem tricky to design, but with the right window treatments and hardware, you can cover it in an attractive, functional way. One great solution is corner window curtains. Curtains for corner windows are an ideal choice as you can often have two curtain rods meet at the corner, or sometimes choose curved or angled hardware that allows the panels to travel through the corner.
To learn if drapery is the right choice for your corner window, learn about their benefits and how they work, plus get corner window curtain ideas for inspiration.
Cover Photo: Inner Layer: Waterfall Woven Wood Shades, Bryce in Sand and Outer Layer: Tailored Pleat Drapery, Luxe Linen in Oyster with Samuel & Sons, Sakiori Embroidered in Porcelain and Steel Hardware in Antique Bronze, room designed by Ariel Okin and photography by Donna Dotan
Benefits of Curtains for Corner Windows
Drapery can be a great choice for a corner window, thanks to some unique benefits:
Easy functionality with the right hardware and drapery style, including motorized options.
Elegant, finished aesthetic as the drapery helps frame the windows and soften the corner.
Excellent privacy and light control, thanks to full coverage over the corner window and lots of material and lining options to get just the right level of privacy and light filtration.
Now that you know corner window curtains are a great idea, you're probably wondering, how do you hang them, and how do they work? Understanding the functionality is essential in deciding whether they're the right fit for your space.
How Do You Hang Curtains in a Corner Window?
When hanging curtains for corner windows, you have a couple options. One common option is to connect two regular curtain rods with a special joint at the corner. Some joints are already made at a 90- or 135-degree angle, while others you bend or shape yourself to create the correct angle.
What to Expect from The Shade Store
Typically, we measure and handcraft our Drapery Hardware so two separate curtain rods will meet at your corner at a 90-degree or 135-degree angle. For non-conventional corners (other than 90- and 135-degree bends), we offer a Custom Track system and the Madison Hardware track system that can be bent in both conventional and non-conventional curves. Our Motorized Track system can also be custom bent. Keep in mind that for non-conventional curves, an exact template of the corner will be required. Choosing a bendable track system will give you the perfect curve so you can glide your curtains through the corner, rather than stopping at a sharp corner or at the end of a rod.
How Do Corner Curtain Rods Work?
When using curtains for corner windows, how you're able to move the curtains on the rod or track system will depend on whether the hardware curves through or forms a sharp angle at the corner. For curtains hung on two separate rods or track systems connected by a joint, the curtains will stop at the corner. If you have a curved or bent hardware system, you will likely be able to pull the curtains through the corner for complete coverage.
Another factor to think through is where your curtain panels hang. If you only have panels at the outer edges of your rod, far from the corner, you'll simply pull the inner edge of each panel so they meet at the corner. Another option is to have four panels total: Two on the outer edges of the curtain rod, and two that hang in the corner. With this application, you'll pull the inner edge of each panel toward the center of each window, so the panels will come together over the window.
Corner Window Curtain Ideas
Get ideas for how to style your corner window curtains to accentuate the space as well as provide the functionality you need. The corner window curtain ideas are a great place to start thinking through your design.
Coastal-Inspired Bedroom Corner Window Curtains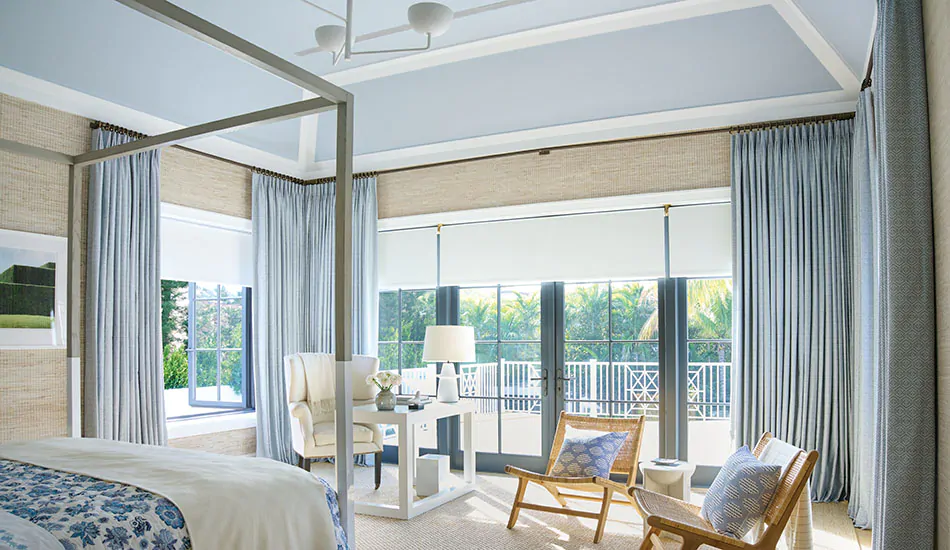 Capture a coastal look with corner window curtain ideas like drapery in a light blue tone such as Vanda in Sky and pairing it with white blackout Roller Shades made of Ava in Mist. The blue and white combination is a classic coastal look and helps keep your corner and overall room feel light and airy. For lots of lush color and texture, hang drapery panels at each end of your 90-degree curtain rods, including in the corners, where double panels create a beautiful waterfall-inspired effect. Plus, with all the drapery material, you'll be able to fully cover wide windows and doors for excellent light and privacy control.
Simple Sheer Bathroom Corner Window Curtains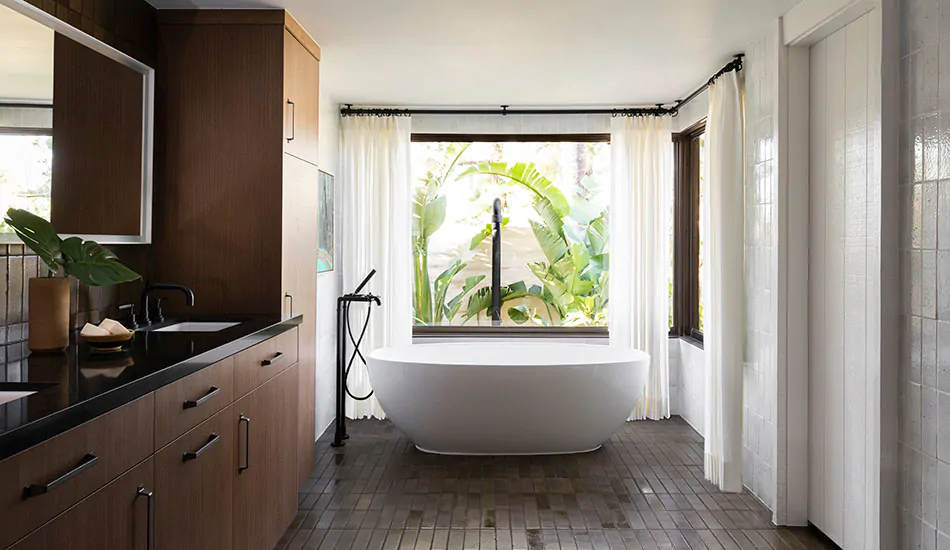 Go for a pure, simple look with white or off-white sheers for your corner window curtains, like Linen Sheers in White. The bright, neutral tone and gossamer fabric add subtle visual interest and help soften the harsh angle of the corner. Pair white curtains with dark elements like dark tiled floors and deep wood-toned cabinets for a complementary contrast. For corner window curtain ideas for a luxurious bathing experience with a view of the outdoors and little need for privacy, sheer curtains deliver an irresistibly soft, intimate look that complements the overall relaxed atmosphere. And with easy-to-use rod and ring hardware that meets at a 90-degree angle in the corner, you'll be able to slide the panels with ease for just a touch of privacy.
Thick, Luxurious Bedroom Corner Window Curtains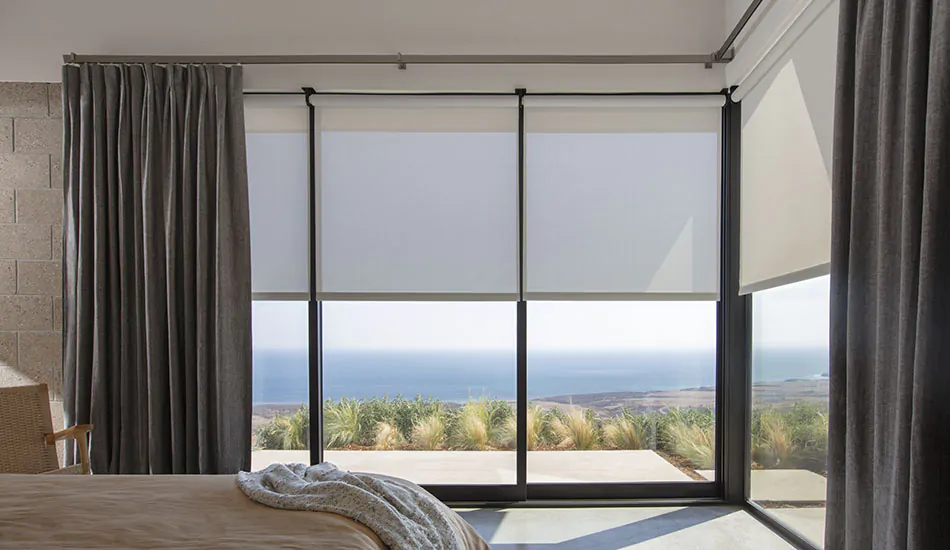 For corner window curtains ideas for a bedroom, create a soft, cozy look by choosing a thick, luxurious material such as Herringbone in Onyx, a lush cotton and linen blend. The subtle V-shaped pattern also adds visual texture for more depth and dimension to your corner window. Line your drapery with either privacy or blackout lining for an even fuller, more sumptuous look — and excellent privacy and light control. Blackout drapery will allow you to create a room darkening effect ideal for sleep. Choosing a track system such as the Lexington Track that meets at a 90-degree angle in the corner is also an ideal choice for easy functionality. Simply glide your curtains effortlessly back and forth each night and morning.
For one more layer of light and privacy control, consider Solar Shades to layer with your corner window curtains for use during the sunniest time of day. These shades block UV rays while still letting softened light through for an inviting ambiance. Plus, when you choose a color and material that's complementary to your drapery, such as 5% Metallic material in Copper, you add a touch more design depth and dimension.
Factors to Consider When Choosing Your Design
With these inspiring corner window curtain ideas, you're likely itching to get started on your own design. When deciding on your drapery fabric and hardware for curtains for corner windows, there are a couple of important considerations to keep in mind:
Corner angle and hardware compatibility – Not all hardware can be bent or fit into every corner. For conventional sharp angles made with two separate curtain rods, you can use any style of hardware. However, for hardware with a conventional 90-degree or 135-degree bend, or a non-conventional bend, your choices include the Custom Track system, the Madison Hardware track system, or our Motorized Track system.
Stack and fullness of your drapery material – Whether you plan to have panels hanging in the corner or just two panels at the outer edges of your corner window, getting the right drapery stack (how much space the panels take up when fully retracted) and the right fullness (how thick and full they look when expanded) is essential. Stack and fullness depend a lot on material choice. For instance, thick, wool blends will naturally take up more space and so are ideal for an application of two larger panels at the outer edges of the curtain rod, while light sheers can easily hang within the corner, so you can have panels both in the corner and at the outer edges.
Pleat style – Some pleat styles are more functional and easier to use, while others are more decorative and are best used as stationary panels. Choose a style that both suits your aesthetic tastes while also giving you the functionality you need.
Corner Window Curtains: Installation Best Practices
Installing your corner window curtains first requires you to learn the best practices for hanging drapery to accentuate your window. Then, get an overview of the installation steps to help you decide if installing curtains for corner windows is a DIY job.
How to Hang Your Corner Window Curtains to Enhance Your Design
Hanging your drapery should enhance the look of your window and overall room. To do this, the best practice is to hang your curtains high and wide beyond your corner windows. High and wide curtains help create the illusion of larger windows and a taller ceiling.
Drapery height: Hang your drapes about halfway between the top of the window and ceiling, plus an inch or two.
Drapery width: Extend the curtain rod about 6 to 12 inches past the outer frames of your corner windows.
Panel length: For the best height-accentuating affect and great functionality, measure your drapery panels so they either float just above the floor or kiss the floor.
Installation Overview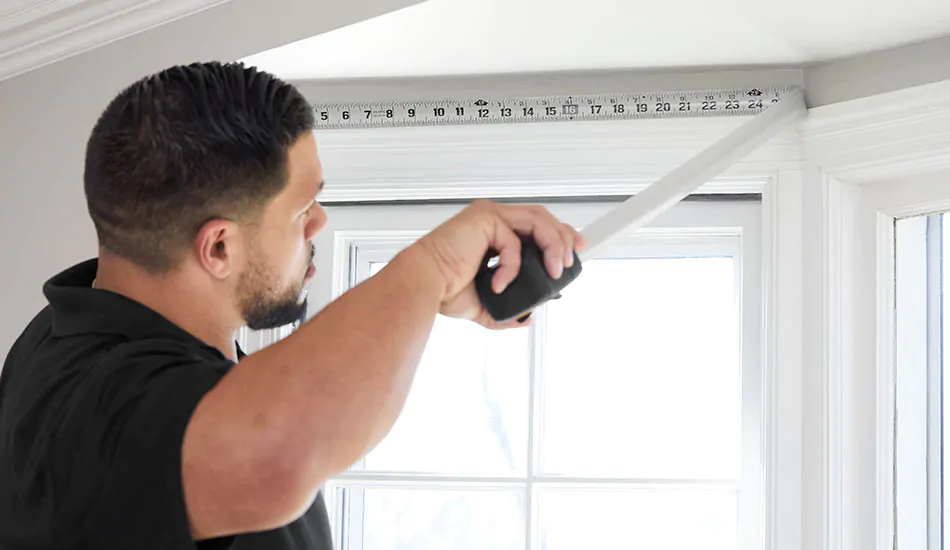 Installing corner window curtains is relatively straightforward and not much different than installing drapery on a straight, single rod. Remember to always read the installation instructions for your chosen drapery style and hardware before starting your project.
Step 1: Gather tools. You'll likely need a stepladder, pencil, tape measure, level, drill and screwdriver, but check your drapery's specific install instructions for an exact list.
Step 2: Measure how wide your curtain rod or track system will be. For best practices, go beyond each of your corner windows about 6 to 12 inches to ensure enough space for your curtains to be drawn completely off the window.
Step 3: Decide on curtain length and how high above your window the rod will go (a little more than halfway between the top of your window frame and ceiling is usually a good height).
Step 4: Measure for bracket placement. Be sure to check your drapery hardware install guide to ensure proper spacing of brackets.
Step 5: Install the brackets with the correct tools as indicated in the installation guide for your drapery hardware.
Step 6: Mount the rod and hang your drapery.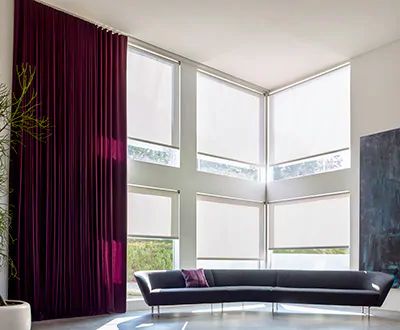 Roller Shades for Corner Windows
Sleek and simple with a minimal stack, Roller Shades are ideal for corner windows. They can often be inside-mounted within the window frame for a clean look as well as flawless functionality so you don't have to worry about two shades in the corner overlapping.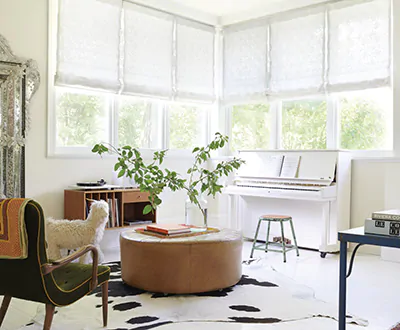 Roman Shades for Corner Windows
Roman Shades come in several styles so you can find the right look for your corner window. However, be wary of the folded stacks of fabric at the corner that may end up hitting each other. To avoid this, try an inside mount for your Roman Shades, choose thinner material like a linen sheer, and opt for more minimalist styles like Flat Roman Shades.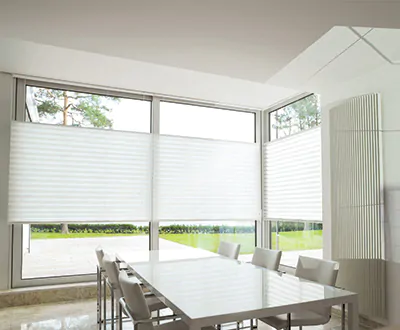 Cellular Shades for Corner Windows
Cellular Shades are an excellent, functional option for corner windows. With their honeycomb cells, Cellular Shades have a minimal stack and take up very little space, making them an excellent choice for tighter corners. Plus, they'll help regulate your interior temperature by trapping both hot and cold air in their cells for great insulation.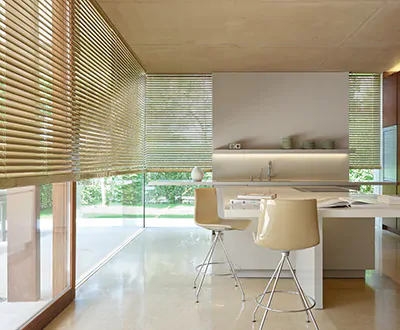 Blinds for Corner Windows
Blinds come in a variety of colors and finishes from rich wood grains to sleek metal slats. Like Cellular Shades, Blinds also have a small stack and don't take up too much space, even with their 2-inch slats. Just make sure there's enough clearance at the corner so the slats don't hit each other, and you'll enjoy excellent functionality as well.
Partner with a Design Consultant
Now that you have a solid overview of how corner window curtains work, some inspiring design options, as well as drapery alternatives like shades and blinds, you're ready to start designing your own corner windows. To get expert advice and ensure your corner window curtains, blinds or shades give you the right look with the best functionality, schedule a design consultation with one of our expert Design Consultants. They'll be able to help you with measurements, make suggestions for fabric and hardware, and guide you toward the best solution for your specific windows.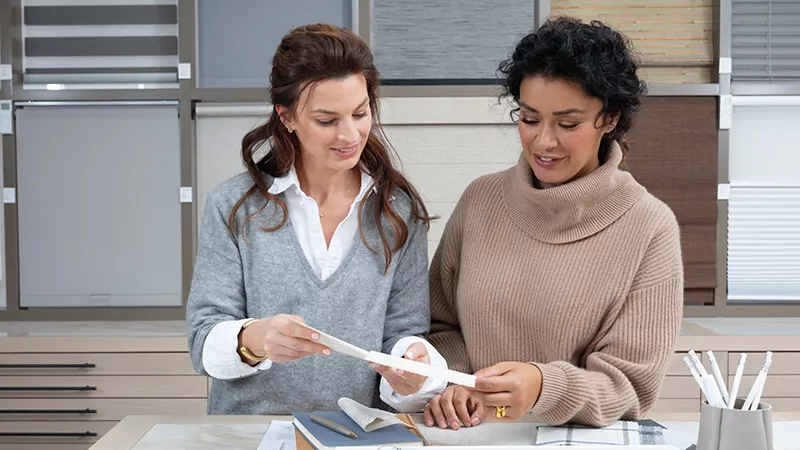 GET THE GUIDANCE YOU NEED
Schedule a free design consultation with our talented Design Consultants for guidance on product choice, material selection and more.