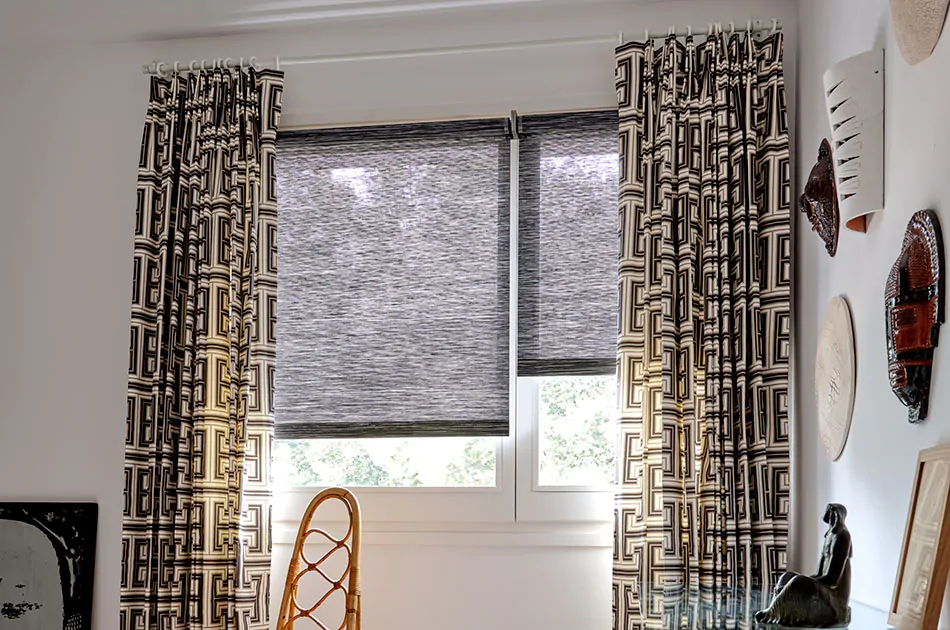 Man Cave Curtains: Ideas for Your Space
Furnishing your man cave is all about creating an inviting personal space that serves your needs and functions the way you need it to. Man cave curtains can be a key piece to your space's aesthetic while also providing greater functionality with the right privacy and light control.
To find the right curtains for a man cave, first learn key factors to consider when selecting your curtains, then get tips for creating a masculine design. Finally, get ideas and inspiration from curated interiors to spark your creativity.
Factors to Consider When Selecting Man Cave Curtains
Selecting curtains for any space requires two main considerations to ensure you get the very best out of your choice: functionality and aesthetics.
Functionality: How Do You Plan to Use Your Man Cave?
When thinking about the functionality of your man cave curtains, you need to consider what you need from them beyond just aesthetics.
Common functions you may want your curtains to provide include:
A room-darkening effect and glare reduction for a better home theater or gaming experience.
Privacy for a calmer, more tranquil atmosphere.
Insulation for a more comfortable environment in drafty rooms like basements.
Ease-of-use for effortless functionality, ideal if you'll be frequently adjusting your curtains for privacy and light control.
The right customizations can provide you with the ideal functionality, such as blackout curtains for the best room darkening effect or a track system hardware for easy functionality.
Aesthetics: Identify a Theme & Stick to It
To create a cohesive, unified aesthetic, pick a color scheme and design aesthetic and stick to it. For instance, if you have a modern space with a neutral color scheme, choose modern man cave curtains like Ripple Fold Drapery in a cool gray or warm tan. For an eclectic space, you may choose a bold patterned curtain design like Netscape by Jeffrey Alan Marks or Nomad Stripe by Martyn Lawrence Bullard.
Considering a DIY Installation?
Learn everything you need to know about drapery installation, plus get resources to connect you to professionals if needed.
Tips for Creating a Masculine Design
When customizing your man cave curtains, you want to choose styles, materials and colors that not only suit your functionality and theme, but also offer a more masculine aesthetic. Curtains may initially seem like a more feminine choice over blinds or shades, but there are several ways you can create a strong masculine look that suits your man cave design.
Pleat Styles
The pleat styles are a defining element of your drapery and several styles are more feminine while others are more masculine. For a more masculine aesthetic, choose from one of these pleat styles: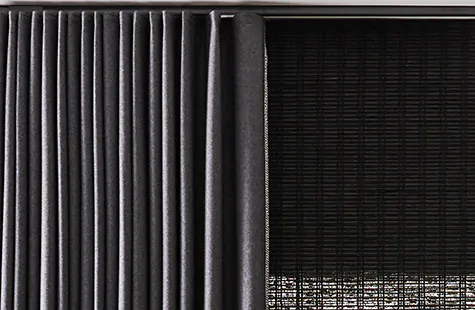 Ripple Fold Drapery
With soft S-curves that create linear folds between the pleats, Ripple Fold Drapery features a simple, minimalist look without any embellishments, making them ideal as curtains for a man cave. These curtains also come with a track system for easy functionality.
Tailored Pleat Drapery
Pleats pinched at the very top of the drapery panel create an uninterrupted, streamlined visual from top to bottom, making them ideal for adding height to a room. Plus, they can operate on a rod and ring hardware system or a track system for easy functionality.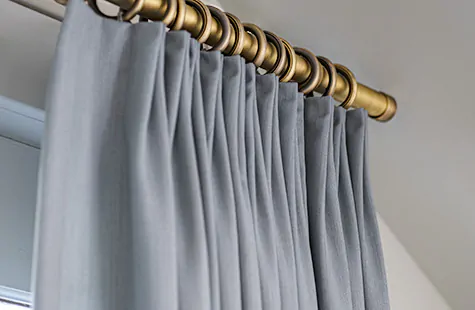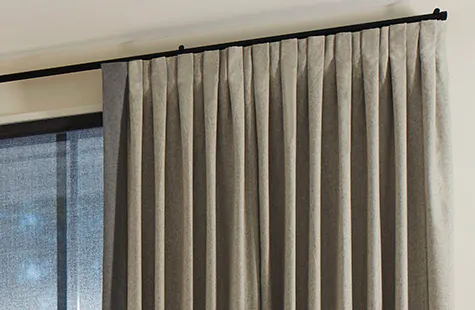 Inverted Pleat Drapery
Featuring a flat face and crisp, angular aesthetic, Inverted Pleat Drapery delivers a masculine look perfect as curtains for a man cave. However, the crisp pleats look their best when the drapery is pulled open at just the right length, so it's best used in a decorative versus functional application.
Grommet Drapery
For a modern, linear aesthetic, opt for Grommet Drapery. With metal rings pressed into the drapery one inch from the top of the panel, this style, when hung, creates long, deep folds for a dramatic look. Since Grommet Drapery can only be used with a curtain rod, it's best used decoratively.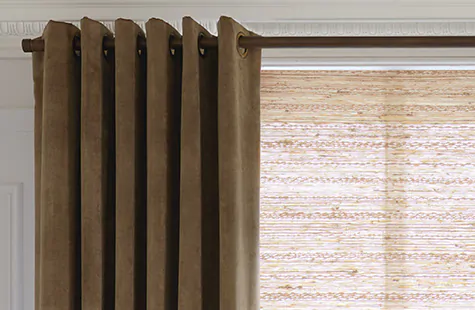 Materials
Drapery comes in many different materials from light, gossamer sheers to heavy wool blends and lush velvets. For curtains for a man cave, opt for heavier fabrics or those with a durable look and feel to convey a more masculine aesthetic.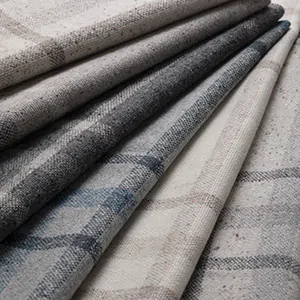 Wool & Wool Blends
Wool is well-known for its combination of softness and durability, which brings a strong, yet approachable look to your room.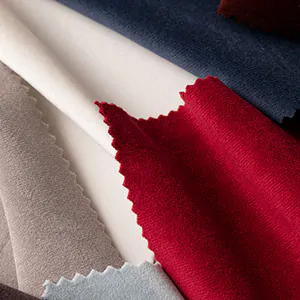 Velvet
Velvet is a lush, lustrous material that's adds both softness and visual weight to a room for greater depth and dimension.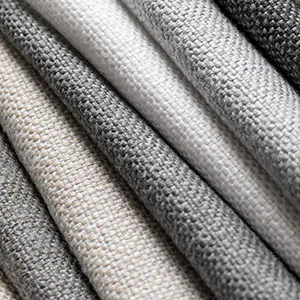 synthetics
Synthetic materials can range in texture and softness, but all are made to be hardy and effortlessly attractive even with daily use.
Colors & Patterns
In addition to thinking about material, you'll also need to consider colors and patterns for your man cave curtains. Typically cool, neutral tones, as well as darker blues, greens and reds are all considered more masculine in their appearance. As for patterns, lean toward more linear designs with clean, crisp lines like checkered patterns, plaids, bold stripes and geometric patterns.
Some examples of masculine colors and patterns include:
Ideas for Man Cave Curtains
Now that you have a better understanding of how to choose masculine elements for your drapery design, explore curated examples of man cave curtains to spark your creativity.
Clean & Minimalist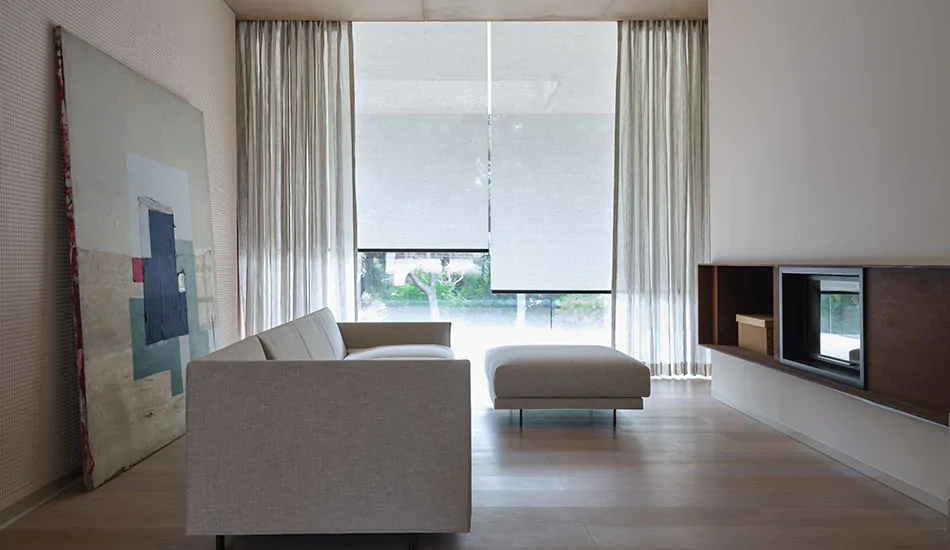 One of the best ways to keep a space masculine is to go for a minimalist aesthetic. The clean, crisp lines and lack of embellishments for this aesthetic style naturally convey a more neutral look and feel. Be sure to choose drapery with a streamlined silhouette such as Tailored Pleat Drapery with its tall, linear three-finger pleats pinched at the very top. To keep the space feeling light and bright, choose a lighter colored material like Wool Blend in Grey Owl. Pair the curtains with a Woven Wood Roller Shade made of bright neutral material like Dakota in White for greater privacy and light control as well as a woven texture to contrast the softness of the drapery.
Defined Linear Design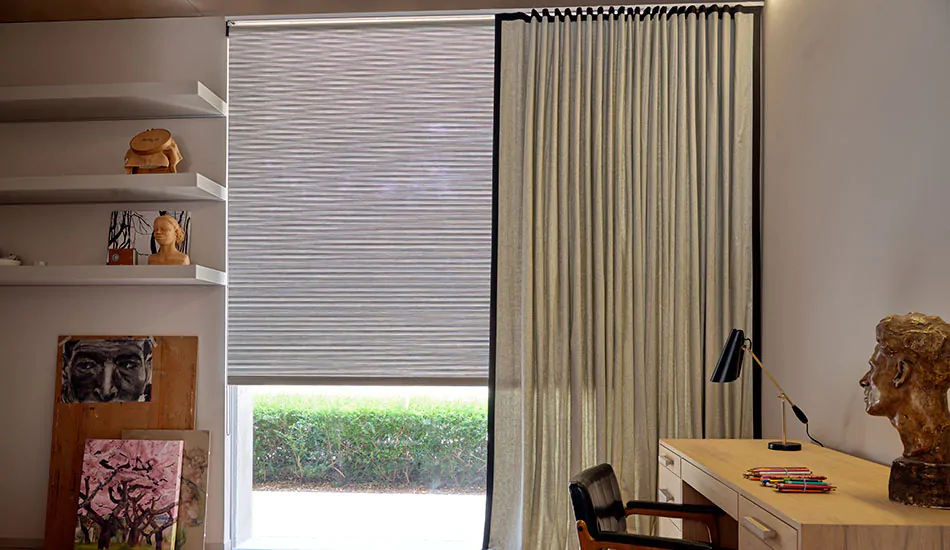 Emphasize a strong, linear look with your man cave curtains by choosing a streamlined drapery design like Ripple Fold Drapery and then adding decorative trim to the outer edge of the drapery panels. Choose a contrasting color of trim to the drapery fabric for a bold look or opt for a subtler look with a color that's just a few shades off your drapery fabric color. Adding blackout or privacy lining to your drapery will ensure a fuller, defined look for your drapery to enhance the linear design while also providing greater light and privacy control.
For an additional subtle nod to the linear aesthetic pair your drapery with woven fabric like Mesa Verde for Woven Wood Roller Shades. Woven materials often feature a natural texture with a linear look thanks to the way the fibers are threaded together.
Stately Neutrals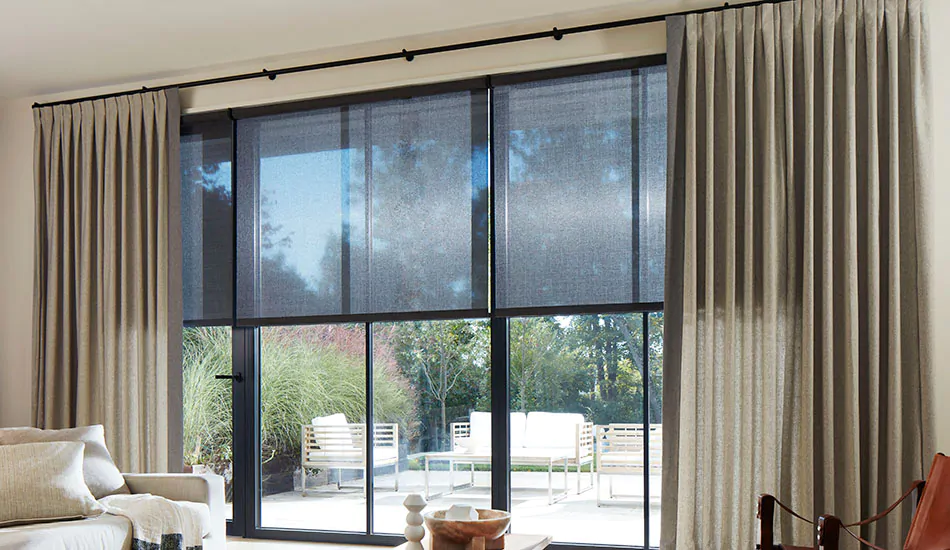 Create subtle visual interest and a stately feel in your man cave curtains, with Inverted Pleat Drapery in a cool grey tone like Wool Blend in Fleece. With crisp, flat pleats, Inverted Pleat Drapery delivers a naturally masculine look and feel while adding a sense of stately formality to your room. Keep in mind though that Inverted Pleat Drapery is best used decoratively as the pleats tend to lose their formal look when bunched up at the ends of the curtain rod.
For more functionality for your window, pair your Inverted Pleat man cave curtains with a Solar Shade. Solar Shades significantly reduce glare and heat buildup in the room for a more comfortable environment and better screen clarity, while still allowing you a view to the outdoors with the right transparency level. As for color, stick to another neutral tone but make sure the color temperature matches that of your drapery (either cool or warm) for a cohesive, unified aesthetic.
Dark, Moody Palette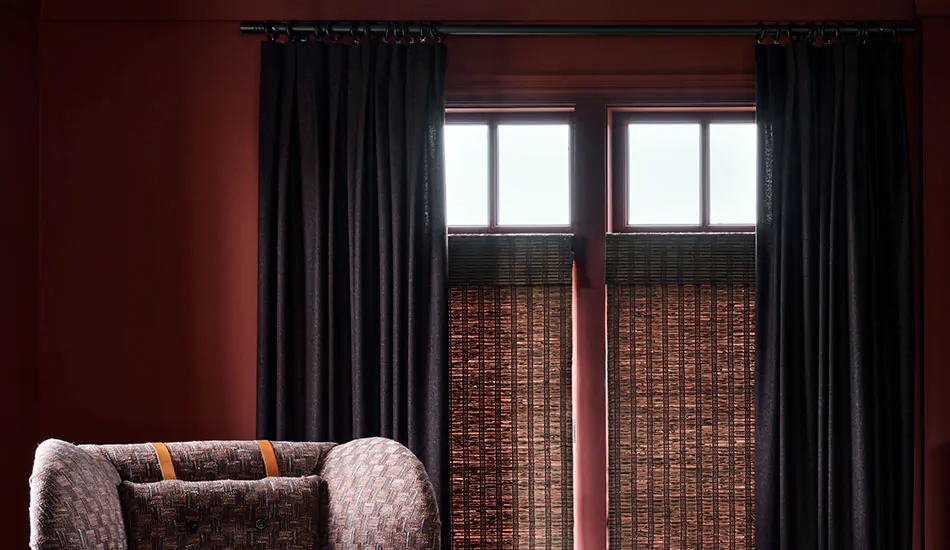 Go for a dark color palette with curtains for a man cave made of a deep, rich color like Wool Blend in Charcoal. Line the drapery with blackout lining for intensity of color as well as a room darkening effect that's idea for a home theater or gaming experience. Plus, when paired with walls painted a bold color like red, the visual effect of your dark drapery creates a bold dynamic.
To keep the room from feeling too stark and heavy, pair your drapery with an unlined Woven Wood Shade so some light filters through the weave, emphasizing the organic texture and gently illuminating the space for ambiance. Add soft elements like upholstered furniture and blankets throughout the space to create a cozy, relaxing atmosphere.
Find the Perfect Material for Your Man Cave Curtains
With the insight you need to choose masculine elements for your drapery design as well as lots of ideas for curtains for a man cave, you're ready to take the next step in finalizing your design. Order free swatches of all your favorites materials, colors and patterns to get a sense of which looks best in your room. Be sure to hold different materials up to the light to get a sense of your privacy and light control.
ORDER YOUR FAVORITE SWATCHES FOR FREE
Compare as many of your favorites from our collection of 1300+ materials at home when you order free swatches online.