Do Blackout Curtains Help with Heat? Window Treatments to Maintain Comfort

Inner Layer: Roller Shade — Sullivan, Sand
Outer Layer: Pinch Pleat Drapery — Holland & Sherry Wool Flannel, Walnut
When it comes to choosing the right window treatments for your home, there are plenty of factors to consider. From fashion to function, the options are endless. But if curtains that keep heat out or help reduce energy costs and emissions are important to you, Drapery with blackout lining or Blackout Shades could be great options for you. Offering the most coverage with the most benefits, our blackout options offer total light control and darkness, blocking out the most light and heat — but also keeping heat in during the colder months. Choose from 225+ materials to create a custom look for your space.
If you're looking for more options for window treatments that offer heat control, insulation and energy efficiency, here's what our experts from The Shade Store have to say.

Solar Shades — Sunbrella Solar Collection, 10% Solistico, Oatmeal
If you're searching for curtains that help keep heat out, or the best curtain material for insulation, Solar Shades are a great place to start. According to the U.S. Department of Energy, using certain types of curtains can help reduce heat loss by up to 25 percent, and heat gain by up to 33 percent. 
That means the right window treatments can not only help keep your home cool on hot, sunny days, but also help keep your home nice and warm when temperatures cool down. So do blackout curtains help with heat? The simple answer is yes!
But those aren't the only benefits. Solar Shades and Blackout Curtains can also help keep your home safe from harmful U.V. rays, prevent your furniture and decor from fading in the sunlight, and offer effortless control over the privacy and natural light in your home.
Which window treatments should I choose?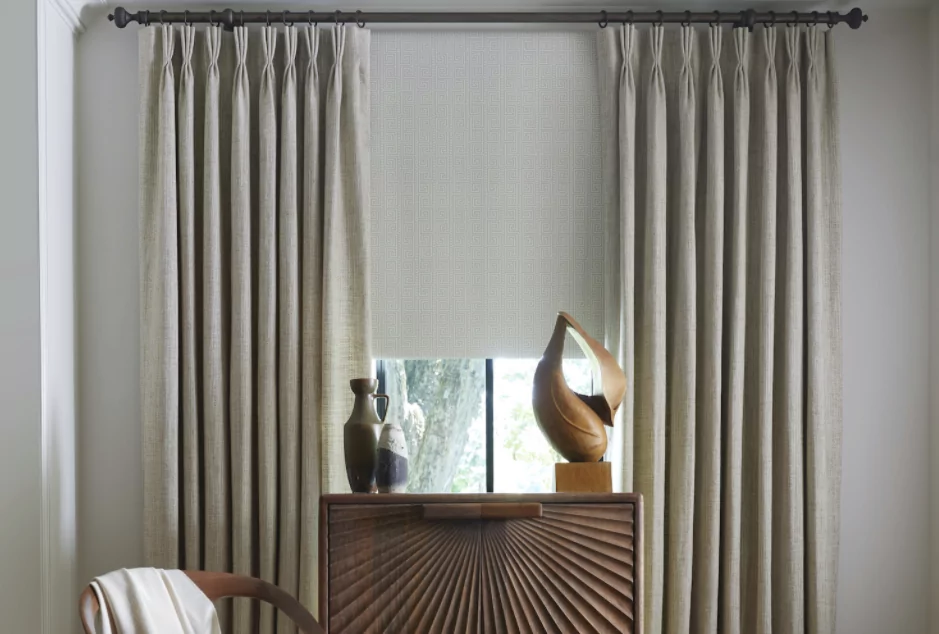 Inner Layer: Roller Shade — Alexa Hampton Corfu, Vanilla Sky
Outer Layer: Goblet Drapery — Shoreline, Reed
When it comes to choosing the best energy-efficient window treatments for your home, there are plenty of options. At The Shade Store, we offer the following window treatments, and create them custom to fit your style, space, and needs.
The Shade Store recommends blackout lining for bedrooms, media rooms and other spaces where you would like complete darkness.
Blackout Shades and Lining block 99% of light, offering complete privacy and great insulation.

Blackout Lining adds body and weight to your window treatments and protects the window treatment material from fading.

Blackout Shades and Lining are perfect for rooms where you would like complete light blockage.
To add Blackout Lining to your window treatments, simply select the option as you are customizing your products online, or let your Design Consultant know at your local showroom.
Available in 4 transparency levels ranging from 1-10% light filtration, our refreshingly minimal Solar Shades help protect your home from the son and offer multiple control options, including stainless steel chain, cordless, and motorized.
All the view-saving attributes and protection of our signature Solar Shades, with a touch of designer flair. Our exclusive collections from Chilewich and Sunbrella offer 50+ exclusive performance materials with UV and fade protection, and up to 10% light filtration. 
With 200+ materials to choose from, our Light Filtering Roller Shades help reduce glare, regulate heat, and prevent UV damage while still letting some light in — offering you the best of both worlds. 
If you'd like more help deciding on which blackout, thermal or solar window treatments are right for you, don't hesitate to reach out to your local showroom — our Design Consultants are  always happy to help.
Have questions about custom window treatments? We're here to help.
If you have any questions about custom window treatments at The Shade Store or need assistance finding your dream window treatments, we're here to help. The Shade Store offers expert services every step of the way — from inspiration to installation. Our team of Design Consultants is available to assist you with material selection, color coordination, measurement & installation scheduling and more, however you choose to shop. To get started, stop by your local showroom, visit us online or give us a call at 800.754.1455.
About The Shade Store
The Shade Store is a premium custom window treatment company with a rich heritage in luxury textiles and interior design. Its exclusive collection of more than 1,300 in-stock fabrics and materials provides customers with an unparalleled amount of style and customization options. Every window treatment is proudly handcrafted in the USA, hung and tested for quality assurance and ships free in 10 days or less. With showrooms nationwide, The Shade Store offers a complete range of in-person and virtual design services for consumers and design-trade clientele, including swatches, complimentary professional window measurements and photo rendering. Additionally, the company is an advocate for environmental sustainability: For every purchase made, the company provides the 'Gift of Shade' by planting a tree in partnership with the Arbor Day Foundation. For more information about The Shade Store, please visit theshadestore.com.