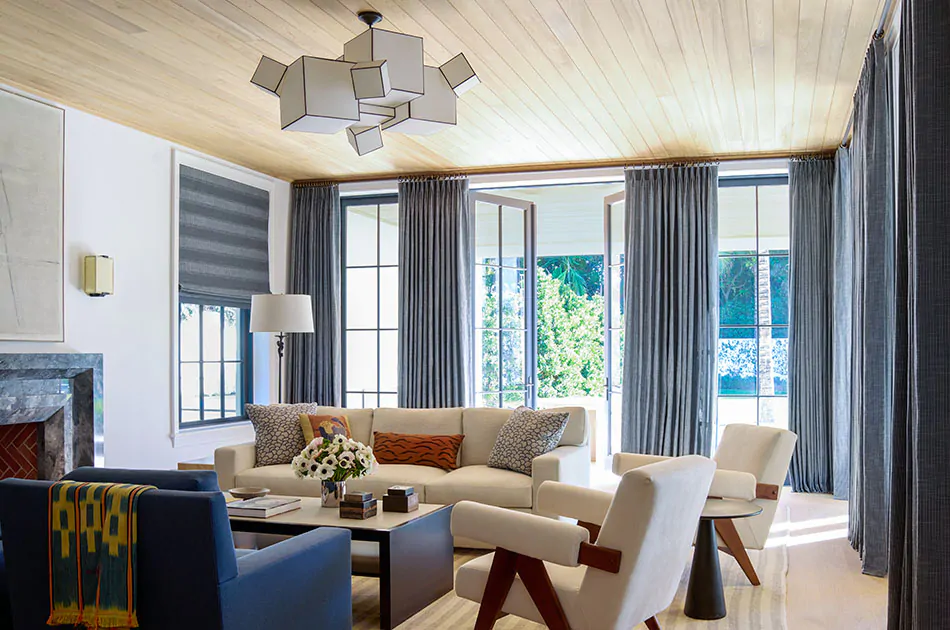 8+ Modern Curtain Ideas for Your Home
If you're looking for modern curtain ideas, you want ideas for sleek, functional drapery designs to suit your modern-style home. However, even if you don't have a modern-style home, you can still embrace modern design elements for your drapery to work into your existing interior design.
To find the right drapery style for your space, first get a refresh on the modern aesthetic style, then get tips for creating a modern curtain design. After that, explore lots of modern drapery ideas to get inspiration for your own design.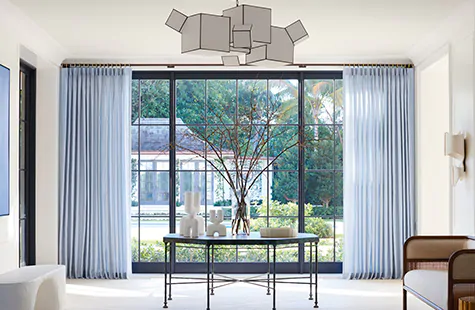 Modern Design
Elements of modern design to keep in mind for modern drapery ideas include:
Clean, defined lines
Neutral colors like whites, beige, gray and black
Natural materials, from wood to bamboo to steel
An open concept floor plan
An emphasis on natural light
An ethos of "form follows function"
What Is the Modern Way to Hang Curtains?
Even while you're looking for modern curtain ideas, part of you may be wondering, can curtains look modern? While curtains have historically been seen as a more traditional style of window treatment, with the right choice of pleat style, installation and customizations, you can create a truly modern design for your curtains.
Keep these tips in mind to create a modern look for your drapery:
Modern Drapery Ideas for Inspiration
With an understanding of the elements of modern design as well as tips for creating a modern look for your drapery, you're ready to explore curated rooms for inspiration. Discover modern drapery ideas featuring a wide range of drapery designs to spark your creativity.
Get More Ideas for Window Treatment Trends
Discover more ideas for your windows beyond modern drapery ideas with these latest trends.
1. Add in Linear Accents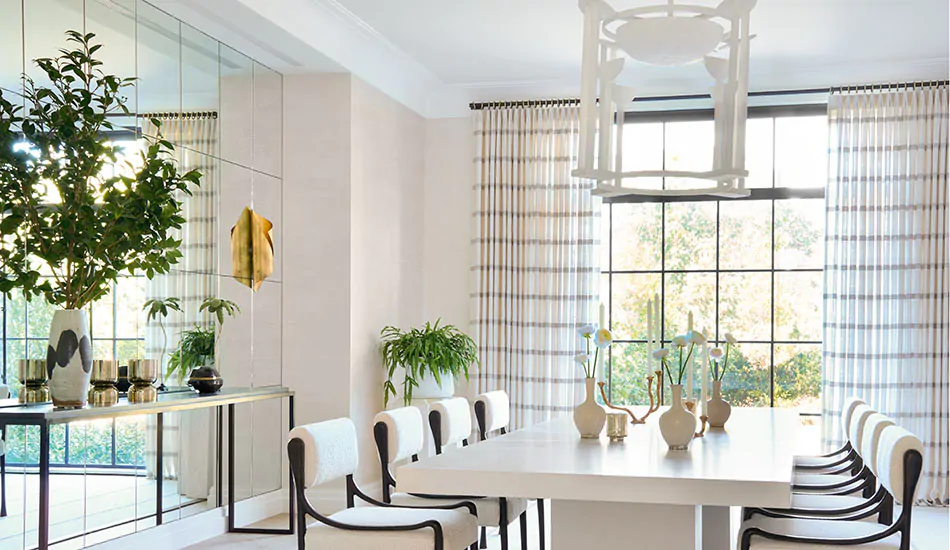 Use modern curtain ideas like drapery with a subtle linear design to add just a touch of visual interest to your windows. For instance, the east-west stripes of Victoria Hagan's Lily in Silver beautifully complement other linear elements such as the clean lines of modern dining room chairs with black frames and white cushions. To anchor the space, opt for a minimalist dining room table with a defined rectangular shape in the same color as the chair cushions for a cohesive, simple yet elegant look.  
2. Welcome Soft Light with Sheers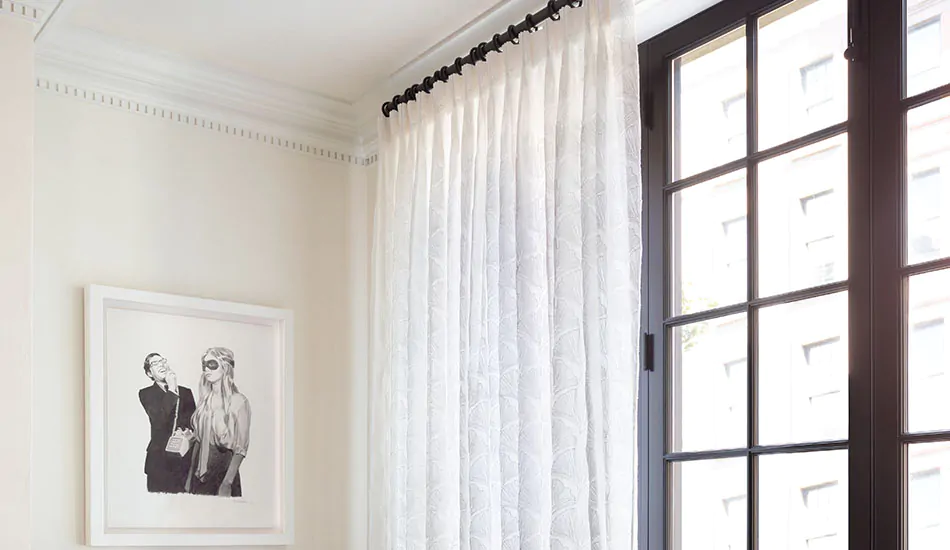 Modern design champions natural light, so welcome it in while also softening it with drapery sheers. Clean white sheers against black window or door frames create a sharp contrast, especially when paired with other black and white design elements like wall art and décor.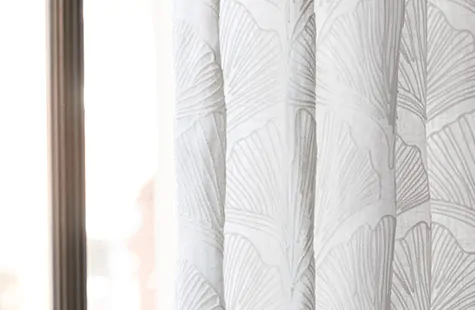 Embrace Delicate Details
Modern curtain ideas don't always have to be unadorned or free from details. Delicate, unassuming patterns like the embroidered gingko leaf design of The Novogratz Feather Palm Embroidery deliver a refined touch of visual interest without taking away from the clean, simple black and white theme of the design.
3. Go for Cool Coastal Blue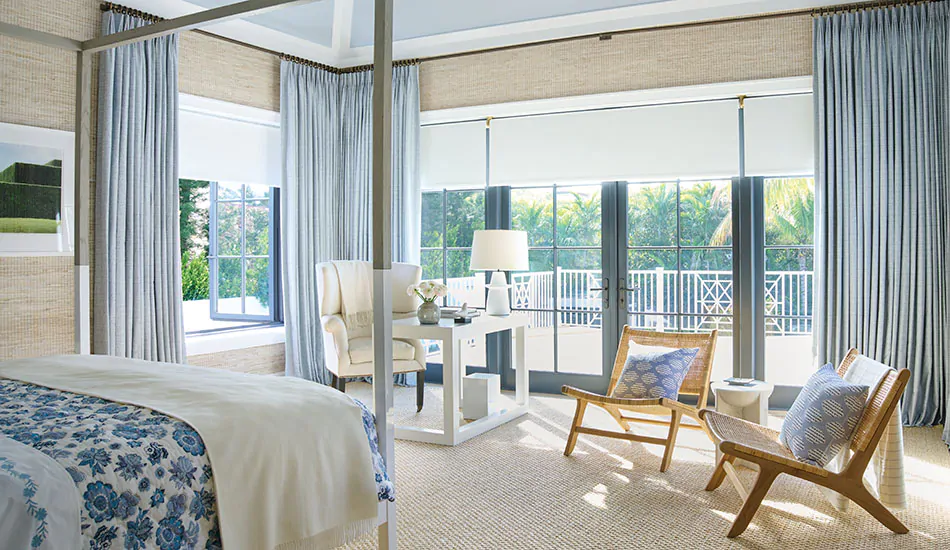 Bring a subtle coastal element into your design with modern curtain ideas featuring coastal blue and/or white colors. Pair tall, elegant light blue Tailored Pleat Drapery with stark white blackout Roller Shades for a nod to modern coastal designs. For more coastal elements, opt for light wood-toned furniture with wicker or other woven seats and backings and blue and white throw pillows on them to match the color scheme of your window treatments. For the rest of the room, work in colors of the sand, sea and sky with warm tan tones for the walls and flooring, white trim and blue and white details like blankets or other décor elements.
4. Be Bold with Stripes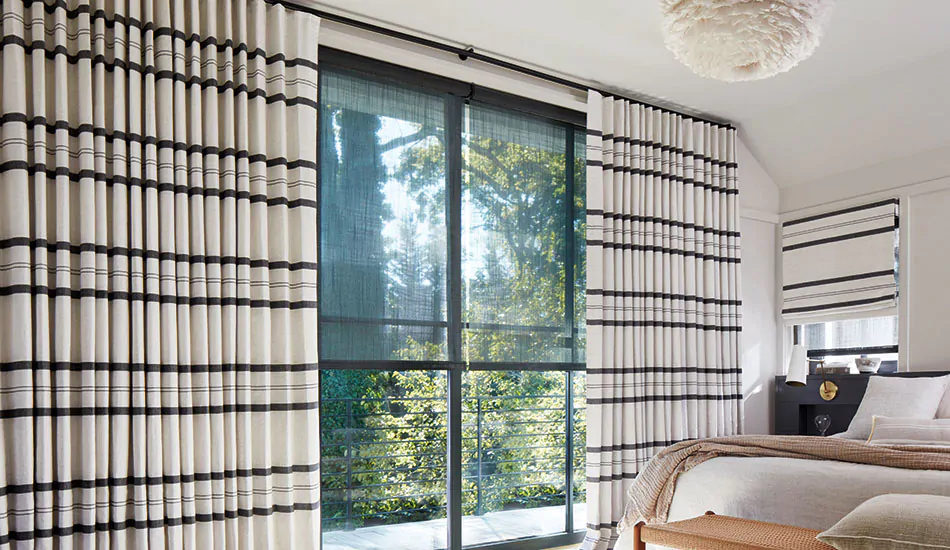 Choose defined, bold stripes for your drapery for a dynamic, eye-catching design. For the most visual impact, opt for a style of drapery where the main color is a neutral, light tone that matches the walls of your room and the stripes are a dark, contrasting color that pops. Add in other dark toned elements to tie the stripes to the rest of your design, like dark accent furniture pieces, black drapery hardware and back window trim.
5. Create a Tropical Paradise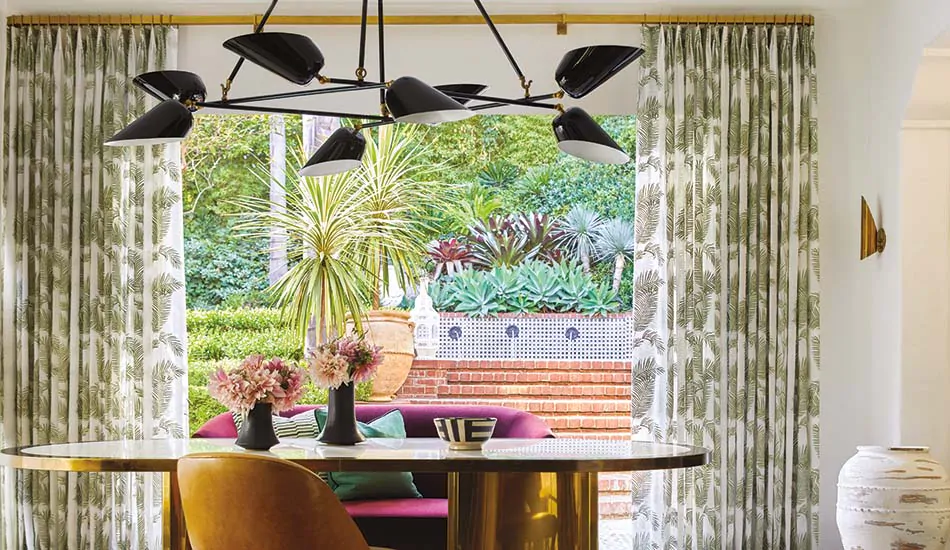 Opt for a modern boho look with modern curtain ideas featuring tropical design like leafy patterns like Martyn Lawrence Bullard's Palmier in Tropical. Keep the overall design from feeling too heavy with complex floral and leafy patterns by mixing in defined modern elements like a geometric light fixture and a metallic table with clean, curved lines.
6. Layer to Create Warmth & Texture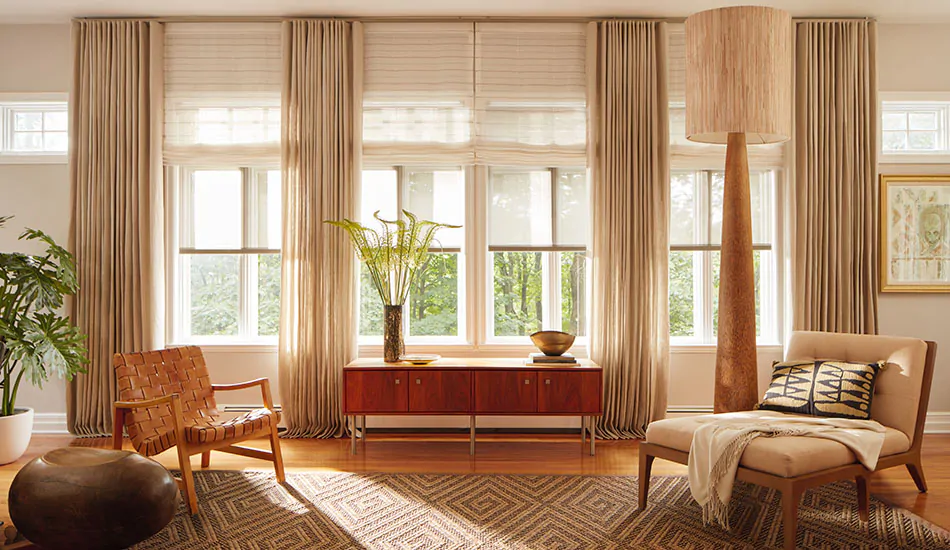 Go for a more modern, Scandinavian-inspired aesthetic by combining modern curtain ideas with other types of window treatments. Create visual warmth and texture with layers of shades and drapery, such as Solar Shades under Roman Shades with Ripple Fold Drapery as the crowning element. Keep the colors and patterns of your window treatments similar across layers to keep the design from feeling too busy and heavy while putting greater emphasis on the textures of the design. For more dynamic visual complexity, add in subtle patterns in neutral colors to design details like throw pillows, accent furniture or an area rug.
7. Stay Cool with Gray Tones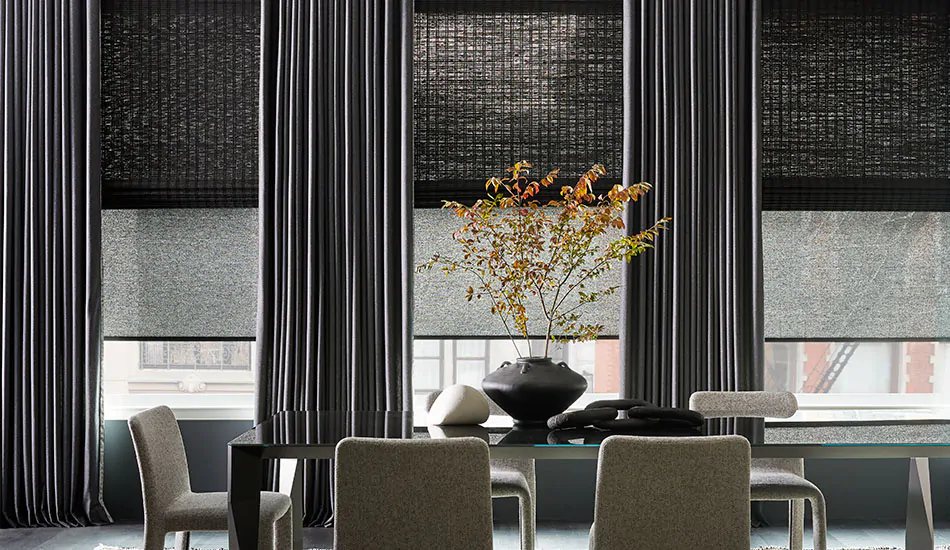 Gray is a staple in modern design, thanks to its many hues and tones ranging from warm greige to cool steel gray. When incorporating gray in modern curtain ideas, it's important to establish which tone of gray you want for your space: cool, sophisticated grays or warm, inviting grays. Sticking to grays of a similar tone across your window treatments and greater design scheme will create a sense of continuity between different elements, even if you opt for grays of different hues (light to dark) and textures. For visual interest across gray window treatments, layer materials of different textures, such as sleek light gray Roller Shades under dark, nearly black Woven Wood Shades. For your modern drapery, opt for Ripple Fold Drapery in a gray hue that falls somewhere in between the lightness the Roller Shade and the dark hue of the Woven Wood Shade to better tie the two together.
8. Brighten with (Off) White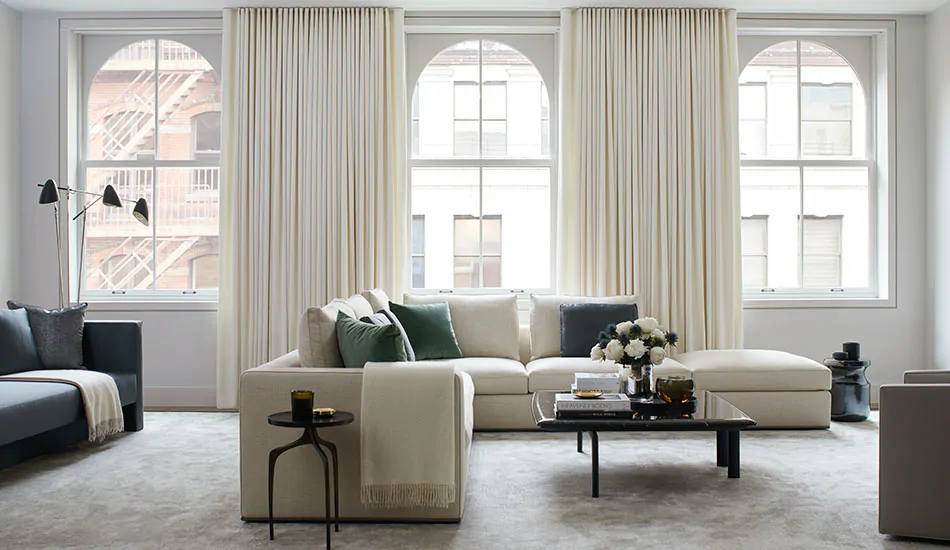 Instead of cool gray tones, opt for the warmth of light off-white tones to incorporate in your modern curtain ideas. Bringing warm-toned off-white drapery into a white room can help soften the starkness of pure white without toning down the brightness of the room. Warm off-white drapery also helps add a bit of depth and visual warmth to a white room for a more inviting aesthetic. Beyond off-white drapery, tone down the whiteness of your room further with an off-white couch and incorporate dark elements like richly hued throw pillows or a black coffee table. The dark elements help balance the brightness of the room while adding visual depth and complexity.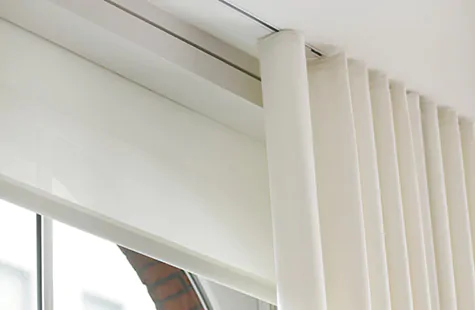 Modern Motorization
Go modern with your control system and opt for motorization. Modern design emphasizes easy functionality, and nothing is quite as easy as motorization. Plus, our proprietary motor system features a battery-powered option for a clean aesthetic free from power cords.
Bonus Idea: Try a Drapery Alternative Like shades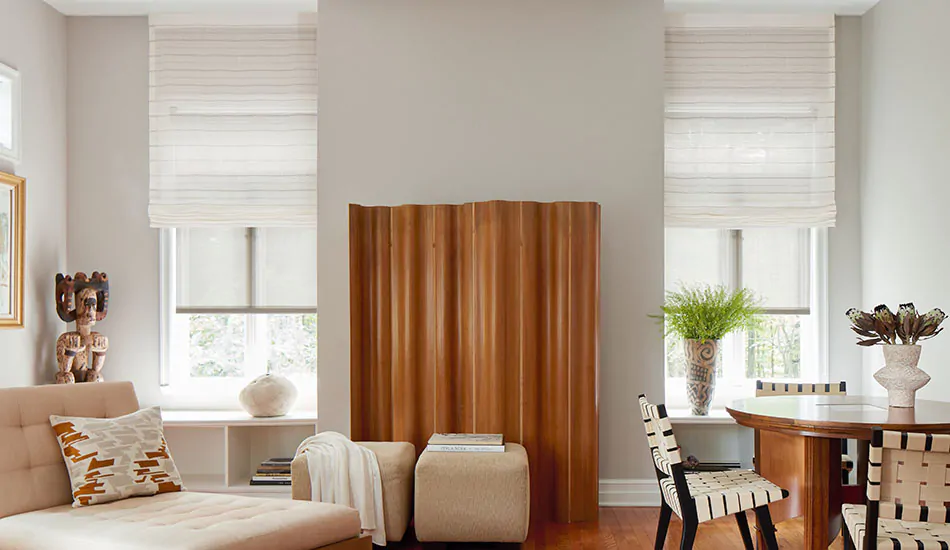 Not sure if these modern curtain ideas are right for your space? Consider an alternative window treatment option like Roman Shades. With the same soft look as drapery, but with the functionality of shades, Roman Shades are a great modern window treatment option. Plus, shades can sometimes be a better choice for certain applications where drapery is not ideal such as windows in a stairwell or small windows that would be best served with a tailored, inside-mount application.
For instance, for a room with tall windows featuring storage and sitting benches right beneath the windows, Flat Roman Shades are an ideal choice over drapery. The shades help keep the bench area clear while still providing needed light control and privacy. For this Scandinavian-inspired design featuring lots of wood tones, Roman Shades in a warm, off-white color and subtle line pattern complement the warmth and linear grain of the wood tones.
Bring Your Modern Curtain Ideas to Life
With lots of inspiring modern curtain ideas to incorporate in your own design, you're ready to start bringing your ideas to life. Start by ordering free swatches of your favorite materials, colors and patterns to compare in the comfort of your home. Not sure where to start with all your swatch options? Order our Most Popular collection to spark your creativity. Regardless of which swatches you order, be sure to examine each in the room you plan to install your drapery in order to get a sense for how the material and color look in the changing light of day.
EXPLORE OUR MOST POPULAR SWATCHES
Not sure where to start your material search? Order our most popular swatches for free to see what's in style — and maybe find your new favorite.