Ideas for Bay Window Treatments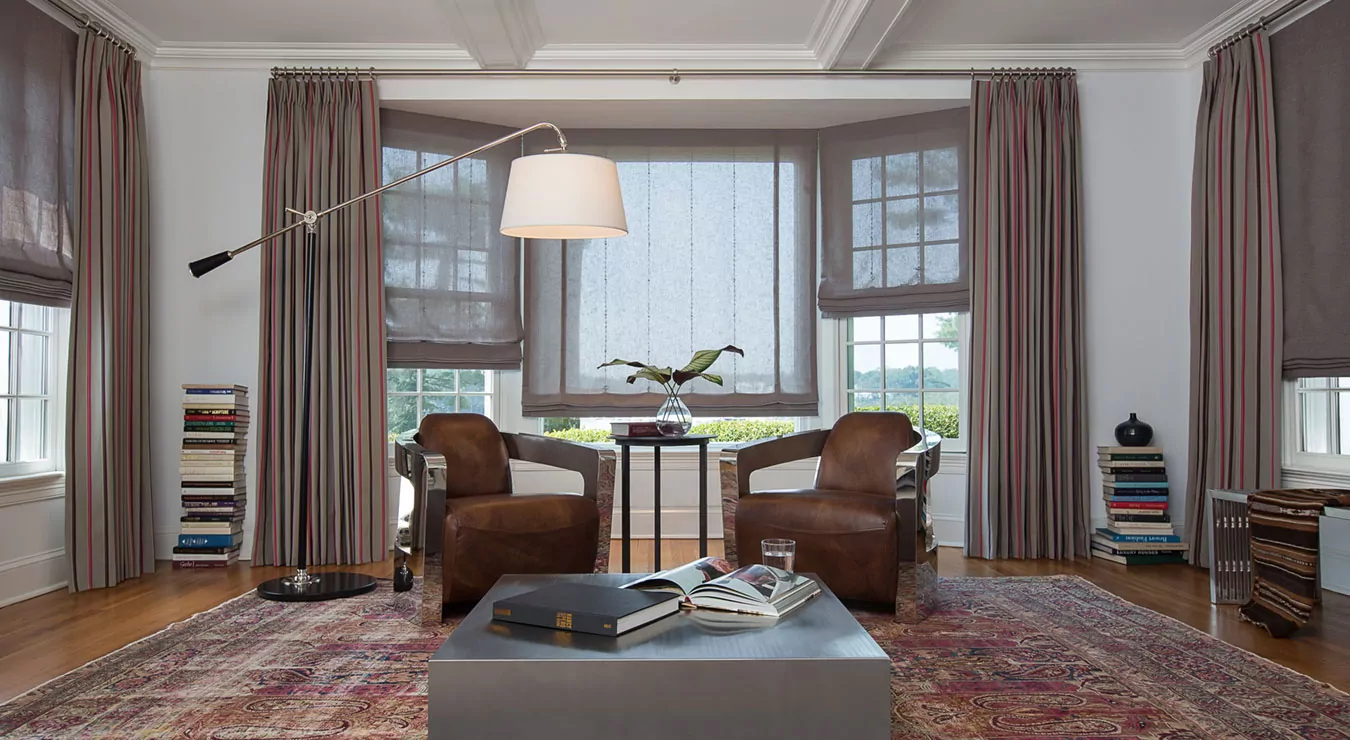 Window Treatments for Bay Windows
Choosing window treatments for bay windows may seem tricky. You might ask yourself: Should each window be treated individually, or should the group be viewed as one large window? Where should shades be mounted? What about drapes? 
We have collected a few of our favorite bay window treatments with shades and drapes to provide you with some inspiration.
Narrow Bay Windows
Cellular Shades
What is the best window treatment for a bay window? There's no one right answer, but we believe some of the best window treatments for bay windows are Cellular Shades. If you have narrow bay windows in your home, you may be worried that individual shades on each window could look awkward and too small. One way to combat this problem is to coordinate the color of your shades with your trim color.
The Cellular Shades below are inside mounted, so the trim of the windows is still on display. All three shades are white and have a blending effect with the trim, minimizing the narrowness of the separate windowpanes. Cellular Shades are uniquely well suited to bay windows because of their insulating power – perfect for both colder climates and very sunny areas.
Made with a unique honeycomb design, our Cellular Shades are some of the best energy-efficient window treatments you can find. Their cells trap air, providing excellent insulation and helping maintain comfortable temperatures. Available in light-filtering and blackout options, Cellular Shades can soften natural light or block it out completely, while providing full privacy.
Flat Roman Shades
Another way to make narrow windows look larger is to mount Roman Shades on the outside, so they maximize the width of the window area. Flat Roman Shades were mounted close together, forming a single visual unit with the bold pattern. If you have other interesting architectural details around your bay window, such as the detailed molding on the arch in these photos, a simpler style of shade like the Flat Roman will allow those details to shine while still providing interest with color and the softness of a fabric accent. When all three shades are raised, the neat stack of the Flat Roman can give the illusion of a fabric valance.
Soft and elegant silhouettes. The most luxurious fabrics. Showcasing made-to-layer materials in light-filtering and blackout options, our Flat Roman Shades collection bring striking sophistication to the window. Quality like this can only be handcrafted.
If you're struggling with finding a drapery style you like for a bay window, consider Roman Shades, which add the same softness and fullness with fabric without the considerations of rods or length.
Wide Bay Windows
Roller Shades, Roman Shades & Drapes
What about wide bay windows? Layered Roller Shades, Roman Shades and Drapes look beautiful together on large sets of windows. Our custom shades can be made in wide widths, so make sure to talk to a design consultant about your options if you have a wide window. The Flat Roman Shades pictured below are available up to 120" wide. The sheer material keeps the large shades from feeling too heavy. Finally, Tailored Pleat Drapery frames the whole window unit.
The Shade Store also offers a selection of beautiful Cornices & Valances to give your bay window treatments a clean and finished look.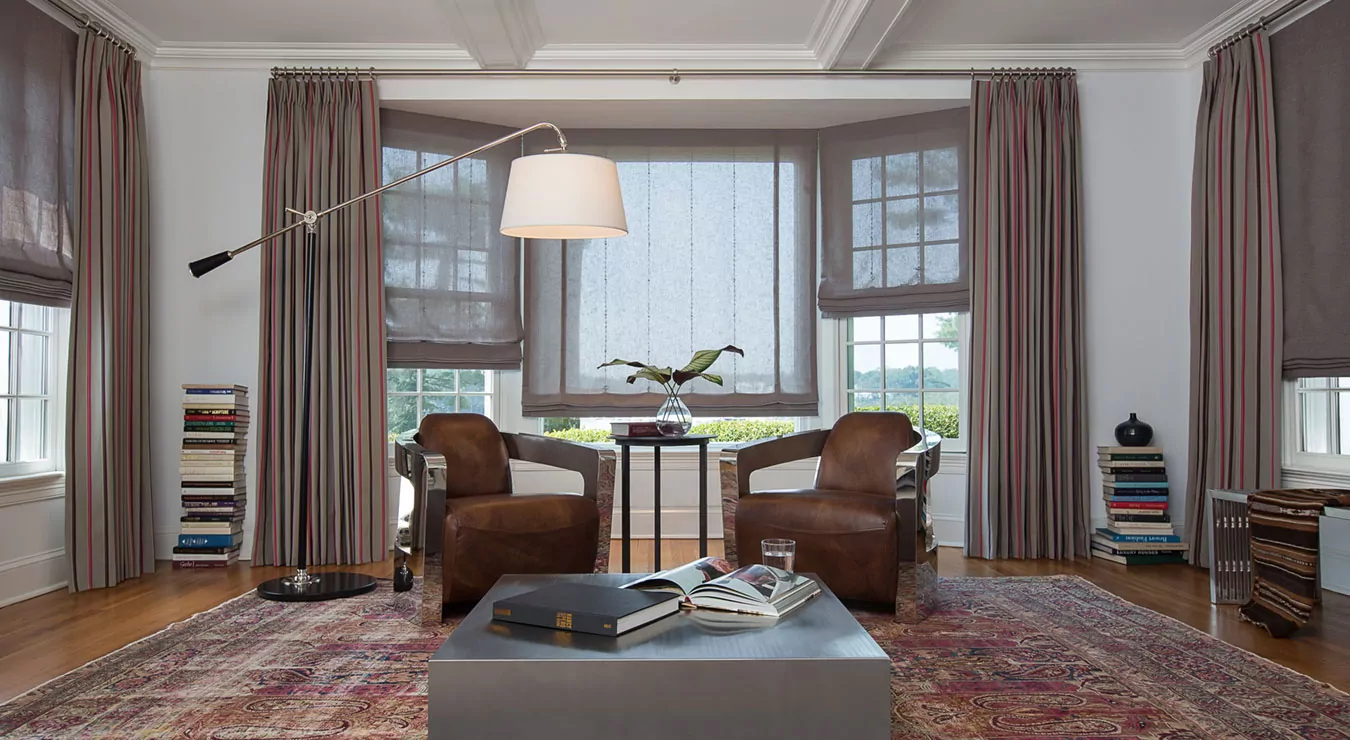 Woven Wood Shades
For a dose of natural texture, Woven Wood Shades add instant interest to a bay window. These shades are an outside mount, forming the look of one cohesive shade and the versatility of raising and lowering each section one at a time.
Our Woven Wood Shades collection Introduces rustic character to every space. Featuring sustainably sourced, all-natural grasses, woods and bamboo, this collection is crafted to complement interiors of all types.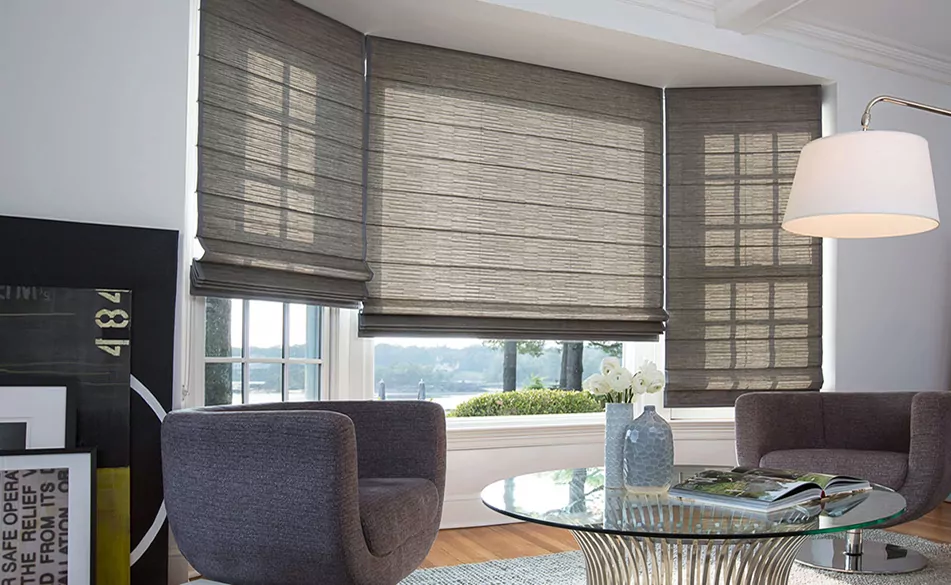 Materials Powered by Nature
All-natural materials and relaxed, casual couture come together seamlessly in our exclusive Artisan Weaves collection, bringing organic dimension and depth to the window. Each material is beautifully textured and made with only natural fibers to create a theater of light that softens every space.
Need Assistance or Have Questions About Window Treatments for Bay Windows? We're Here to Help!
For more help with your bay window treatments, visit one of our nationwide showrooms or request a free design consultation. And don't forget our Free Photo Rendering Service — our design experts will render your window treatment ideas into a photo of your room.