When to Use Outside Mount Shades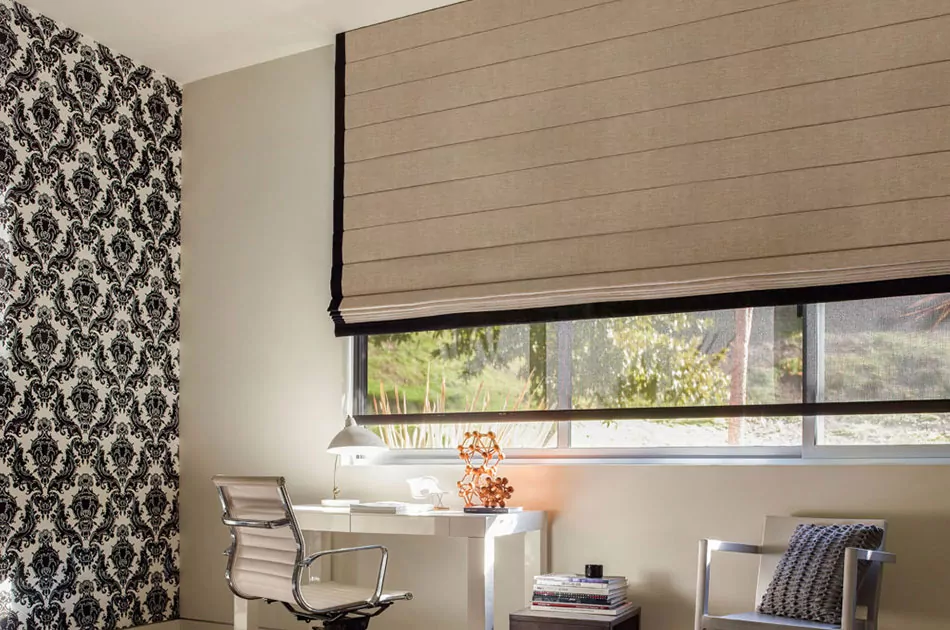 When choosing window treatments, in addition to picking out a style and material, you need to consider whether your shades or blinds will be inside mounted or outside mounted. Inside mount shades are mounted within the window frame, and will require a minimum depth for proper installation. This type of mount works well if you want to show off decorative trim or you prefer a lower profile for your treatments.
Outside mount shades can be mounted at varying widths and heights above and outside the window frame depending upon the look desired. Here are a few benefits of outside mount shades and situations where you can use them.
Make Windows Look Bigger with Outside Mount Shades
One of the biggest advantages of an outside mount shade is the ability to control how wide and how tall the window treatment is and where it hangs on the wall. If you have short windows that sit far away from the ceiling, for example, you could use an outside mount shade hung high to give the appearance of a larger window. These shades are also very useful for camouflaging uneven windows, as you can order the shades in the same size and create an illusion of symmetry on your wall.
Block Light Seepage
For bedrooms, media rooms, and possibly even home offices, light blockage can be an important function for window treatments. Outside mount shades provide better blockage from light seepage around the edge of the window. Of course, for complete blackout, it is best to layer drapery over shades and add a cornice. But if you are going for a shade-only look, consider an outside mount for complete window coverage.
Layer Your Window Treatments
Many interior designers recommend layered window treatments to give a rich, luxe look to your décor. One excellent combination of layered treatments involve inside mount Roller Shades, which could be blackout or light filtering, layered under Roman Shades. These layers offer great flexibility for light control for different times of day. In the office shown above, the Roller Shade can be lowered for glare reduction while still providing natural light, or the Roman Shade can be lowered for more privacy or darkness.
If you have any questions about whether inside or outside mount shades will work better for your home, our Design Consultants are happy to help. You can also use our free Photo Rendering Service to see what the treatment of your choice will look like on your windows.