Privacy with Polish: The Best Bathroom Window Treatments for Privacy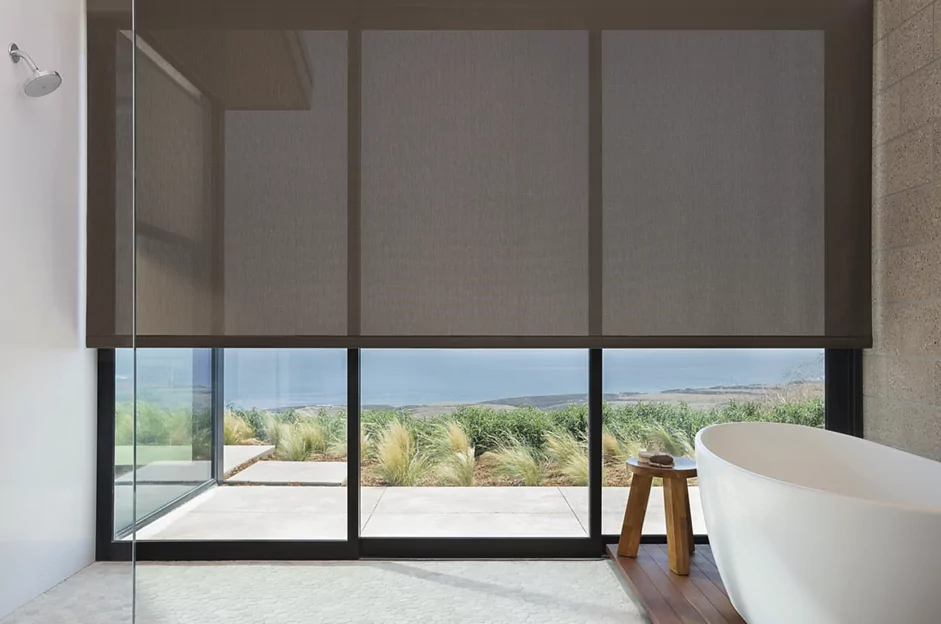 Solar Shade — 5% Metallic, Copper
Perfecting your bathroom's décor is no easy feat. Whether you're confined to a small space or have seemingly endless room for design, there's a lot to consider. If your bathroom is fitted with a window, you'll want to take advantage of natural light in a room that typically feels too small and dark — while keeping in mind that privacy is paramount in this room of the home.
But choosing the best window treatments for the bathroom doesn't have to be hard. In this article, we break it down into three simple steps, ensuring you end up with custom window treatments that function beautifully — and look incredible, too.
Step 1: Choose Your Treatment
While this may seem like an obvious first step when selecting bathroom window coverings, it can be easy to start too far ahead in the process, getting overwhelmed with material options and hardware finishes before you've even started. The first step in finding the best window treatments for your bathroom is choosing what type of coverings will best suit your space. Here are your options:
Shades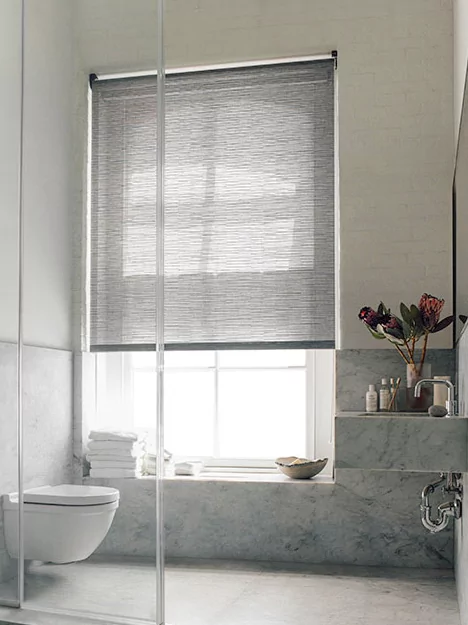 Roller Shade — Jackson, Cafe
Simple yet sophisticated, Shades offer a minimalist look and feel that fits perfectly within the frame, making them the perfect bathroom window treatments for privacy. With the option of a stainless steel cord or cordless or motorized control, Shades offer unmatched ease of use, allowing you to effortlessly change privacy and light levels in your bathroom as needed.
Available in a variety of materials and functionalities, including Roller Shades, Solar Shades, Roman Shades, Woven Wood Shades, Cellular Shades, and Pleated Shades, finding a solution for your bathroom windows is all but guaranteed. With 700+ potential materials to choose from within the Shades category, finding a perfect match for your bathroom's décor will be easy.
Blinds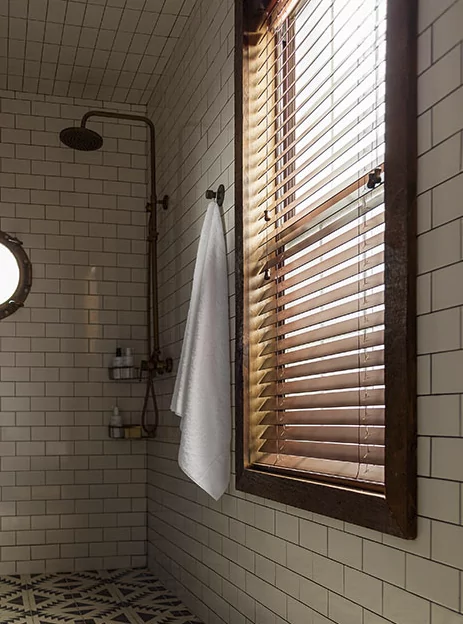 2'' Wood Blind — 2'' Faux, Nutmeg
Handcrafted by skilled artisans in the USA, The Shade Store's custom Blind selection adds the element of superior craftsmanship to your bathroom windows. From wood blinds and metal blinds to vertical blinds — perfect for covering large bathroom windows — these traditionally favored window treatments are sure to be in style for years to come and make great bathroom window privacy options. 
Much like Roller Shades, Blinds are custom-crafted to fit perfectly within your bathroom window frame, making them ideal for small spaces where more statement-making window treatments aren't necessary. Plus, a variety of colors and finishes ensures the perfect complement to your bathroom's décor.
Drapery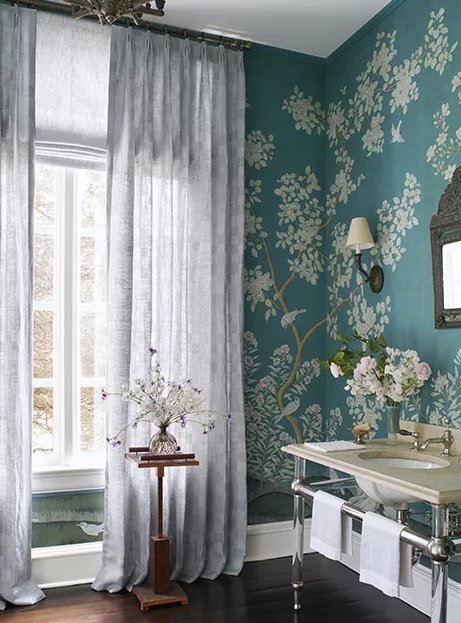 Inner Layer: Flat Roman Shade — Victoria Hagan Breeze, Ocean
Outer Layer: Tailored Pleat Drapery — Victoria Hagan Oceana, Slate
Best suited for larger bathrooms, Drapery offers statement-making style with complete control over privacy and light levels. Often outfitted for floor-to-ceiling coverage, Drapery can make a room seem instantly more grandiose, and add a luxurious look that stands alone or layers effortlessly over in-frame treatments for added depth.
Available in a variety of styles, including Ripple Fold Drapery, Tailored Pleat Drapery, Grommet Drapery and more, there are endless ways to cover your bathroom windows while adding a little something extra to the decor. Bonus: With Drapery, you'll also get to choose custom Drapery Hardware to give your bathroom an extra touch of personalization.
Step 2: Choose Your Material for Bathroom Window Privacy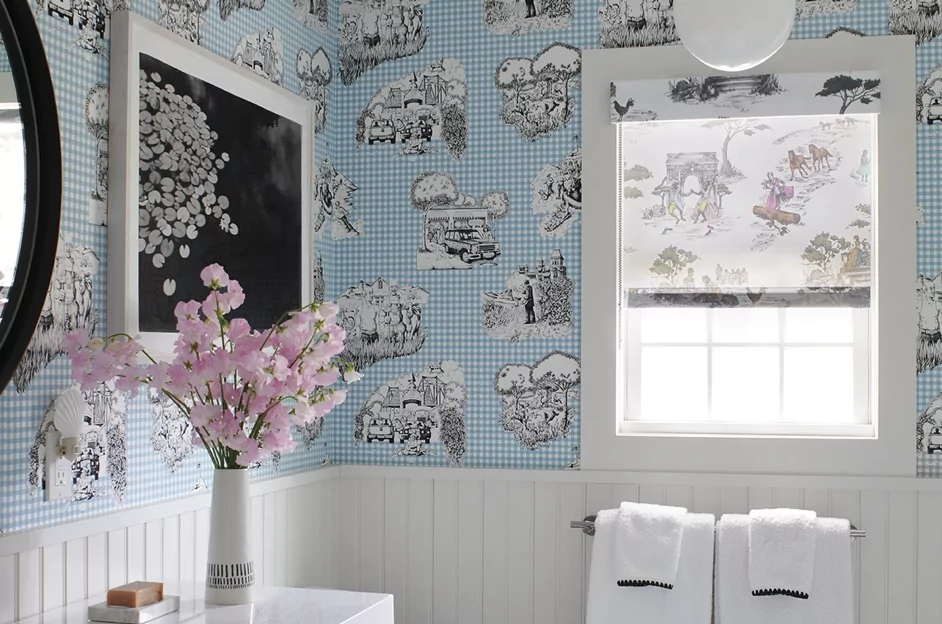 Roller Shade — Sheila Bridges Harmel Toile du Jouy, Multi White
Once you've selected your window treatment type, choosing a material is next. During this step, you'll want to consider your personal taste and design scheme. For statement-making bathroom window treatments, choose a material with bold color or pattern. If you prefer to keep things more timeless, a solid material that's rich with texture, like Linen, should do the trick. If you'd like something somewhere in between, Woven Wood is a stylish option that provides an artisanal look while still remaining neutral.
Step 3: Customize Your Bathroom Window Treatments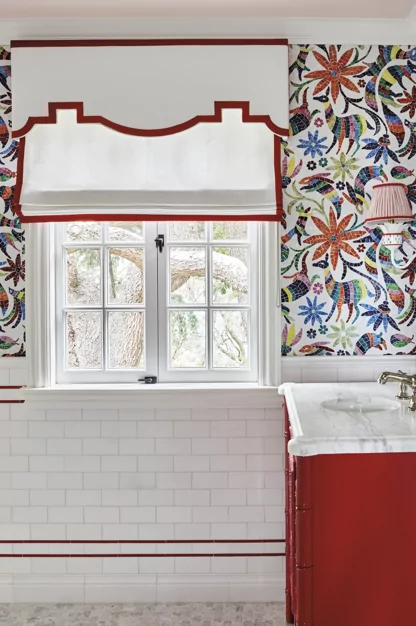 Flat Roman Shade — Cotton, White
The final step in perfecting your bathroom window treatment selection is making it just right for your bathroom decor. From adding a Valance or Cornice to give your bathroom window treatment privacy ideas a clean, finished look to Tapes and Trims to tie your decor scheme together effortlessly, there are plenty of options for taking your bathroom window treatments to a new level of luxe. And don't forget to choose your bathroom window hardware intentionally to match or complement your other bathroom fixtures!
Have questions about modern bathroom window treatments? We're here to help.
If you have questions about all the different bathroom window treatment options or need assistance finding your dream bathroom window treatments, we're here to help. The Shade Store offers expert services every step of the way — from inspiration to installation. Our team of Design Consultants is available to assist you with material selection, color coordination, measurement & installation scheduling and more, however you choose to shop. To get started, stop by your local showroom, visit us online or give us a call at 800.754.1455.
About The Shade Store
The Shade Store is a premium custom window treatment company with a rich heritage in luxury textiles and interior design. Its exclusive collection of more than 1,300 in-stock fabrics and materials provides customers with an unparalleled amount of style and customization options. Every window treatment is proudly handcrafted in the USA, hung and tested for quality assurance and ships free in 10 days or less. With showrooms nationwide, The Shade Store offers a complete range of in-person and virtual design services for consumers and design-trade clientele, including samples, complimentary professional window measurements and photo rendering. Additionally, the company is an advocate for environmental sustainability: For every purchase made, the company provides the 'Gift of Shade' by planting a tree in partnership with the Arbor Day Foundation. For more information about The Shade Store, please visit theshadestore.com.