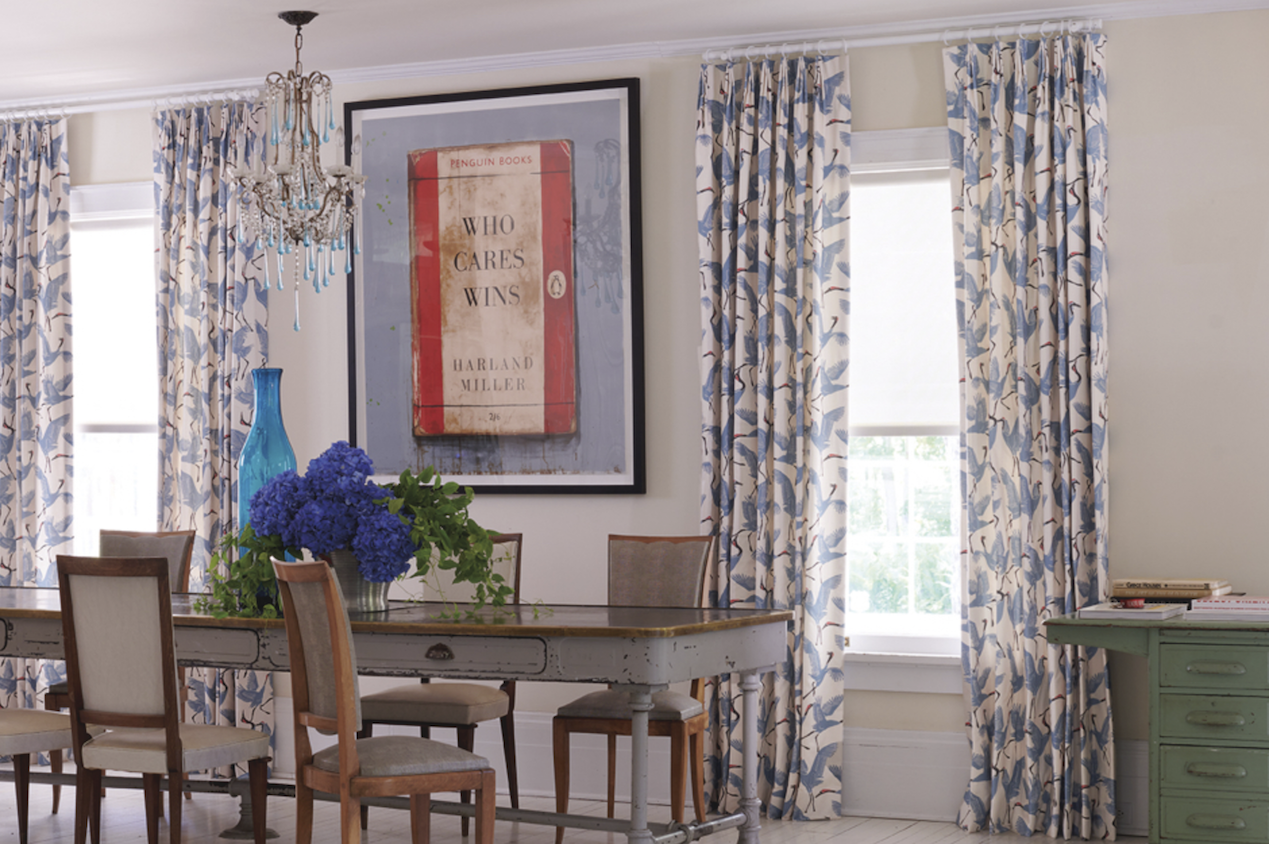 Tailored Pleat Drapery —The Novogratz Family of Cranes, Waverly Blue
Keeping up with current window treatment trends can be a challenge. Whether you love to change your window treatments often, or just want to make sure what you have going on isn't totally outdated, these are the top window decorating trends you need to know for 2022, according to our exclusive design partners. 
Trend 1: Window Treatment Patterns & Color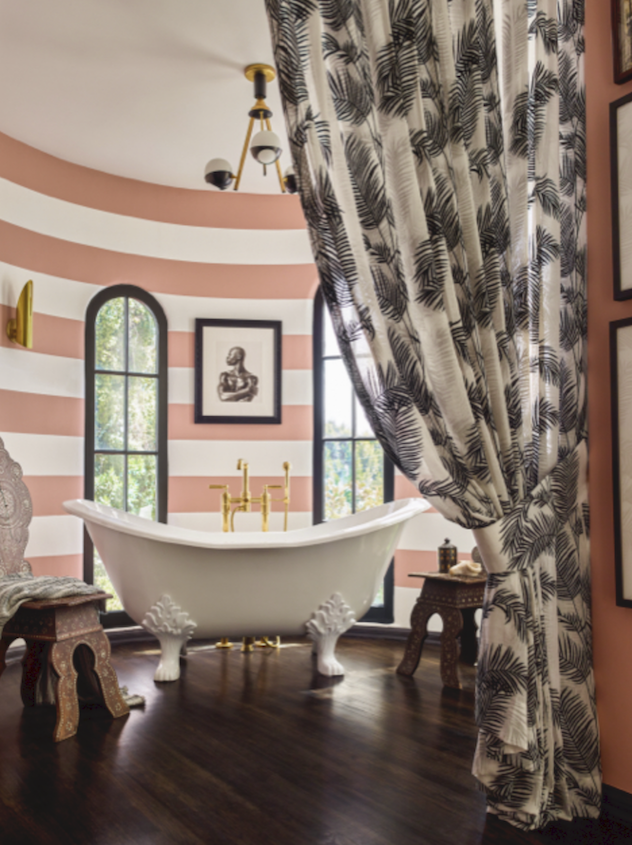 Tailored Pleat Drapery — Martyn Lawrence Bullard Palmier, Onyx
Neutrals may always be in style, but color and pattern are having a serious moment, giving everyone an opportunity to make their interior decor a bit more unique. Whether you tend toward bright and bold or more minimalistic, there are a variety of ways to work this window treatment trend into your home. 
For the more adventurous, picking a pattern that involves multiple eye-catching colors, like Family of Cranes by The Novogratz, will add unexpected appeal. But if you tend toward simplicity, layering your window treatments for a more subtle pop of color will do the trick, too. 
"Trends in window coverings moving into 2022 show the use of color and pattern playing a stronger role. Overall patterns in two or three colors seem very popular, bringing joy to the interior with unexpected twists," said The Shade Store design partner Martyn Lawrence Bullard.
The Shade Store is here to help bring your vision to life. To learn more about how you can create the perfect custom window treatment looks for you home, request a complimentary design consultation or visit your local showroom.
Trend 2: Sustainable Window Treatments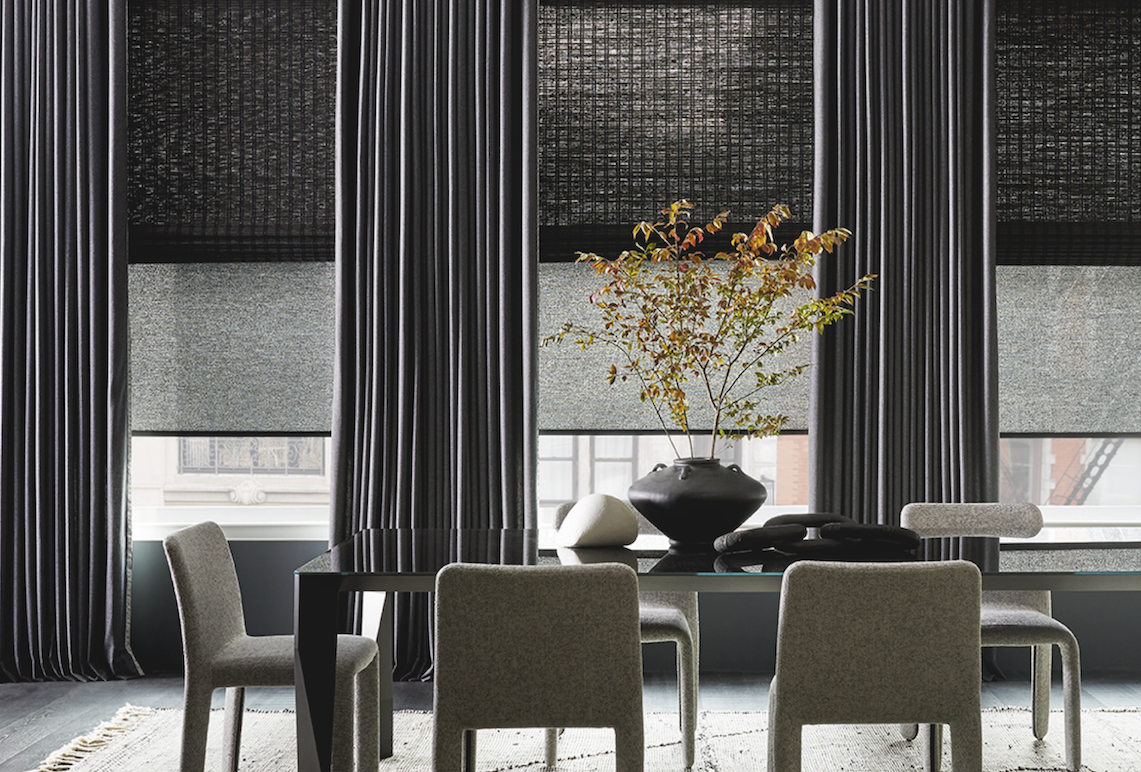 Inner Layer: Solar Shades — SunbrellaⓇ 3% Sonoma, Charcoal / Middle Layer: Waterfall Woven Wood Shades — Atlantique, Espresso / Outer Layer: Ripple Fold Drapery — Wool Blend, Charcoal / Trim: Samuel & Sons Aristotle Greek Key, Classic White/Black
In today's world, it's almost impossible not to be faced with more sustainable choices everywhere you turn—and that includes window covering trends! "Sustainability has become a major issue for everyone, as it should," said The Shade Store design partners The Novogratz. "Looking into the sustainability of everything is a must."
Whether through sustainable, eco-friendly materials, like the Greenguard®, Microban® and Oeko-Tex® certified materials available for our Roller and Solar Shades, or through on-trend window coverings that increase energy efficiency, like Cellular Shades and UV-Blocking Shades, there are endless options for making your home a greener place—while staying current with the latest window treatment trends.
Additionally, our Wood Blinds are sourced from low-impact basswood, and our Woven Wood line contains all-natural fibers to minimize your environmental impact while still making a style statement with this window blind trend. Custom Roman Shades and Drapery can also be outfitted with lining to improve insulation and make your home more energy-efficient.
Trend 3: Earth Tones & Neutrals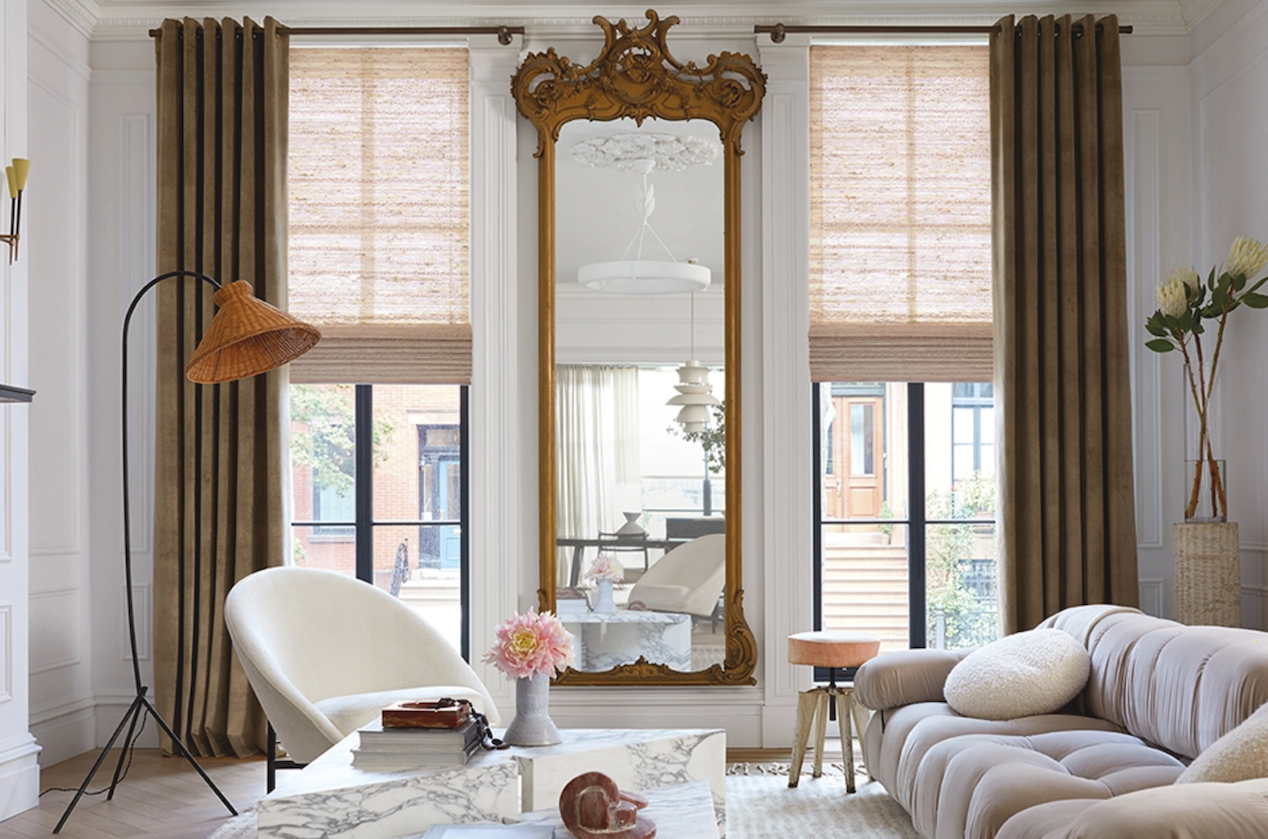 Inner Layer: Waterfall Woven Wood Shade — Quogue, Ravenna / Outer Layer: Grommet Drapery — Velvet, Camel
There's nothing new about neutrals, but there are always new ways to incorporate them into your home's decor—and different reasons for doing so, too. "In the upcoming year, I expect to see lots of earth-toned colors and materials inspired by nature," said The Shade Store design partner Sheila Bridges. "People are still spending a significant amount of their time indoors, so there is a desire to create environments that still connect us to the outdoors."
So if the first colors that come to mind when you think of neutrals are black and white, it may be time to reconsider in favor of true neutral earth-inspired tones, like classic Linen in the aptly named color, Natural. 
In congruence with bringing the outdoors in through nature-inspired colors and window decorating trends, letting natural light shine through your window treatments can also help achieve this trend. Consider sheer window treatments, like the always-in-style Sheer Wool Blend, to achieve an even more natural look in any space. 
"People want to feel connected to the outdoors, so window treatments that allow natural light in will be highly desirable," said Bridges. 
Trend 4: Rattan & Other Natural Window Treatment Materials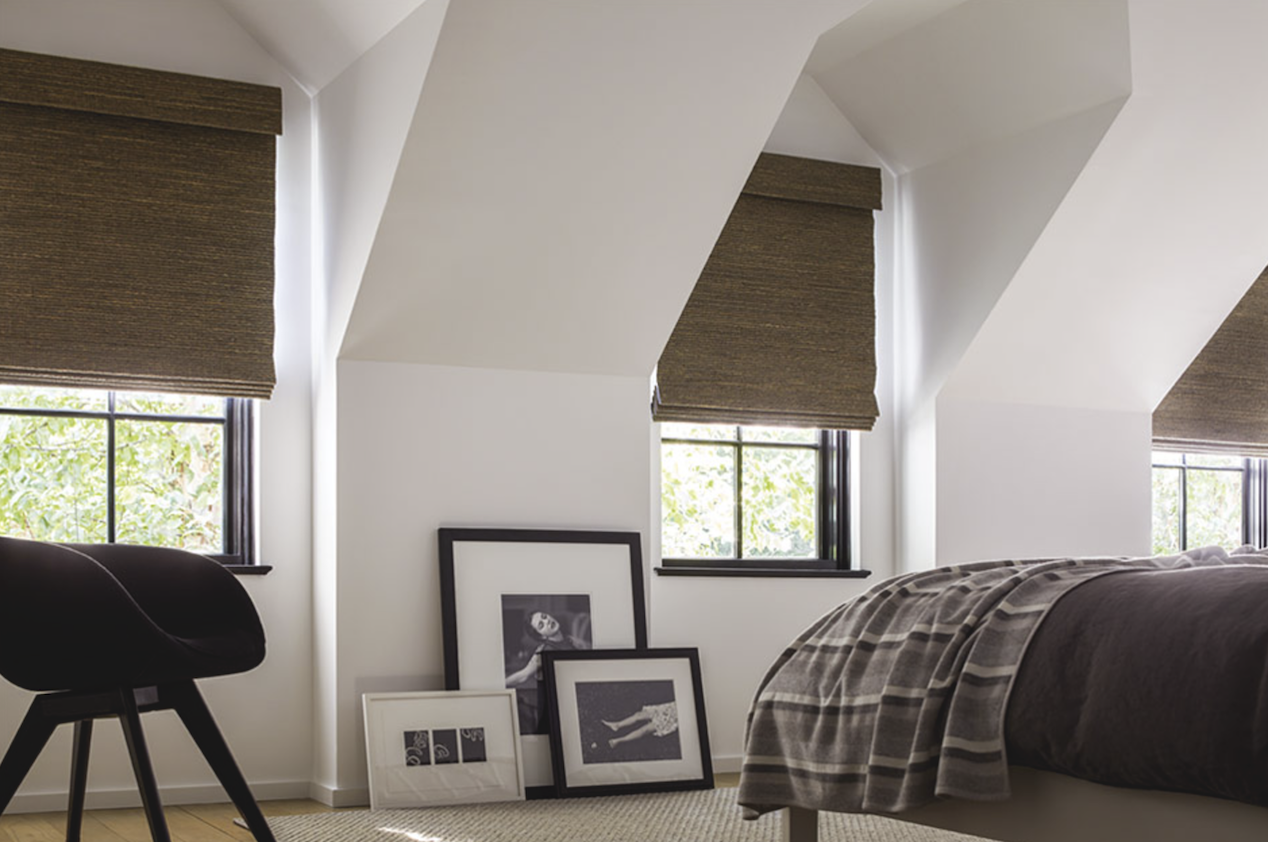 Standard Woven Wood Shade — Seaview, Shadow
Continuing the "bringing the outside in" window covering trend, Rattan, and other natural materials are the perfect addition to a sustainably styled home. "Neutral color palettes will always be on-trend, as well as things that have texture. I am loving Rattan finishes right now," said The Shade Store design partner Nate Berkus.
Woven Wood Shades make achieving a rattan-inspired look easy for every window, but there are many other options when it comes to bringing natural materials into the home. 100% natural and untreated Raw Silk lends effortless elegance to any space with a unique, natural look, while warmer materials, like Wool Challis by Holland & Sherry, and delicately woven Linen will do just the trick. 
Trend 5: Details in Custom Window Treatments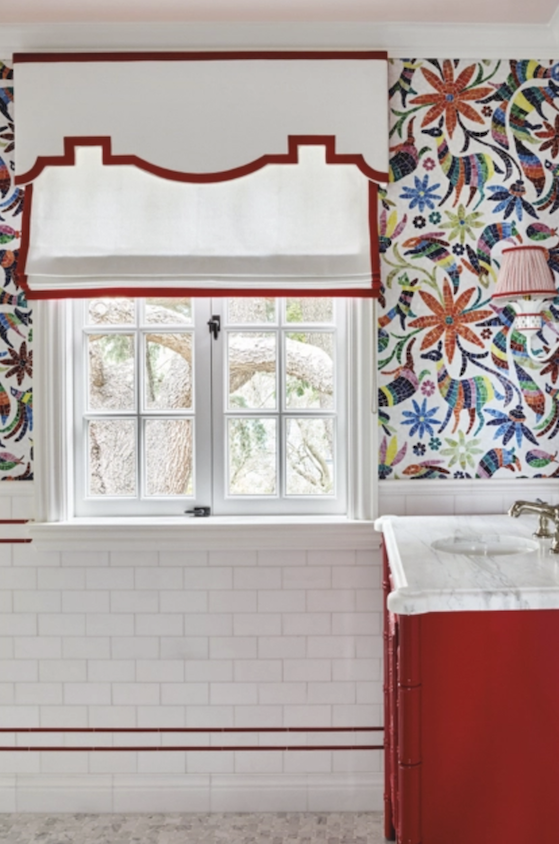 Flat Roman Shade — Cotton, White
From adding custom tapes and trims to your selected window treatment materials to selecting the perfect hardware to tie the look together, 2022 is all about making your window treatment choices unique to you.  "There is a wide offering of hardware finishes, and that is a great accent," said The Novogratz. "I am seeing a lot of gold, brass, and stainless steel choices."
The Shade Store offers a range of Drapery Hardware selections, including the classic Steel Hardware Collection and more luxurious options, like the Swarovski Hardware Collection, ensuring a selection that's just right for your home decor style.
Another way to add your own personal touch to your window treatments is through tapes, trims, and embroidery. The Shade Store's exclusive Samuel & Sons Collection features a curated assortment of material finishes, designed to turn your windows into works of art. "Embroidery is a strong trend," said Bullard. "Whether in a pattern or linen or on a sheer." 
Trend 6: Smart Home Technology & Automation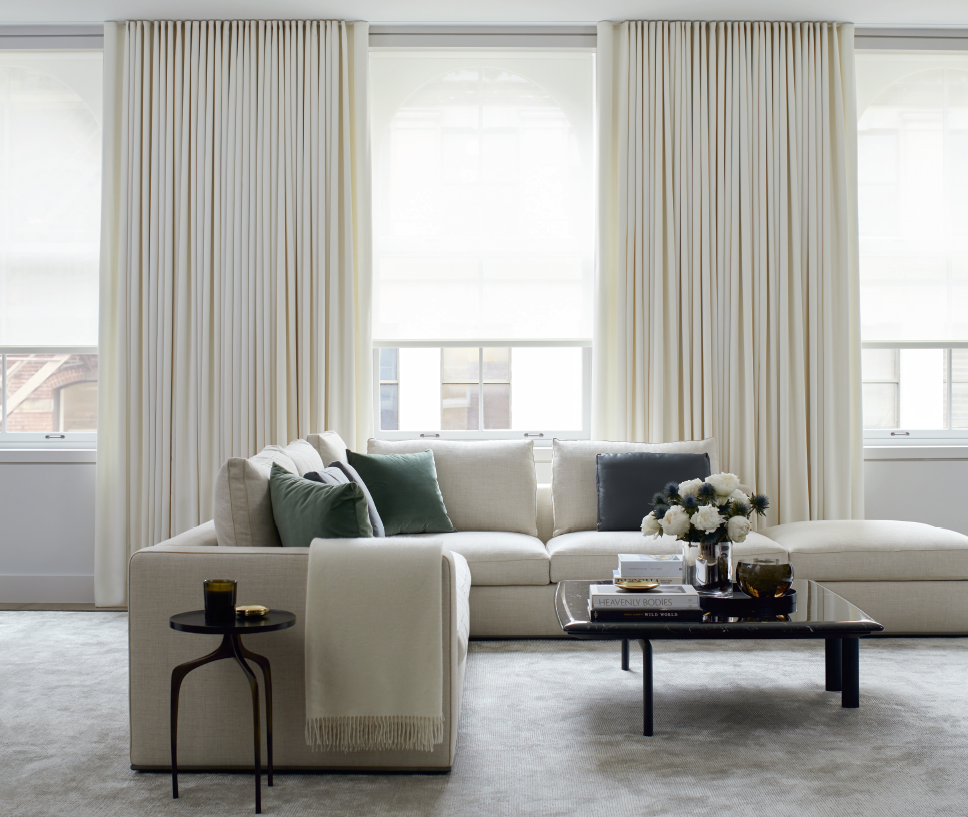 Inner Layer: Automated Solar Shades — 10%, White
Outer Layer: Ripple Fold Drapery — Holland & Sherry Wool Flannel, Glacier
Set the mood with the push of a button. Create inviting ambiance with the sound of your voice. Achieve complete control over the natural light in your home.
Another important trend we're noticing in custom window treatments is automation. That's why we are proud to offer the ultimate in smart home solutions. Our advanced motors and automation by Lutron let you synchronize multiple window treatments, set your favorite positions and schedule timers with your remote, smartphone, tablet or home automation system. Motorization is available for nearly all window treatments and integrates seamlessly with all major home automation systems.
To find out how The Shade Store can help transform your home into a smart home with motorized and automated custom window treatments, request a complimentary design consultation or visit your local showroom.
Have questions about custom window treatments? We're here to help.
If you have any questions about the latest window treatment trends or need assistance finding your dream window treatments, we're here to help. The Shade Store offers expert services every step of the way — from inspiration to installation. Our team of Design Consultants is available to assist you with material selection, color coordination, measurement & installation scheduling and more, however you choose to shop. To get started, stop by your local showroom, visit us online or give us a call at 800.754.1455.
About The Shade Store
The Shade Store is a premium custom window treatment company with a rich heritage in luxury textiles and interior design. Its exclusive collection of more than 1,300 in-stock fabrics and materials provides customers with an unparalleled amount of style and customization options. Every window treatment is proudly handcrafted in the USA, hung and tested for quality assurance and ships free in 10 days or less. With showrooms nationwide, The Shade Store offers a complete range of in-person and virtual design services for consumers and design-trade clientele, including swatches, complimentary professional window measurements and photo rendering. Additionally, the company is an advocate for environmental sustainability: For every purchase made, the company provides the 'Gift of Shade' by planting a tree in partnership with the Arbor Day Foundation. For more information about The Shade Store, please visit theshadestore.com.