Hardworking Home Office Window Treatments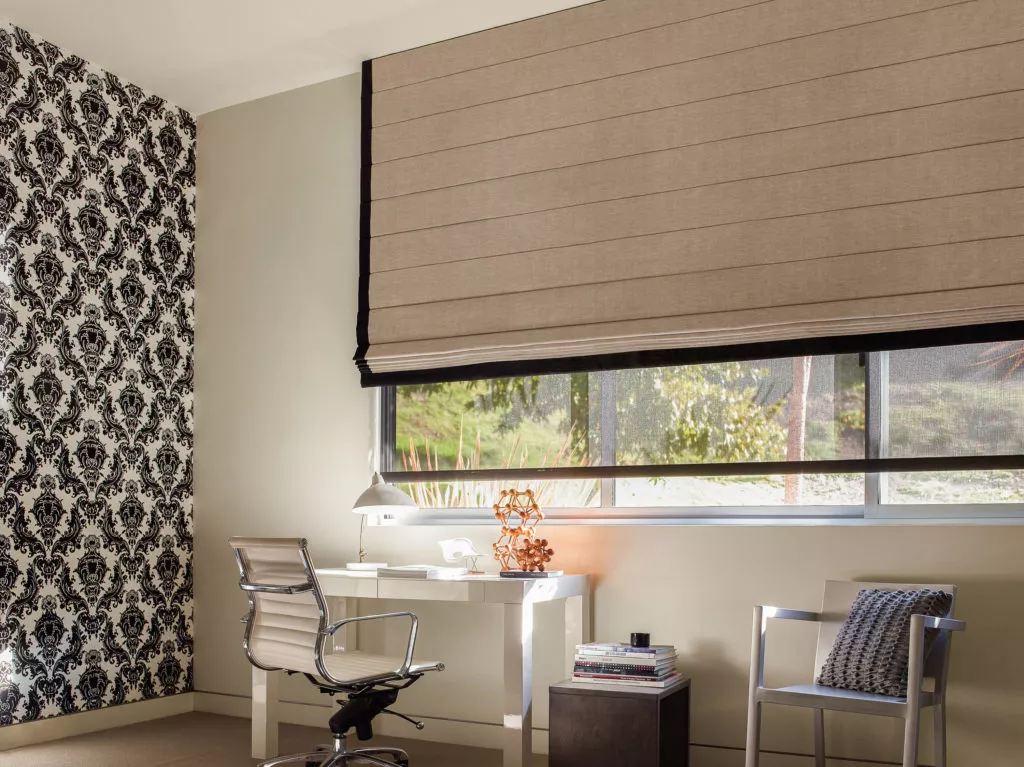 Creating the right mood in your home office can have a big impact on your comfort and productivity. Windows play a large part in this, as they can regulate light and heat, showcase a beautiful view, or look out over a distracting scene. The home o you choose can help address these issues while adding style to your workspace.
Reduce Glare on Computer Screens
Natural light is a wonderful thing to have in a home office, but glare on a computer screen is frustrating and can cause eye strain. Instead of rearranging your furniture, try Solar Shades on your windows. Solar Shades incorporate the smooth functionality of Roller Shades in light filtering materials that reduce glare and block damaging UV rays. For the minimal, modern office, our Basic Solar Shades come in 4 transparencies and 36 neutral colors. To make your shade a statement piece with color or a pattern, try the Chilewich and Designer Collections for a variety of weaves and prints.
Block Light and Distractions
If you need to block streetlights at night or require darkness during the day to work, Roman Shades are a great option for the home office. Roman Shades add the softness of drapery with the versatility of a shade; your desk or shelf can still sit in front of a window dressed with a Roman Shade. Our 6 styles allow you to adapt your shade to any décor, from the streamlined bestseller Flat Roman Shades to the gentle folds of Relaxed Roman Shades. Choose a blackout lining to add the most privacy and block the most light, night or day. If you need to focus, close the shade to help keep your attention on the task at hand.
Multitasking Layers
Another option lets your office window treatments do double duty: layer a Roller or Solar Shade underneath a Roman Shade or Drapes. Layered window treatments automatically elevate the style of your room, providing a luxe look that is often used by interior designers. They also allow you to have the ultimate flexibility in controlling light and privacy. Keep the bottom layer down to cut down on glare, and then partially or fully lower the top shade to darken the room.
These home office window treatments will work as hard as you do to make your space practical and beautiful. Order free swatches to test them out in your office, or visit one of our nationwide showrooms to browse our collections and speak to our expert Design Consultants.